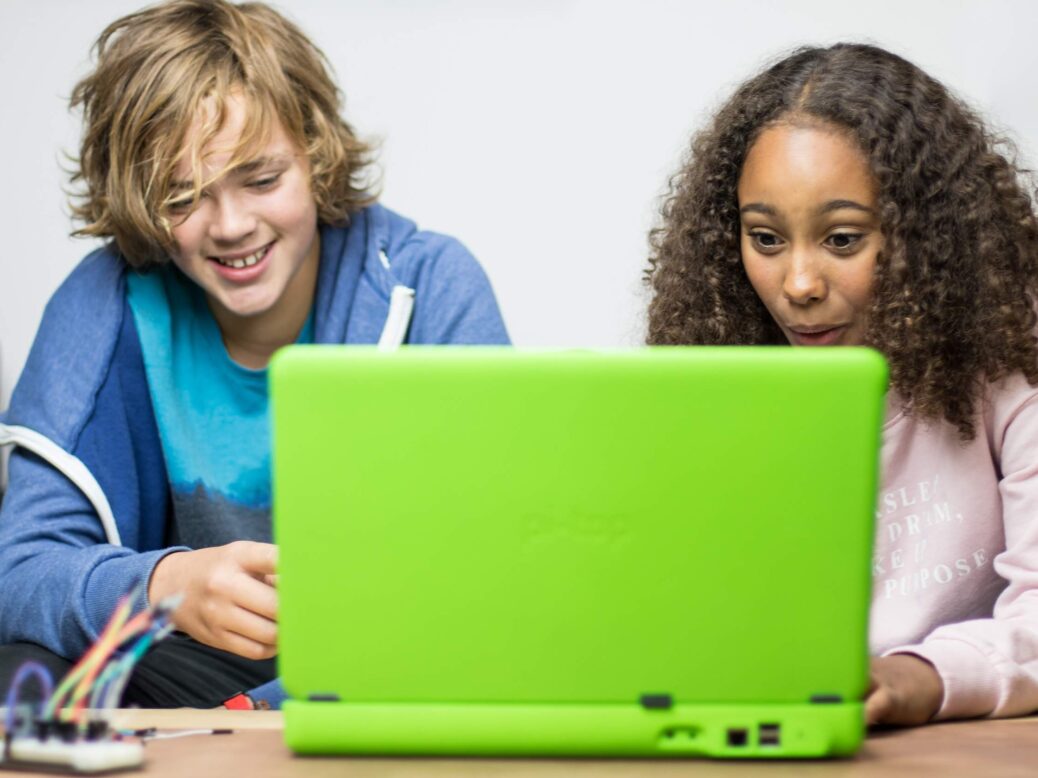 From 3D-printing laptops in a living room to shifting over $10m in sales, UK-based education technology (edtech) startup Pi-top has come a long way in the few years it's been running.
Today marks the company's third birthday, and also the day it is launching its brand new laptop, also named pi-top, as the next generation of its beloved products.
Pi-top, if you've never heard of it, creates modular laptops. Powered by the UK credit-card sized computer Raspberry Pi, the devices are intended to teach anyone how to code, regardless of age or ability.
Co-founders Jesse Lozano and Ryan Dunwoody, now chief executive and chief technology officer respectively, met through Entrepreneur First, a London-based accelerator. The two created the first iterations of the pi-top in Lozano's living room.
The latest model comes in Pi-top's signature neon green colour. It has an eight-hour battery life and14-inch full-HD screen. It's a modern design that wouldn't look out of place next to an Apple Macbook.
It arrives in the box with the pieces separated, allowing the new user to build the laptop themselves. The keyboard of the device slides off to reveal the Raspberry Pi underneath, with space for users to build their own inventions, whether that's a speaking robot or a synthesiser to create music.
The new pi-top: an exciting moment for the startup
At the launch event for the new pi-top earlier this week, Verdict spoke to Lozano about the new product and where the company is going next.
Before working on pi-top, Lozano was a digital consultant in politics but dropped it all to launch the startup. He told Verdict:
This is a happy part of my life that I really enjoy. When you go round schools and see kids using your product, I didn't realise I would be [so] emotionally invested in this.
Unlike other startups, Pi-top builds everything itself, which can be tricky to pitch to investors. The 50-strong team builds the circuit boards, the software, design the boxes, does the injection molding, as well as making all the content.
"That was not exactly a popular decision amongst investors at the start", said Lozano. "But it's our most valuable asset. We can reiterate faster than any big corporate and out-innovate most other startups."
The launch of the new product is an exciting moment for the company and demonstrates how far it has come in the past three years
The original pi-top is used in over 1,500 schools across the UK and the US to teach children how to code. In the UK, its software, pi-topOS, has been endorsed by the leading examination-awarding body, OCR.
Earlier this year, pi-top was chosen as one of Tech City UK's Upscale programme.
As well, it was named edtech startup company of the year at the Bett Awards (British Educational Training and Technology). Business wise, the startup has received over $6m in investment as well as clearing over $10m in sales this year.
As Pi-top moves beyond its startup phase, the process of creating its product has had to change and adapt to that.
At the beginning, we were in a little tiny office with six or eight of us. Then, we had to get everything done, no matter the process. Now, we have to have a five-stage design process to organise a larger body of people that can't all just be in one room. It's a whole different beast, but it's been a lot of fun to get into that beast.
Now the team has launched its third pi-top iteration, which is available to buy on its website form today, the next focus is content.
We're really concentrating on content and how we get kids to build more complex products. We start out very simple with LED lights: first, we're going to get you to hook up an LED light [to the pi-top], and then you're gonna make it blink with code. Now it's a lot more about improving the content, bringing in some larger collaboration and seeing how it is.
Coding for the future
What's interesting about pi-top is that though the product is aimed at giving children a tech education, it appears that the mission is so much more than that. The future automation of the workforce is something Lozano mentions a couple of times.
A big problem with technological unemployment is the fact that when people wake up, what [will] they wake up for?" he said. "For me, before Pi-top, I was always lacking something, it just wasn't there and I was too big-headed to understand what that feeling was. But once we started, I wasn't angry anymore.
If Pi-top can encourage the children and teenagers that use its products, in school or at home, to be inspired in their lives, that's a job well done.
Hand on my heart, I believe that this is the best way to learn how to code and learn tech skills that has a real chance of getting students inspired and that's the key to making an inspirational product.
The new pi-top is available on pi-top.com for $319.99.