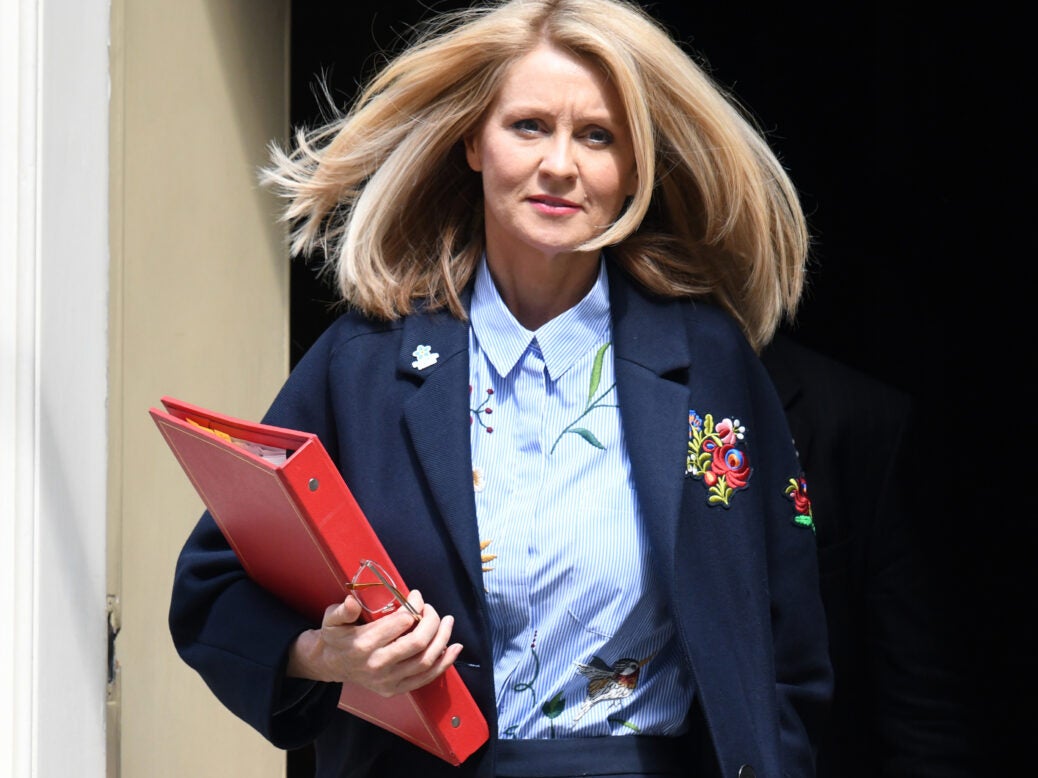 Work and Pensions Minister Esther McVey has resigned, becoming the second senior Cabinet minister to quit over the EU withdrawal deal.
The MP for Tatton, who submitted her letter of resignation to Prime Minister Theresa May at 10am this morning, believes that the Draft Withdrawal Agreement "does not honour the results of the referendum".
McVey, a prominent Brexiteer, reportedly called for a Cabinet vote "put on record where everyone stood" during yesterday's five-hour Cabinet meeting.
This follows the resignation of Brexit Minister Dominic Raab at 9am this morning, with Raab saying that he could not "in good conscience support the terms proposed for our deal with the EU", citing the "indefinite backstop arrangement" as a major reason for leaving the Cabinet.
Junior Brexit minister Suella Braverman, Northern Ireland minister Shailesh Vara, and Conservative MP Anne-Marie Trevelyan have also resigned.
Esther McVey's resignation letter
In her letter to the Prime Minister, McVey said that May's Brexit proposal "does not honour the results of the referendum".
The staunch Leave supporter said that she could not back the proposed agreement due to issues surrounding the customs union:
"The proposals put before cabinet, which will soon be judged by the entire country means handing over around £39bn to the EU without anything in return. It will trap us in a customs union.

"It will bind the hands of not only this, but also future governments in pursuing genuine free trade policies."
She said that she would not be able to "look her constituents in the eye" if she backed the deal.
McVey's Brexit stance
McVey has been vocal in her refusal to back the Chequers plan- the Brexit white paper published back in July which many Brexiteers have criticised for proposing a soft Brexit. Despite this, she said that she had "full confidence in the prime minister to deliver the Brexit that Britain voted for".
However, McVey reportedly clashed with the Prime Minister during yesterday's cabinet meeting, indicating that this is no longer the case.
In Esther McVey's resignation letter, she criticised the decision to take a softer approach to Brexit, saying "we have gone from no deal is better than a bad deal, to any deal is better than no deal", indicating that she is not entirely against a no deal outcome.
What does this mean?
Esther McVey's resignation, as well as the loss of the Brexit secretary, will be a huge blow to May's Withdrawal Agreement.
With the cabinet bracing itself for further resignations, a vote of no confidence from Tory MPs looks like it could be on the horizon. According to Sky News, a number of Conservative MPs have now sent letters to the chairman of the party voicing their concerns about Brexit. This could be enough to trigger a leadership contest.
Several hard Brexit Conservatives have also indicated that they plan to vote down May's Brexit plans when they come before MPs in December.
According to The Telegraph, Sajid Javid, the Home Secretary and Jeremy Hunt are understood to have raised concerns about Britain's ability to strike free trade deals after Brexit and the customs backstop.