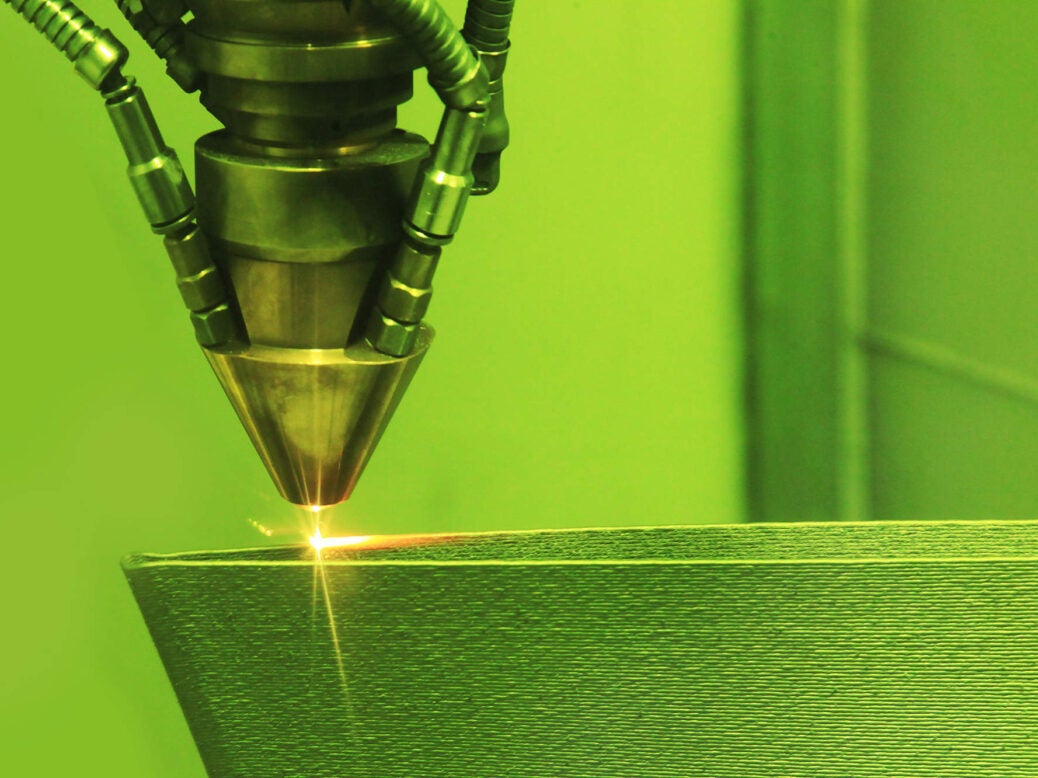 For consumers, 3D printing has failed to become the must-have technology that many predicted. Outside of the home and in industry, though, 3D printing technology has become far more widespread, and offers exciting possibilities for future development. Platforms continue to advance, but the future of 3D printing seems to be all about materials.
In industry, 3D printing is more commonly known as additive manufacturing (AM).
Engineers send a computer-aided design to the AM equipment. The equipment follows those instructions and adds successive layers of liquid, powder, sheet material and others to fabricate an object in 3D.
Unlike traditional manufacturing, the object is created as a whole, requiring virtually no intermediate products.
How is 3D printing being used and what are the benefits?
The ability to create bespoke parts quickly and relatively cheaply has seen AM adopted in advanced design and manufacturing industries. It is often used by businesses to create a-mock up to help refine the product before entering full-scale manufacturing.
Industries that require a regular supply of prototype parts, such as aerospace, medicine and automotive, have been some of the key employers of AM.
Williams F1 ADM team leader Richard Brady told Verdict that speed is a vital benefit of AM and is used to accelerate the testing and development process. "We embark on projects where fast development is vital so we can manufacture parts which are normally made by conventional means," he said.
Depending on the complexity of the project, it can take as little as a couple of days up to a couple of weeks to design and produce a part. This gives engineers a visual of a prototype that they can test without going through a traditional, longer manufacturing process.
In Williams F1 materials engineer Clare Sibley's case, this can could be a piece of pit equipment. "The engineers can actually have and hold something that they're designing so they can understand how it's fitting together," she said.
Materials, materials, materials
Many people's idea of a 3D printer is a hobbyist printer that can only operate with thermoplastics. While many materials used in AM tend to be nylon-based thermoplastics, industrial 3D printers can also create objects from metal. This includes metals such as steel, titanium, gold and silver.
This creates opportunities across the manufacturing industry, particularly in more niche areas. Medical equipment provider BEGO USA, for example, uses a form of AM known as direct metal laser sintering to create replacement teeth and fillings. Manufacturers can 3D print teeth made from alloys using a digital scan in just 48 hours.
This has led to significant disruption of the traditional lost-wax mould approach. And the key to that is access to a greater range of materials.  "The end of casting is approaching as the application of additive manufacturing to dentistry begins to alter the landscape," said BEGO USA president Bill Oremus.
The provider of BEGO USA's AM machinery is EOS. Its UK&I regional manager, Gary Taylor, believes that the range of materials is central to the uptake of 3D printing across industries.
"If we think about the manufacturing landscape, there are more parts made in metallic than there are in plastic," said Taylor.
"So, what we're finding now is that a lot more companies who are developing parts in metal are now seriously looking at the AM process as a viable alternative to traditional methodology."
In addition to plastic and metal, additive manufacturing can be used to create products from glass, rubber and composites. More and more materials are being added to this portfolio. This allows engineers to work with materials that have a greater range of properties. With more properties available, such as robustness and fire resistance, AM continues to provide extra value to manufacturers.
Brady identified strength, processing and reuse as the main qualities that he looks for in new materials.
"The whole technology, from my view, is material driven," said Brady. "The machines will come along, but it's going to be materials that will be making the major steps forwards."
Taylor agreed, saying that the focus is "materials, materials, materials".
The future of 3D printing is also about confidence
Uptake of AM continues to grow among manufacturers. According to consultancy PwC, two thirds of US manufacturers are already adopting 3D printing in some form. But that leaves a substantial percentage that are not yet convinced of its benefits. AM is still relatively expensive and remains, for now, better suited to smaller production scales.
However, with an increasing variety of materials becoming available to AM, Taylor believes it's becoming a matter of education.
"It's not thinking of designing the part with traditional methodology," he said. "It's having people who understand AM and what you can design in AM, so that when you look to design a part you're thinking outside the box and doing it in a slightly different way."
Taylor also believes that instilling confidence in manufacturers is important. AM is still a relatively new manufacturing process. Ultimately, though, Taylor believes that in the medium-term, AM will become a fully accepted process in the manufacturing toolbox.
"At the moment it's not there, it's not mature, it is maturing and it will take some time. But it's not there yet."
Verdict deals analysis methodology
This analysis considers only announced and completed cloud-deals deals from the GlobalData financial deals database and excludes all terminated and rumoured deals. Country and industry are defined according to the headquarters and dominant industry of the target firm. The term 'acquisition' refers to both completed deals and those in the bidding stage.
GlobalData tracks real-time data concerning all merger and acquisition, private equity/venture capital and asset transaction activity around the world from thousands of company websites and other reliable sources.
More in-depth reports and analysis on all reported deals are available for subscribers to GlobalData's deals database.