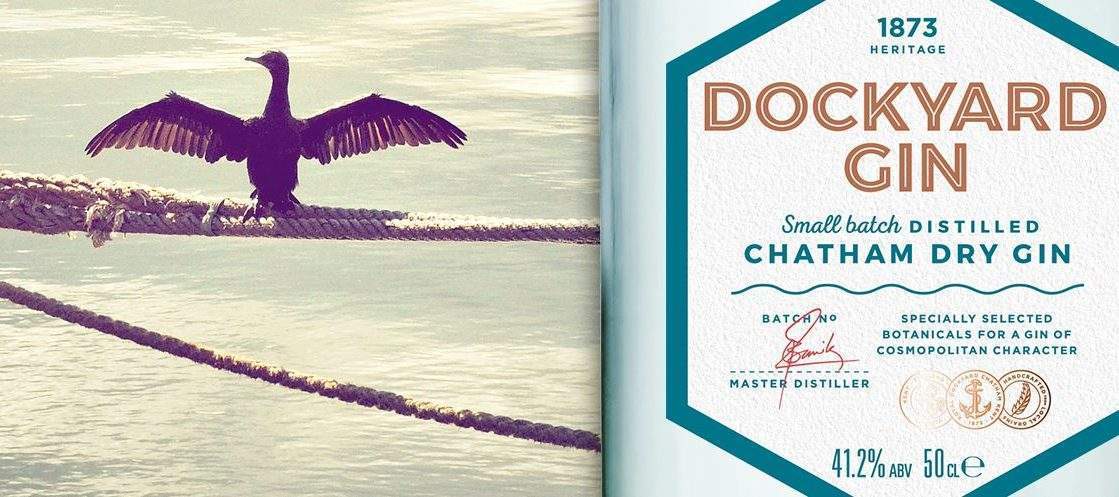 When you're pouring your third, fourth, fifth glass of gin and tonic this weekend, you probably won't put much thought into where it came from, how it got its juniper-heavy taste, or hangover-inducing qualities.
However, the gin-making process is a long and complicated one that takes close to a year from start to finish.
Verdict visited the Copper Rivet Distillery in Kent, England, to find out how its grain to glass Dockyard Gin is made.
Growing grains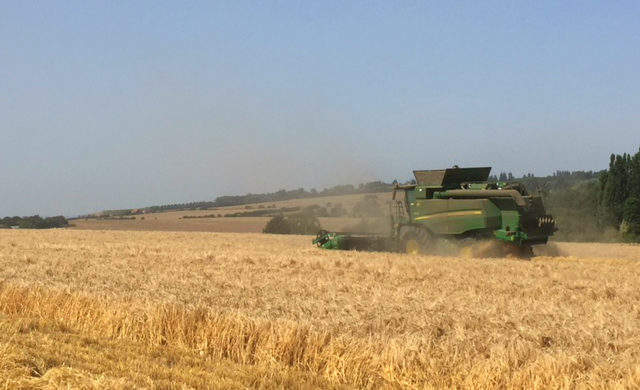 Gin is typically made from a blend of grains, including wheat, barley and rye. While run-of-the-mill grains will suffice, luxury tipples often use special varieties to ensure a high-quality product.
The Copper Rivet Distillery uses locally-sourced grains grown on a Kentish farm. Their alcohol is made from Group 3 soft wheat. This is lower in protein and typically used to make biscuits and cakes. They also use spring rye varieties grown for use in the distilling process, and a barley variety selected because it doesn't catalyse when used in copper equipment.
How well do you
really

know your competitors?

Access the most comprehensive Company Profiles on the market, powered by GlobalData. Save hours of research. Gain competitive edge.
Company Profile – free sample
Thank you!
Your download email will arrive shortly
Not ready to buy yet? Download a free sample
We are confident about the unique quality of our Company Profiles. However, we want you to make the most beneficial decision for your business, so we offer a free sample that you can download by submitting the below form
By GlobalData
The grain growing process is a long and difficult one, with its success largely reliant on a factor that is out of Copper Rivet's control: the weather.
Ready to harvest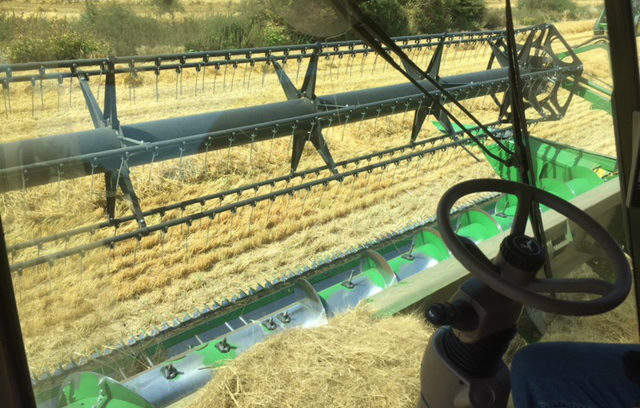 Should Copper Rivet wish to increase production in Christmas 2020, they would need the required grains to start growing right away. Wheat planted in August 2018 won't be ready to harvest until the following summer.
Wheat is usually planted in late September or early October and harvested in August the following year. Barley and rye take a little less time to grow. Crops are planted at the end of February or early March and are typically ready for harvest in August.
Weather permitting, the wheat, barley and rye should all be ready to harvest in the August. Automated combine harvesters (costing considerably more than the average price of a property in the UK) do much of the harvesting work, both cutting the grass and separating the seeds.
Barley seeds go through a dormancy period while the seed continues to develop. Dormant kernels will fail to germinate and produce less malt extract. Therefore, to produce high-quality malt barley, the crop must first be left for as long as three months, before it is soaked in water and left to sit.
As these are yearly harvested crops, the product must be stored and maintained year round to ensure that it remains suitable for use in the distilling process. Exposure to too much heat, or too much cold, can spoil the produce and, for a distillery like Copper Rivet that relies on one farm producing a special variety of grains, halt production.
Abhishek Banik, Copper Rivet's head distiller, said:
"We do not buy in any other malted barley from anyone else, so anything happening to the barley is very detrimental.

"For malting it is very, very important that we store it all round the year very carefully so that there is no heating up of the barley. It's very, very critical."
Heading to the distillery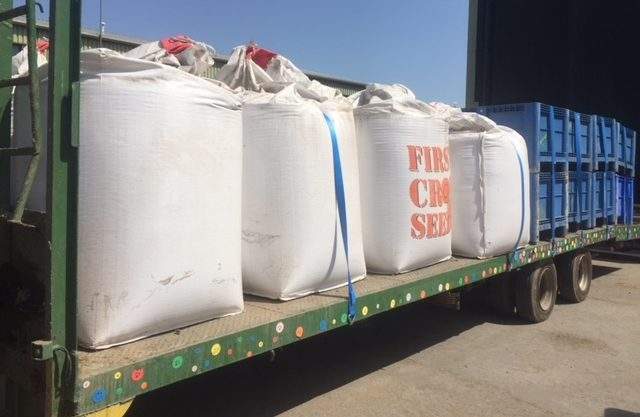 Only about 75% of the harvest actually makes it to the distillery. The farm removes around 25% in order to ensure that their product is clean and consistent.
Small grains are removed, as well as chaff, which is milled and turned into cattle feed. The rest is shipped off to Copper Rivet as and when the distillers need it.
Milling and mashing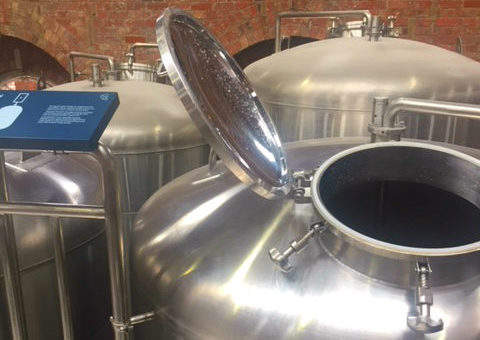 Once the grain arrives at the distillery, it is loaded into separate hoppers, and the distilling process is ready to begin.
The three grains are fed into the main hopper, the contents of which is made up of around 45% barley, 45% wheat for a sweeter taste, and 10% rye to add some spice to the mixture.
This then feeds into a mill, which is used to grind the grains together into a flour.
Copper Rivet uses a four-roller mill that co-founder Matthew Russell says provides a more consistent mix than a two-roller mill. This is a vital part of the process and one that, if done incorrectly, could result in a different taste each time.
From there the mixture is placed into a masher. Here it is soaked and blended with hot water, pre-boiled to around 45°C. The temperature rises over time, up to above 80°C.
Over the course of a few hours, certain enzymes in the malted barley break down the starch, leaving behind a sugary water mixture that Russell says isn't all that different to golden syrup.
This is known as malt, fermentable sugar water that later on in the process becomes gin, beer and whisky.
The mixture is moved into a lauter tun which essentially serves as a giant sieve in the gin-making process. A grate traps the spent grains inside, while the liquid is pumped out into a fermentation tank.
Meeting regulations
What remains is mixed with yeast, which digests the sugars and emits a combination of methanol, ethanol, carbon dioxide and sulphur. It is the ethanol, pure alcohol, which is valuable to distillers.
Methanol is also alcohol, but the type that will cost you a trip to the hospital. Thankfully, methanol is more commonly found in the production of fruity alcohols like wine.
It takes approximately three days for the mixture to ferment. Leaving the malt in the fermentation tank for longer won't create a higher alcohol content. However, it will intensify the flavours in the final product.
Copper Rivet's head distiller Abhishek Banik leaves the alcohol to ferment for up to a week at a time. This creates, he says, a more flavoursome product.
The end result is 4,000 litres of a mixture that is about 8% alcohol.
Taking out the trash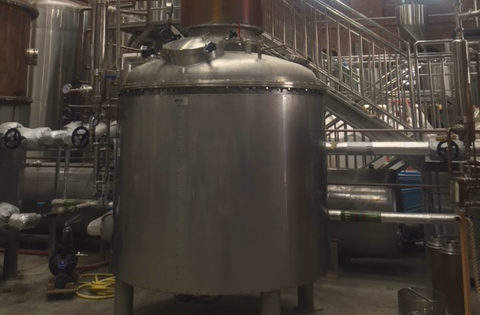 The tricky part is extracting the 320 litres that is actually of use. To do this, the 8% alcohol must be placed inside a distillation tank in order to remove the waste.
The mixture is placed into a distilling pot and boiled in order to separate the ethanol from any waste.
At around 65°C, the methanol begins to evaporate and transfers into a condenser. For the first few hours, the steam that passes through is separated. This ensures that any methanol is removed from the mixture.
Ethanol begins to evaporate at 75°C. At this point the vapours are transferred into a separate chamber to collect. The distiller then switches it back towards the end of the process to stop excess water from mixing with the ethanol.
What remains is a base alcohol with a strength of approximately 28%.
However, under European laws, neutral alcohol must be distilled to a strength of 96% in order to be used in the blending of alcohol beverages such as gin.
Therefore, the process must be repeated in a partial condenser – which evaporates and condenses the chemicals up to 40 times – in order to meet regulations.  What remains is an alcohol with a purity of 96.5%, or the base of your soon-to-be gin.
Sweetening the pot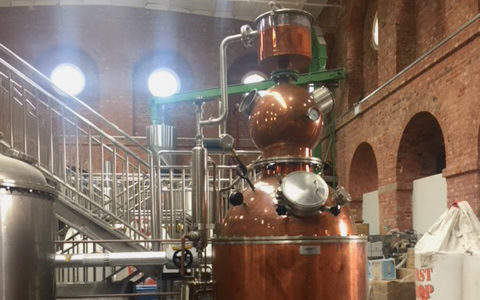 Gin is essentially flavoured vodka. In order to make your gin a gin, it must first be distilled with botanicals. This extracts the aromatic compounds from ingredients such as juniper, coriander, citrus peel and cinnamon, which mix with the alcohol. In order to be sold as gin, juniper has to be the predominant flavour.
Usually the flavourings are placed in boiling water at around 120°C. However, according to Banik, this results in burned botanicals, which reduces the eventual taste of the product.
Instead, Copper Rivet uses its patented copper still that keeps the alcohol and botanicals separated. As they aren't in contact with the boiling liquid, the botanicals are kept at around 80°C. This results in a more flavourful product despite using smaller quantities of coriander and fruit peels.
The end result is Copper Rivet Dockyard Gin, a 41.2% gin that is floral on the nose, citric on the tongue and spicy on the throat.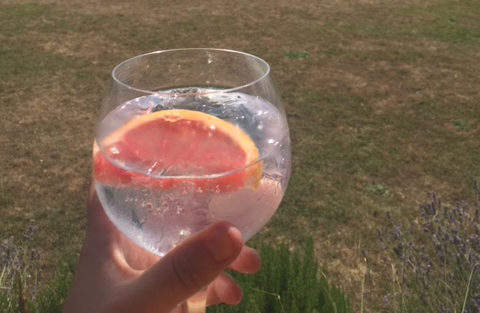 Read more: These 21 drinks are officially the best gin in the world