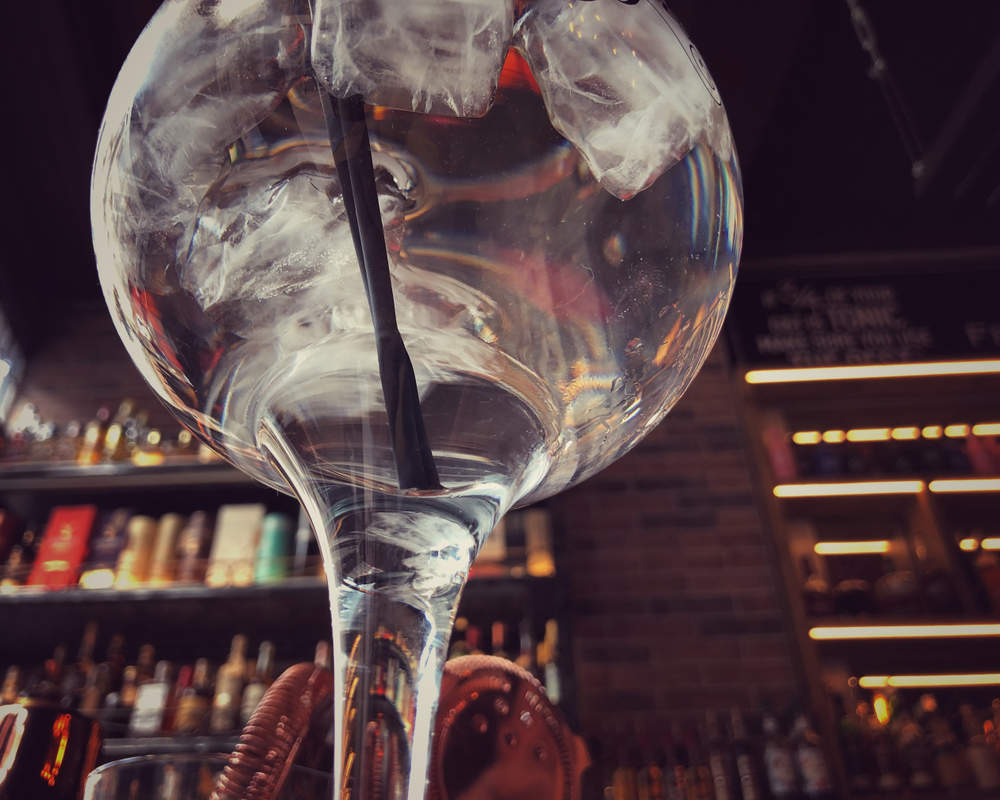 With over 600 different gins entered in this year's International Wine and Spirit Competition, the trend for Mother's Ruin shows no signs of abating.
In fact, for the first time, the number of gins outstripped the number of Scotch entries.
Of the 2,700 spirits nominated in the prestigious competition, around 22.2% were gins. There were some surprising winners and losers too. Budget gins from Aldi and Lidl were able to best prestigious competitors like Heston Blumenthal's Citrus Sherbet Lazy Gin, created for Waitrose, in blind taste tests.
For a while now experts have predicted that the drinks industry has hit 'peak gin'. However, the IWSC suggests that's not the case at all. They believe there are a staggering 3,500 gin brands and varieties in existence worldwide and predict that gin sales will topple Scotch by 2020.
Speaking to IWSC, Desmond Payne MBE, Master Distiller at Beefeater Gin said:
"Over the last few years, gin has experienced global success and I'm not surprised that the IWSC saw its highest-ever level of entries to this category. This new-found growth is being driven by millennial drinkers who are attracted to the artisanal nature of gin and its wide range of botanical flavourings.

How well do you

really

know your competitors?

Access the most comprehensive Company Profiles on the market, powered by GlobalData. Save hours of research. Gain competitive edge.

Company Profile – free sample

Thank you!

Your download email will arrive shortly

Not ready to buy yet? Download a free sample

We are confident about the unique quality of our Company Profiles. However, we want you to make the most beneficial decision for your business, so we offer a free sample that you can download by submitting the below form

By GlobalData

'That focus on provenance and taste has propelled its popularity and we're seeing distillers testing the boundaries of gin like never before – there really is a gin for everyone. After 50 years of distilling and working with the world's most awarded gin brand, you wonder what other surprises you'll see, but the passion, enthusiasm and ingenuity of the industry continues to amaze me."
The best gin in the world:
Of the 'well-over' 600 gins entered in this year's blind taste test competition, a total of 521 won awards.
To win a Bronze award, the gins had to get a score of 75-79.9% from the judges. 80-85.9% wins a Silver award and 86-89.9% gets an Outstanding Silver award. To get a Gold award, gins needed 90-92.9% from judges. Anything higher than that and they win the top tier prize, Outstanding Gold.
And while the vast majority of the entrants won some kind of commendation, only a very few won Gold and Outstanding Gold accolades.
Of course, the ones that did are well within their rights to call themselves the best gins in the world. Here they are:
Gold award winning gins:
Archie Rose Distiller's Strength Gin
Producer: Archie Rose Distilling Co.
Origin: Australia
ABV: 52.4%
Judges tasting notes:
"A delicate nose of violet petals with a herbal earthiness. Exceptionally resinous to start on the palate, with a complex array of purple and green juniper notes. There is also a strong oiliness that lingers on the palate, along with green and woody herbal notes."
Canning's Gin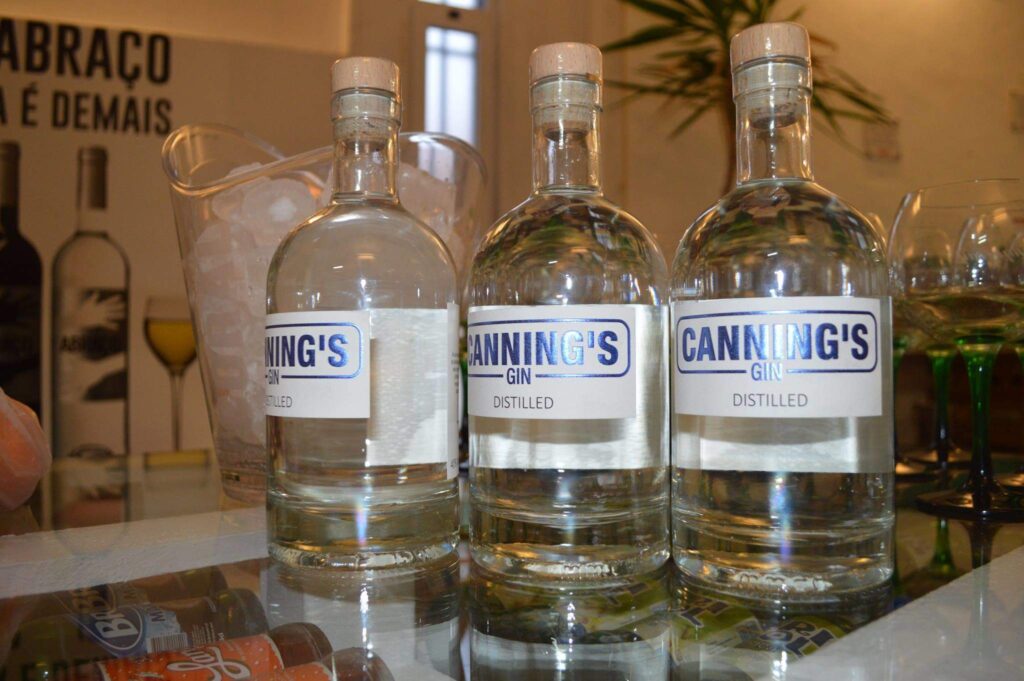 Producer: C.N.A. Companhia Nova de Aguardente Unipessoal Lda
Origin: Portugal
ABV: 40%
Judges tasting notes:
"Hints of pine, typical juniper, slightly earthy with a good grade of depth. Complexity carries through to the palate, hints of pepper and mint. Long, soft finish with a black pepper heat shining through."
City Of London Christopher Wren
Producer: City Of London Distillery
Origin: England
ABV: 45.3%
Judges tasting notes:
"Immediate, bright aromas of juniper, accompanied by notes of citrus and a light softness. Ripe, plump juniper upfront, followed by jammy apricot and a touch of rose. This is an elegant spirit that delivers all that you could want from a classic London Dry Gin. A lightly zesty fruitiness with a touch of blossom and pepper wrap up the finish."
Curio Rock Samphire Gin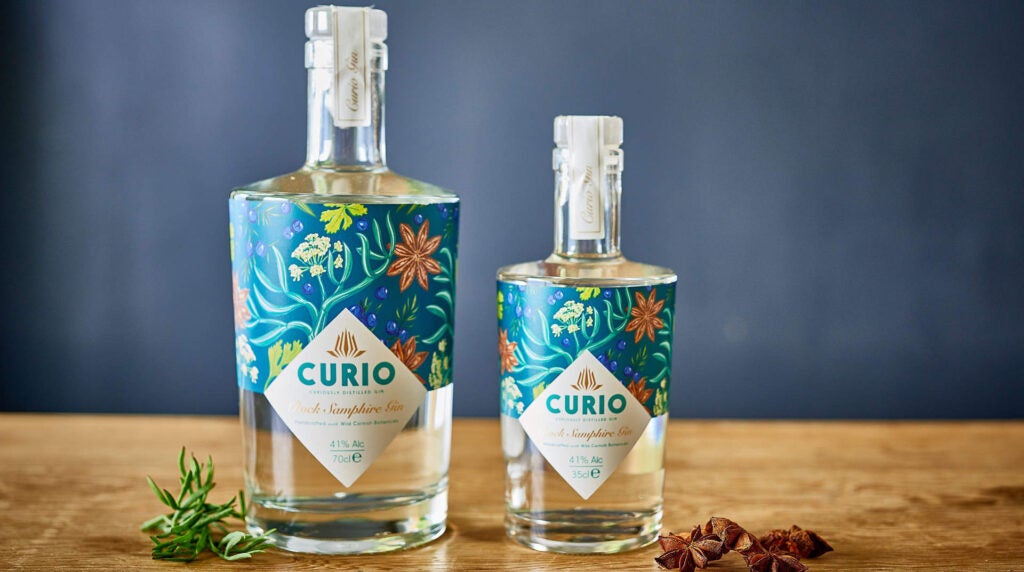 Producer: Curio Spirits Company
Origin: England
ABV: 41%
Judges tasting notes:
"One might not imagine samphire as the most obvious lead botanical in a gin but by gum, they've pulled it off! Firstly this is a great gin in its own right, with depth, complex flavour profile and a wonderfully resonant long finish. The samphire just adds a very delicate layer of saline lift on the nose and palate, a faintly salty tang. A really cleverly conceived and crafted gin. Bravo!"
Dragonfly Cask Matured Gin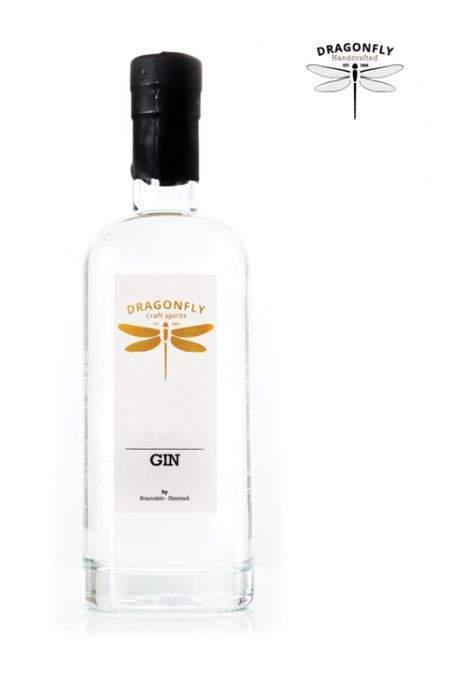 Producer: Braunstein Destillery
Origin: Denmark
ABV: 44%
Judges tasting notes:
"On first smell there is dominant vanilla oak, followed by custard and exotic fruits. The botanicals shines trough the bold oak. Once tasted there is again exotic fruit and bang on Vanilla, combining well with the citrus. Long and zesty finish."
Kalki Moon "Classic Gin"
Producer: Kalki Moon
Origin: Australia
Alcohol: 37%
Kangaroo Island Distillery Old Tom
Producer: Kangaroo Island Distillery Pty Ltd
Origin: Australia
ABV: 42.5%
Judges tasting notes:
"Spiced red vine fruits and the succulent sweetness of port and sherry wine. Juicy and fruity upfront with the sweetness of cinnamon sugar. This is followed by a botanical intensity from the gin with notes of orange, juniper, and angelica, before a lightly peppery finish."
Langley's Old Tom Gin
Producer: Charter Brands
Origin: England
ABV: 47%
Judges tasting notes:
"A bold nose with sweet hints of crème brûlée and cassia. Creamy and botanically intense. A pleasant interplay between sweetness and citrus, producing a slight marmalade character in the gin. Dryer leafy notes follow, along with peppery juniper."
Poor Toms Fool Strength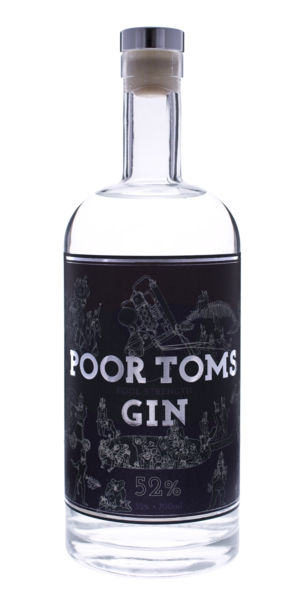 Producer: Poor Toms Gin
Origin: Australia
ABV: 52%
Judges tasting notes:
"One for the gin traditionalist, this is a superb, old-school gin, they should put it on the syllabus at gin school! Has a persistent juniper aroma and flavour resonant like the burr of a cello, with other botanicals flitting and carousing around it. Superbly crafted with a powerful expressiveness and a toothsome viscosity. So good it is really hard to fault this gin in any way. Back to basics, and how!"
Sakurao Gin Original
Producer: Chugoku Jozo Co. Ltd.
Origin: Japan
ABV: 47%
Judges tasting notes:
"Complex and aromatic with earthy angelica and leafy notes of green tea, along with some violet and cherry blossom. Crisp juniper upfront with a little black pepper. Jammy citrus follows, before a coriander zestiness on the finish."
Stockholms Bränneri Navy Gin
Producer: Stockholms Bränneri
Origin: Sweden
ABV: 57%
Judges tasting notes:
"Classic London Dry Gin with correct juniper baseline with its sweet/savoury character. On the palate has a warming glow as the other botanicals open out in support. Woody spice, licorice and warm citrus, a clutch of interlocking spices. A triumphant creation destined to form the basis of a spectacular G&T, if this is Naval Strength Gin it is a recruitment campaign in a glass!"
Wessex London Dry Batch 1
The new bottle for Wessex just got to decide on the colour any ideas? pic.twitter.com/pcxbKkVPym

— Wessex Distillery (@WessexGin) May 10, 2018
Producer: Wessex Distillery
Origin: England
ABV: 47%
Judges tasting notes:
"A soft, dry earthiness with a little orange fruitiness. A thick and viscous texture that coats the mouth. There are some sweet vanilla notes that are well balanced by a dusky florality. A touch of spice follows, before a long, honeyed finish."
Whitley Neill Handcrafted Quince Gin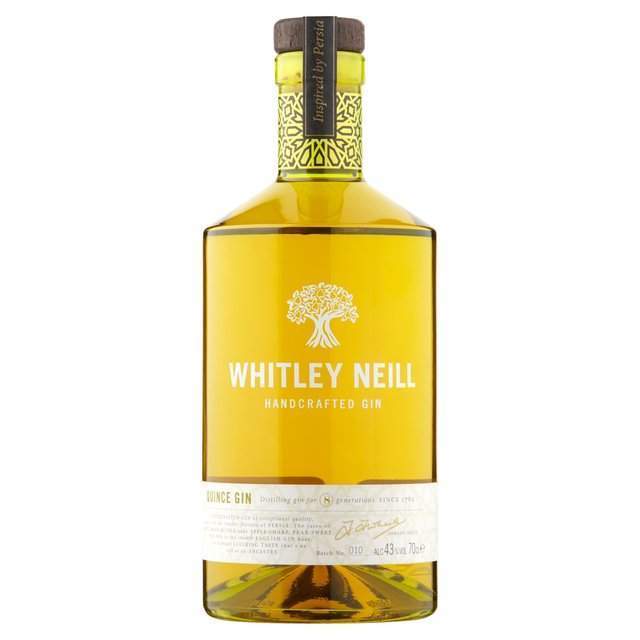 Producer: Halewood Wines and Spirits
Origin: England
ABV: 40%
Judges tasting notes:
"Soft, sweet, and jammy quince, like quince paste on crackers with a touch of violet and rose jelly. Delicious and indulgent, this is sweet and plump to start, with notes of quince, apricot, and a touch of dry black tea. The texture is delightfully velvety, before a distinctive gin finish with lingering botanical notes."
Outstanding Gold award winning gins:
Black Powder Flintlock Navy Strength Gin
Producer: Black Powder Gin
Origin: England
ABV: 60%
Judges tasting notes:
"Traditionally styled London Dry Gin, and then some! Unashamedly old school, with a judicious streak of juniper running through it, the depth and complexity of flavour here is staggering, and staggeringly good! Bitter orange, clove, rooty woods and deep spices, and despite its high alcohol levels the alcohol is exceptionally well integrated, leaving a smooth mellowness on the palate. A gin-lover's gin, made by a masterful savant/e. Utterly outstanding."
Barr Hill Reserve Tom Cat Gin
Producer: Caledonia Spirits
Origin: USA
ABV: 43%
Judges tasting notes:
"Honey and juniper on the nose with freshly baked treacle tart and sponge cake. Pine, eucalyptus and a citrus tone joins a big and complex array of aromas. Great honey sweetness to start with on the palate with a nice aged quality ending up in a long and lingering floral aromatic finish with a spicy backbone."
6 O'Clock Damson Gin
Producer: Bramley and Gage Ltd
Origin: England
ABV: 40%
Judges tasting notes:
"A fine array of vibrant, plump stone fruit: from sweet cherry to tart plum and, of course, lots of damson. These notes are combined with light vanilla and an almond nuttiness. A beautifully silky gin with the perfect balance between the bright, resinous character of the gin and the complex fruit of the damson. This is a harmonious gin with a graceful texture and great interplay between its sweet and dry notes. Initial tartness of the fruit is neatly balanced by its creamy texture and followed by light notes of baking spice, before a clean and dry finish. Excellent! A textbook damson gin."
Sakurao Gin Limited
Producer: Chugoku Jozo Co. Ltd.
Origin: Japan
ABV: 47%
Judges tasting notes:
"Delicate aromas of rose, jasmine, and cherry blossom, followed by a burst of citrus and a sparkle of juniper. A nuanced and elegant spirit that is perfectly balanced and very well-made. Classic flavours of juniper and coriander are complemented by graceful citrus and a touch of blossom. A complex and delightful spirit."
Marylebone Gin
Producer: Halewood Wines and Spirits
Origin: England
ABV: 40%
Judges tasting notes:
"We arise to applaud this quite magnificent gin. On the nose as well as the palate it is absolutely bursting with flavour, herbs and grasses, spices and bejewelled root and fruit. Yet no flavour overrides or stands out; as it were the botanical bell-ringers are perfectly in time! Wonderfully complex, you want to savour this gin to enjoy all its dimensions of flavour and they diminish into a long, lingering finish. A gin masterclass in your glass!"
Tanqueray Sevilla
Producer: Diageo PLC
Origin: Scotland
ABV: 41.3%
Judges tasting notes:
"Fragrant and elegant with a pleasant mix of jammy orange peel and blossom, along with a touch of piney spice. Delicate and graceful, with a silky texture. There is a marmalade sweetness to start, combined with the bittersweet nature of orange peel. This is overlaid with complex citrus blossom and followed by dry juniper and other botanicals on the finish, including zesty coriander."
Scapegrace Gold
In addition to its Outstanding Gold award, this gin also won the London Dry Gin Trophy 2018.
Producer: Rogue Society Distilling Co.
Origin: New Zealand
ABV: 57%
Judges tasting notes:
"Staggeringly good gin! Has the classic juniper burr running through it, joined by powerful but balanced spice and root flavours and combining to make a complex, teasing expression demanding of attention on the palate. Alcohol superbly integrated, smooth mouthfeel. Making gin this good is not easy or accidental, we salute the blender, Maestro! A magnificent gin."
KI NO BI Kyoto Dry Gin
This gin won the Contemporary Gin 2018 trophy, as well as its Outstanding Gold award.
Producer: K.K. Number One Drinks (The Kyoto Distillery)
Origin: Japan
ABV: 45.7%
Judges tasting notes:
"Creamy lemon and lime, along with soft, subtle spice. A graceful texture with a light sweetness to start, followed by a dash of vanilla and chamomile, followed by a peppery leafyness, before a long, menthol finish."
Major trends in gin:
Of course, with all these award-winners, it's reasonably easy to come up with a good sense of what's hot in gin at the moment.
For starters, it's obvious that the UK is still the world capital of gin. 52% of the best gin in the world is distilled in the UK, with 10 of the 21 made in England and another one being made in Scotland. The next best gin producers in the world are Australians who make up 19% of the list, and Japan who made an additional 14% of the brands listed as the best gin in the world.
In addition, it looks like gin is starting to stratify a little bit too. Traditionally over half of the leading gins were under 45% ABV. However, Navy Strength Gin, gin which is over 50% ABV, made up 19% of the best gin in the world.
Finally, despite all the pronouncements that flavoured gin is the future, only a third of the best gin in the world is flavoured according to the IWSC.
To hear a little more about the history and culture of gin, check out Verdict's mini-documentary on everyone's favourite spirit: