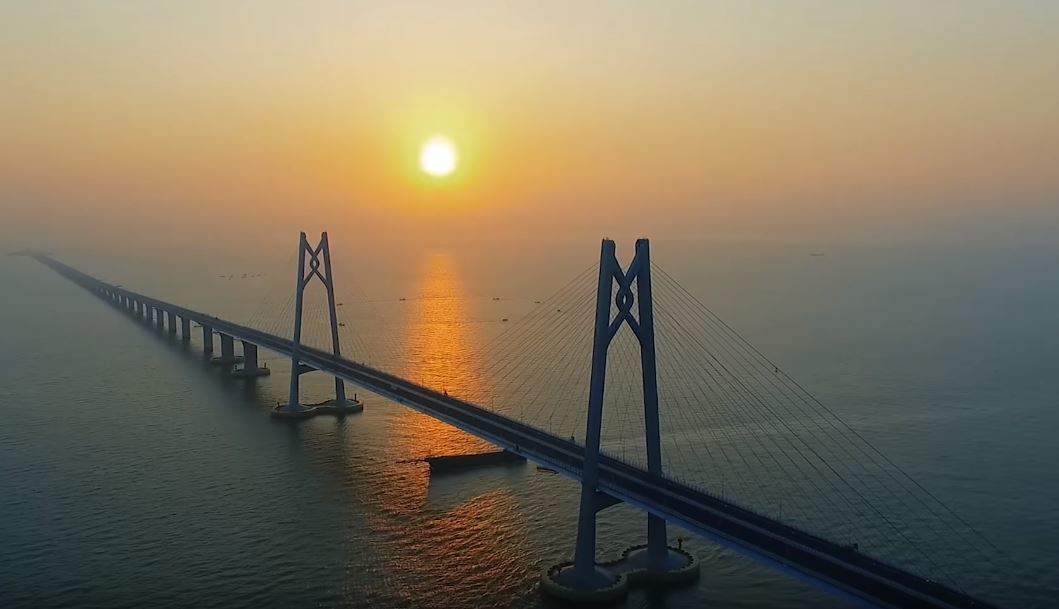 Spanning three bridges, two man-made islands and an underwater tunnel, China is on the verge of completing an engineering masterpiece.
The finishing touches are being put on the Hong Kong-Zhuhai-Macau Bridge (HZMB), a project that HZMB chief engineer Su Quanke calls "one of the most technically challenging projects in the history of transportation in China".
The main structure was completed last year, stretching 29.6km across the Pearl River estuary, 6.7km of which travels under the water to ensure that no disruption is caused to the area's busy Lingdingyang shipping lanes.
Upon completion, the bridge will measure 55km, becoming the world's longest sea-crossing bridge. China's Jiaozhou Bay Bridge is the current record-holder, covering a distance of 42km between Qingdao and Huangdao.
Construction started back in 2009. Eight years, 420,000 tonnes of steel and 1.1 million cubic meters of cement later, the bridge is expected to open to traffic later this year. Chinese state media has set a May date, should negotiations on customs checks, emergency procedures and cross-border insurance policies go to plan.
Once it does, HZMB will link three major cities in the Pearl River Delta area, bridging the 62km gap between Macau and Hong Kong.
How well do you
really

know your competitors?

Access the most comprehensive Company Profiles on the market, powered by GlobalData. Save hours of research. Gain competitive edge.
Company Profile – free sample
Thank you!
Your download email will arrive shortly
Not ready to buy yet? Download a free sample
We are confident about the unique quality of our Company Profiles. However, we want you to make the most beneficial decision for your business, so we offer a free sample that you can download by submitting the below form
By GlobalData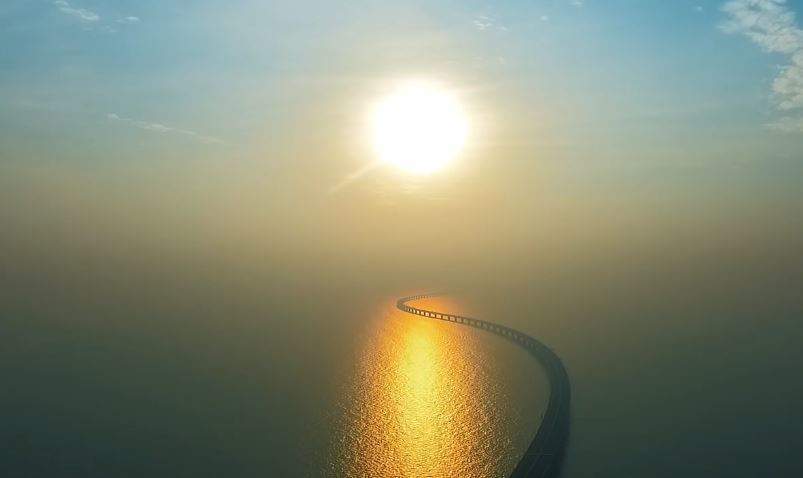 Will the Hong Kong-Zhuhai-Macau bridge change people's lives?
The bridge will be able to withstand magnitude eight earthquakes and the super typhoons, such as Saomai and Meranti, which regularly plague the region.
But day to day, will the bridge benefit locals in the Pearl River Delta area?
At the very least, it will make getting between the two regions far easier. The Hong Kong Highways Department told Verdict:
"It will significantly reduce transportation costs and time for travellers and goods on the road."
It is this ease of travel that HZMB will bring that excites the region's locals.
Campbell McLean, a Zhuhai resident who has spent decades living and working in the Pearl River Delta area, told Verdict:
"I will definitely be using the bridge to get into Hong Kong, either to the airport or the city. Cost could be a final determining factor as to whether I head into Hong Kong Central by car or by ferry, but at least my travel plans will not have to rely on ferry sailing schedules,"

"One thing is for certain – the trip, and the view from your window as you drive across the massive Pearl River Delta, from one side to the other, dipping below the waters and down into the tunnel in the middle section, and rising up again to see the peaks of Lantau ahead of you, now that will be quite something."
How much will HZMB reduce travel times and costs by?
Currently the nearest bridge connecting the western side of China's Pearl River Delta region to the eastern side is located between the Nansha district (80 minutes from Zhuhai by car) and the town of Humenzhen in Dongguan (approximately 90 minutes from Hong Kong by car).
Those travelling between Hong Kong and Zhuhai, which are approximately 35 miles apart, must take a three hour detour around the estuary. That is from point to point and doesn't include navigating through traffic in busy inner-city areas.
However, the opening of the HZMB will cut travel time between Hong Kong and Zhuhai to just thirty minutes, according to Chinese news agency Xinhua.
Of course, there is already a ferry service taking travellers from Hong Kong's China Ferry Terminal to the Jiuzhou Port (a 15 minute drive from Zhuhai) in around an hour. Ferries also travel between other surrounding areas.
However, ships only tend to depart every two hours. Likewise, at a cost of 220 Hong Kong dollars each way, taking the ferry works out too expensive for some.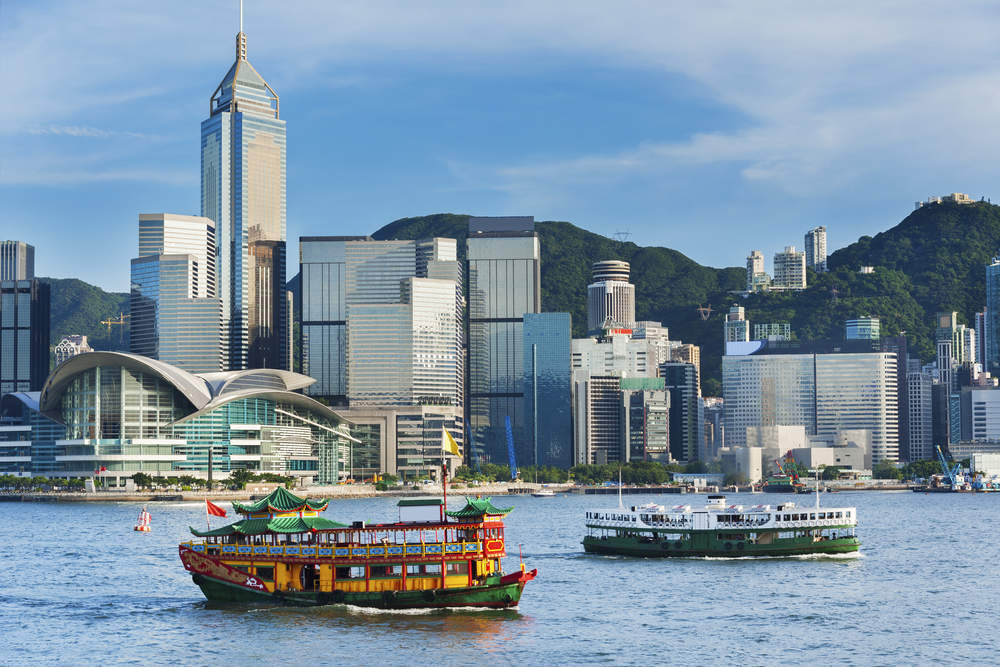 The bridge will offer travellers more control over their journey, but they will still have to pay. A public hearing in Zhuhai saw support for a toll fee of 150 yuan (approximately 185 Hong Kong dollars) for private vehicles entering mainland China.
We reached out to the Hong Kong Transport Department to enquire about the cost of entering Hong Kong.
The information that we were directed to suggests that, as the main portion of the bridge is located in mainland China, bridge users will be charged the same yuan fee when travelling in both directions.
Bridge users will save 70 Hong Kong dollars on the cost of the return trip compared to using ferry services if that is the case.
Dispelling complaints
"The bridge is perceived very positively in Macau and Zhuhai," McLean explains.
However, digging around on social media does reveal some concerns. Notably, there seems to be issue with potential increases in traffic in Hong Kong and Zhuhai caused by HZMB.
It baffles me why Hong Kong and Chinese Governments decided to build a 6-lane bridge when neither of Hong Kong and Macau's inner city roads can handle that amount of traffic. Would people drive their car across the bridge just to park? https://t.co/eYDsDxwHgj

— Alok Jain 程艾樂 (@alokjainhk) February 14, 2018
According to the Hong Kong Government website, a consultant hired by the three regions estimated that the number of vehicles travelling on the bridge each day will likely reach 29,100 by 2030 and 42,000 by 2037.
However, according to McLean, most of these vehicles won't be entering the cities:
"Keep in mind that you can't simply bring your own car in and out of Zhuhai and Hong Kong unless you have a two way vehicle permit, which is very expensive,"
"For now, for most of us, when we want to use the new bridge we will be driving to a newly reclaimed transit area where the new immigration processing terminal is located, leaving our cars parked there – at great expense – and then catching a bus, shuttle van, or licensed dual plate car."
Money matters
Cost certainly seems to be an issue.
At a meeting between representatives of local bus operators, logistics companies, government departments, academics and the operator, many argued that the government should cover part of the cost of cross-border shuttle and bus services in order to make using the bridge more attractive to travellers.
The cost for a shuttle bus to cross the bridge has been set at 450 yuan per vehicle per trip according to reports.
Chan Iat, one resident attending the meeting for Macau bus company Sociedade de Transportes Colectivos de Macau, suggested that lowering the cost to 300 yuan would make the service far more affordable for local users.
The HZMB Authority has yet to finalise toll costs. However, Su Yi, manager of the finance department, argued that the suggested tolls are reasonable and competitive.
This, coupled with the rising costs of building the bridge, could put potential users off.
In Hong Kong, the project has already overrun its budget by a third. Costs have exceeded 110 billion Hong Kong dollars and there have been complaints in Hong Kong.
However, for those in Zhuhai and Macau, McLean insists that the pros outweigh the cons.
I've read about some Hong Kong citizens complaining about the rising costs, but I haven't picked up on anything about that issue in Macau or Zhuhai.

Perhaps Hong Kong residents don't see the need or the benefit as much as people living on this side of the Pearl River Delta?
Of course, Hong Kong will be paying 50.2% of the cost for the main bridge, so the costs are far higher for them.
Zhuhai and Macau will pay 35.1% and 14.7% respectively. This could explain the differing views between those in different regions.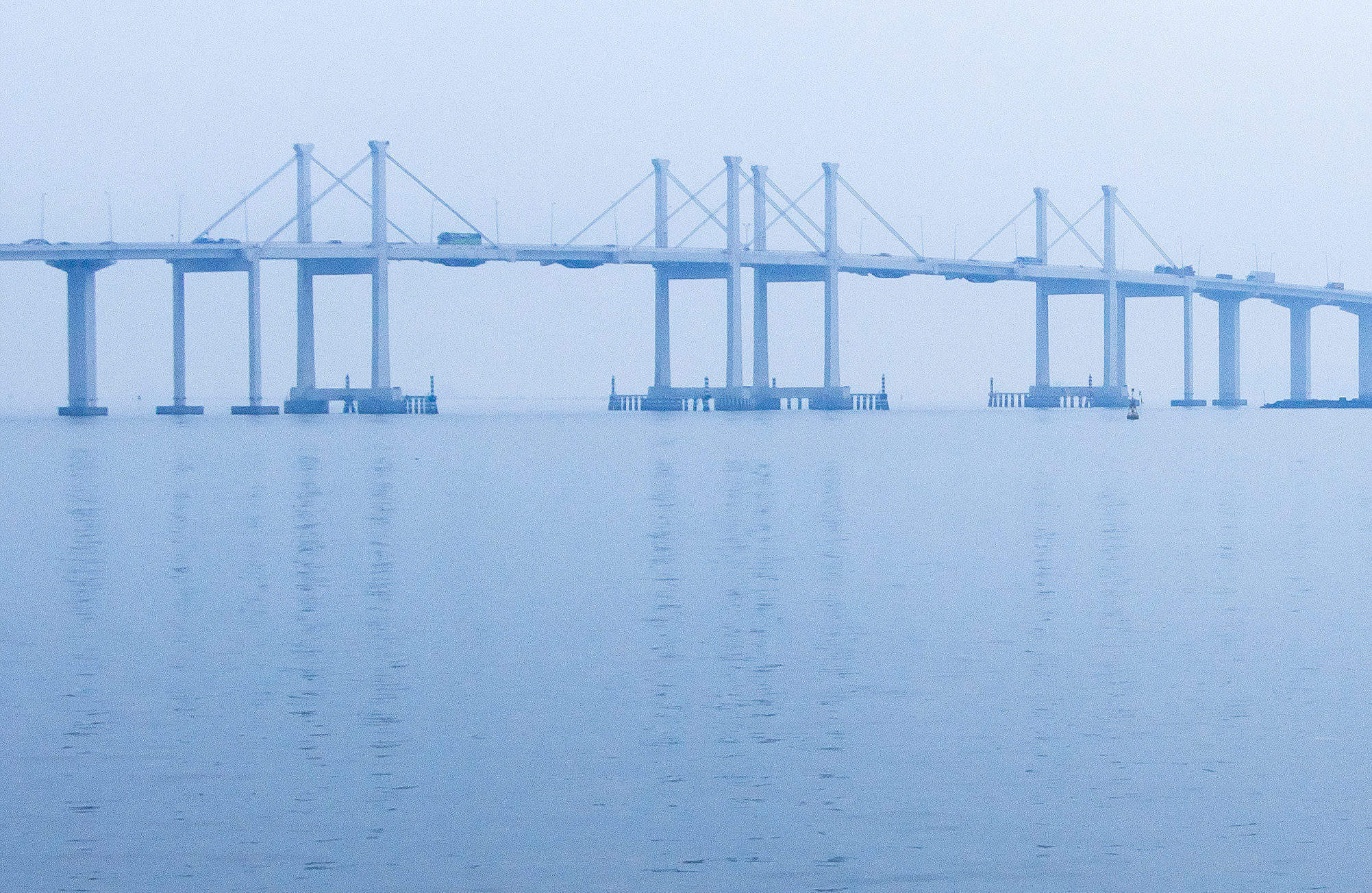 Is HZMB really for the people?
McLean said:
"I know that people in Zhuhai and Macau are very excited about the bridge and there is a great deal of anticipation here in China, not to mention a great deal of pride knowing that China has built the world's longest sea bridge connecting the Mainland with Hong Kong."
The fact that the Hong Kong-Zhuhai-Macau Bridge will become the largest sea bridge in the world has been well publicised. It will top the current record, already held by China, by 13km.
However, not everybody in the region views the project with the same positivity as McLean.
Bob McKercher, professor of tourism management at Hong Kong Polytechnic University, stopped short of labelling the bridge as a vanity project. However, he doesn't see the bridge providing any financial benefit.
He told Verdict:
"This bridge is an example of good old-fashioned 19th-century nation building by the central government. It is extremely costly and from the recent estimates I have seen, it will never cover its costs. It seems to be a piece of infrastructure development for no other reason than infrastructure development."
The Hong Kong Tourism Board disagrees.
Dawn Page, Director of the UK and Northern Europe, told Verdict:
The Hong Kong-Zhuhai-Macau Bridge is part of a wider government plan to invest in infrastructure that will greatly enhance connectivity between Hong Kong and its neighbouring regions.

Hong Kong plays a crucial role as China's southern gateway, and the ease of connecting with the mainland provides the city with an edge in attracting more British and international visitors.
More investment, more money, more jobs
Despite what McKercher told us, the Pearl River Delta region is already starting to see some benefit.
Many feel that the bridge will allow them to live in one city and work in another. According to reports, house prices in Hengqin, Zhuhai have soared as a result since development on the bridge got underway.
Prices are up from 8,000 Hong Kong dollars to 20,000 Hong Kong dollars per square metre. Macau has seen a similar boom. Property prices have quintupled since 2009 amid hefty infrastructure investment such as HZMB.
The construction of the bridge has already provided thousands of workers with employment and many more are expected to find work as a result of the increase development and investment that the Pearl River Delta expects to see.
The Hong Kong Highways Department told Verdict:
"The Hong Kong-Zhuhai-Macao Bridge will be of strategic importance to the further economic development of Hong Kong, Macao and the Western Pearl Delta region.

"With the HZMB, the Western PRD will fall within a reachable 3-hour commuting radius of Hong Kong.  This would enhance the attractiveness of the Western PRD to external investment, which is conducive to the upgrading of its industry structure.

"Hong Kong will benefit from this new economic hinterland, with its vast human and land resources which will provide ample opportunities for Hong Kong businessmen to expand their operation in the Mainland."
Leaders in the region believe that the bridge will help to facilitate cooperation between the areas and offer new business opportunities to those working in the region.
Signs of success
While the bridge has yet to officially open, Zhuhai is already starting to see an increase in investment in anticipation of HZMB.
According to McLean, who has been involved in business in the Pearl River Delta area for more than three decades,  Hong Kong-based companies are already making use of the cheaper office space and an untapped workforce that Zhuhai offers:
"The bridge is already starting to attract investment in the Hengqin new Area adjacent to Zhuhai. Companies from Hong Kong are looking to establish back office operations on Hengqin and signing leases there for office space.

"The talent pool is here, the investment potential is here, and the government is offering incentives for growth and to help entrepreneurs and startups base their operations in Hengqin.

"You have to see with your own eyes what they are planning and already building on Hengqin to believe it."
According to Jacky Shek, a senior director at Centaline, one of Hong Kong's largest property agencies, the number of office space transactions increased by 57 percent year on year between 2016 and 2017. In that time, the company oversaw ten major office space purchases around Hengqin worth more than $10 million (80 million Hong Kong dollars).
The company believes that the accessibility that the Hong Kong-Zhuhai-Macau Bridge will provide has played a role in increasing business investment in Zhuhai.
Vanity project or not, the region is already starting to see signs what the Hong Kong-Zhuhai-Macau Bridge can offer.
Despite its cost and complexity, the region's governments are certain that it will be a success.
Businesses are buying into the project and, for the most part, Pearl River Delta locals are filled with a "great deal of pride" knowing that their country is leading the way in sea-crossing bridge engineering.