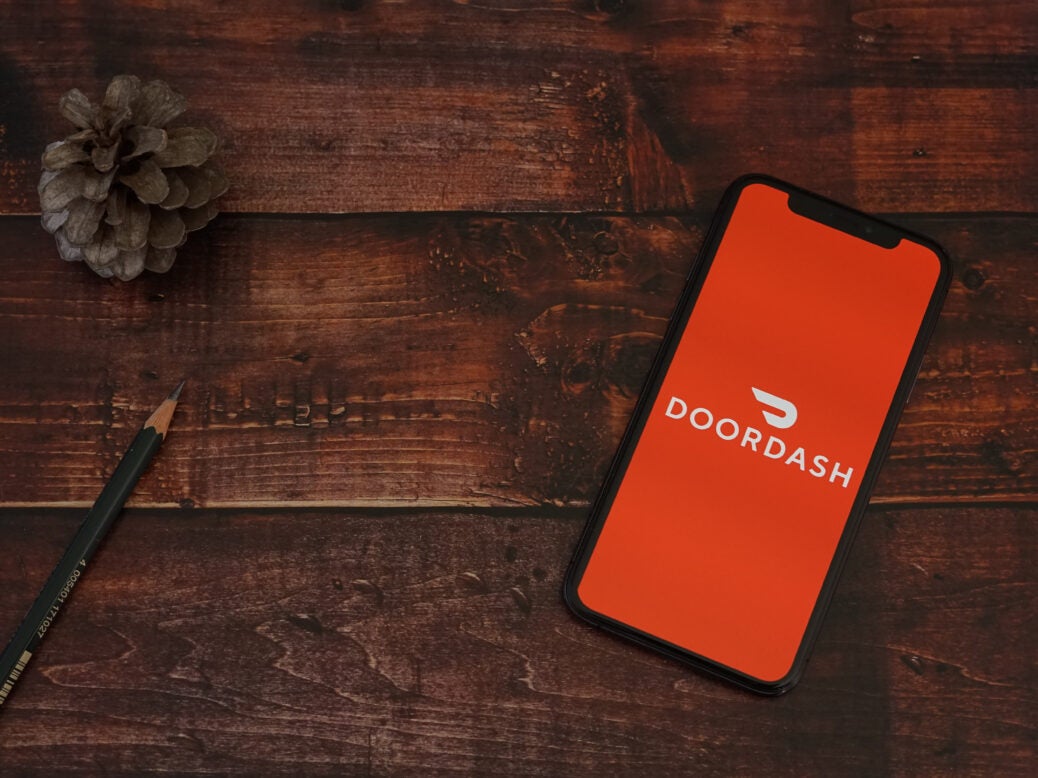 Market watchers believe the food delivery industry could be facing a downward trend, but the new quarterly results from DoorDash could give them pause for thought.
Analysts believe food delivery platforms could be about to face some hard times following the end of the pandemic – or at least of its restrictions, as Verdict has previously reported.
The argument for this is pretty simple: when governments imposed lockdowns across the world to stop the spread of the contagion, many people turned to companies like Deliveroo, Just Eat and Uber Eats to get their culinary fixes.
Most restrictions are now lifting, meaning people are allowed back onto the streets and, importantly, into the restaurants they've been missing.
The end of coronavirus restrictions and the rising cost of living crisis have made analysts expect that people will cut down on services like food delivery and entertainment streaming.
So, it's hardly surprising that analysts are expecting the food delivery industry to suffer as a result.
Is DoorDash beating the downward trend?
At a glance DoorDash's new quarterly figures seem to beat the expectation of an ailing market. Not only did its results for the second quarter beat Wall Street's expectations, that also resulted in an 18% jump in its shares in after-hours trading.
That being said, it is still trading at $84.45, significantly down from its 2021 November peak of $245.97.
DoorDash beat the trend by reporting a 30% year-on-year revenue increase. In the second quarter it achieved a revenue of $1.62bn compared to the $1.5bn predicted by analysts, according to Refinitiv, CNBC reported.
The food delivery platform attributed the stellar results to having seen the number of orders skyrocket by 23%, representing over 426 million orders.
There were, however, slightly more losses per share than expected: 72 cents compared to an expected 41 cents loss.
"Although we have noticed several external indications of shifts in consumer discretionary spending, so far we have not seen changes to consumer engagement on our US Marketplace that are measurable or distinguishable from normal seasonal patterns," DoorDash said.
DoorDash's recent success is partly due to its acquisition of Finnish delivery services Wolt Enterprises last year. The $8.1bn acquisition was completed in the second quarter this year and brought DoorDash to new international markets. It was reported that Wolt accounted for 12 million of DoorDash's total orders.
What's up with the food delivery market?
DoorDash is not alone in having seen its shares fall in the first half of 2022. Several food delivery companies are flailing in the stock market.
For instance, the value of Just Eat's shares have dropped from £4,076 in January to the £1,550 that it is currently trading at.
That being said, Just Eat has claimed that it is on track to hit its profitability goals despite its bottom line taking a hit from a hefty Grubhub impairment in the first half of 2022, as London South East reported.
Sixty-eight per cent of customers use food delivery platforms, according to GlobalData's 2022 Q2 global consumer survey. Customers had used these services at least once a month.
Increased food delivery usage had made it the second most frequented channel behind supermarkets.
So is the food delivery industry suffering? Well, it's a mixed bag and only time will tell how bad things will get.
GlobalData is the parent company of Verdict and its sister publications.