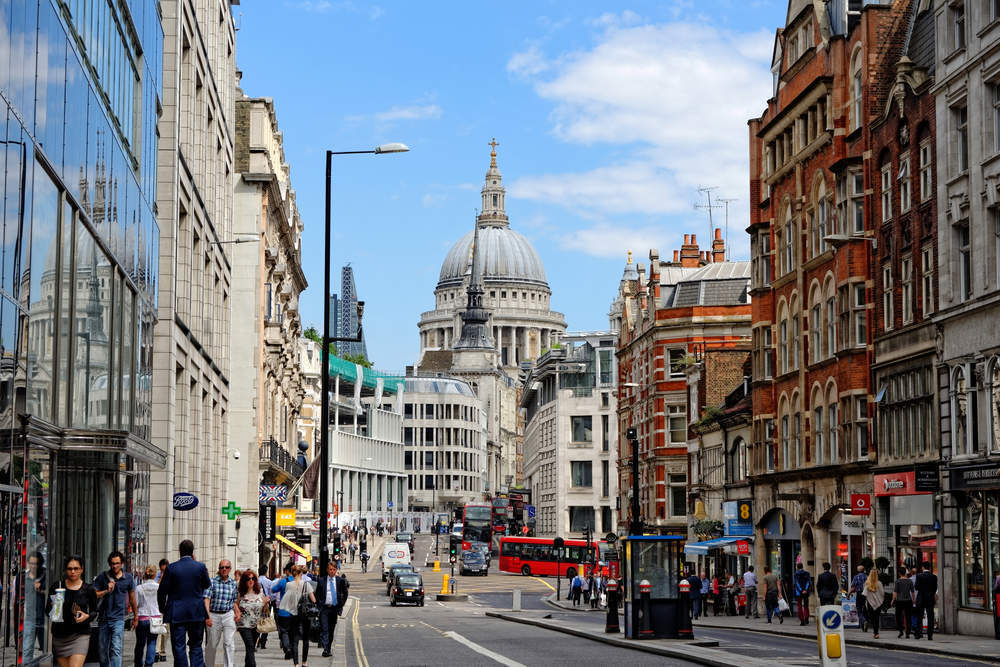 With one year to go until Brexit day on 29 March next year, people on the streets of London have a negative view of talks between the UK and the European Union and the country's ability to walk away from negotiations with a good deal.
Of the 12 people Verdict spoke to nine said they thought the UK would emerge with a bad deal, while two said they thought the UK would get a good deal. Just one person said they are expecting a fair deal.
One 71 year-old city banker told Verdict:
The answer is it's going appallingly. It's an economic disaster. I'm old enough to remember what the economy looked when it was young, pre-EC, and it was a disaster. It was awful. The standard of living, everything — dreadful. And that's what we're voting to get back to.
Should there be a second referendum?
A majority of those polled also thought there should not be a second referendum, citing reasons such as: "it would be politically explosive", "it's the job of politicians to decide", and "[the UK] already screwed up enough the first time with Brexit".
Seven of the people Verdict spoke to said there should not be a second referendum on the final Brexit deal, while five thought there should.
How well do you
really

know your competitors?

Access the most comprehensive Company Profiles on the market, powered by GlobalData. Save hours of research. Gain competitive edge.
Company Profile – free sample
Thank you!
Your download email will arrive shortly
Not ready to buy yet? Download a free sample
We are confident about the unique quality of our Company Profiles. However, we want you to make the most beneficial decision for your business, so we offer a free sample that you can download by submitting the below form
By GlobalData
Tom Palmer, a 35 year-old London consultant, said:
I don't think we were in a good place to vote on leaving the EU, let alone on a deal.
John Mahony, a lawyer and compliance officer specialising in EU law said constitutionally, a second referendum was not even an option:
Under British constitutional law it's not really on the table.

You have your royal assent, parliament will just decide on behalf of the people. There won't be another referendum.

You don't have a written constitution to point to. I think with this, Parliament will hold sovereignty, and parliament will make the final decision.
Another lawyer, 42 year-old Colin West said.
I voted remain myself, but we can't just have another one because we lost.
Matt, a recruitment consultant, said:
If you'd asked me six months ago I would have said definitely. But now I think it's too little too late.
Mino Guarino, an Italian Business Development Manager in London, 46, said he hoped there would be a second referendum:
Because when they voted in the first referendum, they didn't know anything about the aftermath, now it should be clear in a year or so, so it makes a lot of sense to have another referendum.
Paula Sabouda, a 22 year-old Polish architecture student said there should be a second referendum on the individual provisions of the final deal:
I think there should be options on that deal. Those options should be given to people to vote on.
Are you seeing an exodus of companies?
With 12 months to go before the transition period comes into effect, 70% of people said they are already seeing businesses flee, with Frankfurt named the most likely destination.
"They already have [started leaving.] It makes no economic sense being here," said the 71 year-old banker.
Palmer agreed:
In London you can already see it. That was always obvious. You can't have your pie and eat it.
"I think financial services and FS businesses are hedging strategies, and will leverage overseas offices, but I don't think there's going to be an exodus of people and human capital," said Matt.
West said there hasn't been a mass exodus of companies in the legal sector, but people are starting to make contingency measures:
Some people are certainly getting dual qualified in Ireland, so we will see, it's obviously uncertain.
Are you worried that you, friends, or family might have to leave?
Of those surveyed 82% said neither they, nor anyone they knew, were worried about getting kicked out of the country on an EU passport.
Tim Rano, a 32 year-old engineer, said:
It doesn't affect me or any of my friends that are European. They've got long-term visas and are quite settled here. They've got friends and family as well so they're quite settled.
Meanwhile, 18% said they were worried. Mino Guarino is a 46 year-old business development manager living in London. She said:
I am worried, because I'm Italian. I don't have a UK citizenship so I'll probably have to leave.
Paula Sabuda is a 22-year-old Polish student who has lived in the UK for twelve years. She said she is not worried that she will have to leave, but that Brexit will make like difficult for many EU students studying in the UK.
For a lot of people who are here just for uni, it will be so much harder, if they do close the barriers and say 'no more immigration'.
Jason Thomson, a 46-year-old IT manager in London said:
We have lots of Europeans who work in our company, and they are all very insecure and unhappy about it. Its made them feel very unwelcome. At the moment many of them are feeling very insecure and unwelcome, and many of them are thinking about going home.
Is Brexit going to work?
The 71 year-old banker said that Brexit was "never going to work".
"We knew it wasn't going to at the time. Nobody ever thought it would be," he told Verdict.
The economy falls to bits, its already falling to bits. We become protectionist, pretending it was all fine when we were back in the 1950's. None of that worked, that's why we are where we are now. We're in the right place. This is a global city. The whole point of Brexit is that you don't want it to be a global city. You end up only being able to trade with Australia, New Zealand. Nice places but not economic powerhouses.

If we've any sense we'll move to an economic system, which is pretty similar to what we had before, that will allow us to thrive. If not, we'll just get smaller and smaller, and people will get crosser and crosser. Living standards are way down from what they were."
Lawyer West said:
I think we'll get a deal in certain specific sectors. I guess anywhere where it's in Europe's interest to trade with us, they'll give us a reasonable deal. Anywhere where they want to pinch our business, there'll probably not give us such a good deal, like the financial services sector for example.
Mahony, the 27 year-old chief compliance officer said that a transition deal is useless if there is no deal at the end of it.
From the financial services view, I am extremely worried. I don't think there's going to be a deal from financial services on the table.

I hope for a soft, but I imagine, the way the line's being towed now, its going to be a hard, and if it's a hard its bad for the UK and bad for Europe.
Until the UK "falls into line" and understands how much economic bargaining power the UK actually has, "things aren't going to go well".
I think her policy of how [Theresa May] is approaching it isn't correct. The understanding of how the EU reacts on an economic level, with countries externally to it, isn't understood by the UK.

She's not falling into line, she thinks the UK is still a colonial power, it's not really. Lets face it, It is a big player, but in political realms not as big as it once was."

As long as you had that veto, you were in a great position in terms of being early into the EU. Why rock the boat?
32-year-old engineer Rano said he was optimistic that the post-Brexit economy would be "improved".
I think Britain will get back to where it was in the long-run. The economy; I think inflation, prices and the exchange rate [will improve].
IT manager Thompson added:
I'm still helping they're going to reverse it. I think eventually it will work and settle down, but the country will be a worse place for it. I think we'll be poorer, overall as a country. I think we'll be a less interesting and nice place to live.