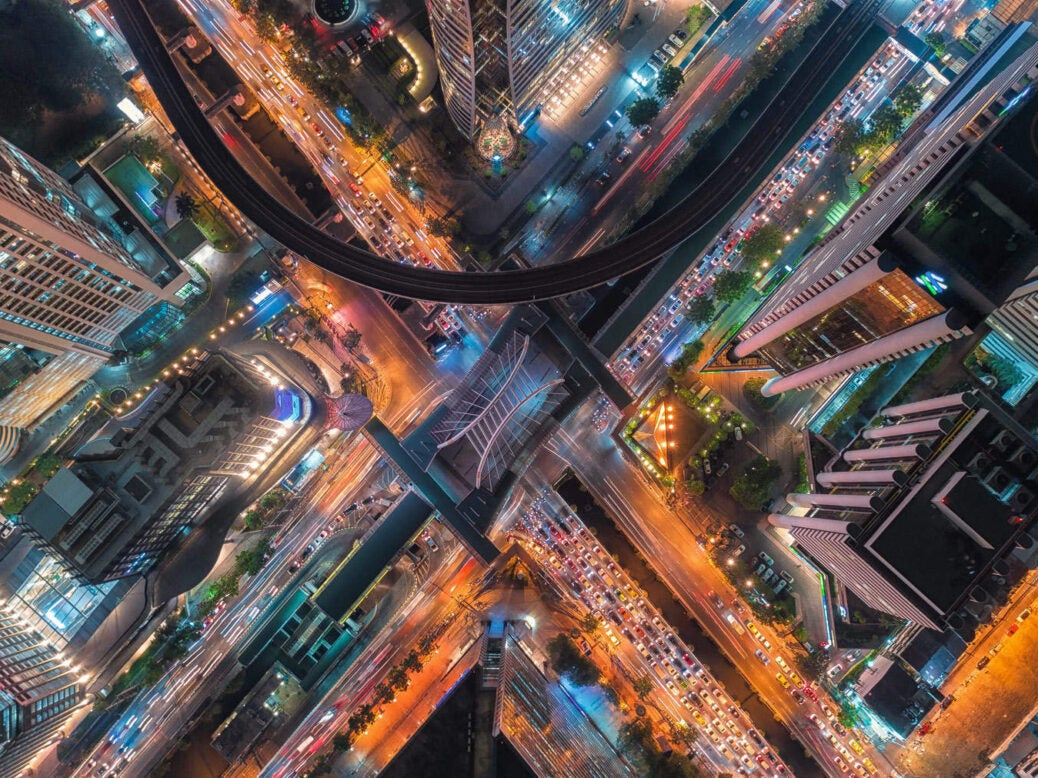 The motor industry is changing at an unprecedented rate. As in-car technology becomes more sophisticated and advanced, and with a fully connected, driverless future beckoning, how are insurance companies keeping up?
When he bought his new car in September, a seven-seater Skoda Kodiaq, Sam Schofield, a motor underwriting manager at Aviva, made sure to pack as much tech into it as possible.
Autonomous emergency braking, cross-traffic alert and lane assist were top of his wish list – the latest features proven to make driving safer, and more enjoyable.
Also welcome was the in-car wi-fi, connecting his car to the Internet of Things (IoT). (If you're not familiar with the term, IoT refers to any object – a car, a lamp post, a fridge – that has its own internet connection that can be shared with other devices.)
If he searches for a destination on his phone before leaving the house, the car's in-built sat-nav will pick it up, mapping the route with no further instruction.
This isn't the future of cars, this is now, and Schofield's year-old family car shows just how quickly the motor industry is speeding ahead.
"Cars are so advanced these days, they are more like computers on wheels," explains Schofield. And this, despite the clear benefits to safety and the driving experience, also brings risks.
Your data in their hands
It's these risks that Schofield's team are interested in: "We need to understand emerging threats, like cybercrime. Because cars are now connected to the internet, as well as holding a lot of our personal data, they are vulnerable to potential malicious attack.
"For example, if a car manufacturer was targeted, criminals could, in theory, simultaneously disable safety features of a particular model remotely. The results could be catastrophic."
Aviva, along with other insurers, car manufacturers and businesses, is working on this challenge, along with how to protect customers' data and prevent identity fraud.
Not everyone is alarmed. Andreas Mavroudis, Aviva's Senior Futures Manager explains: "As cybercrime evolves, so do the prevention systems that go along with it."
Car manufacturers like Tesla and GM are investing heavily in protection systems and, last year, the UK government advised that connected vehicles must have cyber protection built-in to protect against hacking.
And Mavroudis should know. Part of his role of leading Aviva's Futures team is to investigate new technology and, working with research organisations, developers and manufacturers, make sure Aviva is ready whatever that future may look like.
A shift to driverless technology
For Mavroudis, the most exciting development is driverless cars. No one knows exactly when fully autonomous vehicles will be on the roads, with predictions ranging from 5 to 15 years' time, but one thing is certain – the change is coming.
"We expect that commercial vehicles will use the technology first," explains Mavroudis.
The technology used for freight and delivery services and will then be rolled out to car sharing and public transport.
In fact, some modes of public transport have been driverless for years – notably on London's DLR system, which celebrated its 30th anniversary last year.
The biggest risk here is not autonomous cars, which, despite recent headlines, are expected to be safer than human drivers. It's the transition period when fully autonomous, automated and traditional cars will mix together on the same streets, explains Mavroudis.
No one knows for sure how these vehicle types could share the road together but our legislation, roads, infrastructure and communications systems will have to change.
"We could see cities and other areas opt for protected 'zones' where only certain types of vehicle will be permitted," he predicts.
Insurance proceeds with caution
It's not just infrastructure that will change. Road tax, for example, may have to be rethought completely if people move away from car ownership in favour of sharing driverless vehicles.
And personal insurance, as we know it, might disappear.
"Driverless cars are expected to be safer than humans. If this is true and they crash less, this will impact premium volumes across the motor insurance market, potentially making insurance cheaper," predicts Schofield.
Some insurers also predict a gradual shift from individuals taking out their own insurance, to the manufacturers and software developers that will now need to be insured.
This is something that Fernand Lendoye, Managing Director of Aviva Ventures, is preparing for: "We know that we are moving towards a world where people will increasingly use ride-sharing vehicles and, in the future, autonomous vehicles.
You – the passenger – won't be responsible for the car as you won't be driving it. If there is an accident, it will most likely be down to a software or hardware malfunction. From our standpoint, insurance could shift to product and software liabilities.
But why should insurers care? "Insurance is hugely important in enabling this technology to be adopted on a mass scale. Without anyone to underwrite the risks of new technology, it won't move forward.
"That's why we are working hard to understand the technology and how people's lives will change," he says.
Automation legislation
It's currently illegal to operate a driverless vehicle in the UK – but this will change, and soon.
The Automated and Electric Vehicles Bill is currently going through Parliament.
As well as defining what exactly constitutes an autonomous vehicle, the Bill will set out how to manage their debut on British roads, including who is responsible for the vehicle and how any data is managed.
Could the changes mean driving tests become a thing of the past?
"Possibly," says Mavroudis.
The next generation or so will have a completely different driving experience than I did when I learned to drive. As exciting as it is, I'm sad my grandchildren are unlikely to experience the same rush of endorphins I did as a new driver.
But this is surely a small price to pay if what's envisaged – safer, cheaper, more enjoyable driving – becomes a reality.
This is a sponsored article by Aviva.