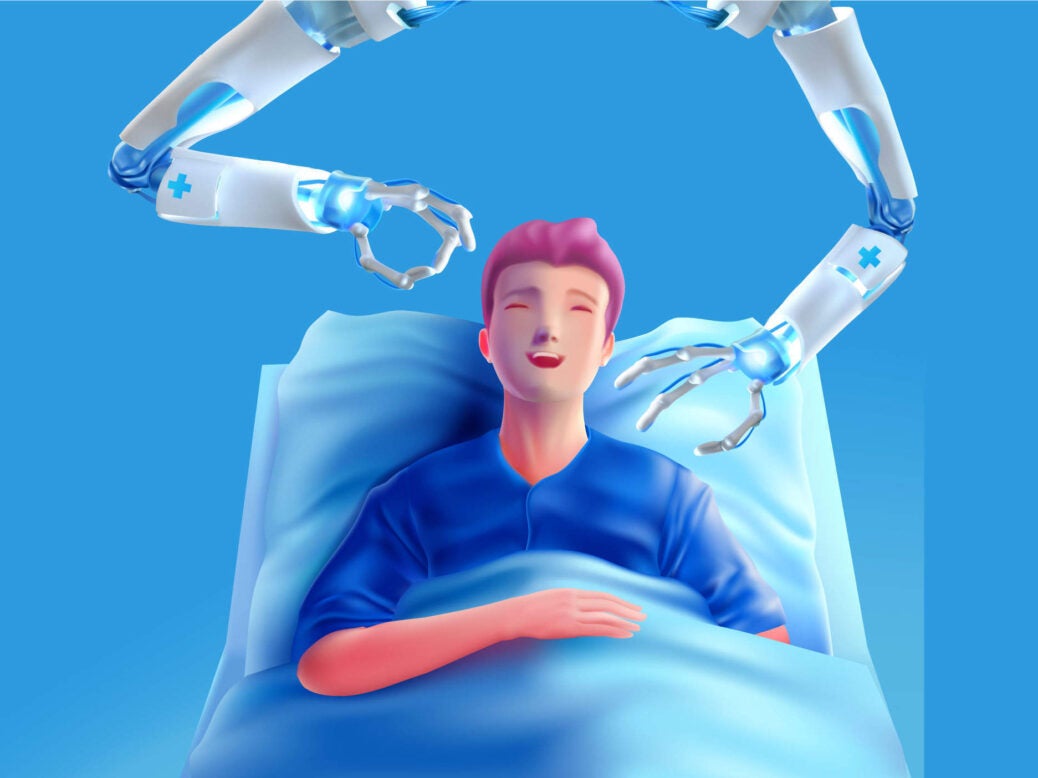 The UK's National Health Service (NHS) has been urged to embrace full automation, including bedside robots and AI diagnoses, to free up frontline staff time worth up to £12.5bn a year – almost 10% of its annual running cost.
The recommendations were made by former health minister and leading surgeon Lord Darzi in a wide-reaching report into the UK's health and social care, which will be released in full later this month.
"Given the scale of productivity savings required in health and care – and the shortage of frontline staff – automation presents a significant opportunity to improve both the efficiency and the quality of care in the NHS," wrote Lord Darzi in an extract from the report, which was released today by the think tank IPPR.
The NHS is currently facing rising waiting times and a shortfall in funding, in part due to the increasing healthcare demands associated with the UK's ageing population.
The issue has got so severe that The Institute for Fiscal Studies recently said that the NHS would need an extra £2,000 per UK household every year for the next 15 years to meet demands. However, the full automation scenario outlined in the Darzi report may offer an alternative.
Bedside robots and machine learning diagnoses: a picture of full automation in the NHS
The Darzi report details a full automation scenario where patients would be triaged in "fully automated assessment suites".
"For inpatients, 'bedside robots' may become a reality, assisting patients with meals, transportation and mobilisation (portering patients between places, helping in patient rehabilitation and moving patients in and out of beds)," wrote Lord Darzi.
"Digital systems will enhance communication with friends and family, and biosensors will allow the remote monitoring and alerting responses to clinical observations (such as in sepsis).
"In the 21st century NHS, it might not be the sound of a bedpan dropping that is heard in Whitehall, but that of a robot picking it up."
Other benefits, the report says, would include the use of machine learning to assist the diagnosis of diseases such as pneumonia, breast and skin cancers and various heart conditions. It also posited the increased use of robots in surgery.
Cost benefits of full automation in the NHS
The report includes a detailed analysis of the roles that would benefit the most from full automation in the NHS.
Although midwives would see the lowest benefits, they would still see a potential 11% of their time freed up by full automation, which is equivalent to £80m in wages and associated costs.
Nurses and health visitors, on the other hand could have almost a third – 29% – of their time freed up by full NHS automation, equivalent to £2.6bn. GPs could also have a similar amount of their time cut – 31% – although this would translate into £962m due to the difference in staff numbers between the roles.
Social care would also see similar benefits from full automation. Direct care workers, for example, could see 24% of their time freed up by automation, releasing a total of £4.1bn across senior and non-senior care workers, support and outreach workers and other direct care.
When managers and regulated professions such as registered nurses, occupational therapists and social workers are included, the total potential time freed up through full automation is equivalent to almost £6bn per year.
NHS workers should not fear full automation
While automation has left many concerned about the impact on their jobs, Lord Darzi argues that this is one of the few areas where it would be of significant benefit:
"Unlike many industries, where there are fears that automation will result in mass unemployment, in health and care automation will primarily complement human skills and talents, by reducing the burden of administrative tasks – communicating medical notes, booking appointments, processing prescriptions – whilst freeing up time for clinical decision making and caring."
However, he also acknowledges that automating the NHS would be challenging, citing a lack of investment, the need to redesign many approaches to care to accommodate technologies and, of course, retraining staff. But, he claims, the "opportunity is too great to ignore".