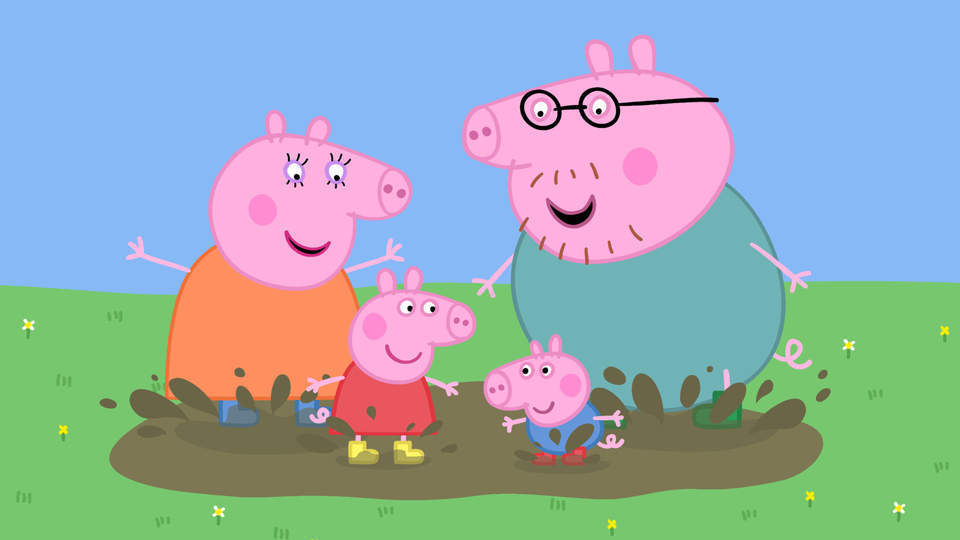 Anyone who has spent any time around small children in the past decade will have heard of Peppa Pig.
The eponymous children's television character is a global icon. Children all over the world have followed her adventures, visited her theme park, and seen her on the big screen.
Meanwhile, adults have had their fair share of input on the world of Peppa Pig too.
Political scandal, public health warnings about venomous spiders, fat-shaming accusations, the battle for the future of the NHS, feminism, and plenty of other dramas have implicated Peppa.
And it seems that Peppa Pig's general ubiquity is paying off in spades for her creators, Entertainment One.
The company said today in a trading update it expects overall sales in its family division to have risen by 50% by the end of March 2018.
Entertainment One reported across its family division there are now 1,500 licensing and merchandising deals, up from 1,100 similar deals last year.
Entertainment One said that Peppa Pig "continues to perform well in mature markets such as the UK and Australia".
However, Entertainment One said there's new demand for Peppa Pig coming from China where "significant demand for licensed products (is) driving further growth".
The company boasted that Chinese audiences have watched Peppa Pig 45 billion times on streaming sites like YouTube.
Peppa Pig's global domination is expanding outside of China too.
Entertainment One say it is creating a larger team to make a marketing to push into the US. It also notes that the series debuted in Japan in 2017, with tie-in products launching this year.
We could also see Peppa come to the likes of Netflix in the future. The company said:
The group has seen continued demand for its family content from video on demand platforms with several premium deals being closed in the year covering key territories including the US, the UK and China.
However, Peppa Pig's licensing arm could be headed for a downturn.
The report notes that the closure of Toys R Us in the UK and US could have "some impact" in the short term.
However, strong sell-through of products in stores other than Toys R Us means Entertainment One isn't too worried. It notes that "this impact is not anticipated to be significant".
Other Entertainment One properties
Other Entertainment One properties are doing well for the company, with revenue growth across the businesses TV arm which includes Designated Survivor, Grey's Anatomy, Criminal Minds, Ray Donovan and Quantico.
However, the film side of the business has not been performing as well.
Box office revenues were down 37% over the year despite a number of its titles gaining critical acclaim. Entertainment One hits over the last year included The Post, Molly's Game, and I, Tonya — all of which got Oscar nominations.
Entertainment One blames failing film revenue on "lower volume and profile titles compared to the strong slate from the previous period".
Entertainment One said the re-positioning of its film arm is based on an "increased focus on deep creative partnerships with the industry's highest quality film-makers".
Shares in the company were trading down after the announcement.