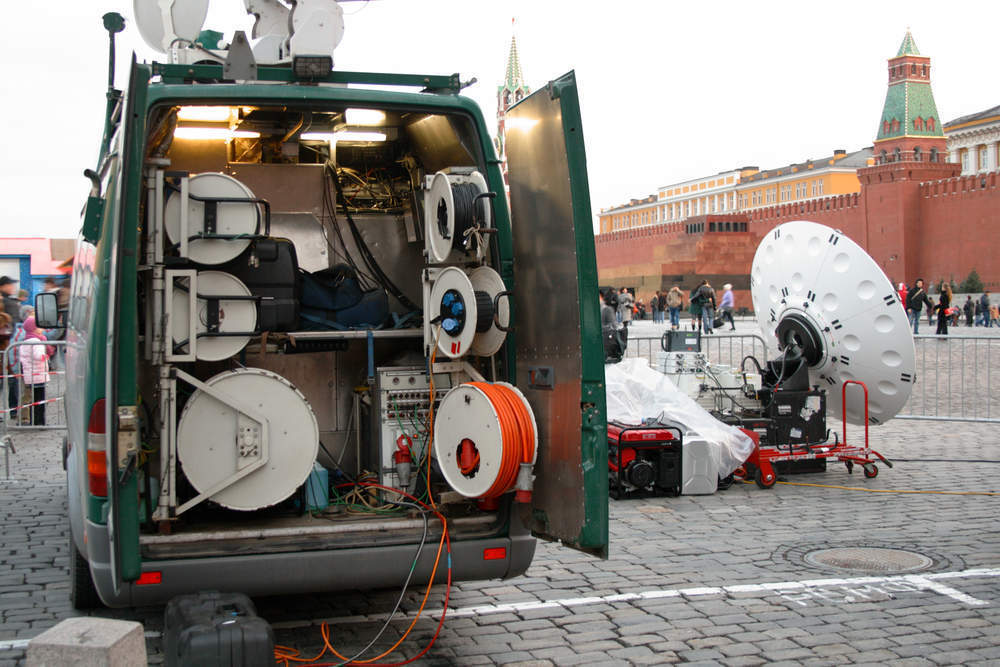 Last week Russian delegates spoke at a press conference at the Organisation for the Prohibition of Chemical Weapons (OPCW) at its headquarters in The Hague on the recent chemical weapons attack in Syria.
They brought special guests with them – a group of what they called eyewitnesses, flown in from Syria.
One, an 11-year-old boy named Hassan Diab, appeared in a video filmed by the Syrian Civil Defence, a volunteer organisation known widely as the White Helmets which operates in rebel-held areas of Syria.
The White Helmets conduct urban search and rescue after bombings and then try to evacuate civilians.
Working in areas that other organisations can't reach, the White Helmets are a key source of first-hand video footage and information from Syria's most conflict-torn places.
The video in which Hassan Diab appeared was filmed at a hospital in Douma in the aftermath of an alleged chemical attack on 7 April that killed up to 75 people.
How well do you
really

know your competitors?

Access the most comprehensive Company Profiles on the market, powered by GlobalData. Save hours of research. Gain competitive edge.
Company Profile – free sample
Thank you!
Your download email will arrive shortly
Not ready to buy yet? Download a free sample
We are confident about the unique quality of our Company Profiles. However, we want you to make the most beneficial decision for your business, so we offer a free sample that you can download by submitting the below form
By GlobalData
Diab is seen being doused with water by medical workers who have told international news organisations they were treating victims with symptoms consistent with a toxic gas attack.
Other footage widely circulated after the incident showed dozens of dead civilians with white foam coming from their airways.
These videos helped convince the West that what happened in Douma was a chemical attack by Syrian President Bashar al-Assad's government on its own people. The UK, US and France reacted with airstrikes against potential chemical weapons facilities in the country.
However, at the OPCW press conference, Diab sat through an hour-long briefing before telling the press that the footage he appeared in was fabricated. He said he was ordered to go the hospital to be filmed, and later paid with food.
His father, also present, confirmed this, saying that he saw "absolutely no evidence of a chemical weapons attack" and that his family was all feeling well.
Other members of the group said similar things, including an emergency doctor who said the symptoms he saw in patients were caused by smoke and dust from ordinary bombing.
Following Diab's testimony, the head of the Russian delegation, Alexander Shulgin told the OPCW:
Little Hassan is an eyewitness today, an extremely important witness. He's proving — an innocent child — he's telling the truth. You know that out of the baby's mouth comes the truth, and today that truth you don't want to hear.
Shulgin said that Diab's report, and the reports of others brought to the OPCW by Russia, confirmed that allegations of a chemical attack in Douma was "completely null and void", nothing more than "a sloppily staged" video, shot by a "pseudo-humanitarian organisation" in a bid to "touch hearts".
Other delegations to the OPCW were outraged.
The UK, US and France boycotted the briefing in protest. Britain accused Russia of conducting a "despicable" stunt, and of using the OPCW as a theatre.
France's ambassador to the Netherlands, Philippe Lalliot, called the press conference an "obscene masquerade".
International-facing state-sponsored Russian media outlets such as RT, Sputnik and Tass have widely promoted yesterday's story. It fits neatly into the narrative they have been promoting since news of the Douma attack first emerged.
Without exception, Russia's international news agencies have echoed Russian officials claims that the Douma attack was staged by the White Helmets, with help from foreign intelligence agencies.
Videos, particularly from RT, flooded Youtube almost immediately after the first footage of Douma hit the Western media, explaining repeatedly how it was faked.
They have also dedicated huge amounts of energy to discrediting the White Helmets.
This continues a smear campaign against the group which started at the same time as Russia staged a military intervention in Syria in September 2015, during which it supported Assad's army with an airstrike against opposition-held areas.
Since then, the news sites have repeatedly shared content undermining the civilian defence group, often claiming that the group is supported by Islamic State terrorists.
Russia's media rejoiced when Roger Waters, a former Pink Floyd vocalist, declared that the White Helmets were a "fake organisation" and they frequently offer fringe American, Canadian and British reporters (such as Eva Bartlett and Vanessa Beeley) an international platform on which to share similar views.
Russian media coverage of Douma, and Syria more generally, has sometimes become contradictory.
In the midst of articles saying that the chemical attack was staged, or an attempt to justify military action in Syria, RT and Sputnik have also carried stories saying that a terrorist cache with chemical weapons from "Germany, the UK, from the Porton-Down laboratory in Salisbury".
Julia Davies is a Russian media analyst and investigative reporter. She says that Russian media aims to "convince the Western audiences, in order to obfuscate the inexcusable propping up of Assad by the Kremlin".
She also notes that domestic coverage of events in Syria has increased in Russia following the Douma attack, but that it follows an alternative line.
Davies told Verdict:
Local coverage for the Russians seems to be aiming at building comradery within the "besieged fortress", facing external enemies, which include most of the Western countries. Assad is being portrayed as an ally, under siege by the same enemies allegedly pursuing Russia.

The Russians, struggling with rising prices and declining living standards, are being convinced that Syria needs rebuilding, which will in turn create jobs for the Russians – therefore, supporting Assad is said to be in their best interests.

It is a strenuous explanation for what many already see as additional debts at the cost of Russian taxpayers.
Davies added:
The state media is using it to portray Putin as a "wise leader," who predicted that the West would place blame on Assad for future chemical attacks.

In reality, given Assad's prior history of atrocities, such a prediction was based on a common-sense expectation that more chemical attacks would follow, along with a preemptive attempt to shift the blame to the West.

The state media is framing the Douma attack as a part of the same "provocation" as the Skripal case. Their diversionary tactics seem to be similar in the sense that both chemical attacks are being said to not have happened at all, while at the same time blaming the Western intelligence services for orchestrating them.
Davies also noted:
The information that is being reported by the Russian-language media is distinctly different from Russia's English-language outlets, which have been weaponised to cause maximum disruption and to deliberately spread disinformation.
It is important to remember that almost all Russian media is owned and heavily controlled by the state.
Russia's production of witnesses before the OPCW, and its subsequent portrayal by Russia's international news outlets, is both predictable and part of a longstanding campaign to confuse and contradict the West over its involvement with Syria.