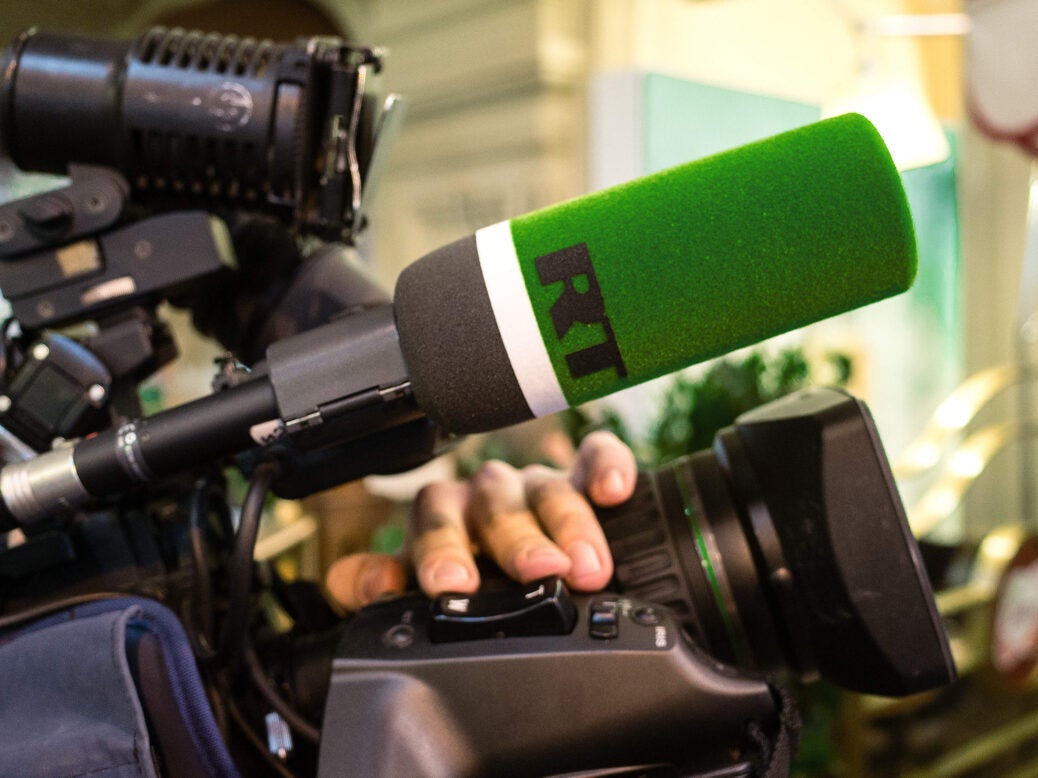 Even before UK prime minister Theresa May announced the Government's conclusion that Russia was "highly likely" behind the attack on former Russian spy Sergei Skripal, the Russian embassy in London accused the British press and politicians of playing "a very dangerous game".
It also mocked the British government and press for jumping to conclusions.
Does Russia's dialing code 007 make James Bond a "Russian spy"? 🕵️‍♂️ pic.twitter.com/JJW8r5un73

— Russian Embassy, UK (@RussianEmbassy) March 11, 2018
In the week since Skripal and his daughter were poisoned by a nerve agent in Salisbury, Russian commentary from politicians and the media has centred on the idea that allegations that Moscow was behind the attack are driven more by anti-Russian sentiment than provable fact.
As this evening's deadline approaches – the time by which May has demanded an explanation from Russia – Russian media coverage remains consistent.
RT, an international television network funded by the Russian government (formally called Russia Today) last night ran the headline "You can accuse Russians of anything, Salisbury poisoning craze shows".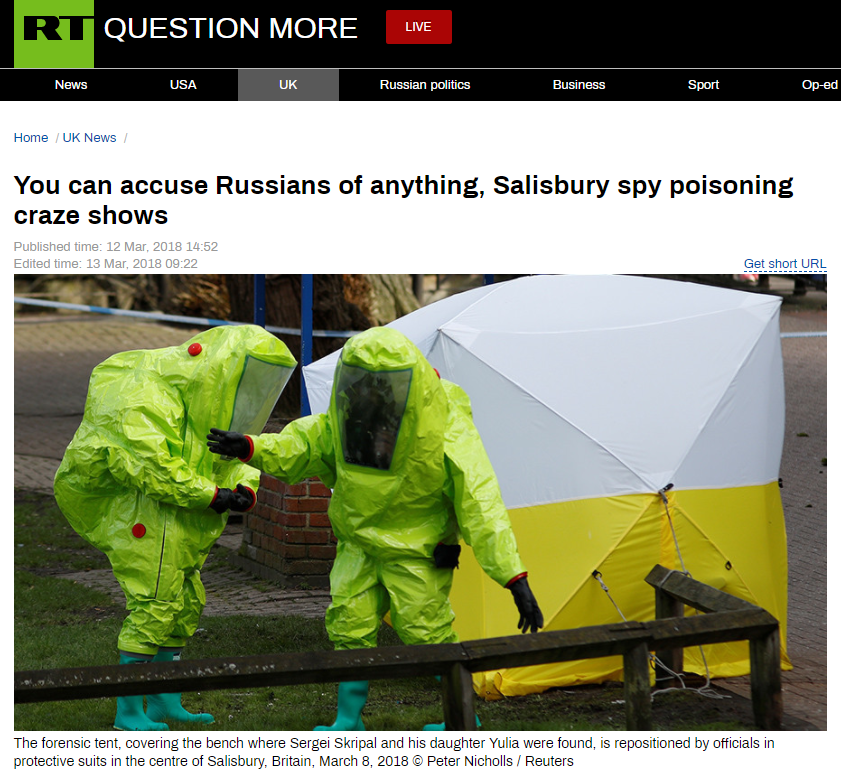 The story focused on the fact that investigations are still ongoing, and called British reaction a "mass unloading of theories and often ill-informed bile".
Another RT story, published this morning, suggested May's statement was the result of pressure from her colleagues, "highly politicised intelligence" and a perceived need to respond to 'hysterical' media coverage.
Sputnik, an international news organisation, established by the Russian government-controlled news agency Rossiya Segodnya, posted a story this morning on claims a Russian journalist covering the Skripal case was threatened while in the UK.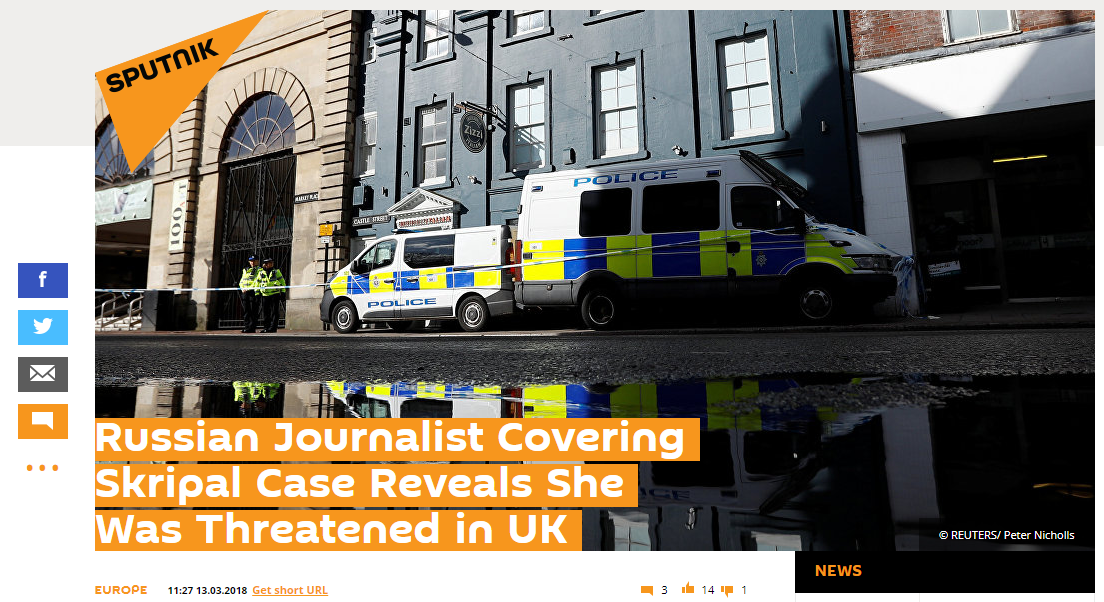 Earlier in the week, Sputnik featured several columnists attempting to debunk the idea that Russia was behind the attacks.
Writing for the site, Finian Cunningham and Neil Clark both put forward theories that the attack was likely the work of a criminal group and deliberately made resemble the poisoning of Alexander Litvinenko in 2006, in order to incriminate Russia.
News within Russia has been in a similar vein this week, with British media accused of "hype", "phobia" and "scapegoating".
The piece of domestic coverage that received the most attention was one that strayed into suggesting Skripal's fate was well deserved. A news segment broadcast on state-sponsored Channel One on the 7 March featured a presenter saying "the profession of a traitor is one of the most dangerous in the world" and advising traitors "Don't choose Britain as a place to live."
For the most part, the Russian media has stuck close to the line adopted by politicians and high ranking officials.
Russian Foreign Ministry spokeswoman Maria Zakharova stated that yesterday's discussion amounted to a "circus show in the British parliament".
Senator Ivor Morozov's claimed that "it is a serious, real plot against our country", intended to derail the upcoming presidential elections and football world cup.
Media in Russia is closely connected with government, with almost all major media organisations owned by the state or closely affiliated subsidiaries. Subsequently, Russia media is unusually homogeneous and in line with official statements across platforms.
Theresa May is now facing calls to ban RT from broadcasting in the UK, particularly from the Labour party, which she says is "obviously an issue of concern" but should be handled carefully.  
Phil Wilson, the former Labour Whip, told the Commons:
It is a propaganda mouthpiece for the Russian state and should not be engaged with by any democratic politicians and they should think twice before they do so.
Shadow Chancellor John McDonnell has already instructed Labour MPs to boycott the program.