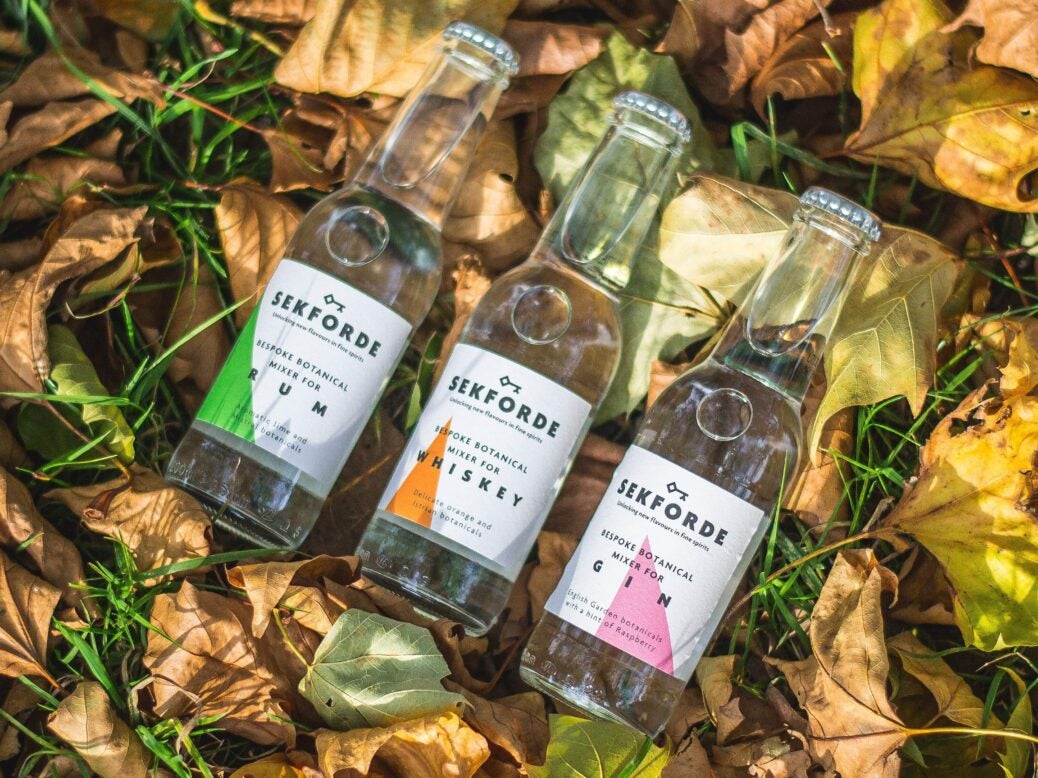 Since cocktails and craft spirits have seen an incredible rise in popularity over recent years, a whole new market for luxury mixers has come with that trend.
The most famous of these brands is Fever-Tree which has seen astronomical growth since it launched in 2004. The company went public in late 2014 with shares costing £1.65 each. At the time of writing, those shares are worth £35.12 each, a rise of 2,128%.
Fever-Tree grew to such a huge size off the back of a simple advertising message: "If 3/4 of your gin & tonic is tonic, make sure you use the best."
Ultimately, Fever-Tree found success because it presented itself as a luxury product and a worthy companion to luxury and craft gins that people were paying a lot of money for. That simple message allowed the company to jump into the mixers market in a way that forced even 235 year old tonic brand, Schweppes, to play catch up.
With the success of Fever-Tree, it's quite surprising that more brands haven't tried to capitalise on the fertile conditions for mixers.
Still, where there's a will, there's a way.
Launching Sekforde Drinks, a new brand of mixers:
Sekforde Drinks was a passion project for London-based husband and wife team Tom and Talula White. The name comes from Sekforde Street in Farringdon, where the brand was born.
Tom and Talula were looking for a mixer to pair with dark spirits like rum and whisky. Talula White explained to Verdict:
"The options available were generally to either drink the spirits on the rocks, which felt out of place when friends were having wine or G&Ts, or added to soft drinks like Coca Cola or ginger beer. We always found that the mixers were too dominant and sugary, masking the flavour of the spirits. This frustration eventually led to us feeling that there should be a better option for mixing darker spirits and so we took matters into our own hands."
White explains that Tom is a keen chef and applied the same skills to crafting mixers. White says he took an almost culinary approach to deciding on the botanical blend, looking into the characteristics of whiskies and rums to find complementary flavours using food grade aromatherapy oils and just simple sugar and water.
They carbonated their first attempts with a soda stream before testing their experiments with a selection of the spirits.
"All of our recipes still start this way, tasting spirits and cocktails for inspiration, then experimenting in the kitchen to find a flavour blend which brings out the best in its partner alcohol. From there, we taste a selection of natural extracts to find where the recipe balances as we had it at home and can be used consistently produced on a large scale."
Friends and family also helped test out the drinks in the early days and shared notes. It was those reactions that helped convince the Whites that there was real potential in their mixers.
Bringing the brand to life:
Of course, the first major challenge for the Whites was turning their homemade mixers into an actual drinks business. The pair felt that there was a gap in the market with mixers.
They reasoned that there are countless producers of alcohols with immense expertise in their categories, which they couldn't hope to replicate as a startup.
Unfortunately, neither Talula nor Tom had any experience in the drinks industry, so Sekforde Drinks started as a project in their spare time.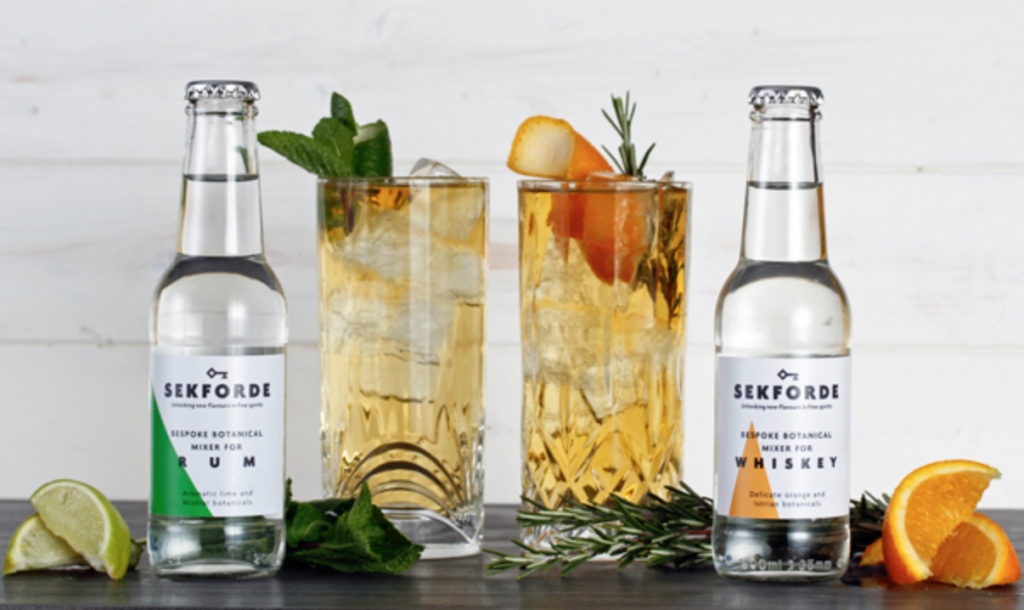 The challenge of it all came as a surprise to them both, explains White:
"The major challenges was in not knowing how much work goes into getting your products listed in bars, dealing with wholesalers, pub and bar chains. Plus the amount of brand collaboration which is necessary to make a name for your brand and to even be able to have it sold into venues in the first place. Being a small brand meant that for the first year or so of running Sekforde, there had to be an intense effort of getting acquainted with the drinks industry, spreading awareness about the brand and building relationships with bars, bartenders, suppliers and brands."
Still, it turns out that their day jobs left Tom and Talula uniquely positioned to help bring Sekforde Drinks to the market:
"Tom works as a lawyer in banking, so he was able to handle the legal process and financial matters. Meanwhile my background was in advertising, so the brand positioning, design and message was my area of confidence."
Given that so much of a drink's success is down to how much it stands out on the shelf, Talula's simple, eye-catching design probably served Sekforde wonders in its first year.
Standing out from the crowd:
That said, standing out on the shelf is only half the battle. Ultimately, it's the taste of any drink which will convince customers to keep buying it.
However, with huge names like Schweppes and Fever-Tree available, Sekforde had to provide something different.
Mixers are usually meant as standalone drinks. Talula argues that what separates Sekforde Drinks from others in the market is that its mixers are expressly designed to pair with alcohol:
"Sekforde differs from other market leaders quite dramatically as the process and mindset behind the products is so different. While still set within the category of drinks mixers, Sekforde breaks new ground as they are designed from the outset as complementary to the spirit, rather than having a set flavour which can be paired to alcohols later.

"Rather than trying to compete with these products, by putting our own interpretation on those established flavours, we created Sekforde to sit alongside those options, providing a lighter alternative and an experience that prioritises the preservation of the spirit's quality.

"Our aim is to preserve and uphold the expertise and love that went into creating the flavours of our favourite spirits and to be able to experience them in a new way."
One of the other major differences between Sekforde Drinks and other mixers brands was that gin was never the primary focus.
In fact, Talula admits she thought she never really cared for gin. That's because she didn't like tonic. Sekforde's mixer for gin is unique because it makes no attempt to include the hallmark of tonic water: quinine.
Mixers for drink lovers:
With the boom in bespoke, craft, and luxury spirits, more people than ever are paying attention to the drinks themselves. More and more people are seeing drinks tasting as a hobby.
According to White, poor quality mixers have turned cocktails and alcohols into a delivery system; a way to become intoxicated, not something to enjoy. She hopes that Sekforde Drinks are able to help people think about and taste their drinks more seriously:
"For us, the most important aspect of a good drink is simply the taste of the pure spirit and the work that has gone into it. So often we feel that cocktails or mixers can be more about finding a way of masking the taste of the alcohol, turning the drink into more of a delivery system.

"We're fortunate that we get to taste a lot of products. There is an incredible world of flavours out there. Our favourite cocktails are ones that make a feature of the unique qualities of the spirit(s). The ones which show respect and understanding of the care and labour that goes into the product. We have most recently been experimenting with the world of low ABV drinks for this reason. They represent a world of cocktails that prioritise being a refreshing, harmonious balance of flavours, rather than being about their strength."
With a Tequila and Mezcal mixer joining the Sekforde Drinks range soon, it seems the company's penchant for new kinds of mixers is going strong.
As more people start to think seriously about how they drink, not just how strong it is, the future looks bright for Sekforde Drinks.