This Saturday will be the second-busiest shopping day of the year in the US after Black Friday, according to retail analytics company ShopperTrak.
23 December, otherwise known as Super Saturday, falls on the day before Christmas Eve, "which lends it plenty of urgency", said Brian Field, senior director of advisory services at ShopperTrak.
Super Saturday will see a 63 percent increase in footfall when compared to an average Saturday.
It is "the last full shopping day — retail stores have limited hours on Christmas Eve — so a considerable number of shoppers are estimated to head to stores, making Super Saturday a solid contender for the second busiest day," he wrote in a blog post earlier this month.
This year, they [shoppers] will hit the stores for last-minute purchases, and retailers, especially those in apparel, footwear and accessories, will need to be stocked and staffed in order to capitalise on the increased opportunity.
A number of retailers will offer extended hours on Saturday.
In New York, Macy's in Herald Square measuring 2.5m square feet  — one of the world's largest department stores — will open an hour early and will remain open until 2am on the 22nd and 23rd.
Field also notes that there are more Saturdays this December than there have been for five years:
2017 marks the first time since 2012 that four December Saturdays precede Christmas Day. Naturally, Saturdays in December are some of the busiest days of the entire year, and they become increasingly busy as the month progresses.

In fact, ShopperTrak's historical data indicates that shopper visits increase each Saturday, from week to week, as Christmas Day approaches.
Super Saturday shopping trends also change based on the day's proximity to Christmas day and in terms of sales, the closer the better, according to ShoppingTrak.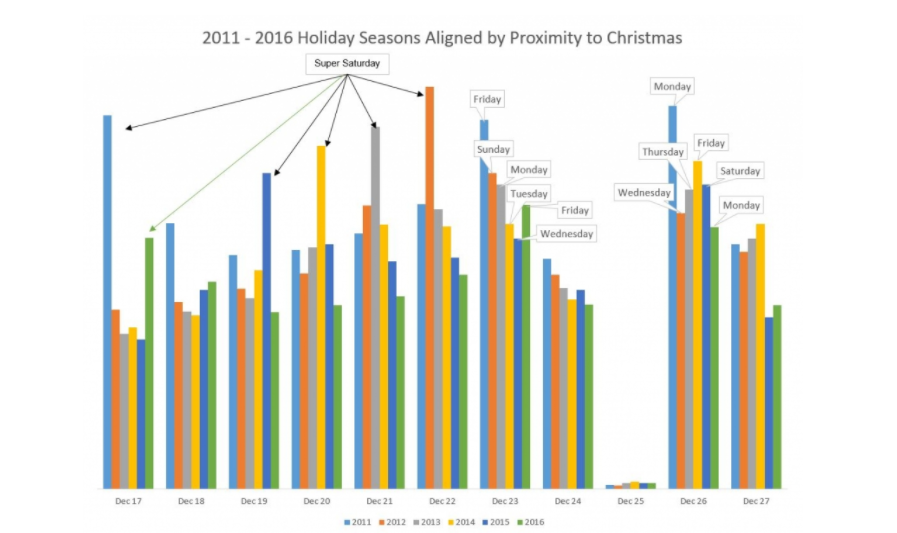 However, even after Christmas has been and gone, shoppers won't hold back from spending money.
One in five shoppers will spend 23 percent of their holiday shopping budget after December 25, according to Deloitte.
Dick Seesel, principal at the Mequon consulting firm Retailing in Focus and a former retail industry executive said:
Retailers are very, very much aware of the calendar and which days are the biggest and which categories tend to peak at the last minute. They are geared up for those peaks in business, absolutely.