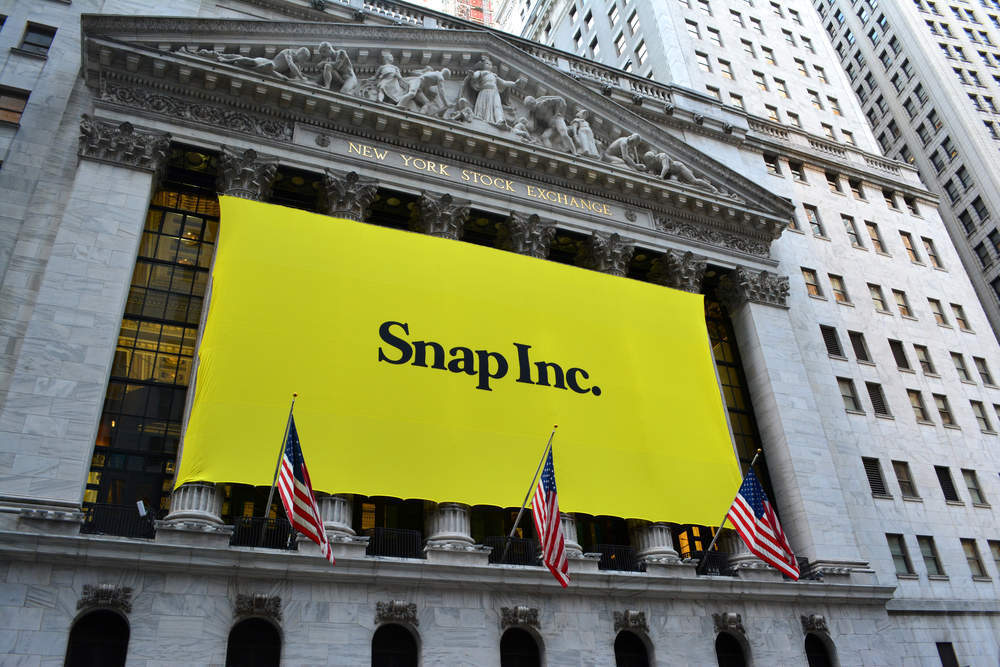 Shares in Snap, the parent company of disappearing messaging app Snapchat, to their initial public offering price today, sending a shiver down the backs of tech investors.
The company, which IPO'd in March to great excitement, has failed to convince investors it will be able to both fend of competitors while monetising its platform.#
Today shares lost almost five percent, hitting $17 a little after 7:15pm London time (2:15pm in New York).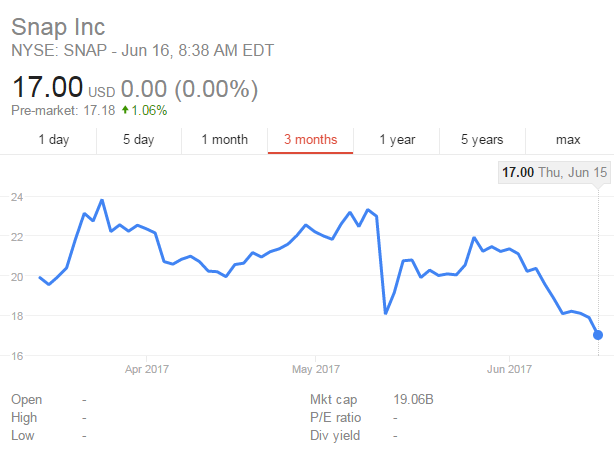 The latest sell off — which has hit all the big US tech giants — has been blamed on a more hawkish tone from the US Federal Reserve, which hiked rates last night and added to investor caution, as well as reports that a special counsel had started to determine whether president Donald Trump attempted to obstruct justice, injecting new political uncertainty into markets.
What's the strategy?
Snap is looking to grow outside of its app.
When it filed its IPO documents it referred to itself as a "camera company" but its video-recording sunglasses, Snap Spectacles, have failed to become the hit Snap had hoped.
The specs went on sale in the UK in early June and are retailing for £129.99.
However, Evan Spiegel, the company's chief executive, has described Snapchat specs as an "experiment" and currently the company loses money on each pair it sells, according to its IPO filing.
Snap's first set of results since its IPO said it had an average of 166m users who open the app every day, up by 8m, or about five percent, from the 158m it reported as having in the final quarter of 2016.
Meanwhile, the Facebook owned Instagram — which has rolled out a plethora of Snapchat-like features — has caught up quick.
Instagram Stories now has around 200m daily actives, while Instagram Direct has 375m monthly users and the Instagram app has a whole has 700m monthly users.
IG's growth is also outpacing Snapchat's, adding some 100m monthly users in the four months between December 2016 and April 2017.
What's happened since the float?
Shares were initially priced at $17, valuing the company at a whopping $24bn, and leapt at the market open.
While Snap stock jumped shortly after it floated on the New York Stock Exchange, with shares climbing to a a high of almost $29.44 in late March, its been on a steady decline since.
In May the fledgling company posted a big loss on softer-than-forecast revenue, sending the shares down by about 23 percent in after-hours trading.
The tumble brought the stock to $17.55 at the time of publishing, leaving it barely above its $17 IPO price from March.