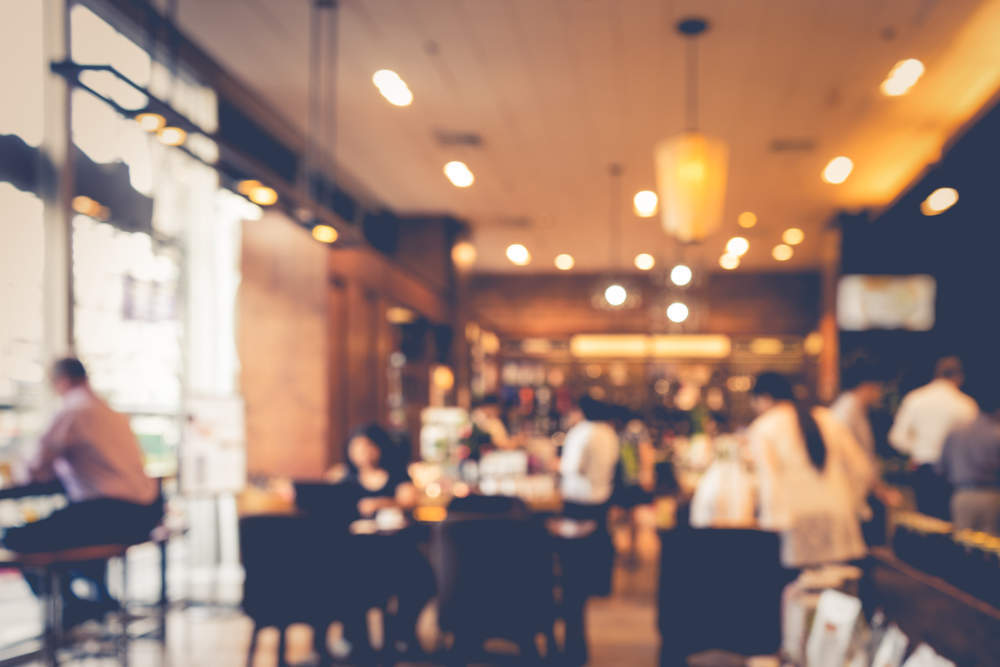 If you're a big fan of celebrity culture and celeb-spotting then you've probably fantasied about running into your favourite famous person at a restaurant.
Of course, with so many restaurants and comparatively few celebrities, it's a pretty unlikely dream.
Still, if you fancy a bit of celeb-spotting there are certain locations you might stand a better chance of seeing them. For example, if your favourite celebrity owns their own restaurant, you might be more likely to see them there, right?
With that in mind, we've decided to help you out by putting together a bit of a run down of some of the top celebrity-owned restaurants around the world. Unfortunately, the majority of these are based in New York, so you may have to take a plane. Still, it could be worth it to see your favourite star out in the wild!
The 40/40 Club, New York City, New York – Jay Z
An American sports bar and lounge opened in 2003 by Jay Z and his business partner Juan Perez. This place is a really premium sort of sports bar. There's plenty of classic American finger foods like tacos and chicken wings, but there's also salmon, braised-beef, and bone-in rib eye steak on offer. There are various events packages on offer plus special membership offers. Membership costs a minimum of $1,500 but you stand a better chance of meeting Jay-Z since members are invited to exclusive events and product launches.
https://www.instagram.com/p/BYBTqYNHD3U/?taken-by=the4040club
Nobu, worldwide – Robert De Niro
Probably the most famous of all celebrity-owned restaurants is Nobu. The restaurant is a collaboration between Robert De Niro and Japanese celebrity chef Nobuyuki "Nobu" Matsuhisa. The duo created the chain in 1993 and now own 33 restaurants and 4 hotels under the brand name. The upmarket Japanese/Peruvian fusion menu has proved a critical and commercial success. However, it has been criticized by animal rights advocates for selling the endangered Atlantic Bluefin Tuna on its menu.
https://www.instagram.com/p/BXm4awPBs33/?taken-at=427481950
Honourable menus: Robert De Niro is actually quite the restaurateur. He also part-owns Locanda Verde, an Italian restaurant, and Tribeca Grill, both on Greenwich Street in New York City. Tribeca Grill is also part-owned by Bill Murray, Sean Penn, Harvey & Bob Weinstein, and Christopher Walken amongst others.
Soul Kitchen, New Jersey – Bon Jovi
Serving regional American cuisine might be nothing new, but Bon Jovi's restaurant chain really is. The two restaurants, both located in New Jersey, put in-need diners first. If you struggle to pay your bill, you can spend an hour volunteering at the restaurant. This voluntary work will entitle you to a meal for yourself and four guests. When it comes to seating, in-need diners are put first. If you can pay for your food, you're encouraged to donate $20 to help others less fortunate. All food is healthy, organic and locally sourced too. It's a very unusual approach to restaurant-owning, but Bon Jovi seems to make it work.
https://www.instagram.com/p/BSrnX6ijLQt/?taken-at=8839934
South Hospitality, New York City, New York- Justin Timberlake
Opened in 2007, and then moved and reopened in 2011, South Hospitality is considered one of the finest places in NYC for delicious comfort foods and barbecued meats. There's also a huge range of beers and cocktails on offer. Justin Timberlake and his friends and co-owners Eytan Sugarman, and Trace Ayala aim for a fun and vibrant setting, and they definitely look like they've achieved it!
https://www.instagram.com/p/BSDAj58lMUT/?taken-at=1471323
SPiN, North America – Susan Sarandon
With a wide-ranging career including The Rocky Horror Picture Show, Thelma And Louise, and Feud it should be no surprise that Susan Sarandon's restaurant chain is a little out-there. SPiN is a chain of table tennis clubs and bars in seven locations across the USA and Canada. The unusual concept was born when Sarandon attended a table tennis party held by her then-boyfriend Jonathan Bricklin and his friend Franck Raharinosy. The pair's table tennis parties had become well-known in New York with plenty of influential people in attendance. Sarandon turned the parties into a club concept and the rest is history. The venues are also restaurants serving finger food and pizza – perfect foods to accompany ping pong!
https://www.instagram.com/p/BYBVJb8Azxt/?taken-at=278065855
Tagine, Beverly Hills, Los Angeles – Ryan Gosling
When Ryan was still an up and coming actor, he was marveled by his friend Ben Benameur's cooking. He would often complain that no one in LA could cook like Ben. In 2004, Ryan, Ben and another friend, Chris Angulo, opened Tagine. The restaurant serves a Moroccan-style cuisine that reviewers rave about. The only downside is that Ryan Gosling apparently doesn't show up there as often as everyone would like. Still, the reviews of the food sound like they're more than worth the trip!
https://www.instagram.com/p/6dWB3Isym7/?taken-by=tagine_bh
Wahlburgers, North America – Mark Wahlberg
With a name like Wahlberg, Wahlburgers was only a matter of time. Mark owns the restaurant chain with two of his younger brothers, Paul and Donnie. So far 27 restaurants in the chain are planned to be rolled out across the USA and Canada with more to come. The restaurants have even had a reality TV series based around them! As you'd expect, it's burgers, burgers, burgers on the menu, with a healthy dose of fries on the side. Plus there's an extensive drinks menu too!
https://www.instagram.com/p/BPMFvjiAYfv/?taken-by=wahlburgers_
Walton's Fancy And Staple, Austin, Texas – Sandra Bullock
Not quite a restaurant in the same way as the others on this list, Walton's Fancy And Staple is in a league of its own. After closing down her former restaurant, Bess Bistro, Sandra Bullock channeled all her efforts into this business. It's a bakery-cum-gift shop-cum-deli and judging by the reviews, it's pretty popular!
https://www.instagram.com/p/BVQOPbClq_Q/?taken-by=waltonsaustin
Laughing Man Coffee, New York City, New York – Hugh Jackman
Again, this one isn't really a restaurant – it's a coffee shop. However, like Soul Kitchen, social justice is a key commitment here. The café came about after Hugh and his wife Deb travelled to Ethiopia. He met a coffee farmer called Dukale who was working to lift his family out of poverty. Inspired by what he'd seen, Hugh set up the Laughing Man Foundation. The idea is to provide a marketplace for farmers in developing countries to sell their goods in the U.S. Hugh donates all profits from the café to the foundation.
https://www.instagram.com/p/BT4MYwuljEq/?taken-by=livelaughingman
Yummy Pop, Paris, France – Scarlett Johansson
In what is definitely one of the strangest celebrity restaurant ownerships, Scarlett Johansson opened a gourmet popcorn shop in late 2016. With flavours including Canadian Maple Syrup, 'real Vermont cheddar' and 'truffle, parmesan and sage' this isn't cinema popcorn. Johansson owns the shop with her husband, Romain Dauriac. However, it's his younger sister who does the day-to-day running of it.
https://www.instagram.com/p/BQLkA7SgAna/?tagged=yummypop
Nic And Norman's, Senoia, Georgia – Greg Nicotero and Norman Reedus
If you're a fan of The Walking Dead you absolutely need to get down here. Located just down the road from where they film the show, and owned by the one of the executive producers and one of the stars, it's a must-visit for fans of the show. Frankly, if you're going to run into the cast anywhere, it's probably here. The food is classic diner fare from burgers to steaks. There's also an extensive cocktail menu that looks pretty incredible.
Saints And Sinners, New Orleans, Louisiana – Channing Tatum
Based in New Orleans' former red light district, Saints And Sinners is a tribute to the bordellos and burlesque halls of latter days. Tatum and his business partner Keith Kurtz opened the restaurant since in 2012. There's plenty of different foods on offer, celebrating the best of New Orleans. However, the real specialty is the seafood dishes. You'll also be able to sit at the bar and enjoy some of Tatum's favourite booze (bourbon) too!
https://www.instagram.com/p/BXUJaIsAHWa/?taken-at=39895919
Joanne Trattoria, New York City, New York – Lady Gaga
Okay, so Lady Gaga may not actually own this one. She claimed in an interview in 2011 that she opened a restaurant with her dad. Her dad went on to deny this. Anyway, Lady Gaga's parents, Joseph and Cynthia Germanotta definitely own the Joanne Trattoria. The place is named for Gaga's sister, Joanne, who died of lupus aged 19. The food on cuisine is Southern Italian to reflect the family's heritage. However, if you're expecting a Lady Gaga shrine you should look elsewhere. Joseph and Cynthia confirmed that they will be trying to keep the restaurant as low-key as possible to make it a more relaxed, 'comfortable' space.
https://www.instagram.com/p/BVkfjOQjy4N/?taken-by=joannetrattoria