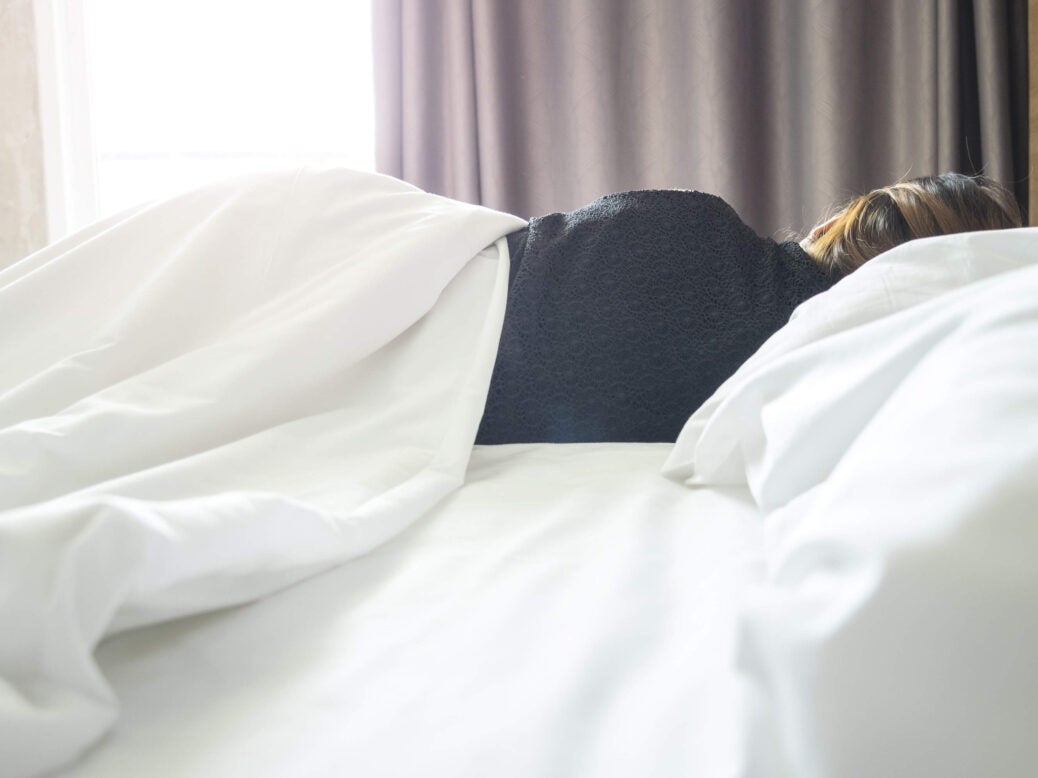 The total cost of insomnia is thought to exceed $100bn every year.
This is because poor sleep can lead to poor workplace performance, a greater risk of accidents and increased healthcare use, according to analysis by MarketResearch.
By comparison, the global sleep aids market which wants to help people sleep better is going to reach $76.7bn in 2019, according to BCC Research.
Products such as specialty mattresses, high-tech pillows, and sleep devices are coming to the mainstream to ensure you get the sleep you deserve.
Here are the startups you need to know about
1. Hyde and Sleep
Backed by mattress company, Dreams, sleep startup Hyde and Sleep creates smart pillows using technology developed by Nasa, the US space agency, so you can enjoy the cold side of the pillow all night.
The technology uses phase change materials that absorb, store and release heat "optimal thermal comfort". Similar to the way ice in a drink heats and cools the liquid, keeping it at the desired temperature for longer, the phase change materials act in the same way.
The phase change materials are micro-encapsulated to be permanently enclosed and protected in a polymer shell, which is then incorporated into the fabrics and fibres of the pillows. This absorbs, stores and releases excess heat – giving the pillows the ability to regulate the skin's microclimate.
2. Smart Nora
$299 for what is essentially a pillow insert, not even a pillow, may sound like a lot but wait for it. The team behind Smart Nora have created a device that prevents you or your partner from snoring.
How it works is the Nora device listens for early sounds of snoring, before they get too loud to wake up somebody else. Once this is detected, Nora starts a gentle movement in the pillow insert which stimulates the throat muscles and stops the snoring.
The team behind Smart Nora is backed by Canada's MaRS venture capital firm and its 3,426 backers on Kickstarter.
3. eve Sleep
If you spend much time on the London Underground, you will probably recognise the signature yellow adverts that make up eve Sleep's marketing.
Back in May, it announced its IPO on the London Stock Exchange's Alternative investment market (AIM), with a market cap of £140m. This will be LSE's first retail IPO in 2017.
The startup was launched back in 2015 to develop and deliver affordable memory foam mattresses, offering a 100-day sleep trial period. Since then, it has branched out to develop foam pillows, sheets and duvets.
One of its early investors, investment director Luke Hakes at Octopus Ventures, said:
When we first backed eve back in May 2015 and twice since then, we knew the team were unusually talented entrepreneurs who would dare to go big and create change, and that's exactly what they have done.
4. Casper  
Casper is the stateside version of eve. Based in New York, the company has become the go-to mattress startup. It took $100m in sales in 2015, alongside an aggressive podcast advertising campaign, and has turned sleep into a lifestyle brand.
As well as focusing on people's sleep, the company even launched a dog mattress last year so you can ensure your pooch sleeps as well as you do.
According to Recode, sources have insisted that Casper could be going for an IPO this year too.
5. Beddit
Sleep tracking software company, Beddit, was in the headlines last week after being acquired by Apple.  The Finnish startup makes sleep tracking devices that work with apps for iOS and the Apple Watch.
Last year, Bloomberg reported that Apple plans to add sleep tracking to the Watch so the acquisition could mean that the Californian-based company wants to take Beddit's technology and make it part of the organic iOS landscape.
Beddit's most recent product is certainly exciting. It's named the Beddit 3 Sleep monitor and is a sensor-equipped strip that slides under a bedsheet and tracks your nighttime movements – without the need to wear an activity tracker.
6. Cheero 
Japanese-Californian startup Cheero wants to keep its audience fall into a deep sleep with its Sleepion device. It employs light, sound and aroma, including lavender, geranium and cedarwood essential oils, that are diffused throughout the night to keep you relaxed and snoozing.
The company was established only four years ago in 2013 and has a market cap of $20m.
7. Rythm
Owned by French entrepreneur Hugo Mercier, Rythm's flagship product is a headband built to boost quality sleep time. It is designed to help you fall asleep faster, sleep better and make up more easily using sensors embedded in the forehead that emits "pink noise" notes when you're in REM, deep sleep.
The band is available for $350 and also doubles as an alarm clock that is supposed to wake wearers up with a sound when the band detects they're in their lightest sleep phase.