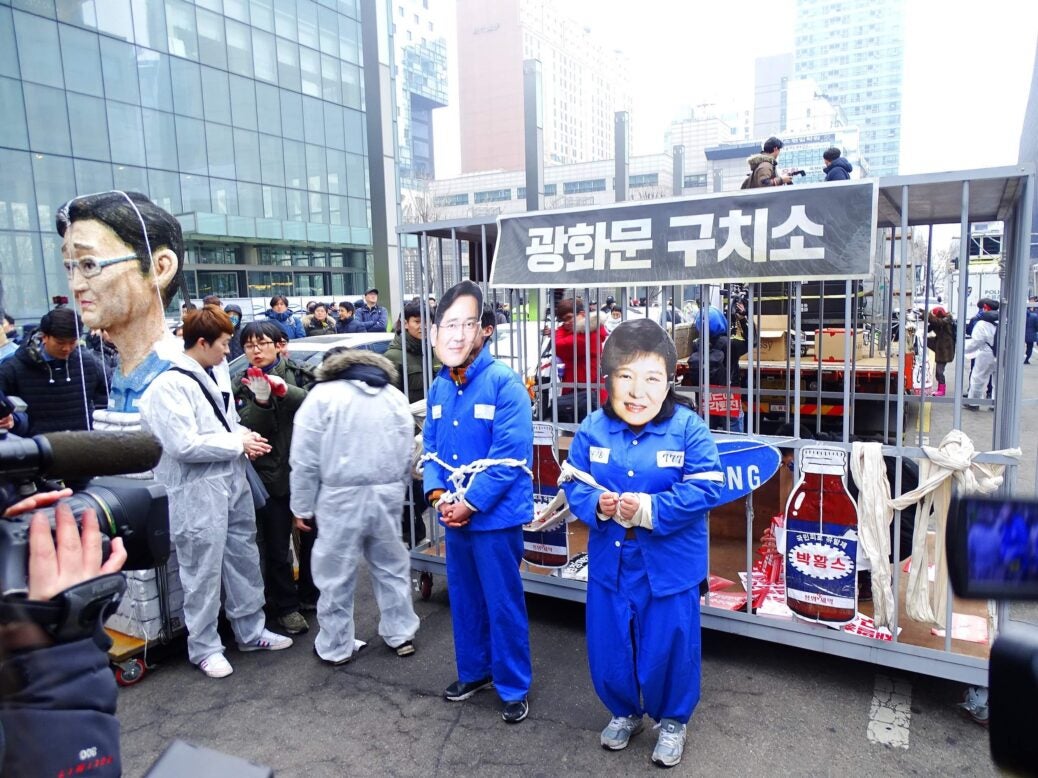 After months of back and forth, from questioning, to arrest and finally indictment, Samsung's group leader Lee Jae-Yong will begin his trial today.
The trial, taking place in South Korea, is linked with Lee's connections to the impeachment of the country's president Park Geun-Hye.
Lee is being charged with bribery, embezzlement and corruption.
What happened?
Prosecutors have accused Lee of giving donations worth $36m to organisations linked to president Park's friend, Choi Soon-Sil. This is alleged to be done in order to win government support for a restructuring of Samsung that would help Lee become the official leader.
Read more: Bribery, embezzlement and perjury: Samsung's leader is in trouble
He is currently standing in as chairman for his father, Lee Kun-hee, who is ill after suffering a heart attack in 2014.
In a parliamentary hearing last year, Samsung said it gave a total of $17.7m to two foundations but denied seeking favours in return for the donation.
What will happen at the trial?
The trial is expected to go on for several months. As well as Lee, four other Samsung executives will take to the stand to be questioned on charges.
All five have denied any wrongdoing.
'The trial of the century'
The trial is being described as 'the trial of the century' and it's hard not to think back to another famous trial of the century which took place in the 1990s, when O.J Simpson was on trial for the murder of his ex-wife Nicole Brown Smith and Ron Goldman.
Simpson was acquitted of the murder charges but ordered to pay $25m to the families of the victims in a civil case.
As well, the impeachment and trial of then-president Bill Clinton in 1999 was also given the 'trial of the century' tag.
Clinton was charged with perjury and obstruction of justice for lying under oath about his supposed affair with Monica Lewinsky.  The Senate acquitted him of the charges.
Lee's trial will be one that goes down in history.
As the acting head of one of the biggest tech conglomerates in the world, competing with the likes of Apple and Microsoft, it's not hard to see that the outcome of this will have far-reaching consequences across the world.
Despite the charges, Lee is still widely expected to take overall control of Samsung.
It will be interesting to see how the company will maintain its reputation in the face of this.
Having said that, Samsung could be fine. Despite the announcement of the trial, Samsung Electronics' share price has gone up today, by 0.35 percent to 869, according to Google Finance.