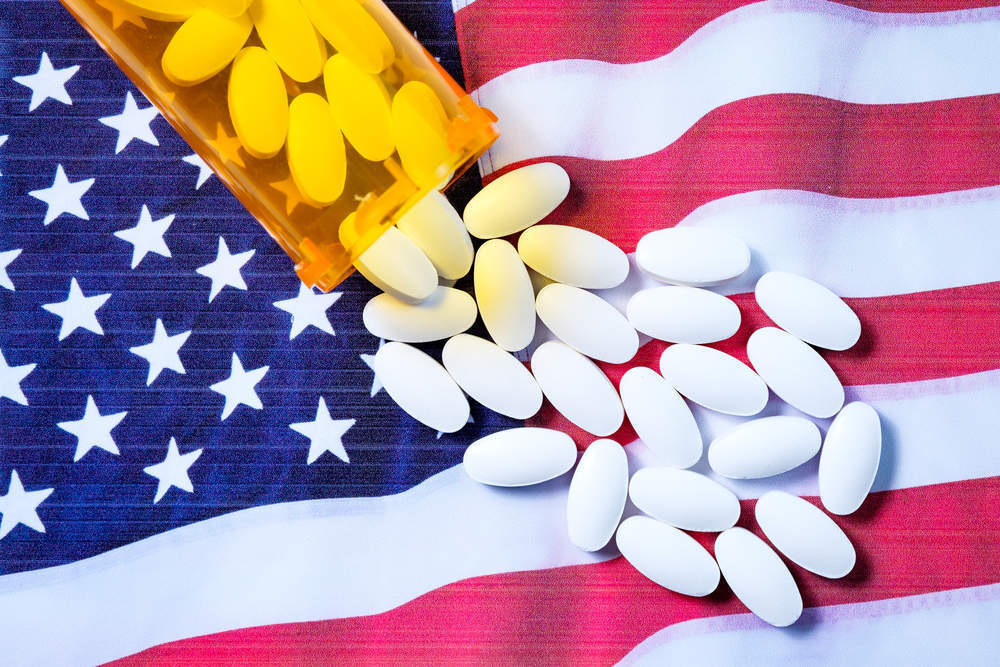 United States president Donald Trump has turned his attention the country's opioid epidemic in his latest bid to make America great again.
Trump declared the opioid crisis "a national emergency" last year, and $6 billion over two years has been put aside to deal with the situation.
Speaking at an event in New Hampshire Trump is outlining his plans to reduce opioid prescriptions by a third within three years.
Trump is announcing harsher penalties for drug trafficking offences, including the death penalty for high-level offenders, as confirmed by White House officials.
The president will also announce how he plans to spend the $6 billion budget. Initiatives are expected to include funding treatments and helping to get those recovering from addiction into work.
The United States' opioid problem in numbers
According to the Centers for Disease Control and Prevention, opioids are the main cause of drug overdose related deaths in the United States.
There were 63,500 deaths related to drug abuse in the US in 2016 and, according to CDC, opioids were the cause of 42,200 of them.
High levels, above 21.1 per 100,000 people, of overdose-related deaths were recorded in 24 states. Just five states had the lowest level of less than 11 deaths per 100,000 according to CDC. This supports Trump's claim that opioids are a national health problem.
[visualizer id="150890″]
You might assume that poorer parts of the nation would be worst hit by the drug epidemic. However that isn't the case.
Comparing drug-related deaths to household incomes shows little correlation. Some of the US's poorest states, such as Mississippi and Arkansas, recorded some of the lowest numbers of overdose-related deaths in 2016. On the other hand, rich states like Massachusetts and Maryland has some of the highest.
Florida, California, Pennsylvania, Ohio and New York, the five worst offenders, accounted for more than 21,900 of the 63,500 deaths recorded in 2016. Households in three of those states earn more than the US average of $59,000.
[visualizer id="150896″]
This is may be because the epidemic is largely being fuelled by prescription medications like fentanyl.
Since 2008, CDC data shows that synthetic opioids (excluding methadone) have climbed above cocaine and heroin to become the leading cause of overdose deaths in the US.
In 2016, hard drugs like heroin, cocaine and methamphetamine caused 33,700 deaths.  Synthetic, semi-synthetic and natural opioids (excluding heroin) caused 37,900 deaths.
According to the National Survey on Drug Use and Health, conducted by The Substance Abuse and Mental Health Services Administration, 0.4% of Americans aged 12 and above have taken heroin in the past year. Some 4.3% of people have used pain relief medication.
[visualizer id="150899″]
Each state saw an increase of 17.8% in drug overdose deaths year over year between 2015 and 2016.
According to The Council of Economic Advisers, the opioid crisis cost the US $504 billion in 2015. This estimate factors in everything from hospital and criminal justice costs to loss of employee productivity.
The cost of treating overdoses, abuse and opioid addiction is $78.5 billion per year, according to the National Center for Injury Prevention and Control.
America's problem opioids
Heroin –
A drug produced from morphine, a natural substance taken from the seed pod of opium poppy plants. Heroin is a Schedule I drug in the United States. According to the Drug Enforcement Agency, it has a high potential for abuse and is not accepted for medical use.
Percentage of drug-related deaths: 5.1%
Methadone –
Methadone is a synthetically produced opiate. It is often used as a substitute for heroin in the treatment of heroin addiction. Methadone is a Schedule II drug in the United States, which has a high potential for abuse and can cause severe dependence, but are used for medical purposes in some cases.
Percentage of drug-related deaths: 1.6%
Oxycodone – Oxycodone is a semisynthetic painkiller made using thebaine, an alkaloid found in the opium poppy. Better known by brand name OxyContin, this is used to treat moderate to severe pain. Oxycodone is a Schedule II drug in the United States, which has a high potential for abuse and can cause severe dependence, but are used for medical purposes in some cases.
Percentage of drug-related deaths: 2.6%
Hydrocodone – Hydrocodone is a semisynthetic drug made using the codeine alkaloid taken from opium poppy seeds. This is used to treat moderate to severe pain. Hydrocodone is a Schedule II drug in the United States, which has a high potential for abuse and can cause severe dependence, but are used for medical purposes in some cases.
Percentage of drug-related deaths: 1.5%
Fentanyl – Fentanyl, used as a painkiller and anaesthetic, is the most widely used synthetic opioid in medicine. Its effects are rapid and short-lived, making it popular among those looking for immediate relief. Fentanyl is often prescribed for chronic or severe pain. Fentanyl is a Schedule II drug in the United States, which has a high potential for abuse and can cause severe dependence, but are used for medical purposes in some cases.
Percentage of drug-related deaths: 2.0%
Percentages are based on data taken from CDC's Drugs Most Frequently Involved in Drug Overdose Deaths report.
The 56 recommendations set to shape Trump's war on opioids
The White House has said it accepts the 56 recommendations that a commission set up by Trump to combat drug addiction and the opioid crisis. These are:
1. Block grant federal funding for opioid-related and SUD-related activities. Provide uniform block grants, which will allow more resources to be spent on life-saving programmes
2. Establish a system to track federally-funded initiatives. Set targets and only fund those programmes that achieve their goals.
3. Provide funding to the Office of National Drug Control Policy (ONDCP) to review federal drug programmes. Ensure cooperation between all states and federal agencies.
4. The Department of Education should work with states to assess, educate and treat middle school, high school and college level students that are at-risk of or use drugs.
5. Work with external agencies and non-profits to design and implement a national media campaign addressing the dangers of drug use.
6. Encourage cooperation between government departments to develop statues, regulations and policies to ensure patient consent prior to opioid prescriptions. Patients must be alerted to all risks, benefits and alternative medicines.
7.Work with an expert committee to develop a national curriculum for opioid prescribers.
8. Collect data on prescription patients and use this data to analyse programme effectiveness.
9. Provide training to all medical staff on screening for substance use and mental health status to identify at risk patients.
10. Amend the Controlled Substances Act to allow the Drug Enforcement Agency to require all prescribers to show participation in improving the standards of opioid prescribing when renewing their license.
11. Encourage cooperation between government departments to train pharmacists on spotting illegitimate prescriptions. It should be ensured that pharmacists aren't punished for denying questionable prescriptions.
12. Support the Prescription Drug Monitoring Act (PDMP). Require states that receive grant funds to comply with PDMP.
13. Amend the Emergency Medical Treatment and Labor Act (EMTALA) to require PDMP checks on patients that require hospital treatment.
14. Integrate PDMP data with electronic health records and support tools to increase effectiveness of support programmes.
15. Increase the use of electronic prescribing to prevent diversion and forgery.
16. The Federation Government should work with states to remove legal barriers blocking access to drug use and overdose databases.
17. Utilise Take Back Day to inform the public about drug screening and treatments.
18. Remove pain-related survey questions from patient satisfaction surveys. The commission argues that this encourages care providers to offer opioids to increase survey scores.
19. The Centers for Medicare and Medicaid Services (CMS) should review and modify policies that discourage the use of alternative, non-opioid treatments for pain.
20. Increase federal efforts to strengthen data collection, to provide real-time surveillance of the crisis.
21. Federal Government should implement standardised drug testing procedures, forensic methods and use toxicology instrumentations in the investigation of drug-related deaths.
22. Reinstate the Arrestee Drug Abuse Monitoring (ADAM) programme and Drug Abuse Warning Network (DAWN) to improve data collection.
23. Implement harsher punishments ofr the trafficking of fentanyl and fentanyl analogues.
24. Target drug trafficking organisations and individuals that manufacture and sell counterfeit prescription drugs.
25. Allow the DEA to regulate the machinery used to manufacture prescription pills. Manufacturers will be forced to keep records and undergo inspections to verify the use of these machines.
26. Increase the use of technologies to screen for prescription drugs such as fentanyl at borders and in mail centres.
27. Use advanced electronic data on international shipments from high-risk areas to intercept opioid shipments.
28. The Federal Government should show support for the Synthetics Trafficking and overdose prevention (STOP) Act. Work with the international community to implement STOP.
29. Government agencies should cooperate to monitor, detect and divert illegal shipments of prescription opioids.
30. Develop a national outreach plan for the Fentanyl Safety Recommendations for First Responders. There should be cooperation between federal departments and governors to standardise data collection, analytics and information sharing relating to opioid-intoxication.
31. Ensure that quality of addiction screenings and treatments on a national scale.
32. Adopt the process, outcome and prognostic measures of treatment services presented by the National Outcome Measurement and the American Society of Addiction Medicine.
33. Remove any policy barriers (including financial) for Substance Use Disorder (SUD) treatments.
34. Re-evaluate and modify the proposed rates of treating SUD to ensure patients aren't limited by financial costs.
35. Provide the Department of Labor (DOL) authority to levy penalties against insurers and funders for parity violations.
36. Require health plans to document and disclose their compliance strategies for non-quantitative treatment limtiations (NQTL) parity.
37. Government agencies should use medication-assisted treatments on detainees and continue to provide treatment upon release.
38. Establish federal drug courts in all federal judicial districts. Those that breach probation terms with substance-related offences should be diverted to drug court, rather than returned to the prison system.
39. The Federal Government should partner with hospitals and recovery organisations to expand the use of recovery coaches in problem areas.
40. The Health Resources and Services Administration (HRSA) should prioritise addiction treatment across all health disciplines. Increase the number of addiction-trained psychiatrists and other key health workers.
41. Revise regulations and reimbursement policies to allow SUD treatment via telemedicine.
42. Use the National Health Service Corp to Supply health care workers to areas with higher than average opioid abuse levels.
43. The National Highway Traffic Safety Administration (NHTSA) should review its National Emergency Medical Service (EMS) Scope of Practice Model to allow the administering of naloxone.
44. Implement naloxone co-prescribing programmes to test its effectiveness and identify best practices.
45. Develop new guidance for Emergency Medical Treatment and Labor Act (EMTALA) compliance regarding the treatment and stabilisation of SUD patients. Offer hospitals incentives for hiring appropriate staff.
46. Implement guidelines and reimbursement policies for Recovery Support Services.
47. Government agencies, including the Administration on Children, Youth and Families (ACYF), should disseminate best practices regarding interventions and strategies to keep families together.
48. The ONDCP and Substance Abuse and Mental health Services Administration (SAMHSA) should work with the DOE to improve college recovery programmes. Sober housing should be provided on college campuses to accommodate those with addictions.
49. Develop best practices on SUDs and the workplace. Provide employers with information on addressing alcohol and drug use and directing at-risk employees to relevant treatment providers.
50. Develop state legislation to decouple felony convictions and eligibility for business/occupational licenses.
51. Encourage cooperation between government agencies to develop quality standards and best practices for recovery residences.
52. Federal agencies should complete a comprehensive review of existing research programmes and establish goals for pain management and addiction research.
53. Provide additional resources to fund research into these research programmes.
54. Further research technology-assisted monitoring and treatments for addiction patients. Implement a faster review process to get treatments to patients quicker.
55. Fast-track creation of Healthcare Common Procedure Coding System (HCPCS) codes for FDA-approved technology-based treatments, digital interventions and biomarker-based interventions.
56. The FDA should establish guidelines for post-market surveillance related to diversion, addiction and other adverse consequences of controlled substances.
The full document, released by the White House, can be viewed here.