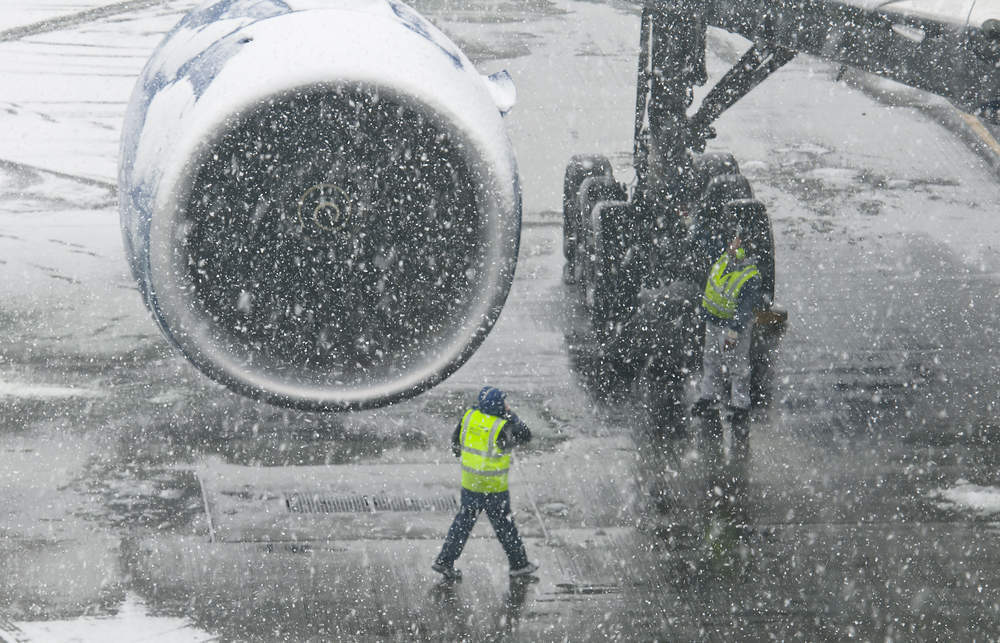 Travellers around the UK are facing airport closures and delays for the fourth consecutive day as icy blizzards continue to lash the country.
Snow has sent shivers through the aviation industry, forcing three airports shut down and grounding at least 200 flights around the the UK.
Glasgow airport announced it would be closed until 3pm London time today, while Edinburgh and Dublin airports are likely to remain closed all day.
Bristol airport is open but warns:
It is a rapidly changing situation and passengers are advised to check with their airline prior to making their way to the airport.
London airports — Heathrow, Gatwick, and Luton — remain open though there have been multiple cancellations.
Weather update: Extreme wintry conditions are expected across the UK and Europe today. In preparation, we've worked with our airlines to consolidate the flight schedule to provide more certainty around departing flights, and ensure the safety of our passengers and colleagues.

— Heathrow Airport (@HeathrowAirport) March 1, 2018
Airline British Airways said in a statement:
Other UK and Irish airports are also continuing to experience difficult weather conditions and unfortunately Edinburgh, Glasgow and Dublin airports are likely to remain closed on Thursday 1 March.

Therefore we have taken the decision to cancel all of our flights to and from these cities.
The airline said it had made agreements with Heathrow Airport, the National Air Traffic Services (NATS) and airlines operating at Heathrow "to reduce the flights schedules on Thursday".
BA said it had revised flight schedules for Thursday and Friday, notified affected customers and offered them alternative flights or refunds.
However, it warned of further delays in the days ahead:
The weather forecasts continue to be unpredictable and there may be further revisions to some airports' schedules in the days ahead.
Gatwick and Luton also announced wide-spread delays and cancellations, while Stanstead cancelled all flights to Dublin and Edinburgh.
Thursday 1 March: extreme weather conditions across the UK and Europe mean that many flights are cancelled or delayed today. Please check your flight with your airline and do not travel to Gatwick if it is cancelled. Allow plenty of extra time for your journey if you're flying.

— Gatwick Airport LGW (@Gatwick_Airport) March 1, 2018
Weather conditions have wreaked havoc at Manchester airport which is operating with some delays and cancellations, especially to Scotland and Ireland.
In a press release on Thursday morning, British Airways said inclement weather across Europe and the UK had affected flight routes from London Heathrow, Gatwick and City airports.
The carrier advised passengers travelling on short and long-haul flights before and on the day of 4 March, to re-book their flights to any date up to and including 21 March.
We expect the weather conditions to remain difficult in the days ahead, so if you have some flexibility in when you can travel, we would strongly encourage you to take advantage of these extra options.
It did not mention if fees would be applied to re-bookings.