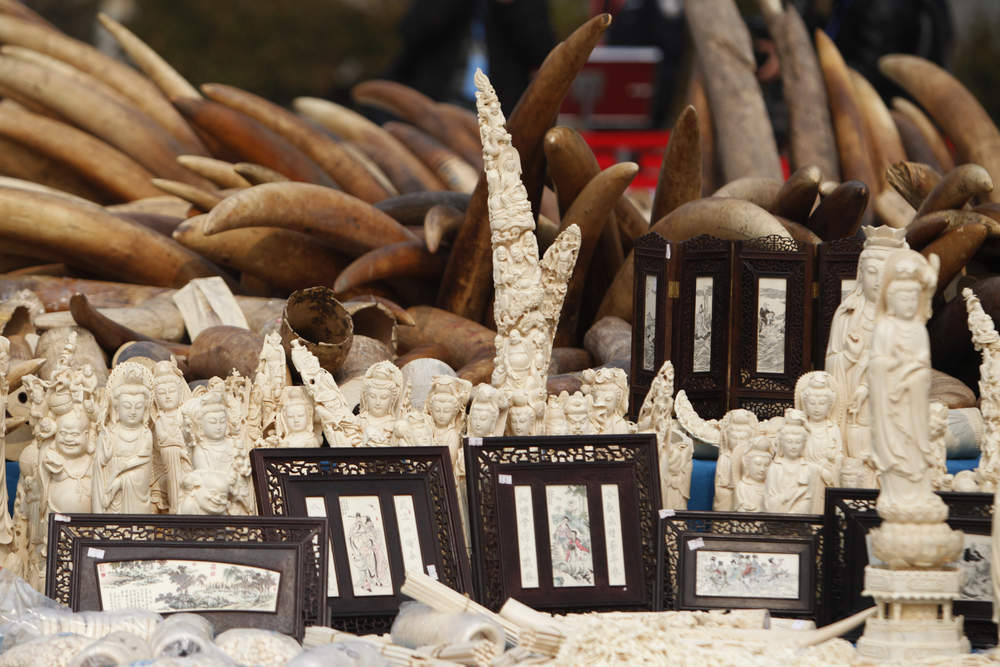 This month UK minister for Africa, Harriett Baldwin, visited Côte D'Ivoire to deliver a device to the government that could help the detection of illicit substances during anti-smuggling operations.
The device is currently used by the British police.
According to Baldwin's delegation in Côte D'Ivoire, the device is an itemiser and contains an ultra-sensitive ion trap mobility spectrometer that ionises the air trapped within for introduced substances.
This means that items are rubbed with a swab that can be introduced to the machine through a sample filter.
The machine then analyses the swab to see if traces of certain substances – such as drugs, explosives, gunshot residue – are present. Items can be analysed on location without needing to be transported back to the lab.
Côte D'Ivoire's Enhanced Transnational Crime Unit (UCT) will be trained by technicians from the British Embassy in how to use the equipment delivered by Baldwin and her delegation.
How well do you
really

know your competitors?

Access the most comprehensive Company Profiles on the market, powered by GlobalData. Save hours of research. Gain competitive edge.
Company Profile – free sample
Thank you!
Your download email will arrive shortly
Not ready to buy yet? Download a free sample
We are confident about the unique quality of our Company Profiles. However, we want you to make the most beneficial decision for your business, so we offer a free sample that you can download by submitting the below form
By GlobalData
The hope is that the device will help the country to better investigate all types of smuggling and trafficking.
The UCT was created in 2014 in response to an action plan designed by the UN Office on Drugs and Crime (UNODC) and the International Criminal Police Organisation (ICPO) for countries in post-crisis situations.
The existence of this transnational crime unit is supposed to help Côte D'Ivoire collect and share information about drug trafficking and other forms of illicit smuggling.
Rens Ilgen, coordinator for Eagle Côte D'Ivoire, part of the Eagle Network, an NGO that works to stop smuggling in Africa, said:
It is very serious… enthusiastic and professional.
Côte D'Ivoire authorities responded to the gift from the UK government, saying:
You can count on us. We will take good care of this equipment that will allow us to be more operational.
During her visit to Côte D'Ivoire Baldwin was shown the half of ton of elephant tusks and pangolin scales worth around £400,000 seized in January by the UCT with the help of the US and anti-smuggling group the Eagle Network.
The three bodies collaborated under so-called Operation Ivory Stops. Ilgen told Verdict that DNA testing revealed the ivory seized came originally from Central Africa.
The seized tusks and scales were reportedly hidden inside hollowed out logs which were sealed with glue and interspersed among regular timber inside shipping containers. This method was seen in similar recent confiscations in Kenya and Mozambique.
Four illegal handguns, leopard parts and seven cutting and carving machines were found alongside the ivory and pangolin scales contraband.
Baldwin congratulated the Côte D'Ivoire authorities on their successes against smuggling.
The extent of trafficking of wild and endangered animals is shocking. I am hugely impressed with the work here in Côte D'Ivoire to prevent wildlife being smuggled out of the country to overseas markets, and I am pleased that the UK is able to support these efforts.

Stronger regional and global cooperation is needed to prevent traffickers from profiting from this trade. That is why the UK is hosting a conference in October to bring countries together to ensure we take action collectively to tackle the despicable illegal wildlife trade.
Six people were arrested by UCT in connection with the recent seizure. One was a Vietnamese national who has been directly linked to two prior seizures in South East Asia.
Another was a Chinese national who had in his possession lists of young Ivorian women, including their pictures, height, weight and information about whether they had received female genital mutilation.
Phone analysis showed the criminal group had made calls to three tax-haven countries – Switzerland, Turks and Caicos and St Kitts and Nevis – which hints at the group's involvement in money laundering as well as smuggling of goods.
In a statement, Ofir Drori, the founding director of the Eagle Network, said:
Ivory trafficking rings operate internationally and the effective response to it is international cooperation.

Unfortunately, most large ivory seizures are not followed by any arrests. But with a hands-on approach and international cooperation, as we had here between Ivory Coast and the United States, we can get the kingpins behind bars where they belong.
In 2017, officials seized more than 200 pounds (lbs) of ivory and three tons of pangolin scales from approximately 4,000 pangolins.
One notable example is the seizure in July 2017 of three tons of Pangolin scales.
The market value of pangolin scales is higher than ivory – in Asia they are worth approximately $1000 per kilo, therefore, this confiscation was worth $3m.
Côte D'Ivoire has received previous international support in its fight against smuggling.
The Economic Community of West African States (ECOWAS) in the development of a regional action plan to deal with the growing problem of illicit smuggling and organised crime.
This plans aims included to create a transnational crime unit, an anti-corruption agency and ensure the national legislative framework reflects the international commitments of the country.
In 2009, the US Drug Enforcement Administration and Brazilian and Colombian police were sent to West Africa to help local police deal with drug trafficking.
In 2015, UNODC launched a new project to build the capacity of law enforcement agencies to deal with human trafficking partly by providing specialised equipment that can detect and identify victims at borders.
It is likely that the country's ability to combat smuggling and trafficking will be further aided by the Chinese government illegalising the domestic ivory trade in December 2017.
China is the largest market for elephant ivory in the world and the ban has already reduced the amount of ivory entering the country by 80 percent.
Environmental NGO, Wild Aid's CEP Peter Knights said:
China's exit from the ivory trade is the greatest single step that could be taken to reduce poaching for elephants. We thank President Xi for his leadership and congratulate the State Forestry Administration for this timely plan. We will continue to support their efforts through education and persuading consumers not to buy ivory.
Understanding Côte D'Ivoire's smuggling problem
Although Côte D'Ivoire has a long history in the illicit trading of commodities from the 18th century when European traders sought slaves and ivory from the region, the smuggling and trafficking of a wide range of goods has become more widespread since the end of the 20th century.
The UN Office on Drugs and Crime (UNODC) has analysed why contemporary Côte D'Ivoire has been particularly susceptible to various forms of illegal smuggling and trafficking.
Côte D'Ivoire has borders with five countries, Ghana, Burkina Faso, Mali, Guinea and Liberia, and these borders are porous as the vast majority are not patrolled.
This means it is relatively easy for criminal organisations to move illicit goods across borders without detection.
The country's official relationships with its neighbours are largely bad, especially with Ghana, Guinea and Burkina Faso. They have only worsened since the late 20th century due to rapid, radical political change in the region.
Negative relationships do not facilitate cross-border communication or coordination over trans-national, regional issues such as smuggling.
Côte D'Ivoire is emerging from several years of conflict and instability which mean the authorities are unable to effectively deal with criminal activities.
The country has experienced military coups, and two civil wars that split the country in half.
Corruption is often rife during times of political instability making it easier for traffickers to buy off members of the authorities. Ilgen noted how some of the criminal groups that originated in the civil war periods remained active in the country.
Following the resumption of relative political normalcy in 2011, Côte D'Ivoire's corruption has declined steadily in recent years – it now stands at 108.
However, this is still high; for comparison, the UK's is 10 and the lowest ranking for an African country is Botswana's 35. It is greater than half of its fellow ECOWAS neighbour states.
In addition, corruption often means that many communities within the state remain poor and deprived of opportunities.
Traffickers and smugglers thus take advantage of where the state has failed citizens and provide the poor with well-paid jobs that will help them achieve a better standard of living. Many are not in a position to refuse such opportunities, even if they would prefer to not be involved in illegal activities.
However, it seems that the corruption present in recent years is declining. Ilgen of Eagle Côte D'Ivoire noted how strong the justice system is in Côte D'Ivoire compared to its neighbours.
He said that in regard to the January seizure and arrests that he was "enthusiastic about the Ivorian authorities" and their response – at no point did he think those arrested would get away with it.
Ilgen did acknowledge the weakness of the laws against smuggling in Côte D'Ivoire.
The maximum sentence for animal product smuggling is 12 months which is lower than the rest of West Africa. This was also pointed out by the director-general of the UCT.
However, Ilgen told Verdict that during the meeting with the UK Minister for Africa, representatives from the ministry of the environment said they are busy working on harsher legislation against smugglers.
This is promising for future successful reduction of smuggling and trafficking in the country.
Ilgen instead attributed Côte D'Ivoire's trafficking problem to its economic prominence in the region.
It is the most important French speaking country in region.
It is business hub in West Africa, which means it also attracts illegal business since it has good ports and other necessary trading facilities that ease the act of smuggling.
Types of smuggling that occur in Côte D'Ivoire
The range and depth of smuggling that occurs in Côte D'Ivoire is largely unknown. Ilgen said he did not know which form of smuggling was most widespread because it is "only when you do an arrest that you find a new piece of the puzzle".
As the country's name suggests, ivory smuggling – the trade was made illegal under the Convention on International Trade in Endangers Species of Wild Fauna and Flora (CITES) in 1989 – is commonplace in Côte D'Ivoire.
The total global value of the illicit ivory trade is estimated to be worth $10bn.
There have been many seizures of illegally imported ivory in Asia and elsewhere in Africa pre-shipment which has been sourced in Côte D'Ivoire.
Togo seized 4.5 tons of ivory between August 2013 and January 2014 – the largest seizure was of 3.8 tons of ivory in shipping containers bound for Vietnam. DNA testing revealed that the consignment of ivory largely originated in Cote D'Ivoire, Guinea, Ghana and Liberia.
Egypt is Africa's third-largest illegal market for ivory who then sell on crafted products to China, Spain and Italy. The ivory is smuggling into the country through Sudan but can be traced back to Kenya, Tanzania and Côte D'Ivoire.
Pangolins are nocturnal mammals which are similar to anteaters. They are native to West and Central Africa. According to WildAid, pangolins are the most heavily trafficked wild mammal. It is estimated that 100,000 are taken from the wild annually.
Pangolins are hunted for their meat and their scales – the latter is used in traditional Chinese medicine. Many of the recent seizures of illicit goods in Côte D'Ivoire have included pangolin scales.
Côte D'Ivoire is the world's largest producer of cocoa. More than two-thirds of the population rely on cocoa beans for their income. Cocoa accounts for a fifth of the country's exports, according to the IMF.
The government determines the price of cocoa in the country. Most recently it slashed prices in response to global prices dropping from $2 a kilogram (kg) to $1.30 in April 2017 — this represents a 36 percent pay cut for farmers.
This triggered an increase in the amount of cocoa smuggled into Ghana where the price is higher. Côte D'Ivoire's cocoa regulator, Le Conseil du Café-Cacao, forecast the nation may lose 400,000 tons of cocoa, which represents a fifth of its cocoa crop, during the next harvest.
In the past, the movement of the illicit cocoa trade between Côte D'Ivoire and Ghana has been reversed.
In 2002, the Ghanaian Cocoa Board, Cocobod, estimated that 50,000 tons were smuggled over the border. This was because the Ghanaian government did not raise cocoa prices despite a global price increase and local farmers were not prepared to miss out on the boom in their crop.
In recent years there has been a significant rise in the smuggling of cashew nuts into neighbouring countries, especially Ghana.
Côte D'Ivoire is now the world's top cashew nut producer – it overtook India in 2015. The cashew industry has been imperative to the economic recovery of the country after the decade-long civil war.
It was estimated that 100,000 tons of cashews were smuggled by the end of the growing season. The main issue is that Ghana does not impose an export tax on cashews whereas Côte D'Ivoire has a fixed tax per kilogram and the price per kilogram is higher in Ghana.
Reuters has estimated that in Côte D'Ivoire the price is half that of Ghana. The price per kilogram in Côte D'Ivoire is $0.84, but in Ghana it can reach $1.90.
The clampdown on the narcotics trade in South America from the 1980s and continues today mainly in Mexico has closed off some drug trafficking routes.
South American drug cartels thus began to look for alternative routes and West Africa revealed itself an attractive option as a hub for the cocaine market in Europe.
Antonio Mazzitelli, regional representation for the UN Office on Drugs and Crime, said:
West Africa is changing more and more from being just a stockpiling place into a hub where cocaine is traded.
CNN first reported on the Latin American drug cartels' moving their logistics bases to West Africa in 2005 – a 2008 report by UNODC said:
The former Gold Boast is turning into the Coke coast.
However, the International Narcotics Control Board have raised concerns about the increasing levels in recent years since West Africa remains the preferred location of the drug cartels' on the continent.
It is estimated that between one quarter and two-thirds of cocaine moving from South America to Europe passes through West African countries.
Human trafficking also occurs in Côte D'Ivoire. It is most common for women and children to be trafficked into the country from Benin, Ghana and Mali to provide workers for the cocoa farms in Côte D'Ivoire.
A high-profile example was when in 2015 an eight-year-boy from Côte D'Ivoire was found being smuggled in a suitcase from Morocco into Spain.