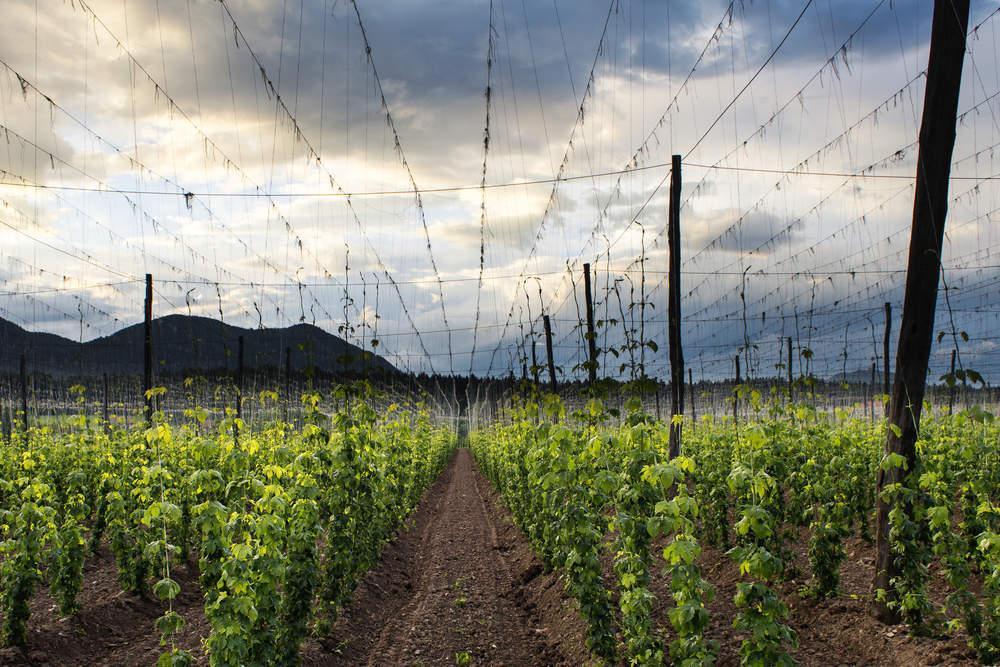 The flow of US craft beer sales slowed suddenly last year, causing the prices of speciality hops to decline.
The fall in demand for hops, and subsequent price reductions, comes as many global hop producers are increasing the size of their planting areas.
This was due to the number of craft beers increasing rapidly and brewers signing three or five year contracts with farmers to avoid shortage of supply — this in turn caused the demand for speciality hop varieties to also dramatically rise.
Hop production has almost doubled in five years the Financial Times reports, with production has increasing from 60m pounds (lbs) in 2012 to 109m in 2017, according to figures from the Hop Growers of America.
For example, the price of the hop citrus aroma has declined from $23 per pound (lb) in the first quarter of 2015 to $13 in the fourth quarter of 2017. Cascade hop price has declined from $7-$6 per pound in 2015/2016 to $1.20 in 2017.
The growth of the craft beer market peaked at 18 percent in 2014.
According to the Brewers Association, between 2015 and 2016, growth declined by half from 16 percent to eight percent.
Sanford C Bernstein had similar figures – 14 percent growth in 2015 and five percent in 2016. Growth slowed further to five percent in 2017.
What was said:
Chief executive of 47Hops Douglas MacKinnon, told the FT:
People [in the hop industry] are very concerned; this is a problem that's affecting everybody.
MacKinnon added that he noticed slower payments from breweries from the end of 2016 and thus "it became very clear that it was a beginning of a bad trend."
However, he remained optimistic about the future, saying:
There will be a rough patch for a few years and things will be good again.
Bart Watson, chief economist at the Brewers Association, said last year:
The growth pace for small and independent brewers has stabilised at a rate that still reflects progress but in a more mature market. Although more difficult to realise, growth still exists.

The beer world is highly competitive and there is certainly a mixed bag in terms of performance. Some breweries are continuing to grow, whereas others are having to evolve their position and nurture new opportunities to ensure they keep pace.
What this means:
Declining prices of hops to a reduction in demand from craft beer companies has caused some hop businesses to face difficult financial decisions.
47Hops had to file Chapter 11 creditor protection as its buyers reneged on their contracts and it could not renegotiate contracts with supplies. Chief executive Douglas MacKinnon saw this as the only option to avoid going out of business.
However, despite this risk and warnings, other hop producers and suppliers are expected to continue planting on around 1,500 new acres of land. Many are hoping that the development of new beer will create demand for hops.
Although the US is the largest hop market and has the most craft beer companies, the slowdown in craft beer sales has negatively impacted international markets.
There have been previous slow downs — in 2007, craft beer sales grew by 12 percent, in 2008 they only grew by six percent, according to the Brewers Association.
However, wine and spirits consumption continues to increase more quickly than beer consumption.
This is linked to more women drinking alcohol and they often prefer wine and spirits. Also, more men widening their drinks range to include whisky and wine.
It is also possible that interest in craft beer has peaked, there are only so many people who want to buy it and there is only so much shelf space to stock different brands that are relatively similar.
Olivier Nicolai of Morgan Stanley noted that retailers are often concerned about having a wide range of brands and unsure which beers to stock for their customers.
This decline in sales of craft beer has led to speculations about whether independent beer companies can survive among brewing giants like AB InBev, which controls approximately 50 percent US beer market and has increasing sought to buy US craft beer companies.