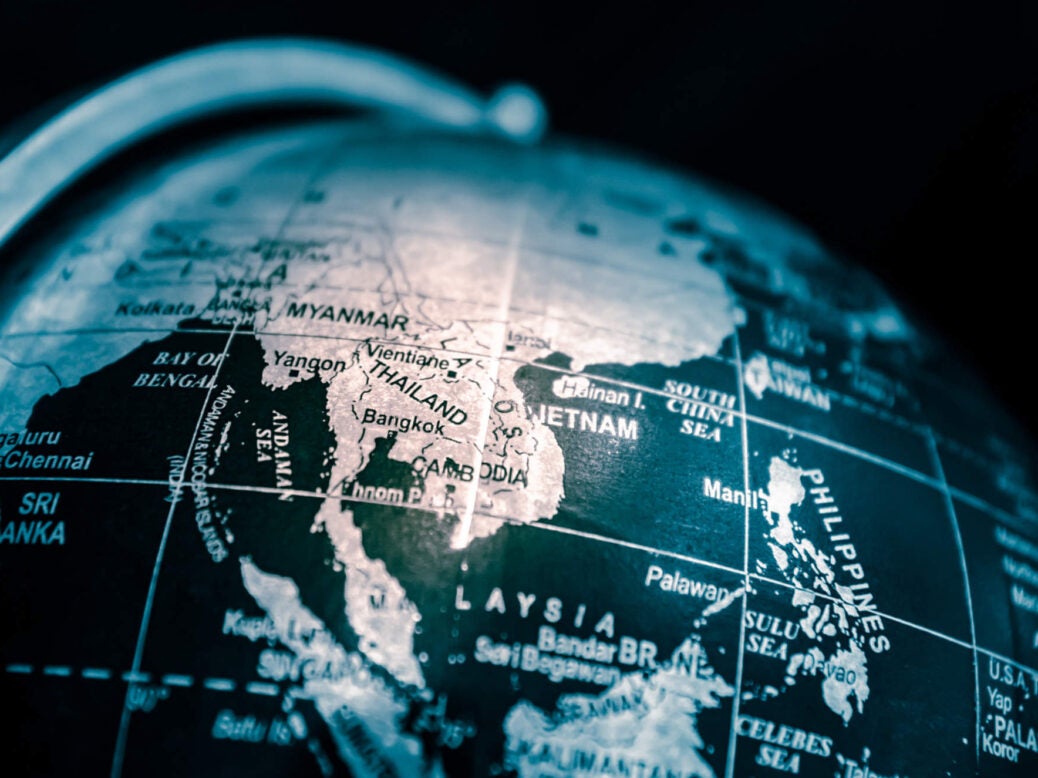 Donald Trump is president in the US, Britain is leaving the European Union and tensions are rising around the world.
Britain is bickering with the European Union, North Korea continues to prod the US, and wage growth remains stagnant in many developed economies.
The fears surrounding the unusually tense political climate have had a big impact on where young professionals want to live and work.
That's according to MoveHub's 2017 Global Moving Trends report which looks at its own customers to see where they are coming from and going to.
Using data from the 220,000 customers that MoveHub have helped to relocate between April 2016 and April 2017, they have painted a picture of how current events are altering where its affluent customers are moving.
The data is a little skewed as MoveHub, being a UK-based company, does a lot of its moving to and from the country. It's customers are also almost entirely young or middle-aged professionals.
These are the countries that MoveHub is moving the most people to, with the UK topping the chart.
Click to enlarge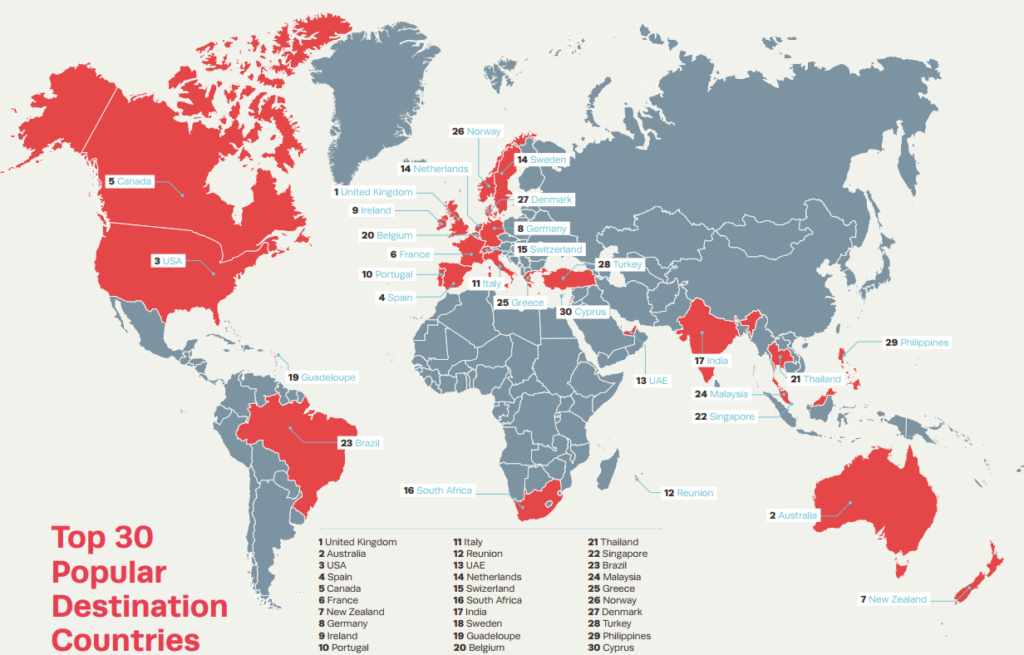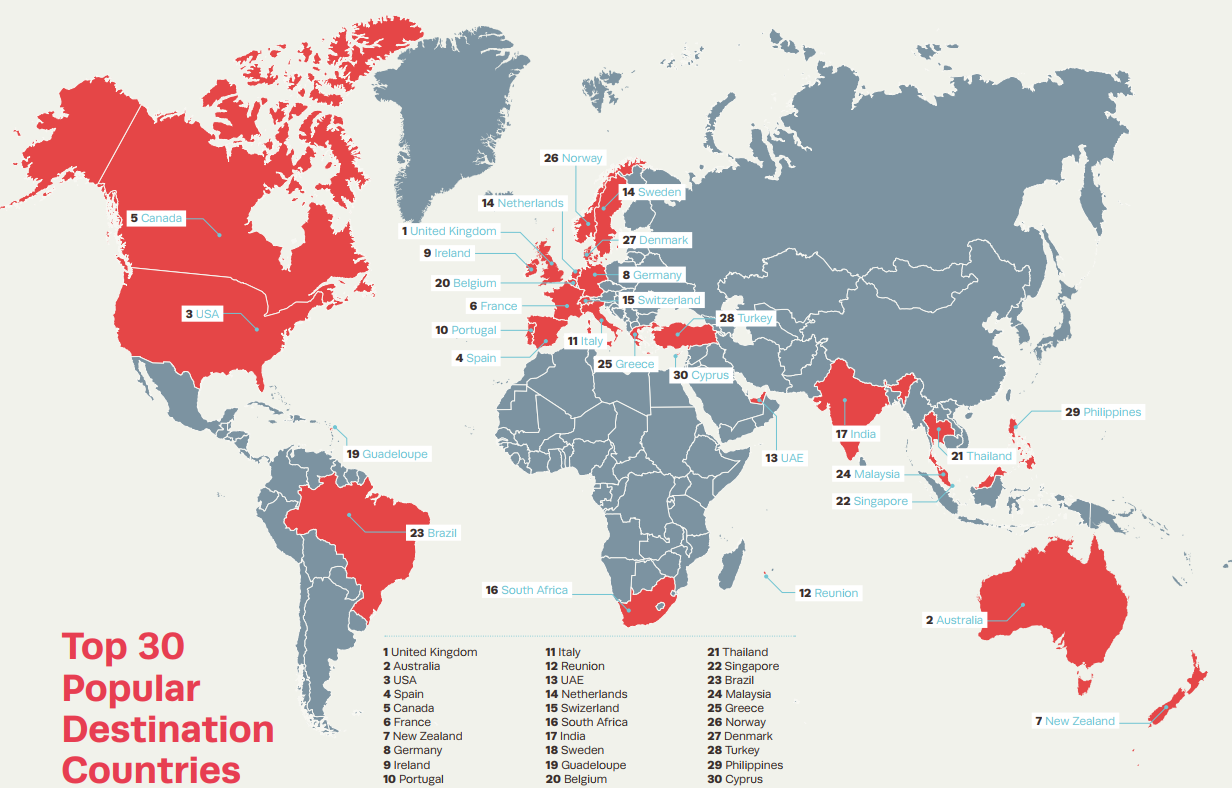 And these are the countries where Movehub is moving people away from, note the UK again tops the list — not a lot should be read into that as Movehub's customer base is predominantly in the UK, either coming or going.
Click to enlarge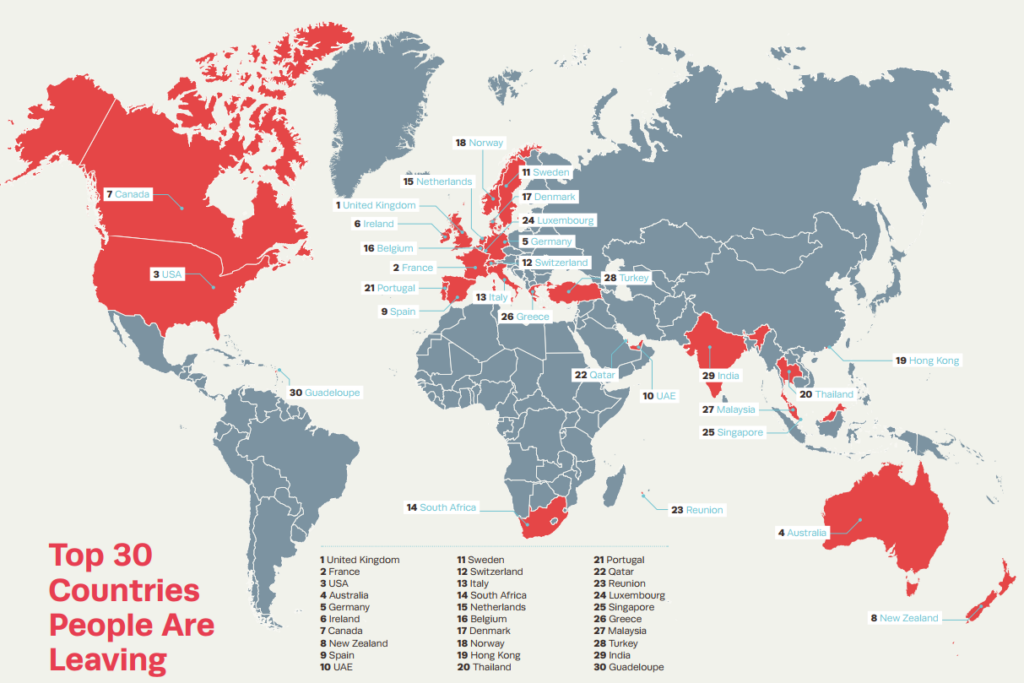 Brexit
As a country divided on exactly what Brexit means, Britain sits and waits to find out whether they have sentenced themselves to years of doom and gloom.
It's proving to be a particularly nervy time for expatriates across Europe. As negotiators continuously fail to agree on the rights of EU migrations, many have decided to return home.
In the wake of the historic vote, those returning to the UK from Spain have risen by 31 percent. Between June and July 2016, that figure jumped up to 169 percent.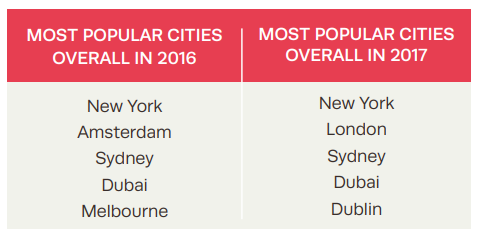 However, while British immigrants flock back to their native island, fewer numbers are joining them.
According to MoveHub, there has been a 22 percent decrease in people moving to the UK this year.
Meanwhile, Ireland saw immigration increase by 20 percent following Brexit, with record numbers British citizens applying for Irish passports.
Donald Trump
The US president proposes building a wall to keep people out, but that might not be necessary.
His mere presence seems to be keeping people away, with the US experiencing a 10 percent decrease in immigration.
However, despite internet searches for phrases such as "move to Canada" peaking in the hours following Trump's shock election win, it seems that many have opted to stick around and help "make America great again".
The number of people leaving the US has dropped by 28 percent over the last 12 months.
Although, Trump's victory does appear to correlate with a rise in migration to their North American neighbours.
Canada climbed into fifth place in the list of most popular relocation destinations this year. Of course, it isn't all Trump's doing. Canada has taken an opposite stance to America on key issues.
Immigrants from places like Syria have been welcomed and equality is at the forefront of prime minister Justin Trudeau's thinking. This has helped to increase the nation's appeal.
Middle East unrest
As large parts of Syria and Iraq descended into a war zone back in 2014, many countries issues warnings advising against travel to the area. That came following a turbulent few years in the Middle East, as the Arab Spring saw a number of Middle Eastern nations revolt against their leaders.
Meanwhile, it was business as usual for the area's stable nations. However, a diplomatic row has now thrown the Gulf nations into the middle of the ongoing issues.
Qatar has been accused of supporting Islamist groups. As a result, the likes of Saudi Arabia, Egypt and Bahrain have cut ties with the state. All land, air and sea routes to Qatar have been shut and diplomats have been removed from the area.
As the MoveHub report shows, the area's instability appears to be impacting migration. The United Arab Emirates was the ninth most popular destination in 2016, but has fallen to 13th a year later.
Millennials undeterred by political issues
While many opt to stay at home, MoveHub's migration report found that the millennial generation are keener than ever to broaden their horizons. The company saw a 60 percent increase in moving enquiring from Gen Y over the last year.
However, while the desire is still there, the destinations that younger crowds are choosing have changed. The UK, Australia and the US remain as the top three most popular places to relocate. However, all three have experienced a decrease in the number of migrants over the last year.
Instead, a record number of people are opting to start a new life in places such as New Zealand, where immigration peaked in 2016. Denmark is another popular destination, with Copenhagen experiencing a 580 percent increase.