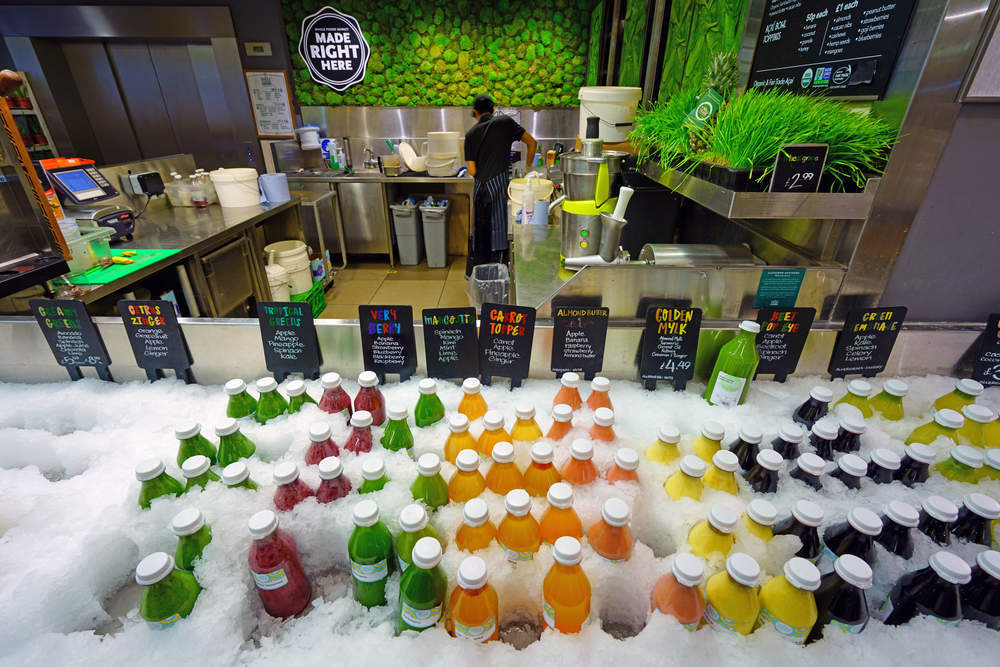 Amazon's bid for Whole Foods earlier this year took investors and the industry by surprise.
The idea of Amazon having a bricks-and-mortar food presence might seem incongruous with its online model, and its food and grocery initiatives have been relatively small-scale so far.
Yet Whole Foods shareholders are expected to approve the acquisition, and barring any last minute complications, their vote will likely shape the future of how people shop for food around the world.
Whole Foods' investors will vote on the deal in the US at 3:30pm London time.
But why would Amazon want to purchase the struggling Whole Foods?
The basic motives for the deal are compelling enough.
Whole Foods has 466 stores offering an established physical presence which could be used for click and collect; not just for groceries but for Amazon's full inventory.
In return, Amazon will offer Whole Foods an online presence, rather than relying on Instacart, and by cutting these costs will help to boost its profits.
Whole Foods has struggled to remain competitive as shareholders have pushed back on price investment due to concern about profitability, but Amazon is less concerned with profit, preferring to invest in growth and scale.
By investing in prices and taking a temporary hit on profit it can boost Whole Foods' market share. In the short-term, there probably won't be a great deal of change — with its other acquisitions, such as Zappos, Amazon tends to give its companies freedom.
Read more: Whole Foods offers Amazon opportunities far beyond food
However the future appears more exciting, or terrifying if you are an established food retailer.
Investors recognised this and Walmart and Kroger shares plummeted upon announcement of the deal.
Food retail is a notoriously difficult market to penetrate, as reputation means everything when it comes to consumers' groceries.
Take Ocado — an online grocer in the UK — which has taken over a decade for it to command around one percent of UK market share.
Although Amazon is an established household name, it would likely have taken significantly longer to grow its food retail business from scratch than by acquiring a household name like Whole Foods.
Scale is essential in terms of fulfilment, and growing an online grocery business to a profitable scale would have been more costly, more risky, and taken much longer to gain a foothold in the established US food market.
Despite its premium positioning Whole Foods offers the chance for Amazon to become a serious player in the market very quickly by providing scale and an existing customer base.
Now that Amazon has bypassed much of the hard work it is free to improve and experiment with Whole Foods' stores and supply chain.
Amazon can modernise and transform Whole Foods into a grocery retailer of the future, competing directly with incumbent supermarkets with multiple fulfilment channels.
Simultaneously, Amazon can continue to work on its other grocery propositions such as AmazonGo, Amazon Fresh, and Amazon Pantry with the added benefit and risk reduction of having Whole Foods in its portfolio of companies.
Amazon has the spare capital to continue to invest in improving its technology, and given the pressure on supermarket's margins, now is the best time for it to pull away in terms of competitive advantage.
The other grocers won't want to sacrifice their fragile margins to the same extent, and if we look at Amazon's grocery pricing history, we know that when the other supermarkets are raising prices it tends to drop them to exploit the opportunity to gain market share.
Although there was some talk of the Federal Trade Commission being notified of potential job losses as a result of the deal, and US president Donald Trump wanting to look into Amazon's finances, it is unlikely that there will be any meaningful objections to the deal.
Amazon is the ultimate disruptor in retail, but for a long time it has only been on the periphery for the food retailers.
The shareholder vote today consolidates the threat of Amazon repeating the damage on the grocery market it has ravaged on the wider retail industry.
Amazon's vision of being a one-stop-shop for all of a consumer's needs is one step closer to being a reality.