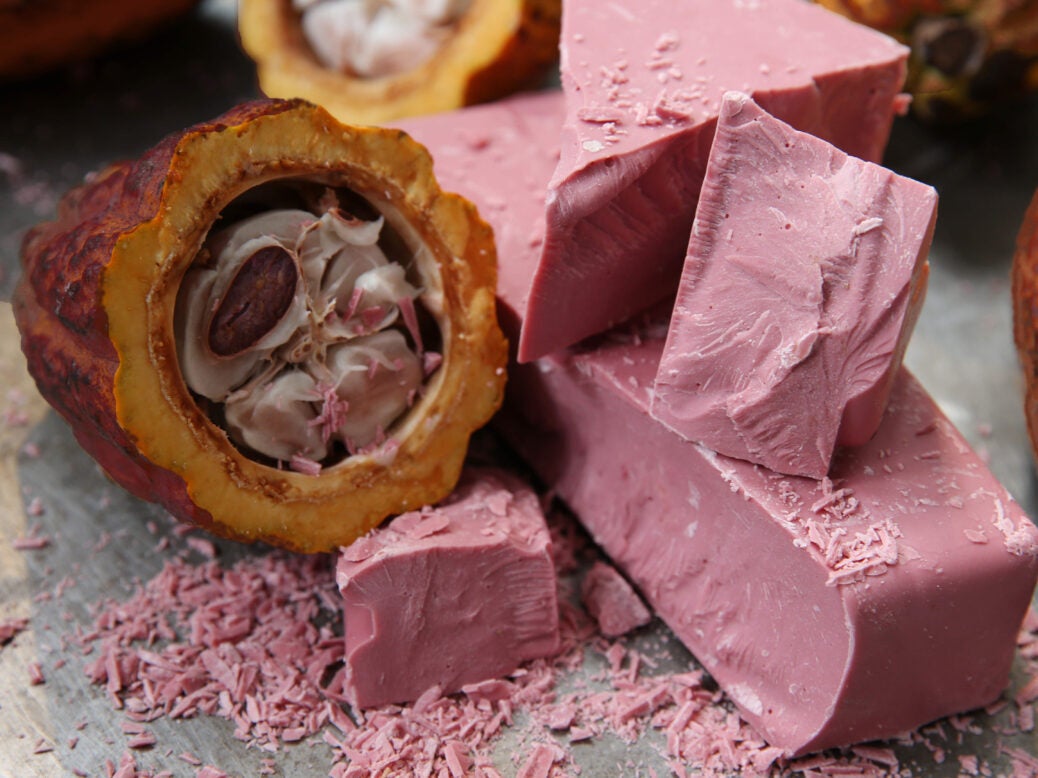 After being announced back in September, ruby chocolate is finally hitting the shelves.
The fourth variety of chocolate launched at up-market London department store Fortnum And Mason last week. It is also being used in a new KitKat bar, which went on sale in the UK this week after launching in Japan and Korea earlier this year.
But why is ruby chocolate only just coming to the masses now? Does the chocolate industry need a boost?
What is ruby chocolate?
Ruby chocolate is a brand new variety, created by B2B confectionery manufacturer Barry Callebaut. The colour comes from red cocoa beans, which grow in the Ivory Coast, Ecuador, and Brazil.
Barry Callebaut insists that these cocoa beans have no genetic modifications. The company also denies using any artificial colourings or flavourings in the manufacturing process. However, the recipe for making ruby chocolate is top secret.
Ruby chocolate also tastes slightly different from other chocolate varieties. The initial press release said it would offer a 'totally new taste experience'.
Not bitter, milky or sweet, but a tension between berry-fruitiness and luscious smoothness. To create ruby chocolate, no berries or berry flavour, nor colour, is added.
Why is ruby chocolate just launching now?
Ruby chocolate has been in development since 2004, Barry Callebaut previously told the Guardian. Which does rather beg the question, why now?
It reportedly took over a 'decade for Barry Callebaut to fully understand how to process ruby chocolate and scale-up the operation'.
For a company worth $9.64 billion, it seems surprising that it would take them so long to launch this new chocolate.
Barry Callebaut's answer is that it now is simply the best time for the launch, in part due to the recent trend for colourful versions of traditional food. Look at the viral popularity of Starbucks' so-called rainbow frappucinos.
According to Barry Callebaut's chief innovation and quality officer Peter Boone, ruby chocolate is expected to appeal to the millennial market.
In a press release he said:
Consumer research in very different markets confirms that Ruby chocolate not only satisfies a new consumer need found among millennials – hedonistic indulgence – but also high purchase intent at different price points.

We're looking forward to working with our partners on introducing this innovative breakthrough to the market and making the new ruby chocolate category available to chocolate manufacturers and consumers around the world as the fourth reference next to dark, milk and white chocolate.
But that is only part of the story.
Paying a premium?
The chocolate industry isn't facing peril any time soon, according to market research from GlobalData.
Between 2007 and 2017, the volume of chocolate sales worldwide has grown by 78.5%.
In addition, the price of chocolate sold climbed faster than the volume of it being consumed. This points to a market increasingly focused on premium products, with ruby chocolate clearly fitting into this trend.
Chocolate becoming more of a premium product seems to be a major factor in both Fortnum And Mason and Nestlé's decision to bring ruby chocolate into their ranges.
Lucy Williams, commercial director at Fortnum And Mason, said:
Fortnum's has been a destination for adventurous foodies for three centuries, and we're certain ruby chocolate is going to be the latest delicious discovery to capture our customers' imaginations.

We're launching now because Fortnum's has always been at the forefront of finding delicious new things – which is why we've made sure our ruby chocolate is the highest grade and purest form available, so it's the finest possible example of what this naturally pink and utterly unique chocolate really tastes like.

Of course, at Fortnum And Mason, a luxury retailer, this premium chocolate makes sense.
The ruby chocolate will go on sale at two of the outlets' London stores, with prices starting at £6.50 for a 70g bar. To put this into context, a 40g milk chocolate Dairy Milk bar from most UK retailers costs around £0.60.
Still, KitKat's adoption of ruby chocolate is a different story.
Costly KitKats
A standard four-finger KitKat costs around £0.60.
However, Sylwia Gorska, corporate media relations manager for Nestlé UK, explained that the company is upping the price slightly for the ruby version.
KitKat Ruby is a different product to a regular KitKat. It is a new product positioned differently in a new more premium segment for KitKat.
So far, KitKat Ruby is only on sale at one retailer: Tesco. Here a four-finger bar will set customers back £0.80. Sure, it's a little pricier, but not by nearly as much as Fortnum And Mason's offering — which the luxury retailer would likely claim as being of higher quality.
Gorska told Verdict that Nestlé chose the KitKat brand especially to act as an ambassador for ruby chocolate:
"We have chosen KitKat as it is one of our leading confectionery brands that has a unique mix of heritage and innovation. It was first manufactured in 1935 and since then has been delighting consumers all over the world with its breakthrough innovation."
But KitKat isn't a traditionally premium brand. So what's going on?
While both brands are pitching ruby chocolate as a premium take on traditional products, there could be another reason why the product is launching now.
The story of ruby chocolate
Perhaps ruby chocolate is indicative of our changing tastes when it comes to food.
Nowadays, food is something to talk about and share pictures of. One only need look at the popularity of food bloggers and food-based Instagram accounts to see how this has permeated the culture of eating.
GlobalData analyst Ramaa Chipalkatti said:
About 45% of chocolate eaten in UK was selected by consumers because it offered the most indulgent treat, while 16% of chocolate was selected because it offered a novel experience.

Ruby chocolate fits both these trends nicely, offering a truly unusual treat in a category known for its frequent flavour innovation.
Williams said of Fortnum and Mason's decision:
It's set to be so popular because of its unexpected arrival, its glorious colour and most of all, its taste.

It's undoubtedly a fabulous story that this naturally pink chocolate has appeared, almost as if by magic… Foodies everywhere are going to love it.
Similarly, Nestlé first launched the KitKat Ruby in its KitKat Chocolatory stores in Japan.
These stores are a tourist attraction much like Cadbury World in the UK or the Hershey's Factory in New York.
Gorska said the chocolate proved popular in this environment:
The products were sold-out in our KitKat Chocolatory stores within 30 minutes every day for the first week after it was launched in January. To date, many consumers are also still visiting our stores to taste and purchase the product.

More than 50% of consumers who visited our KitKat Chocolatory Ginza store are tourists, highlighting the popularity of KitKat worldwide.
The real appeal of ruby chocolate may be in its ability to tap into a cultural movement.