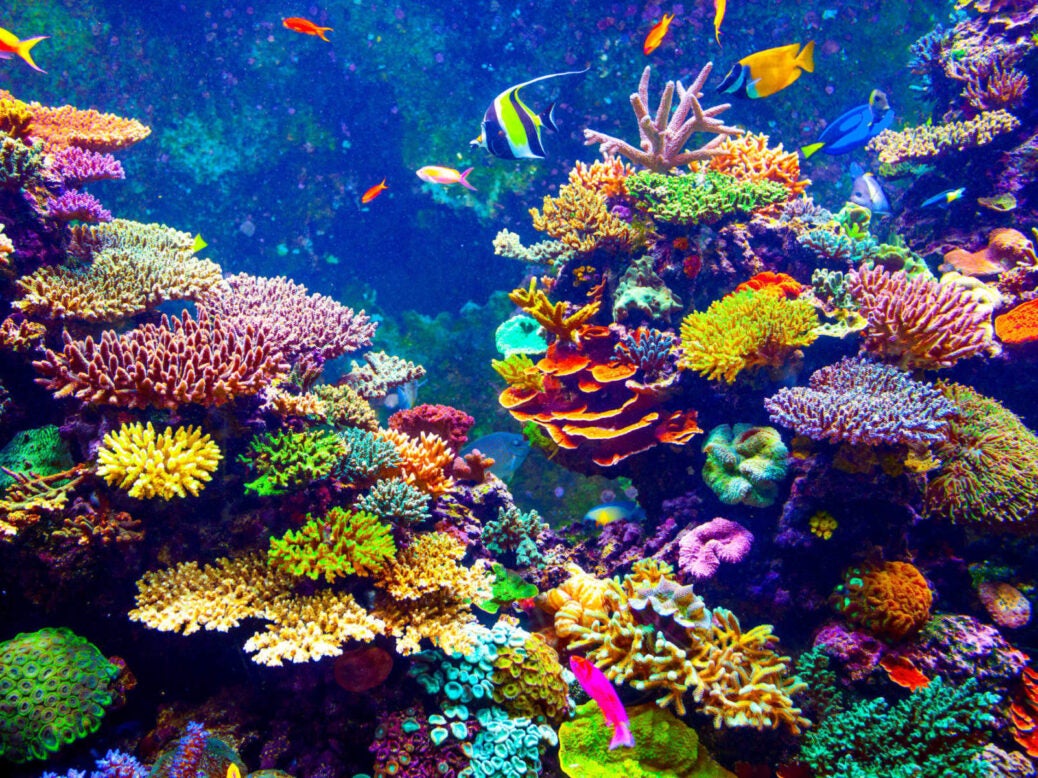 A 3D printed reef assembled like a giant Lego set is hoped to offer a technology-driven solution to the ocean's declining coral population.
The 3D printed reef was submerged on Saturday at Summer Island Maldives and is the largest of its kind.
Fragments of coral from a nearby coral nursery are being transplanted onto the 3D reef, where they will grow and colonise the structure.
Industrial designer Alex Goad from Reef Design Lab used computer modelling to create structures similar to naturally occurring reefs found in the Maldives.
Humans have long created artificial reefs, such as sinking ships or dropping concrete blocks into shallow waters.
However, 3D printing can more accurately imitate coral structures, attracting more algae, barnacles, anemones and other marine life.
"3D printing technology helps us to develop more innovative ways of protecting coral reefs," said Goad.
"The technology allows us to mimic the complexity of natural reef structures, so we can design artificial reefs that closely resemble those found in nature.
"We hope this will be a more effective way of growing and restoring corals."
Coral is vital to marine ecosystems
Half of all coral in the Great Barrier Reef has died since 2016. As reported in the Economist, roughly a fifth of all coral in the world has perished in the past three years.
Coral reefs occupy just 0.2% of the sea floor, but they support entire marine ecosystems. According to a World Meteorological Organisation report, 25% of marine species are dependent upon coral.
Litter is one reason for the decline, with debris blocking out sunlight and sharp plastic damaging coral structures. This will only get worse, with the UK Government predicting plastic waste in the ocean will treble in the next decade.
Some startups are inventing innovative ways to clean the oceans. In many situations, it is already too late.
The biggest factor, though, is rising global temperatures. Hotter waters make coral more susceptible to viruses.
It also makes microalgae – coral's main food source – toxic to the coral. Without microalgae, coral turns white. This is known as bleaching, which often causes coral to die.
3D printed reef shows the technologies' versatility
While 3D printing has been around for decades, technological advancements have dramatically increased its versatility in recent years.
The technology, also known as additive manufacturing, has been used to print drugs, teeth and even guns.
In the case of the 3D printed reef, a large printer worked for 24 hours to print 220 ceramic moulds. The substance is similar to calcium carbonate found in coral reefs.
Bertrand Humel van der Lee, chief customer operations officer at 3D printer manufacturer EOS, told Verdict:
"Industrial 3D printing will have a massive impact when it comes to solving complex problems more sustainably. The technology allows for greatly increased design and manufacturing flexibility as well as less wastage and is revolutionising manufacturing processes globally.

"Its application in medical technology, for example, is facilitating healing processes and simultaneously improving patient care and wellbeing. The integration of industrial 3D printing in both existing and future production scenarios is a catalyst for innovative product design, marketing, and the sustainable use of resources."
Scientists hope that coral will cover the 3D printed reef within the next two years. If successful, the technique could become more widespread.
"Projects like the 3D printed reef are popular among guests, who like that we protect our environment," said Mari Shareef, Manager of the nearby Summer Island Resort.
"And it's not only for the guests. Our staff, most of whom are Maldivian, want to protect their environment.
"Ultimately, we want to help promote a culture of environmental stewardship, not just at Summer Island, but across the Maldives."