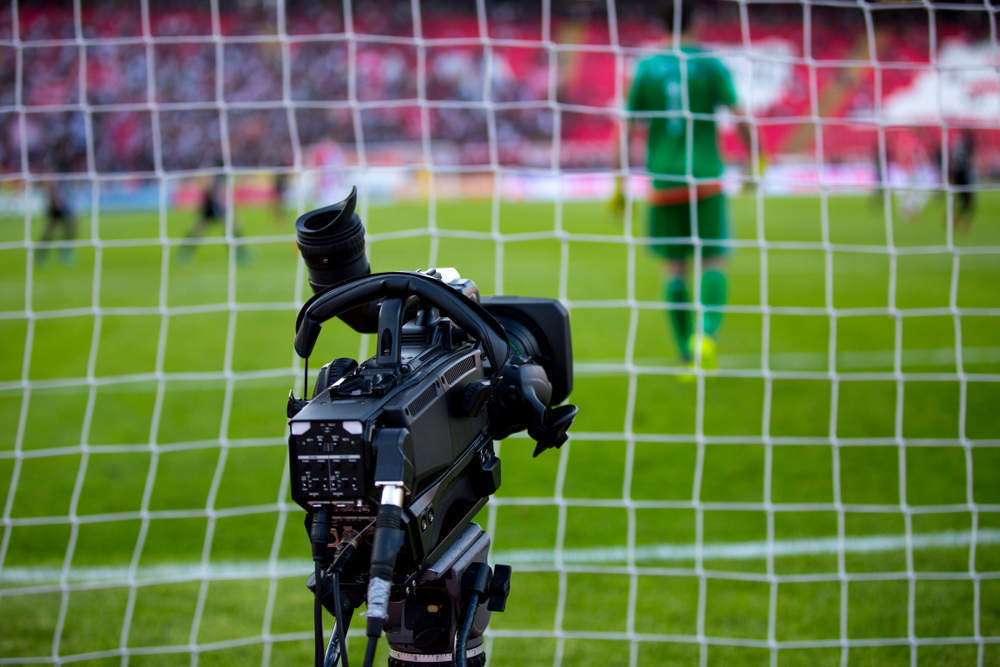 Football films always have a bit of a hard time. Ultimately, it's probably because the world's biggest movie market, the USA, doesn't really care for football like the rest of the world. Then there's the ever-present issue that people who enjoy football tend to be busy actually watching the football rather than visiting the cinema.
Still, that's not to say that good football movies don't exist at all. There are a few gems that have popped up over the years.
So, for all the times you're not watching the World Cup but still need your football fix, we've put together of the best football films ever made.
As with our romantic and horror movie guides, we looked at scores from Rotten Tomatoes, Metacritic, and IMDB to find the football films with the overall highest average scores. Here they are in order from lowest to highest rated.
25. Playing For Keeps (2012)
More of a football-adjacent film than a true football film. This romantic comedy sees Gerard Butler star as a down-on-his-luck former football player trying to raise his son with his ex-wife. The film follows his attempts to get a new job as a sports broadcaster while various women attempt to seduce him.
24. Will (2011)
Will is a little boy who is a huge fan of Liverpool F.C. He's living at a boarding school since his ailing father can't care for him after his mother's death. Out of the blue, his dad arrives with tickets to go and see Liverpool play AC Milan in the 2005 Champions League Final. Unfortunately, Will's father passes away shortly afterwards meaning Will can't go. However, deciding to honour his father, Will makes the arduous journey to the Atatürk Olympic Stadium in Istanbul to see the match anyway.
How well do you
really

know your competitors?

Access the most comprehensive Company Profiles on the market, powered by GlobalData. Save hours of research. Gain competitive edge.
Company Profile – free sample
Thank you!
Your download email will arrive shortly
Not ready to buy yet? Download a free sample
We are confident about the unique quality of our Company Profiles. However, we want you to make the most beneficial decision for your business, so we offer a free sample that you can download by submitting the below form
By GlobalData
23. One Night In Istanbul (2014)
Oddly, another film based on the same football match as the previous one. Two hard-up cab drivers from Liverpool strike a deal with a local gangster to get tickets to the 2005 Champions League Final. They hope the trip will give them both a chance to bond with their sons, however, in true comedy form, things quickly go awry in this zany caper.
22. Pelé: Birth Of A Legend (2016)
A biographical film based on Brazil's most famous footballer, Pelé. The focus for the film is the relationship between the player and his father. Ultimately the movie was criticised for its lack of depth and cheesy ending, but it's still loved by many.
21. Goal II: Living The Dream (2007)
The second in the baffling FIFA-accredited football series about the life of a fictional Mexican football player, Santiago Munez who is brought to England to play for Newcastle United. This time around, he's playing for Real Madrid and becoming a bit of a celebrity in the world of football. Of course, naturally things are set to go awry and they do so in spectacular fashion when his half-brother shows up. Still, Santiago makes life hard on himself too by basically being self-centred and arrogant. Anyway, things all work out in the end and Santiago learns his lesson – something that is only possible in football fiction and never seems to happen in reality. There was a third film in this series but it was straight-to-video and basically no one saw it. That should tell you everything you need to know.
20. Mean Machine (2001)
American remakes of British films are quite common, but British remakes of American films less so. Mean Machine is a remake of the classic American movie The Longest Yard (not the Adam Sandler version, which also a remake of it) but involves soccer rather than American football. Vinnie Jones plays the disgraced former captain of the England football team who was banned from football after fixing a match. He gets locked up in prison for assaulting some police officers and has to turn the inmates into a functioning football team.
19. Fever Pitch (1997)
And here is a film which was remade for an American audience. Thankfully, the British original is about football (not baseball) and is actually half-way decent. Colin Firth plays a school teacher who is obsessed with Arsenal F.C. He begins falling in love with a new teacher who has just joined his school, but soon finds himself torn between romance and being a football fan.
18. She's The Man (2006)
Shakespeare's works have been adapted in all kinds of ways but putting Twelfth Night in the context of a woman dressing as a man to join a football team has got to be one of the strangest. Amanda Bynes plays a girl who dresses as a man to help her brother's football team after he decides to go away. This is, naturally, the only way to save the team. And, of course, there's a complex romance and farcical elements.
17. Kicking And Screaming (2005)
A Will Ferrell movie that does everything you'd expect a Will Ferrell movie to do. Its lead plays Phil Weston, a meek and mild vitamin store owner. He takes on the coaching of his son's football team to get back at his own father, also a football coach, who used to keep him on the bench every game. With Phil's help the kids get better and better until they're ready to challenge the team coached by Phil's dad.
16. Goal! The Dream Begins (2005)
The first film in the Goal! series sees a young football player called Santiago Munez being taken to England to play for Newcastle United. He has to prove himself and work hard to win a place on the team. There are obviously trials and tribulations on the way, plus literally dozens of cameos from major football faces.
15. The Football Factory (2004)
Again, this one is less about football and more about football fans. Specifically, it's about football hooliganism. Danny Dyer plays a football hooligan who drinks, does drugs, and fights. The film depicts his life and despair as he attempts to escape the life of a hooligan.
14. Early Man (2018)
You could certainly be forgiven for having not picked up the fact that Aardman's latest is, in fact, a football film. The movie revolves around a tribe of cavemen who are hurled from their valley home by a Bronze Age army. As you might expect, the tribe have to band together and learn the lost art of football playing to beat the baddies and win their home back.
13. Escape To Victory (1981)
An early football film about a group of Allied prisoners of war playing an exhibition match against a German football team in the middle of World War Two. They realise they're in the middle of a propaganda stunt and plan a daring escape in the middle of the football match.
12. The Game Of Their Lives (2005)
Set in 1950, this film tells the story of how the American national football team once managed to defeat England in a world cup match. The movie explains the backstory of the team and what led them to manage to beat the England team.
11. Green Street Hooligans (2005)
Another take on similar themes to The Football Factory. Elijah Wood plays an American student who comes to England and gets adopted into a football hooligan 'firm' by his sister's brother-in-law played by Charlie Hunnam. The American comes to enjoy the violence of hanging around with the football hooligans. However, when the rage and brutality starts to spill into other sections of his life, he's forced to reconsider.
10. There's Only One Jimmy Grimble (2000)
A classic tale about a young football fan who is desperate to play for his school team. Unfortunately, his rival is better and has a rich dad who's prepared to pay off the coach to get his son a spot. Our hero, Jimmy Grimble, however, is gifted with a pair of football boots which once belonged to the top player at Manchester City, his favourite club. With these on his feet, his luck starts to turn around.
9. Flushed Away (2006)
Okay, okay, okay. Technically Flushed Away is not a football film. None of the characters play football at any point. However, it's still the perfect film to watch while the World Cup is on. The biggest football competition in the world actually has an important role in the plot. Everyone going to the toilet at half-time threatens to 'flush away' the underground rat city of Ratropolis and our heroes have to go on a huge adventure to prevent that from happening. It's a silly film, but for those who are only half-way interested in football it's plenty of fun.
8. The Pass (2016)
An intimate British indie film adapted from a play of the same name. The Pass actually only features five actors in its story of two young football players. Russell Tovey and Arinze Kene play Jason and Ade, two young football players on a youth team. The film starts the night before their first-ever game for the first team – a Champions League match. When one of them kisses the other it sparks a chain of events that follows them through the next ten years. The Pass grapples with the issue of homosexuality in the hyper-masculine world of football and raises some important questions about modern football culture.
7. United (2011)
What started as a BBC television film grew into a theatrical hit in worldwide releases. The film takes place between 1956 and 1958 and features the story of the Busby Babes, the team of Manchester United who were almost entirely homegrown talent. The drama focuses on the relationship between Jimmy Murphy, the team's assistant manager and a young Bobby Charlton. The movie also features the Munich Air Disaster, which killed seven of the team's players. It's the ultimate football story of overcoming adversity and finding confidence in the direst situation.
6. Bend It Like Beckham (2002)
Another inspiring tale of football helping to bring people together. Jesminder is an 18-year-old daughter of Punjabi Sikhs living in London. Her parents ban her from playing football because she is a girl, despite her love of the sport. In secret, Jesminder joins the local women's team and helps them advance to the top of the league. When her parents find out, she's forced to choose between loyalty to herself or to her family.
5. Looking For Eric (2009)
A wacky film about a football fan called Eric Bishop whose life seems to be falling apart. However, a chance encounter with former footballer Eric Cantona, turn's Bishop's life around. Due to an incident with his stepson, a drug lord humiliates and degrades Bishop. With the help of Cantona and his fellow football fans, Bishop is able to take control of his life and improve things.
4. The Miracle Of Bern (2003)
When Richard Lubanski, a former German soldier returns home after World War Two, he finds his family has moved on without him. His youngest son Matthias admires a local football hero instead, Helmut Rahn of Rot-Weiß Essen. Originally Richard is very stern towards Matthias, but eventually he softens and takes his son to see West Germany beat Hungary in the 1954 World Cup final. The film contains many subplots but overall it focuses on how the win helps to heal the wounds of the war.
3. Shaolin Soccer (2001)
You don't get many football films these days. You also don't get many martial arts films. That's why this incredibly wacky movie is so much fun. A former Shaolin monk reunites with his brothers after their master dies. They decide to honour him by using their superhuman abilities (gained through meditation, naturally) to win a football tournament. The film is absolutely crazy and it's an unbelievable amount of fun to watch. If you need cheering up when your team inevitably loses out in the World Cup, this film will cheer you up.
2. Offside (2006)
There's quite a few films called Offside, including one which also came out in 2006. You're looking for the Iranian one. The film focuses on six Iranian football fans. Unfortunately, as women, they are banned from entering the stadium to see the 2006 World Cup qualifying match between Iran and Bahrain. The women make it into the match and the film follows their experience. The movie was actually filmed at the actual stadium during a qualifying match for the Iranian National team. Two endings were planned depending on the outcome of the real match.
1. The Damned United (2009)
Of course this one was going to be in the number one slot. The Damned United is not just a great football film, it's mostly just a great film. The movie follows Brian Clough's dramatic and not entirely well-fated time as the manager of Leeds United. The movie is all about the inner workings of the British Football Association and the politics behind the players. It's a great film with some stunning performances and definitely worth a watch, even for those less interested in football.