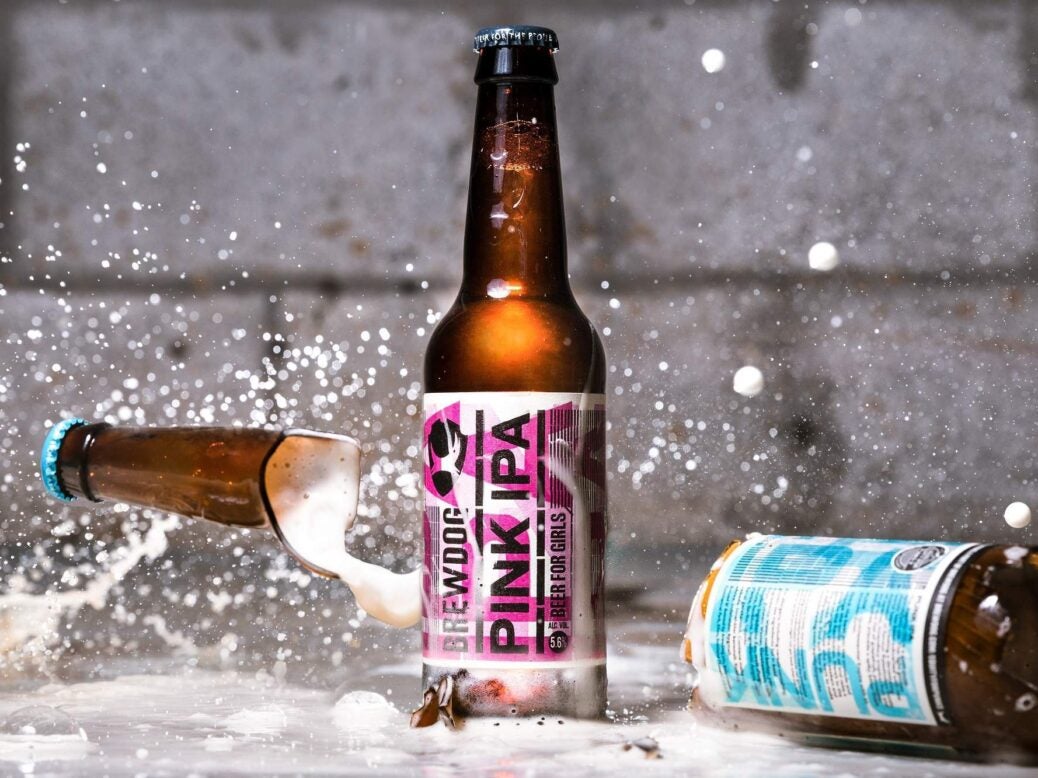 In an effort to tackle sexist marketing and help close the pay gap, independent craft brewery Brewdog has launched a so-called "beer for girls" Pink IPA.
Brewdog has satirically dubbed Pink IPA (a pink-labeled version of their best-selling Punk IPA) a "beer for girls".
The whole thing is designed to mock and belittle other sexist marketing campaigns. These have included pens, shoes, razors, and almost every other product one can think of. Many have joked that those marketing products towards women simply recolour their items pink, charge more, and call it a day. That's exactly what Brewdog is satirising with its new drink.
In a press release, Brewdog said:
With the product being identical to the blue-branded Punk IPA, the brewer intends to trigger questions about why women continue to earn less than their male counterparts, and offer them a discount on the beer equivalent to the gender pay gap.
However, there's also a financial element to this cause.
According to official data from the European Union, the gender pay gap in the UK currently sees women paid 21% less per hour than men.
As a result, Brewdog will be selling Pink IPA at a 20% discount in its own bars to those who identify as women. It will also be donating 20% of the profits of both Pink IPA and Punk IPA to causes that fight against gender inequality for the next four weeks.
The company said:
BrewDog's approach to tackling the gender pay gap acknowledges the root causes of the widespread underrepresentation of women in certain industries, particularly in science, technology, education and math (STEM).

As such, the brewery's donations will go to causes that address current gender disparities and also seek to boost the number of young girls interested in a future in STEM industries.
The recipient charities are going to be the Women's Engineering Society and 9to5.
Brewdog has also launched a new microsite with information about gender pay gaps around the world and advice on what companies can do to close those pay gaps.
Pink IPA will go on sale in the UK, South Korea, Ireland, Germany, the US, and the Netherlands.
A confused message
While Brewdog's aims are certainly laudable, the campaign has been met with scepticism.
On social media many commentators seem to have missed the satirical nature of Pink IPA, and assume that Brewdog is simply playing into the very kind of marketing that are hoping to lampoon:
Speaking to Verdict, a representative for BrewDog said:
Pink IPA is quite obviously satirical. It's a send-up of the patronising approach many companies take in their attempt to attract a female audience.

The beer is part of a bigger campaign that raises awareness of the scourge of the gender pay gap and sexism; two issues we think we should be doing a lot more to solve as a society.
RT if you're a girl and you hate pink.#Brewdog#PinkIPA https://t.co/QmQq24Y4kN

— Liz Mitchell (@saxylizbeth) March 6, 2018
I have shares in @BrewDog and love their products and bars, but the #PinkIPA is woefully misjudged. If a woman wants to drink beer she'll drink beer, it doesn't have to be packaged in a f***ing pink bottle pic.twitter.com/VLDcpZWmir

— James Moriarty (@Editor_James) March 6, 2018
To rail against lazy, gender stereotyping Brewdog redesign their beer brand to show lazy, gender stereotyping. Uh, yea, right on? #PinkIPA#FAIL

— Rad Crag (@rac_c100) March 6, 2018
https://twitter.com/Csharkboi/status/970978355280596993
Piss. Off. #pinkIPA #beerisnotgendered https://t.co/LTcS9p3sUa

— Anna Blewett (@annie_knowsbest) March 6, 2018
https://twitter.com/AmBambino23/status/970965498564304899
https://twitter.com/jessrmchugh/status/970971644977209344
https://twitter.com/ChrisJDeacon/status/970965880824713216
Other commenters are also criticising the campaign but for different reasons. This group understand what Brewdog was getting at but have criticised their execution of the idea.
https://twitter.com/KatyCoats1/status/970957431193899008
Pink's my fave colour (possibly tied with green) but there's plenty of beer already packaged in pink 🤷‍♂️.

Always feel like there's a kernel of good intention to Brewdog's initiatives, they just implement like a Ken Livingstone antisemitism apology.#PinkIPA

— Joey Hill 💚🧚‍♂️🌱 (@MultiplexRant) March 6, 2018
I nearly joined in the @BrewDog #PinkIPA twitter pile-on, but instead decided to read the advert 'Satirically dubbed Beer for Girls.. BrewDog's.. call to close the gender pay gap.. around the world and to expose sexist marketing to women, particularly within the beer industry'

— Simon! 🙂😕😑 (@MrSimonPotts) March 6, 2018
I saw the #pinkipa last week and thought it was a spoof.

It's not very 'clever' is it. It's making a point of how stupid labelling something pink for women is…but it just seems a bit confused.

— Gabby (@gabriellellek) March 6, 2018
https://twitter.com/fletch107/status/970956123493814272
And some people are being negative about the whole thing.
Won't be drinking this shit, feminist crap #PinkIPA

— Wulfen (@WolfSaullVerker) March 6, 2018
https://twitter.com/mwsomers84/status/970955443446087680
"Pink IPA"? Seriously? BrewDog continue to be mediocre beer for cunts then

— Nick Dunkeyson (@nickdunkeyson) March 6, 2018