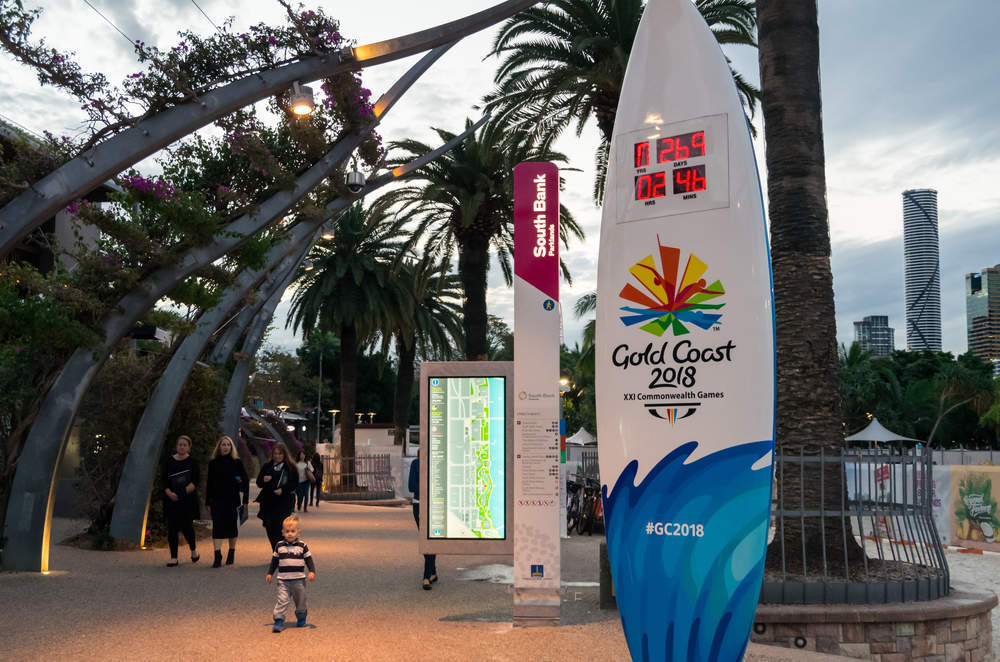 The Cameroon Commonwealth Games team has flown home from the Gold Coast early following the disappearance of eight of its 24 athletes.
Despite athletes being closely monitored, three Cameroonian competitors managed to sneak away from the Games village on Sunday night. Two more athletes disappeared on Monday, followed by another three the following day.
The remaining Cameroon athletes returned home on Wednesday to ensure that no more disappearances occurred.
The news was confirmed by Victor Agbor Nso, the head of Cameroon's Commonwealth Games team, who told News.com.au:
The Cameroon Commonwealth Team is sad to announce that eight of the 24 athletes that took to the 21st Commonwealth Games in Gold Coast, Australia, are missing from their respective rooms in the Games village.
Weightlifter Olivier Matam Matam and boxers Christian Ndzie Tsoye and Simplice Fotsala were among the first to go missing on Sunday.
Matam Matam and Fotsala had competed in the Games on Thursday and Friday respectively. However, Tsoye failed to show up for his men's 91kg fight with New Zealand's David Nyika on Tuesday.
Two more weightlifters, Arcangeline Fouodji Sonkbou and Petit Minkoumba, disappeared on Monday. Boxers Fokou Arsene, Yombo Ulrich and Ndiang Christelle followed them out of the village on Tuesday.
Australian police have been notified of the disappearances. However, Australia is unlikely to come down too hard on the athletes if they are found, given the situation is Cameroon.
Poverty is widespread in the African nation due to government corruption, poor infrastructure and regular famines.
More than 40 athletes, many of which sought asylum, overstayed their visas following the 2006 Commonwealth Games in Melbourne, Australia.
Two of those athletes, Cameroonian weightlifters Francois Etoundi and Simplice Ribouem, are competing for Australia at the current Commonwealth Games.
What was said:
The team's publicist, Simon Molombe, said:
"When we got up in the morning, they were not there. It's very, very disappointing and very, very embarrassing for Cameroon."
Kate Jones, the Queensland Commonwealth Games minister, said:
"When an athlete comes to Australia to compete in a competition, we expect them to front up on the field and compete,"
Peter Dutton, Australia's home affairs minister, said prior to the Games:
"Our message to the 0.5% of people who might think they can overstay a visa, or not act within the conditions of that visa, is that Australia has very tough laws and they need to abide by the laws."
Why it matters:
Dutton insisted that athletes would be under lock and key throughout the Games to prevent situations like this one. However, the disappearance of athletes three nights in a row suggests otherwise.
Further disappearances are likely as the Games come to a close. These incidents will have done little to deter those that plan on overstaying their welcome on the Gold Coast.
This also poses a risk to security at the athlete's village. There is no suggestion that people could enter the athlete's village undetected. However, that eight athletes were able to walk out of the village without being stopped or noticed in three separate incidents is a clear lapse in security.
Background:
Due to the high-risk status of some countries, it is often difficult for people from those countries to obtain visas. As a result, disappearances at major sporting events, one of few exceptions that immigration agencies make, aren't uncommon.
At least 21 athletes deserted their teams at the 2012 London Olympics.
The Commonwealth Games will come to an end on Sunday, 15 April. More than 4,500 athletes will have competed for 142 medals in the first multi-sport event to offer medal equality.