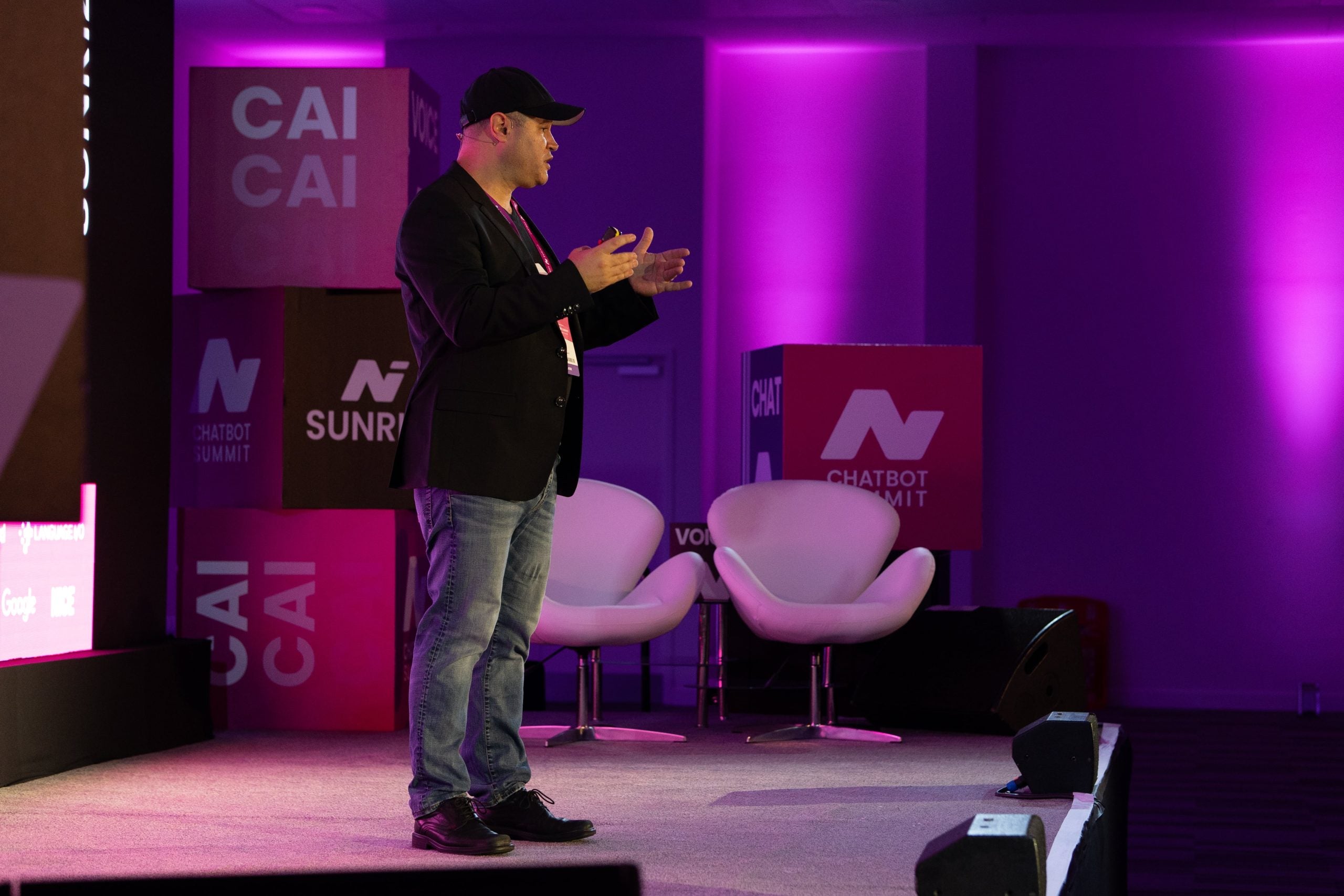 Large language models (LLMs) are going to become so commoditised by companies, big and small, that every business will be able to train tens at a time, predicts Yoav Barel, founder and CEO of the international Chatbot Summit.
Barel, tech entrepreneur for more than 20 years and creator of the annual Chatbot Summit which was held in London this month (12 October 2023), told Verdict that he sees LLMs becoming completely ubiqutous in every industry.
"The costs are going to go down so dramatically, just like we had with [the] cloud," Barel told Verdict.
Barel envisages everyone from individuals and small businesses to multinational corporations soon running and testing multiple AI foundation models to build upon.
The Chatbot Summit founder notes that any business, even those with no tech background, can take a foundation model and use a method like retrieval-augmented generation (RAG) to "train your own private AI".
RAG is an AI method that combines pre-trained language models with external knowledge sources to generate responses, allowing it to provide more contextually relevant and informative answers compared to traditional AI methods that rely solely on pre-existing data.
How well do you
really

know your competitors?

Access the most comprehensive Company Profiles on the market, powered by GlobalData. Save hours of research. Gain competitive edge.
Company Profile – free sample
Thank you!
Your download email will arrive shortly
Not ready to buy yet? Download a free sample
We are confident about the unique quality of our Company Profiles. However, we want you to make the most beneficial decision for your business, so we offer a free sample that you can download by submitting the below form
By GlobalData
"In my view, IT infrastructure spend is going to shift dramatically from legacy systems, from old CRM systems, from old web infrastructure and app infrastructure to this new world," Barel said.
"You will have verticalized, geo-language specific tools that are above these models that will make your life as a retailer, as a marketeer, lawyer, insurance agent, contact center agent to literally any role – completely easier," Barel said, "you're just going to be more productive."
"I think every enterprise is going to be testing between ten and 20 [LLMs]," Barel said.
"And smaller businesses will just have sort of an orchestration layer that will maybe orchestrate this on their behalf, or they may be able to choose the one that's best for their smaller use cases," he added.
Big Tech companies like Amazon, Google, and Microsoft are developing their own foundation models while also providing support for third-party models, contributing to cost reduction and the commoditisation of Language AI technology
"I believe that for everyone and every company, these models are going to be ubiquitous," he said.
Barel remembers the amount of power and money it would cost a Sun Microsystems computer in 2001 to create an original sort of computing infrastructure.
Barel said: "What happened to computing a decade later is that corporates moved from high-end on premise computing to much lower-cost cloud computing infrastructure."
Research company GlobalData notes that LLMs are currently expensive to produce and run.
"It is rumored that OpenAI paid at least $100m to create GPT-4 – and finding the best enterprise use cases to monetize the technology is a priority in the industry," the company writes in its Generative AI Watch – In Focus: Large Language Models (LLMs) 2023 report.
Blaming AI regulation is just an excuse for hestiance, says Barel
The largest hurdles to businesses wanting to integrate AI into their operations is currently regulation, lack of urgency and trust, Barel says.
However, entirely blaming regulation is an "excuse" for hesitance and purposefuly slow innovation, Barel says.
It's always hard to be the first business to truly change the status quo, Barel explains.
"The basic human need is not to be a leader, it's a human need to follow; it's not to innovate," Barel said.
"Not many people lead, almost every person wants someone to follow," he said, "and from my perspective, an organization has a culture of itself, and most organizations are followers."
Barel used Google's quick release of Bard following ChatGPT's launch by Microsoft-backed OpenAI as an example of a lack of urgency to innovate.
"As a market leader, you have more to lose by introducing innovation than you do to gain," says Barel.
Google owns a huge share of the search engine and mobile market, while Microsoft lost both many times.
"[Microsoft] has to, to be able for them to grow, they have to enter a new space," Barel said.
It wasn't just Google's Bard that entered the fray of the chatbot market after the success of ChatGPT. Almost every major technology company has launched or is looking to launch its own version.
"I think these challenger brands or incumbent brands that are leaders and innovators, once they put it forward, and people see it's working, the rest will follow," Barel said.
GlobalData notes that smaller, custom LLMs trained with proprietary datasets circumvent governance issues such as copyright infringement, a problem that results from scraping vast swathes of data from the internet.
"In vertical industries where data usage is particularly sensitive, such as healthcare, finance, or law, this makes more sense than in media, marketing, or customer services," the company said.