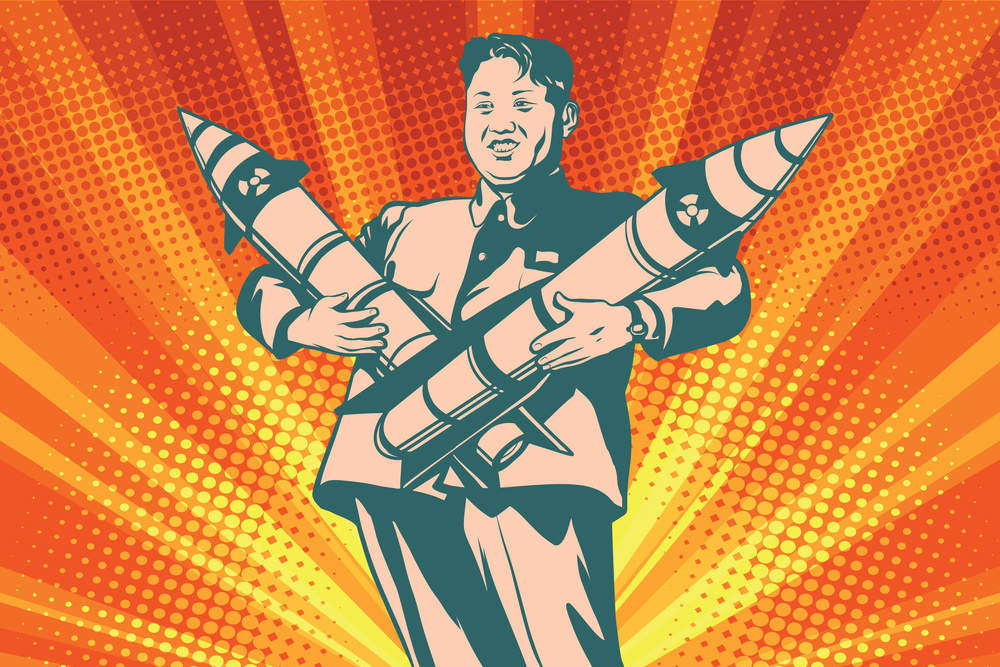 Dictators have dominated the headlines of late. Kim Jong-un left the world caught between a rock and a hard place in 2017 as we struggled to disagree with him on US president Donald Trump, while simultaneously rebuking him for his threats of nuclear war.
Likewise, Nicolás Maduro brought the world's attention to his own crumbling empire as he secured another term as President of Venezuela, despite a crumbling economy and unrest among the population.
Meanwhile, China's Xi Jinping has been finalising his plans to return China to dictatorship rule.
They continue to suppress the media, imprison their opposition and eliminate the unruly in a bid to be the world's best worst dictator, but which Supreme Leader trumps the lot?
Kim Jong-un
Kim Jong-un is the supreme leader of North Korea. He inherited the role from his father Kim Jong-il following his death in 2011.
North Korea views Kim Jong-un as a god, whether due to a genuine love for its leader or through fear of death. And why wouldn't they?
In North Korea, North Korea is the greatest country in the world. Under Kim Jong-un, the state-controlled media broadcasts an endless stream of the dictator's great achievements, from scaling active volcanoes  to sentencing Donald Trump to death.
North Korea's endless threats of nuclear war has left its neighbours somewhat rattled, but aside from generating amusing news headlines, the rest of the world doesn't pay much attention to Kim Jong-un's ramblings.
The Kim dynasty will long continue in North Korea, so long as the supreme leader keeps his hands to himself. Should Kim Jong-un reach for his red button, the rest of the world would be quick to respond.
Top attribute: Military might
---

Vladimir Putin
Some would say Russian dictator; others would say President of the Russian Federation.
What isn't up for debate is that few other democratic leaders have the same level of power as Putin.
He can put someone behind bars for economic crimes and pardon them before their jail term comes to an end, all while sitting on his own vast fortune supposedly amassed through questionable means. Former Kremlin insiders estimate Putin's worth at somewhere between $70 billion and $200 billion.
However, despite talk of corruption, Putin remains extremely popular among Russian voters.
Having stood up to the mean and meddling western world, a 2015 poll estimated his support at 85%.
A Putin-led Russia has the final vote on everything and anything from the United States presidential election to Brexit.
With a fairly large economy and a large arsenal of soldiers, aircrafts, tanks, ships and nuclear weapons, Putin's position as dictator President of the Russian Federation seems secure.
Top attribute: Wealth

---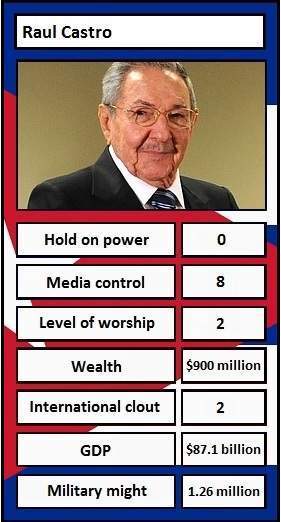 Raul Castro
Despite succeeding his brother and Cuban revolutionary Fidel Castro a decade ago, Raul Castro has been unable to step out of his brother's shadow during his time as the President of Cuba.
Set to stand down in April 2018, Cuba won't be under the rule of the Castro family for much longer.
However, while Fidel will go down in history, in the grand scheme of things, Raul's legacy offers little more than a stagnant economy and lack of progress to remember.
Opinions in Cuba vary. A 2015 poll found that 48% of Cubans hold a negative opinion of Castro.
However, with a government-controlled media empire that threatens journalists with three years in prison for talking out against the government, Castro will see his time as Cuban dictator through to the end… Not that the rest of the world really cares all that much.
Top attribute: Media control
---
Nicolás Maduro
Under Nicolás Maduro's control, Venezuela has gone from a prosperous democracy to a poor dictatorship.
It's economy is on the brink of collapse. Opposition leaders are put in prison, protesters are killed in the streets and the government is putting pressure on the media to support them.
Maduro went to the polls with a 20 percent approval rating last October.
However, he left with the support of three quarters of voting states in Venezuela's 2017 regional elections. Clearly not a case of rigged voting, the only explanation is that Maduro is a god among men, so loved by his nation that his power will never be taken away from him.
Given that the opposition have pulled out ahead of April's presidential election, Maduro seems set to remain Venezuela's supreme leader.
However, should Maduro somehow lose the election, at least he will have a reported $2 million bank balance to fall back on.
Top attribute: Level of worship (because the exit polls don't lie)
---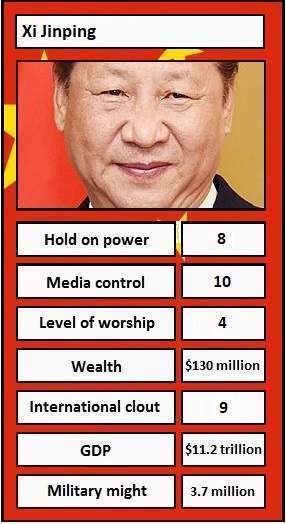 Xi Jinping
China's Communist Part leader Xi Jinping has recently confirmed his place in the dictator's club. The China government has announced plans to do away with China's current presidential term limits.
Current laws, created following the end of Mao Zedong's dictatorship, state that Presidents can only lead for two terms.
Having entered office in 2013 and secured a second term, Xi Jinping will be ineligible to run after 2023. However, should the proposed changes go ahead, Reuters expects Xi Jinping to remain in office indefinitely.
The media, heavily controlled by the Chinese government, has been quick to defend Xi Jinping's decision. Reports out of China have branded the decision as "necessary", insisting that it will improve the quality of life in the Communist country.
The US, which often has something to say when it comes to China's North Korean neighbours, has remained tight-lipped on the plans. White House Spokesperson Sarah Huckabee Sanders said, "that's a decision that's up to China".
That's no surprise. Few will want to challenge the world's second biggest economy that boasts an army of 3.71 million military personnel, 3,000 aircraft, 6,500 tanks and an arsenal of nuclear weapons.
Top attribute: Media control
---
Aung San Suu Kyi
Aung San Suu Kyi was elected as the first State Counsellor of Myanmar in 2016. The political world welcomed her in with open arms.
As a Nobel Peace Prize winner known for fighting for freedom, numerous high-profile figures were quick to support her.
However, she has since settle as the leader of a party that, it seems, isn't much better than its predecessor.
The army, supposedly under her control, has waged a bloody war on the Rohingya population, a minority Muslim group living in Myanmar. Thousands have been killed and many more have been displaced from their homes or placed in camps.
This has led many outside of Myanmar to question the leader's once-saintly image. However, her people are standing behind her.
According to Al Jazeera, she remains popular among Myanmar's Burman population.
Yet, with the junta (the previous ruling military) still in hold of a number of parliamentary seats, some question whether she has any control over Myanmar's 516,000 soldiers.
If not, it only seems like so long until they worm their way back in to power.
Top attribute: N/A
Please note, some figures, such as wealth, are based on unconfirmed media reports. When figures can be verified they have been.