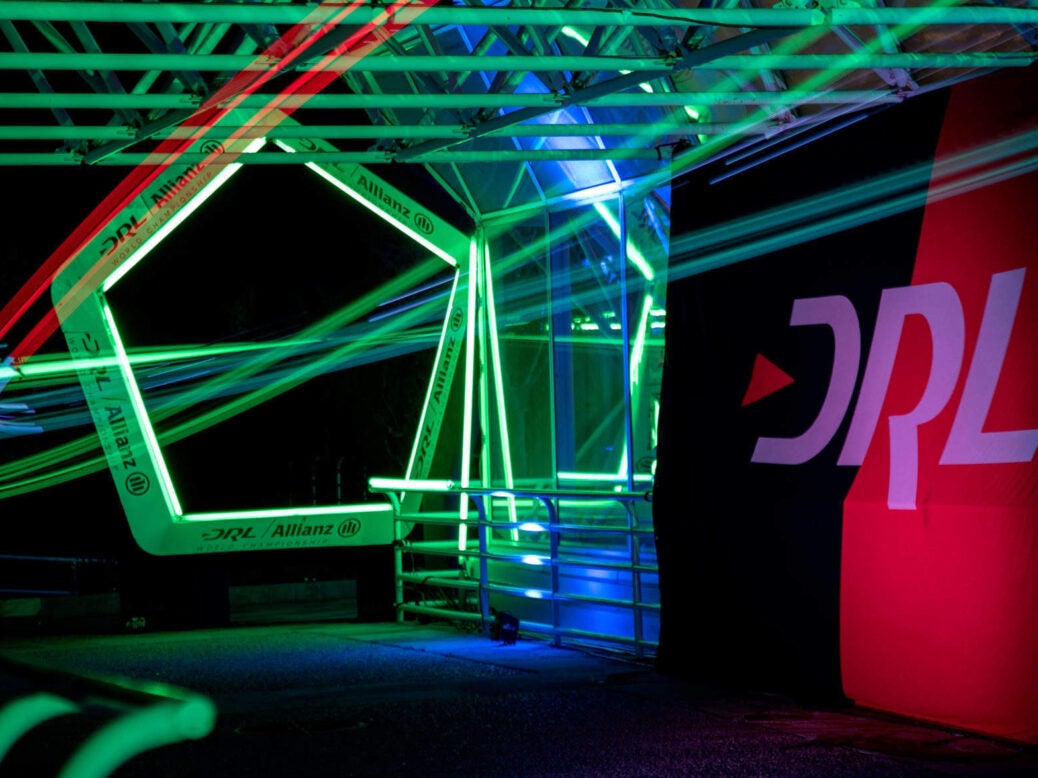 Teens are ditching their dreams of becoming the next Cristiano Ronaldo or LeBron James to set their sights on matching the feats of professional video gamers like Faker and KSharp, as esports continues to rise in popularity. Bookmakers are earning increasingly more from virtual sports events, in which customers can bet on computer-generated horse races and football matches, with between 10% to 20% of revenues now coming from virtual events. Likewise, people are competing against others around the world in virtual reality.
However, perhaps the most exciting child of this recent tech/sport crossover is first-person-view drone racing, the art of flying drones around obstacle courses at incredible speeds, using head-mounted displays and joysticks to control their direction.
Nicholas Horbaczewski, founder and CEO of the Drone Racing League, describes the sport as "like a real-life video game" that combines "the thrill of pod-racing from Star Wars with the real-world adrenaline of Formula 1".
Pilots race around brightly-lit courses, taking on hairpin-tight corners at speeds up to 80 miles per hour and performing loops and spins on their way to the finish line.
"Drone Racing is the future of motorsports. While traditional motorsports is in decline, drone racing provides an immersive and affordable medium to bring the current and next generation into racing," Justin Haggerty, president and CEO of the International Drone Racing Association told Verdict.
It's still early days, but those involved in the scene are predicting big things. That's understandable though. Since races first began in 2014, the sport has attracted a loyal fan base, a number of professional pilots and a considerable amount of interest from viewers and sponsors alike.
Going pro: The Drone Racing League
Drone racing has spawned a variety of competitions and events where those of various skill levels can compete for prizes, from drone accessories to six-figure cash sums.
However, at the pinnacle of drone racing is the Drone Racing League (DRL), a professional competition launched in 2016 that has attracted many of the best pilots in the sport. Names like Wild Willy, Nurk and Gab707 will mean little to outsiders, but these are the stars of pro drone racing.
The league has amassed close to 100,000 followers on its YouTube channel and boasts 1.4 million likes on Facebook. Likewise, it has signed deals with major broadcasters such as ESPN and Sky Sports to put its races in front of the masses.
DRL founder Horbaczewski told Verdict:
"We've been thrilled to see how quickly DRL has grown over the past two and a half years, developing a passionate fan base across the globe.

"Our first two seasons have been watched by 55 million fans in more than 75 countries on leading sports networks like Sky, ESPN and ProSieben. Our digital content has reached more than 115 million views, and we've continued to expand our live events, attracting thousands of spectators to our races."
The organisation has attracted some of the world's biggest brands, having agreed multi-year partnerships with the likes of Allianz, BMW and Swatch. Likewise, the organisation has seen a 165% increase in those expressing an interest in flying in the DRL each year since it launched.
Of course, DRL is ahead of its game and the rest of the drone racing scene has a lot of catching up to do, but the early success of DRL offers plenty of promise to the entire scene.
Increasing income
Prize money in drone racing is increasing and the biggest of competitions are regularly offering five figure prize pools, sometimes more. DRL pilot Jordan "Jet" Temkin was awarded a $100,000 contract for winning the 2017 DRL Allianz World Championship last year.
Of course, making a living from drone racing involves actually winning tournaments or earning a place in a major league. DRL currently has just 18 pilots on its books. As is, income is far from guaranteed for most pilots.
Those lucky enough to win a place in DRL can earn a steady income from the sport, Horbaczewski said.
"All DRL pilots are paid by the league, and several have quit their jobs to focus on professional drone racing full time."
However, much like other emerging sports, those at the top of the pyramid are able to live comfortably, while those that aren't competing at the highest level find it considerably more difficult.
DRL pilot Shaggy FPV, real name Ralph Hogenbirk, told Verdict that "drone racing is getting some big money, but it's very hard to get there as a pilot".
For Matthew Evans, better known among FPV fans as Add1 of the Drone Racing League, being a professional pilot has provided a useful second income as he saves for his first house. However, the need for a constant income means that he has yet to throw in the towel at his primary job as a software developer.
Evans told Verdict:
"Being a professional pilot and racing as part of the Drone Racing League has given me a great second income, one of which you could live on if you are smart and good at budgeting – but depending on your lifestyle, location and priorities you may struggle to do so."
Hogenbirk is in a similar position. He currently works as a software programmer, which brings in more than he earns through drone racing. However, his success in the sport means that he only has to do an office job for three days a week, with his earnings from the DRL covering the rest.
Those that aren't lucky enough to have made it into the DRL have a harder time making a living out of the sport. According to Evans it's "nigh on impossible" to live on drone racing without a DRL contract in the UK. However, the United States and Germany are seeing ever-increasing prize offerings.
"I've seen countless first place prizes upwards of $2,000, so if you are the top of your game then being in the US and trying to live this lifestyle is a very real thing," Evans said.
It's fair to say that drone racing is still very much developing. Nobody is yet earning those $100,000-a-week salaries that are on offer in major football, basketball and baseball leagues. However, with the sport on the up, the future looks bright for professional drone racing and its emerging stars.
"There are probably a handful of people right now who can successfully live on racing alone, but I would say that is definitely increasing as the sport as a whole grows, people take more interest, and importantly more sponsors and leagues start forming to give drone racing the base for which to work from," Evans said.
So what does the future hold for drone racing?
The sport still has its fair share of issues to iron out – notably, Hogenbirk told us, how to make it easier for audiences to follow a race in real-time – but the scene has already come on leaps and bounds in its short history.
Hogenbirk told Verdict:
"Since I joined the scene three years ago, the sport has grown a lot. Especially the big races that came up, like DRL and DCL (Drone Champions League), but also races in Korea and China are getting bigger and draw both live and on TV."
Evans agrees. According to the veteran pilot, the league is seeing huge positive growth, both in terms of those that want to spectate and those that want to take part.
"A year of two ago there would be 30 people show up to a local event, and it would be the same 30 people you'd raced the weekend before. Now, at least half of those are new faces where it may be their first or second race," Evans said.
The numbers offer plenty of promise. Drone racing organisations like DRL are attracting more and more viewers to the sport. Pilots are keen to get involved, as too are sponsors and broadcasters. It's certainly a good sign.
The DRL is certain that drone racing will have its place in the future of sport and, as the leading organisation in the sport, it is probably the best judge of that.
"As the technology rapidly evolves and the courses continue to get more complex, visually stunning and unique, we believe new fans and pilots of all backgrounds will emerge around the world to continue to evolve professional drone racing as a mainstream, global sport," Harbaczewski said. "The potential for the sport of drone racing is nearly limitless."
The drone racing scene is still young, but it has already experienced exponential growth. Some 55 million fans in more than 75 countries tuned in to watch the first two DRL seasons, according to the organisation.
Optimism is high among organisations and pilots alike, and it's easy to see why. DRL has attracted $32m in investment from major companies and investment groups, signed global sponsorship deals and regularly fills out venues with thousands of spectators.
Its growth is comparable to that of esports, another new sport made possible by advancements in tech.
Esports has seen huge growth in recent years, with the biggest names now earning seven figures annually by competing in tournaments and playing in leagues. The scene has seen prizes rise from a few thousand dollars to millions in the last decade. The International, the highest-paying tournament in esports, saw the winning team split $10.9m between them last year, equalling around $2.2m each.
"I've followed esports on its journey as a gamer myself and it's a huge, huge thing now," Evans told Verdict. "There's a lot of patterns I'm seeing with drone racing that match it, but on a much more accelerated timeline, so I think the future is bright for drone racing."
There is still work to be done, but those at DRL don't need me to tell them that. The organisation is already doing everything that it needs to do to make sure that drone racing can rival major sports in the future.