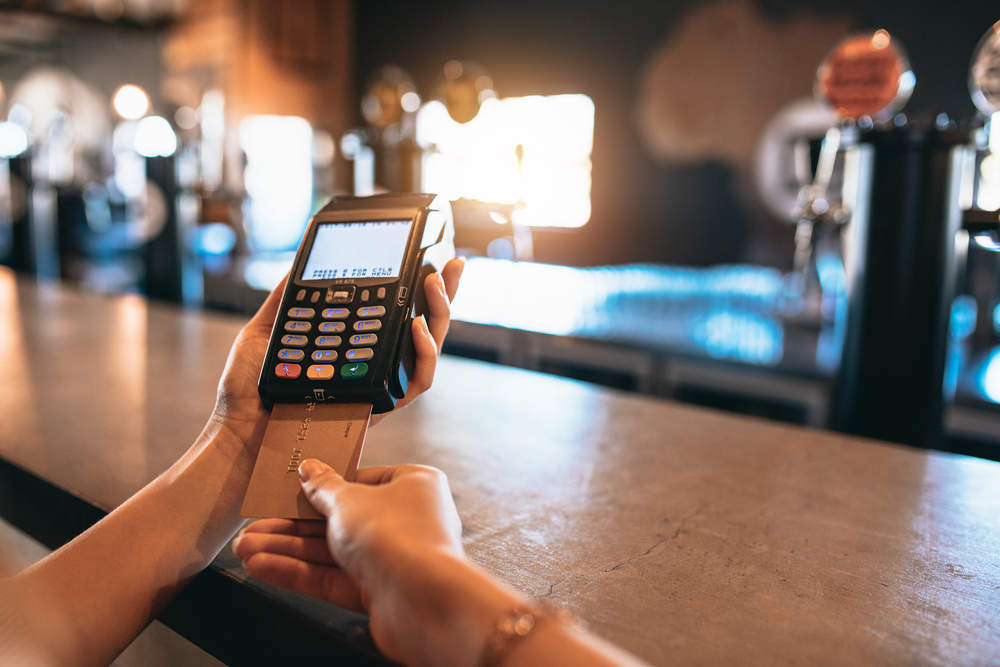 With the bitcoin price climbing and falling faster than team Verdict can keep up, it's too soon to say whether blockchain technology is the future of currency.
However, what seems certain is that the aged practice of swapping pieces of paper and lumps of metal for commodities is heading for the history books.
New technology, such as chip and PIN, contactless cards and mobile transactions, are making it easier than ever to pay for things without needing to withdraw cash from a bank or ATM beforehand.
While many countries in Europe have embraced digital payments online, cash is still widely used when making physical payments.
However, with Europe ditching cash at a faster rate than first feared, there are concerns that not everyone is prepared for a digital future.
No cash in Sweden
There is an increasing trend in Sweden of shops, restaurants and museums refusing to accept cash payments. Sweden's transport system also, for the most part, only accepts card or mobile payment in a bid to improve the safety of transport staff.
According to Bloomberg, "no cash accepted" signs are becoming a common sight around the country.
This follows the decision to stop handling cash made by Swedish banks back in 2013. According to reports at the time, major banks such as SEB, Swedbank and Nordea Bank were refusing to hand over physical currency to customers in 75 percent of their branches. Five years, on more than half of banks in Sweden no longer offer cash services.
Bengt Nilervall of the Swedish Federation of Trade told the Guardian this move was taken to cut costs and ensure the safety of their staff.
"It's safer this way and it saves us money, as handling money and transporting cash is costly."
So it seems, Swedish citizens have accepted that the future will be cashless.
Sweden's cash circulation peaked in 2007 at 97bn SEK. However, it has been falling year on year since. According to Statistics Sweden, an official government agency, the total amount of notes and coins had fall to 55.6bn SEK in 2017. This means that 42.7 percent of Sweden's cash has gone out of circulation in the last decade.
Between 2015 and 2017, 19.3bn SEK, or 25 percent of Sweden's cash, was removed from circulation.
Likewise, less than one percent of transactions were made using cash. According to Riksbank, Sweden's central bank, less than 20 percent of purchases made in shops were paid for with cash, despite the global average standing at 75 percent.
Is the situation similar around the continent?
Asked about the decline in use of cash across the continent, GlobalData analyst Sam Murrant told Verdict:
"It's a trend we've observed in cash use, definitely."

"We've been seeing a significant decline in cash use in all European markets – even those like Germany and Italy which are traditionally high cash-usage markets."
Sweden is the most cashless society in the world and few other nations are keeping up with its rapid march towards a coin-free future.
However, much of Europe is seeing consumers turn away from cash in a similar manner, in favour of card and mobile transactions.
Denmark
Prior to Sweden's recent push, Denmark was tipped to become the first cashless society.
Denmark's central bank, National Banken, decided in 2015 that it would discontinue the printing of new money from 2016.
Likewise, the government also considered plans to make it legal for stores to refuse cash payments.
The Danish Chamber of Commerce said:
"It will make it cheaper and easier for many companies if in the future they can choose to receive payment via card or mobile."
However, Denmark has since backtracked. The National Bank of Denmark has revealed that cash will continue to be an option despite its declining use. Under current law, staffed stores are unable to refuse cash payments.
National Banken's 2016 report on the role of cash in society revealed that cash transactions have been declining steadily since 1993.
Norway
In Scandinavia's three way battle to become the first cashless society, Norway has also made efforts to get rid of notes and coins.
A Norwegian Conservative Party committee previously set Norway the goal of becoming a cashless society by 2030. As part of these plans, Norway would first allow businesses to reject cash payments, before eventually making online billing mandatory.
According to Trond Bentestuen, executive vice president of Norwegian bank DNB, juts six percent of Norwegian consumers make cash payments each day. On the other hand, mobile payment app Vipps has attracted 2.6m users in two years. That is equivalent to approximately 50 percent of Norway's population.
While not quite at the speed of Sweden, Norway is one of few other places where the amount of cash in circulation is going down. The total amount of notes and coins fell from 51bn NOK to 47 NOK between 2015 and 2017.
United Kingdom
London might have adopted Sweden's cashless transport system with the introduction of Oyster payments. However, the UK isn't racing towards a cashless future at the same speed as Scandinavia.
According to the Bank of England, the number of banknotes in circulation in the UK has been rapidly increasing year on year since 2013.
Yet, while the UK is printing more cash, the British population are actually spending less of it. Cash transactions are falling by approximately 10 percent per year according to data released by the Bank of England.
Card payments toppled notes and coins as the most widely used payment method in the UK last year.
Germany
Germany has been notoriously slow to take to new technology where money is concerned. In 2014, 82 percent of transactions in Germany were still made with cash according to a Federal Reserve report, while many of their European peers, such as France and the Netherlands, were closer to the 50 percent mark.
However, 2017 was the first year that cash didn't make up the majority of transactions in the country. According to a survey conducted by Bundesbank, just 48 percent of payments were cash transactions.
Regardless of Germany's move towards electronic payments, a 2016 proposal put together by the German finance ministry to ban cash transactions over €5,000 was met by backlash from opposition parties and the media.
Italy
Italians are strongly against going completely cashless according to Dutch financial institute ING. A 2017 survey of 15,000 Europeans found that 85 percent of Italian citizens felt that cash should remain as a payment option.
However, risking the wrath of its citizens, Italy has taken some measures to switch to electronic methods in the fight against financial crime. For example, in 2012, the Italian government banned financial transactions exceeding €1,000 using cash.
The Netherlands
The Dutch sit at the opposite end of the table. According to the ING survey, 41 percent of Dutch citizens would be willing to go completely cashless.
The Netherlands is one of the most cashless societies in the world according to the European Payments Council, the European banking industry's decision-making body.
The Netherlands' cashless transactions make up 6.2 of all transactions made in the EU, the EPC claims. That is despite the nation accounting for just 3.7 of the area's total population.
Cash payments accounted for just 45 percent of transactions in Dutch stores last year, the Dutch central bank claims, as large retail chains such as Marqt and Vlaamse Broodhuis stopped accepting notes and coins.
What's so bad about a cashless society?
While Sweden might be embracing its status as the country closest to achieving a cashless society, the rate at which Swedish krona is vanishing has caused some alarm among the authorities. As a result, an investigation has started to look at the situation.
The government fears that the rapid loss of cash could cause issues elsewhere.
Mats Dillen, head of the parliamentary review into Sweden's depleting currency in circulation, told Bloomberg:
"One may get into a negative spiral which can threaten the cash infrastructure. It's those types of issues we are looking more closely at."
Likewise, ditching cash could also prove problematic for particular groups of people.
Approximately 1.5 percent, or 1m people in the UK do not have a bank account. Should the option to pay with cash be taken away, they would be left without access to vital goods and services.
Nick Kennett of the Post Office Financial Services believes that many of those 1m people are from vulnerable groups, such as the homeless, poor or elderly.
Research by consumer analysts Mintel shows that just 20 percent of those aged over 55 would be comfortable living in a cashless society.
It could also prove problematic for overseas travellers, with many banks charging hefty transaction fees for using your bank card to make payments while abroad.
Fighting crime (but not really)
Those in favour of a cashless society will tell you that it will have a positive effect on financial crime rates such as tax evasion, money laundering, counterfeiting and corruption.
Kenneth Rogoff of the Department of Economics at Harvard told CNBC:
"Cash plays a big role in crime. I think there's reason cash is king. Even though we have bitcoin, gold coins, uncut diamonds, you still find cash playing a major role [in crime], because it's basically government-licensed, anonymous currency. It has very high liquidity, low transaction costs. You can spend cash anywhere."
However, while removing cash would likely decrease levels of particular crimes, it is also having a negative impact on other crime rates. For example, card fraud causes ten times more damage that counterfeit notes, Deutsche Bank economist Heike Mai argues.
Likewise, Sweden has seen the number of reported frauds more than double over the last decade. While there is no way to say that use of electronic payments is to blame, there is a correlation between increases in card payments and fraud rates.
Murrant told Verdict:
"It's not that electronic fraud goes up because cash goes down, but that electronic fraud goes up because fraudsters go for whatever's readily available. If cash use is rare, and it's not accepted so much anymore, fraudsters have to move on to electronic payments."
Essentially, ditching cash might help to reduce the volume of certain crimes, but it won't get rid of financial criminals completely.
The future of payments
Card payments are quickly replacing cash as Europe edges towards becoming a cashless society. According to the European Central Bank, the number of transactions completed with bank cards in Europe has been climbing by approximately 5bn transactions each year.
Card payments almost doubled between 2008 and 2016 from 30bn transactions to almost 60bn.
As Murrant explained, card payments are unlikely to lose their dominant position any time soon:
"For the moment, cards are in a solid position of dominance, and based on observed trends over the past few years this isn't likely to change in the short term."
Mobile payment methods have found some success in Scandinavia, with Denmark's MobilePay a notable example. However, Murrant doesn't see this as a likely challenger to cards.
"Mobile payment tools are a tough sell for established card users – there's no particular pain point in using cards for mobile to attack. That's really what mobile payment services need to do – find a compelling reason for consumers to use them beyond just the ability to make payments."

"If mobile services were to become dominant in Europe it would be when the younger generations [who are more likely to want these services, according to GlobalData's research] start accounting for a greater proportion of transactions in future years, but it's unlikely that established card users will switch en masse."
Does cryptocurrency have a chance?
For the most part, cryptocurrency isn't yet a viable payment method. The transaction fees are too high and transaction times are too long.
Murrant explained:
Regulators are so wary of them that banks don't want to touch them at all. Without a regulatory framework they don't want to accept the risk of dealing in the decentralised currencies like bitcoin. Further, the bitcoin network itself is now so slow and expensive to move funds on that it's not really viable as a means of value exchange anymore.
However, according to bitcoin payment service provider BitPay, payments made using the cryptocurrency increased by 328 percent year-over-year from 2016 to 2017. As reported in October, the company expected to process over $1bn in bitcoin payments last year.
Europe is bitcoin's second biggest market behind only North America, BitPay's data reveals. Europe accounts for 35 percent of payments made through the payment provider and the number of transactions is continuing to grow steadily.
With the likes of Sweden, Estonia and Russia reportedly planning to follow in the footsteps of Venezuela and develop their own national cryptocurrencies, this could be the future of payment in Europe.
Current cryptocurrencies like bitcoin might not be the future, but the blockchain could still play a big role.
Murrant said:
The underlying technology that makes the bitcoin network function – the blockchain – has a lot of potential to replace existing payments infrastructure as it's faster and more secure than most current systems.
Like what you're reading? Follow Verdict on Twitter and like us on Facebook