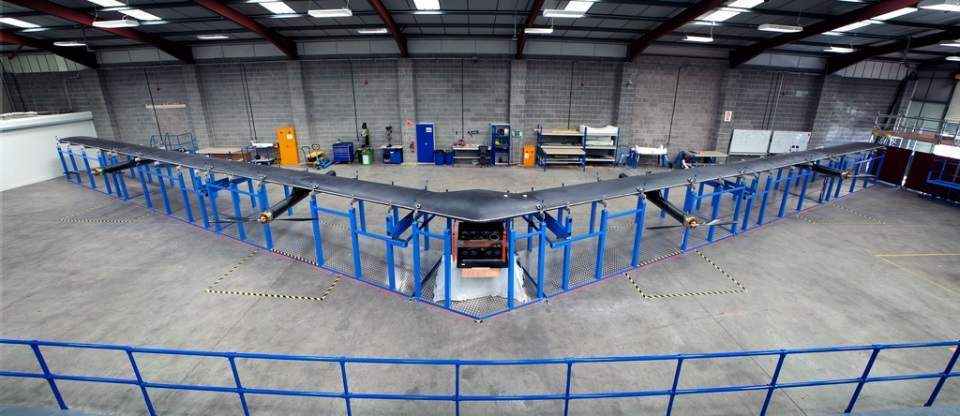 Facebook had big plans for Project Aquila. The solar-powered aircraft was supposed to create a 50km communications radius, beaming free internet to rural areas. However, the project has now been cancelled. So, what went wrong?
Facebook first announced the project on 27 March 2014, as part of Internet.org, which is the company's initiative to bring free access to basic internet services to developing nations
Launched under the name "Free Basics", the project was criticised for violating Net Neutrality and was ultimately banned in India.
Nikhil Pahwa, founder and editor of Indian telecommunications industry news site Medianama, summarised the concerns surrounding Free Basics when Facebook's CEO Mark Zuckerberg announced the project.
"What Zuckerberg means by internet for all, is essentially Facebook for all, along with a few non-profit services thrown in to give it the appearance of philanthropy," he said.
Development of Project Aquila
Facebook designed the solar-powered drone Aquila to deliver internet connectivity via laser. It runs on solar energy during the day and has batteries that can last up to 14 hours for operation during the night.
How well do you
really

know your competitors?

Access the most comprehensive Company Profiles on the market, powered by GlobalData. Save hours of research. Gain competitive edge.
Company Profile – free sample
Thank you!
Your download email will arrive shortly
Not ready to buy yet? Download a free sample
We are confident about the unique quality of our Company Profiles. However, we want you to make the most beneficial decision for your business, so we offer a free sample that you can download by submitting the below form
By GlobalData
During first the flight test in 2016, which lasted 90 minutes, the unmanned aircraft achieved a data rate of nearly 20Gbps over 13km before it crash-landed. According to Facebook, this was a success.
"When complete, Aquila will be able to circle a region up to 60 miles in diameter, beaming connectivity down from an altitude of more than 60,000ft using laser communications and millimetre wave systems. Aquila is designed to be hyper-efficient, so it can fly for up to three months at a time," Jay Parikh, vice-president of infrastructure engineering at Facebook, wrote in a blog post at the time.
Project Aquila reached an important milestone in 2017 when it completed its first successful flight test without crashing. The team was able to achieve a data rate of 36Gbps over 13km.
Behind the scenes of the first flight test
While Facebook called the first test flight a "success", it still ended in a crash. An unexpectedly powerful gust of wind, coupled with faulty software, led to a 20ft section of Aquila's wing shearing off as it approached the ground. A report on the incident issued by the National Transportation Safety Board (NTSB) described a structural failure that Facebook mentioned only in passing at the time of the flight.
Facebook instead described this flight as a "big milestone" and a success. The NTSB concluded that the drone was flying too fast, because Aquila's design generated too little drag to slow it down after a gust of wind knocked it off course.
Facebook said: "We've made important progress on some of the other key parts of the system — including setting new records using millimetre-wave technology (MMW) in air-to-ground and point-to-point communication. And then we more than doubled our MMW record with 40Gbps connectivity simultaneously in both directions from a ground location to a circling Cessna aircraft over 7km away."
Christian Fuchs, professor of media and communication studies at the University of Westminster, said: "Unmanned aerial vehicles and driverless vehicles are prone to accidents, just like Facebook's algorithms lack human control and therefore have recently resulted in threats to democracy.
"Facebook's drones seem to fail in automated landing procedures. What we can learn from these failures is that it is dangerous when humans are out of control of technological systems."
Facebook abandons Project Aquila
On Tuesday, Facebook announced it would stop building aircraft as it had failed to achieve its objectives.
However, Facebook engineering director Yael Maguire said the company made technical progress on the aircraft. It even set records for quickly transferring data wirelessly.
"As we've worked on these efforts, it's been exciting to see leading companies in the aerospace industry start investing in this technology too — including the design and construction of new high-altitude aircraft," Maguire wrote.
"Given these developments, we've decided not to design or build our own aircraft any longer, and to close our facility in Bridgwater. Going forward, we'll continue to work with partners like Airbus on HAPS connectivity generally, and on the other technologies needed to make this system work, like flight control computers and high-density batteries."
What does it mean for rural areas?
Professor Niall Hayes from Lancaster University Management School said: "The closure of the Aquila programme is disappointing. This was an interesting programme of work, which if successful, could have really benefited rural citizens.
"Internet connectivity in rural areas is crucial for all sectors of society but with more older people living in rural areas rather than urban areas – and with this number only set to grow – this particular section of the community are at risk of feeling particularly isolated."
Research by professor Hayes in the UK's rural South Lakeland district has found that large parts of the region's older population cannot get online. An estimated 17% of older people have internet access in the area.
Residents in this area only have limited internet access with a number of barriers significantly interfering with coverage. Providing internet to these areas is also too expensive for commercial purposes due to the hilly terrain and a sparse population.
Hayes continued. "The Aquila drone offered the opportunity to address some of these constraints, and if successful, could have had a positive impact on rural citizens and the wider area. The costs of providing health and social care can also be reduced through the provision of digital services, for example, but the benefits would have been felt for all generations – and by the local economy.
"Better connectivity would mean younger generations would be less likely to leave the area, as they would have better opportunity to set up businesses locally or work from home. This would help keep strong communities together and strong support networks in place for older generations.
"With the Project Aquila experiment closed, it is imperative that alternative ways to address rural internet connectivity are fast-tracked."
Google's Project Loon
While the Project Aquila failed to connect rural areas to the internet, Google's Project Loon has so far had more luck, partnering with telecommunication companies to provide online access to rural areas. Most recently, it has teamed-up with AT&T and T-mobile to provide internet to 100,000 of people in Puerto Rico.
Project Loon is a research and development project by X — formerly Google X — with the mission to provide internet to rural and remote areas. It uses high-altitude balloons in the atmosphere at altitudes of 18km to create an aerial wireless network with speeds up to 4G-LTE.
Balloons are manoeuvred by adjusting their altitude in the stratosphere to float to a wind layer after identifying one with the desired speed and direction using data from the National Oceanic and Atmospheric Administration (NOAA). Users can connect to the balloon network using a special internet antenna attached to their building.
However, doubts remain on the viability of Project Loon, with a number of balloon crashes reported worldwide. A Kenyan farmer has threatened legal action against X after a balloon crashed on his land earlier this year.