Only a minority of those working for financial services providers believe their organisation is adequately prepared to meet the fintech challenge, according to a GlobalData survey on the impact of fintech.
The survey asked how prepared firms are to meet the challenges posed by the growing influence of fintech.
Respondents were asked to rate their organisations' level of preparedness for dealing with the impact from fintech on a range of factors. Even on the factor where respondents were most confident – management readiness/buy-in – well under half (42%) gave a score of four or higher on a five-point scale of preparedness. Over a quarter (28%) gave a rating of just one or two.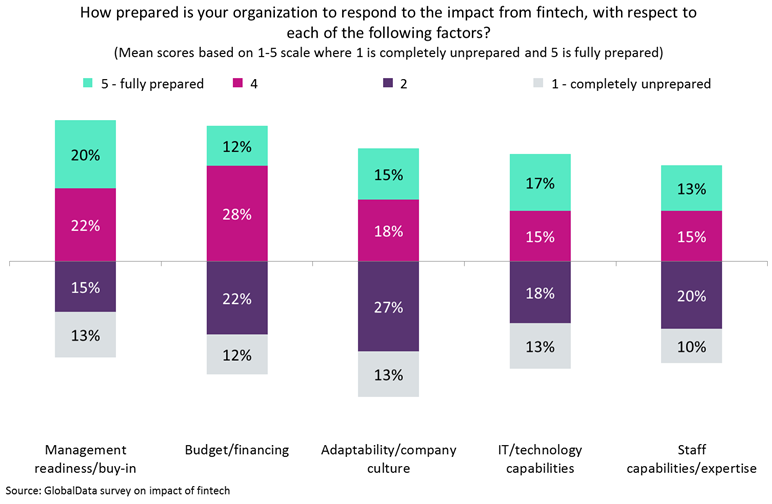 Other factors fared even worse. For example, only 28% were confident about the capabilities and expertize of their firm's staff, and this was marginally outweighed by the proportion giving a negative rating.
This is potentially worrying, given that a successful transition is dependent upon competent execution by a firm's employees.
The adaptability and culture of organizations was seen as a particular weak point, with 40% giving a score of just one or two.
Company culture is often highlighted as an obstacle to change, with inertia, conservatism, and risk aversion posing particular challenges.
Nevertheless, that confidence is low can be seen as a good thing, as it means that firms are not complacent.
That financial providers are alive to their shortcomings increases the chances that they will take remedial action before it is too late.