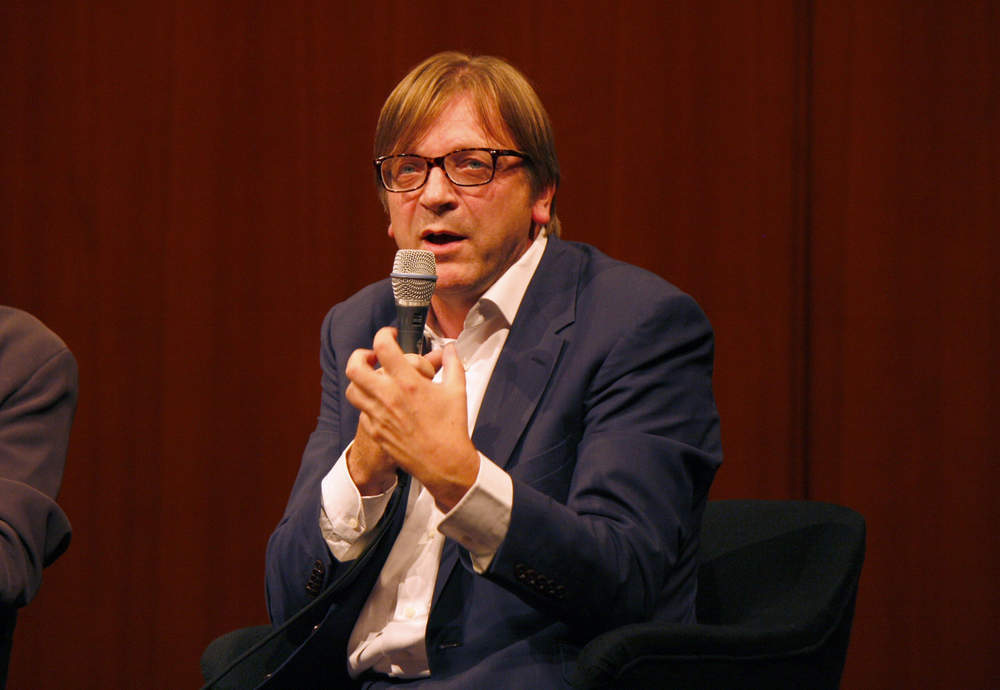 Before the Brexit referendum you could probably be forgiven for not knowing the name Guy Verhofstadt.
The former prime minister of Belgium did little to distinguish himself on the international stage, often being preoccupied with internal crises.
After his premiership ended, Verhofstadt went to Brussels and was elected president of the Alliance of Liberals and Democrats for Europe group in the European Parliament.
He was noted for his staunch Europhile beliefs.
During his own time as an MEP, Nigel Farage said of Verhofstadt:
A fanatic. In fact, there is only really one nationalist in this room and it's you [Verhofstadt] because you want flags, anthems, armies… you are an EU nationalist.
While Farage has been criticised by many of his political opponents for "lying", he may not have been far off the mark with his description of Verhofstadt.
The former prime minister actually wrote a book in 2005 titled The United States Of Europe detailing his own ideas for how a European federation might come into existence and work in practice.
After Theresa May triggered Article 50 to withdraw Britain from the EU, Verhofstadt was made the European Parliament's chief Brexit representative.
What is Verhofstadt's position on Brexit?
Simply put, Verhofstadt is about as pro-EU as it is possible to be. To him, Brexit was a bit of a kick in the teeth for the EU and he's not likely to view the UK in a favourable light afterwards.
He's made little effort to conceal his distaste for Theresa May, David Cameron, Nigel Farage, Boris Johnson, and just about everyone else involved in the Brexit negotiations.
What role will he have in Brexit?
Officially, Verhofstadt has no role in Brexit negotiations.
The European Parliament does not have a seat at the Brexit negotiation table and thus Verhofstadt will not be speaking directly to Theresa May and her Brexit secretary, David Davis.
However, that's not to say that Verhofstadt won't be able to influence the negotiations.
To understand his role, it's important to gain some insight into how the EU will organise itself for negotiations.
Firstly, the European Council formed of the heads of government will decide on general negotiating positions. Next, the Council of the EU will delve into the nitty-gritty of the positions to work out more specific details.
Then the European Commission, led by Michel Barnier, will take these instructions to be the ones to actually negotiate with the UK.
When the legislation is drawn up and agreed upon by negotiators, it will be passed to the European Parliament who will have to vote on it before the deal is finalised.
Verhofstadt could exert his influence by threatening to use his power of veto to ensure that the European Commission doesn't go too far outside his desired terms.
Judging by the comments he has made so far, Verhofstadt will not be going easy on British negotiators throughout the process.