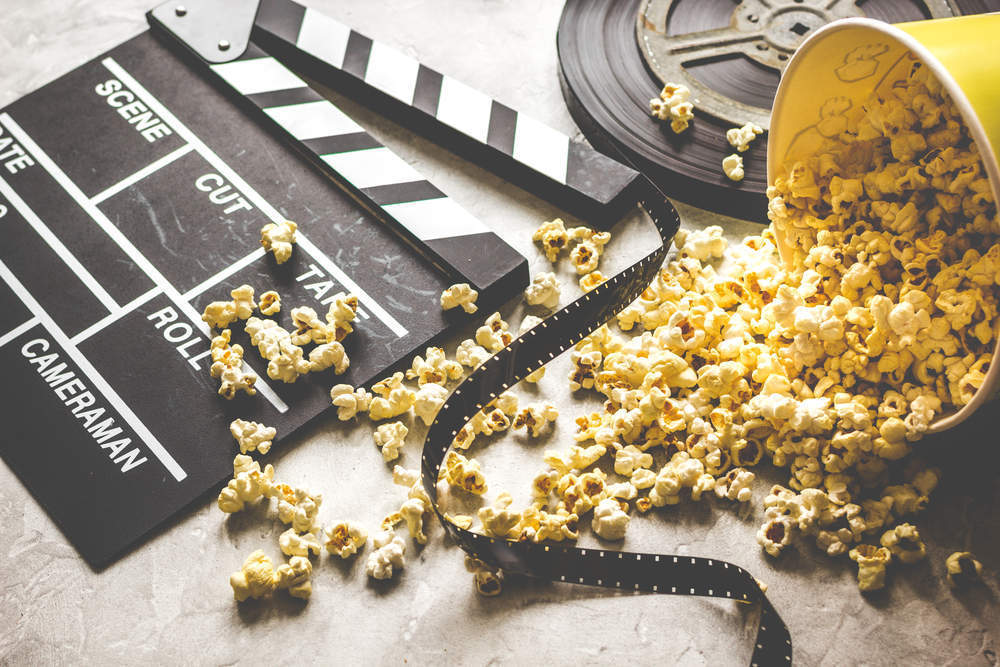 Looking for things to do in London today? Ever looked at another person and thought 'I wouldn't mind taking a bite out of that'? If so, have we got the event for you!
Hopefully though, most people will be more disgusted than thrilled to hear that human-derived snacks will be available to try at London's upcoming Film Food Festival. Well, disgusted and perhaps a little bit intrigued!
Film Food Festival is the brainchild of London-based experience designers, Bompas And Parr. It will take over the Mondrian Hotel and accompanying Curzon cinema from 29th January to 1st February as part of a series of events dubbed 'The British Museum Of Food'.
The idea is for the festival to celebrate both the food we eat while watching films and the way films use food to tell stories.
Seven key films have been specially selected by the event's curators. Each of these curators will share a screening of their chosen film on a specific night of the festival, and give a short lecture about food.
The dates, curators, films, and times are as follows:
What's on at the Film Food Festival?
Monday 29th January 2018 (6pm – 11pm)
Curator: Guardian food critic, Grace Dent
https://www.instagram.com/p/BcIb1j0nxrS/?taken-by=gracedent
Lecture: A discussion of two key eras in British dining
Screenings: Big Night and The Trip.
Tuesday 30th January 2018 (6pm – 11pm)
Curator: Award-winning writer and 'Psychogourmet blogger', Geoff Nicholson
Lecture: Geoff Nicholson chats about his work and what it means to be a 'psychogourmet'.
Screenings: Jiro Dreams of Sushi and The Cook, The Thief, His Wife And Her Lover. 
Wednesday 31st January 2018 (6pm – 11pm)
Curators: BAFTA-nominated director, Jamie Jay Johnson, and Seb Cardinal from the comedy duo Cardinal Burns
Lecture: Jamie and Seb will discuss the symbolism of food and drink in the film industry.
Screening: Tanpopo
Thursday 1st February 2018 (6pm – 11pm)
Curator: Half of the brains behind Bompas & Parr, Sam Bompas
Lecture: The discussion will be all about cannibalism in food culture.
Screening: The Descent and the winners of the short film competition.
Also, excitingly, each film will be accompanied by various interesting accouterments. At the screening of Jiro Dreams Of Sushi viewers will have a custom-created scratch-n-sniff card. As one might expect, the human snacks will be served alongside The Descent on the final night of the festival.
Other things to see
In addition to the talks and screenings, there are also a variety of other things to see, hear, and taste.
There will be culinary workshops, events, and talks held around the festival.
In the foyer of the cinema, there will be an interpretative collection of artistic objects drawn together by the theme of oranges. Oranges have been a film trope associated with death since The Godfather in 1970, and this exhibit will explore that connection.
Global book publisher Phaidon will also be appearing at the festival. Visitors will be able to browse a selection of food books whose themes all relate to the various films at the festival. Plus, they will be holding a prize draw for guests to win the entire collection of books.
Finally, the Mondrian's award-winning bar, Dandelyan will be serving a series of specially created cocktails. These drinks will pay homage to the world of film. In some cases, they will provide a delicious twist on the iconic flavours that cinema-goers are used to enjoying at their local multiplexes.
Film-making competition
As alluded to above, the Film Food Festival will also be hosting a short-film competitor for first-time filmmakers. Amateur filmmakers are invited to submit a short film, up to 2 minutes in length inspired by their favourite film. Each film needs to be accompanied by a 150-word interpretation.
The minimum resolution for these films must be 720p in order to be played in HD on the final night of the festival.
Filmmakers should submit their films to info@bmof.org via a YouTube or Vimeo link. The closing date for entries is 24th January.
Each of the curators mentioned above (plus, the other half of Bompas & Parr, Harry Parr) will judge the films. Two winners will be chosen and their films screened at the festival. Winners can accompany their films with a short talk.
There will also be a prize courtesy of the event's sponsors. So far, though, it is unknown what this prize will be.
How to buy tickets
Tickets are available here.
The cost is £14 per ticket. This includes the introduction to the films by that night's curator, as well as access to accompanying culinary talks, workshops and events that are available on the evening.