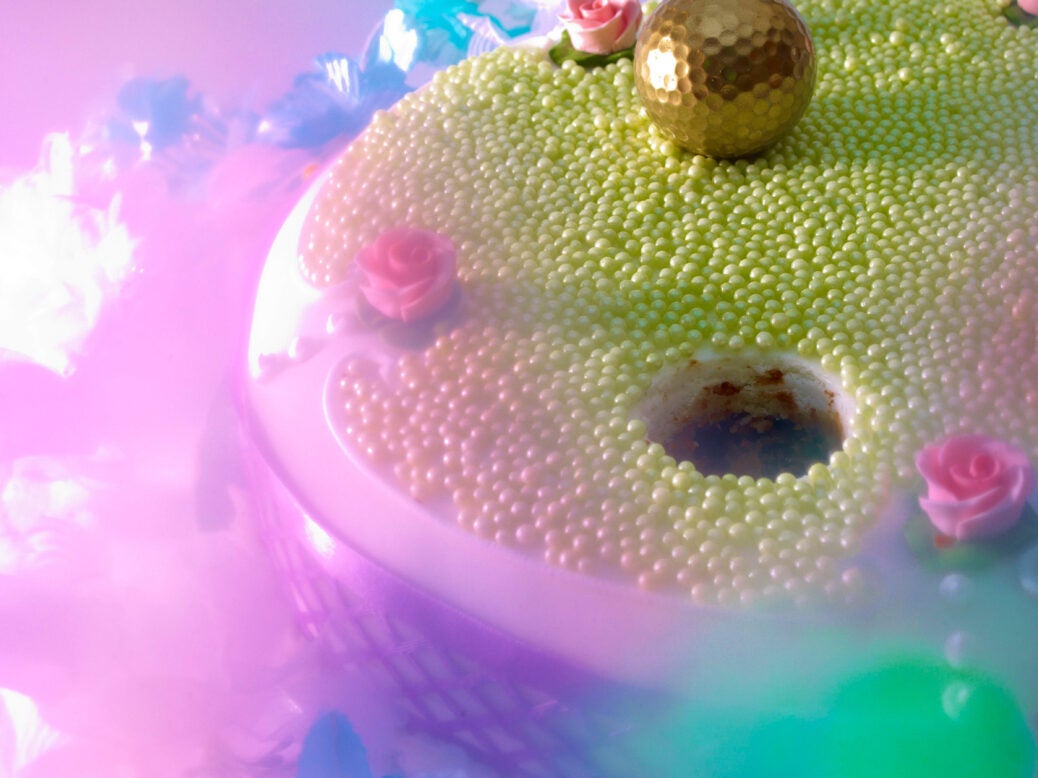 In Roald Dahl's Charlie And The Chocolate Factory, the veteran children's author describes the outside of the factory as follows:
What a tremendous, marvellous place it was! It had huge iron gates leading into it, and a high wall surrounding it, and smoke belching from its chimneys, and strange whizzing sounds coming from deep inside it. And outside the walls, for half a mile around in every direction, the air was scented with the heavy rich smell of melting chocolate!
Imagine, in contrast, a sequestered car park in deepest, darkest Bermondsay.
On one side, a block of what looks like nice apartments. On the other, a squat, industrial-looking warehouse with a pair of golden obelisks marking its entrance. It's best not to let appearances deceive you, especially when one is in the company of geniuses.
Behind that warehouse door is the home of Bompas & Parr, and stepping inside, it's hard not to feel like Charlie Bucket entering Willy Wonka's factory for the first time.
The walls glow with neon lights, a mist vapour pours out of a nearby font, and bubbles fill the air, wafting slowly out of a ivy-shrouded box.
After accepting a glass of Prosecco from a Bompas & Parr employee dressed in a shiny silver jacket, we're ushered through to the boardroom.
Half of the space is dominated by an enormous white and gold organ. A quick tap on the keys proves it isn't just for show.
The organ was designed for a campaign Bompas & Parr did with Johnnie Walker whiskey. Allegedly playing different music on the organ makes food taste different.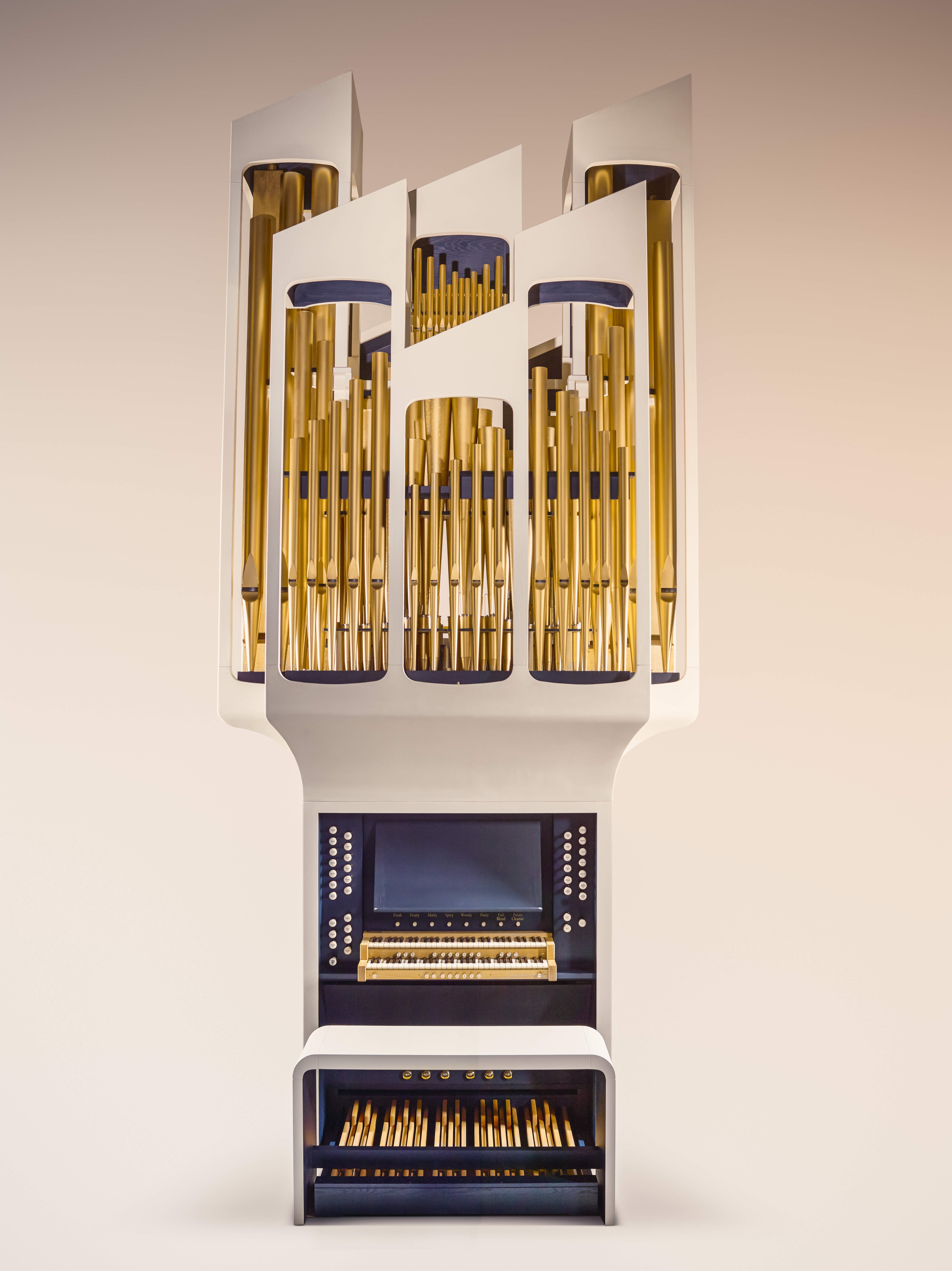 One wall is decorated with huge prints of muscular men wearing bras and holding burgers while another has a print explaining the history of sausages.
A TV crackles with static and, at the far end of the room, a turkey (with it's claws still attached) spray-painted black and bedazzled with beads slowly revolves on a pedestal.
A Christmas feast with a difference
We've been invited down to Bompas & Parr to experience The Future Of Christmas. The event was a private luxury Christmas luncheon with a twist. Instead of classic Christmas foods like turkey, stuffing, and mince pies, guests were flung into the far-future to experience a vision of what Christmas might look like for their great grandkids.
And that vision was delightfully wacky.
Inspired by quotes from Margaret Atwood, Filippo Marinetti, and even Winston Churchill, there was a lot going on.
Things got started with a Birefringent cocktail, essentially a gin and tonic, but with a twist. Reasoning that we already put our phones in front of our drinks to take Instagram picture, Bompas & Parr think in the future they'll become a part of the experience itself.
Consequently, this cocktail was designed to work with mobile phones. Holding ones mobile phone behind the cocktail made the drink shimmer and glisten all kinds of colours.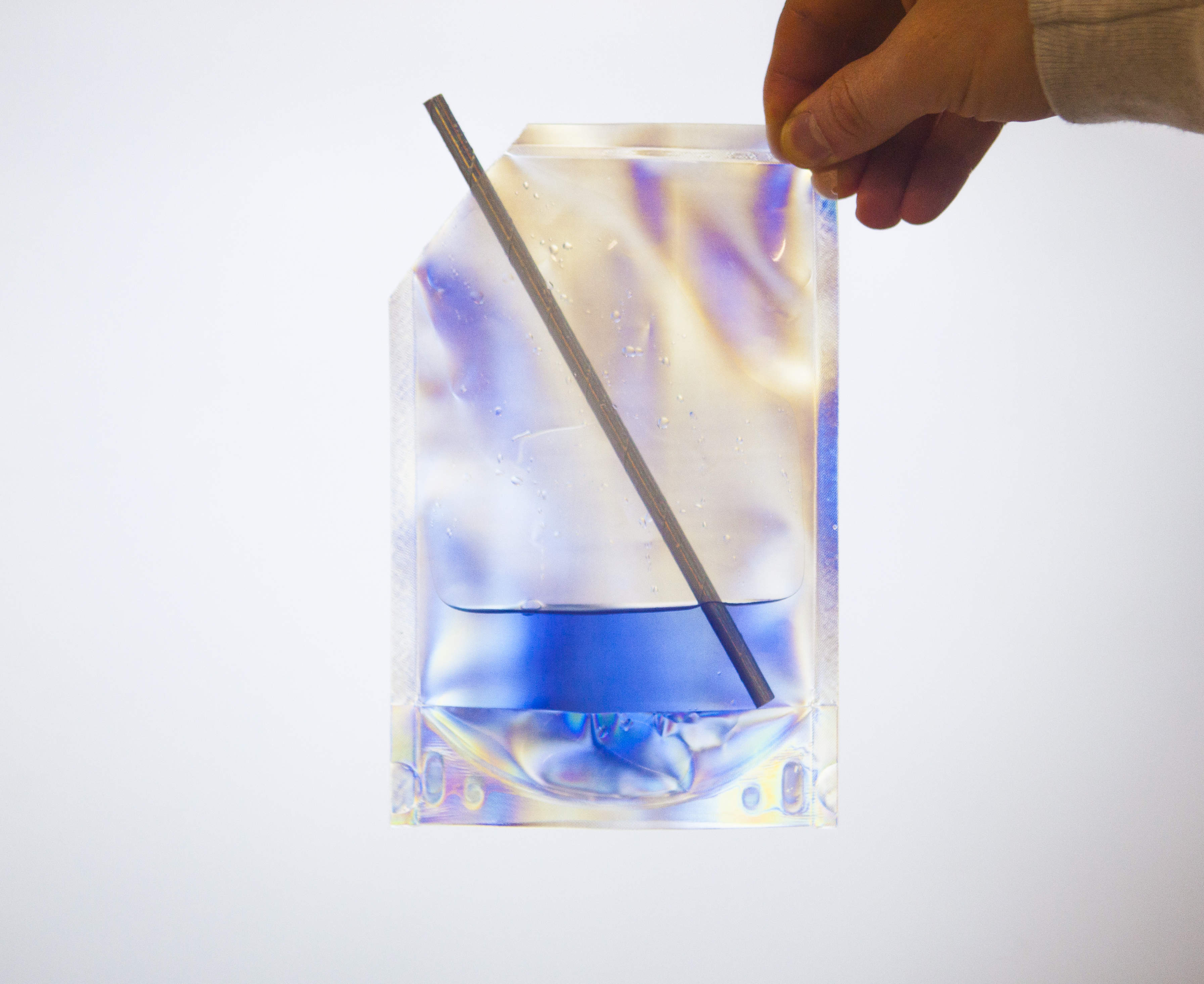 We then moved to the Amuse Bouche; a bauble filled with cranberries, sprout leaves, chestnut, and parmesan.
This represents our always-on appetites that are only set to increase in the future, they say.
At this juncture, another cocktail was introduced. We should probably warn those with queasy stomachs to look away now.
This time we tried a mistletoe alcohol fermented with real human saliva. And yes, it tasted exactly how you'd expect another person's saliva to. The Christmas kiss of the future, apparently.
Finally, dessert. Bompas & Parr are actually known for their jelly. Unsurprisingly, this is what made up the dessert.
A clear Christmas pudding that tasted like the real thing (not entirely dissimilar to the see-through pumpkin pie that was all the rage at Thanksgiving, actually) with a liquid centre. All served with liquid nitrogen brandy ice cream. It was genuinely delicious.
How did this company get started?
We say all this because it provides a useful insight into what Bompas & Parr do. It's inventive, it's visionary, and it's just a tiny bit insane. And that's Bompas & Parr in a nutshell.
The company was founded in Bermondsay, London by Sam Bompas and Harry Parr. Since then it has grown into a 20-person operation. Bompas explained:
We started off with jelly to begin with. We started off trying to make a fine jelly product, restoring jelly to its pedestal of elevated dining, as it once was in the UK.

Henry Gates had it as his first and second course at his 1521 gala garter banquet. So we started off just wanting to make fancy jellies. We tried to get a stall at Borough Market but we completely failed in that regard. But ever since then we've been on a creative culinary adventure.
A culinary adventure
Perhaps the failure of the original jelly plan was for the best. Since then Bompas & Parr has outgrown its roots and become something quite different.
We've done everything from cooking with lava to creating a beautiful cloud of gin and tonic that intoxicates your lungs and eyeballs to creating a two hundred course meal with a course dropping every meal and fourteen seconds.
To put it simply, we're experience designer. And that just means we try to give people the most compelling experience of their lives. Most familiarly that's always around food and drink, addressing the body's most sensitive organ of all: the belly.

For the most part people come to us and say 'we have no idea how this is going to go, or where this is going to end, but we want to do something spectacular'. And then we sit there and feed it all into the machine. We do loads and loads of research. We speak to experts in the field.

That could mean talking to university professors or pyrotechnicians or meteorologists (we're doing a lot with them at the moment, and the Royal Geographic Society) and trying to come up with something that really genuinely hasn't been done before.
Designers, cooks, specialised technicians, producers and film-makers are on the payroll. In addition, the company regularly contracts structural engineers, scientists, artists and psychologists.
Their clients include the Royal Shakespeare Company, Coca-Cola, Mercedes, Louis Vuitton, Samsung and Unilever.
Reinventing the world
In the past projects have included everything from giant gingerbread houses to literally flooding a London shopping mall to make a mermaid's grotto with boats visitors could set sail on.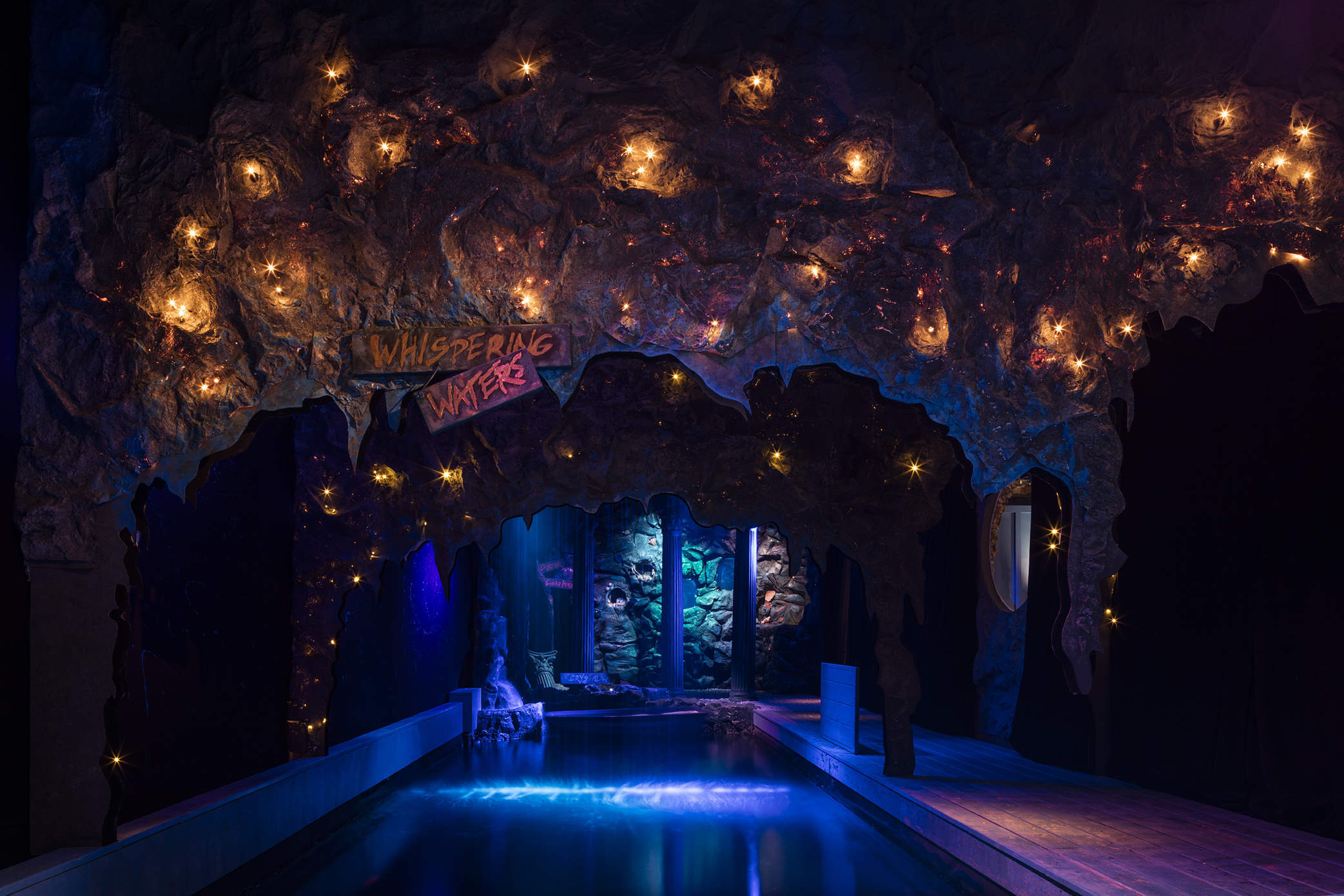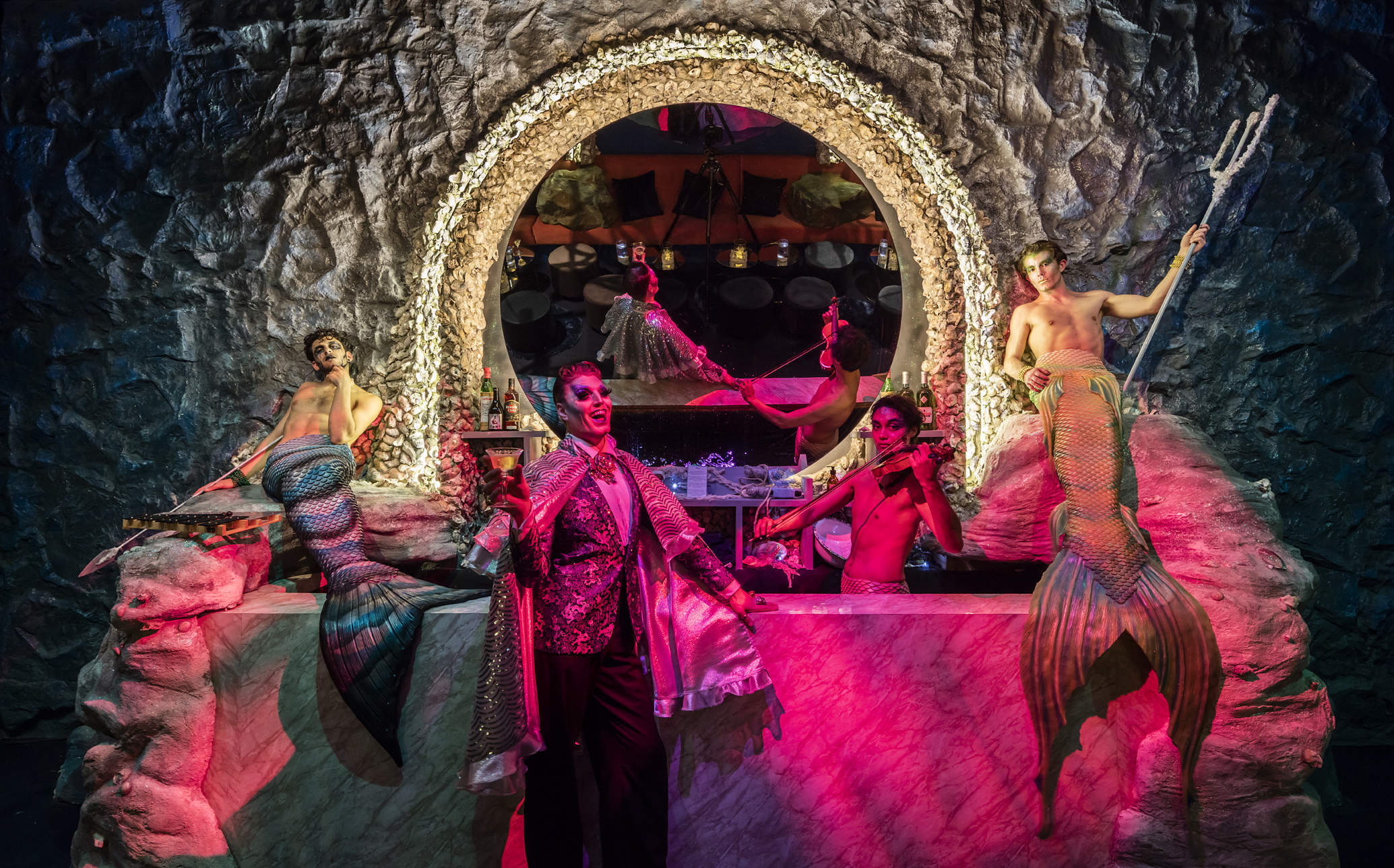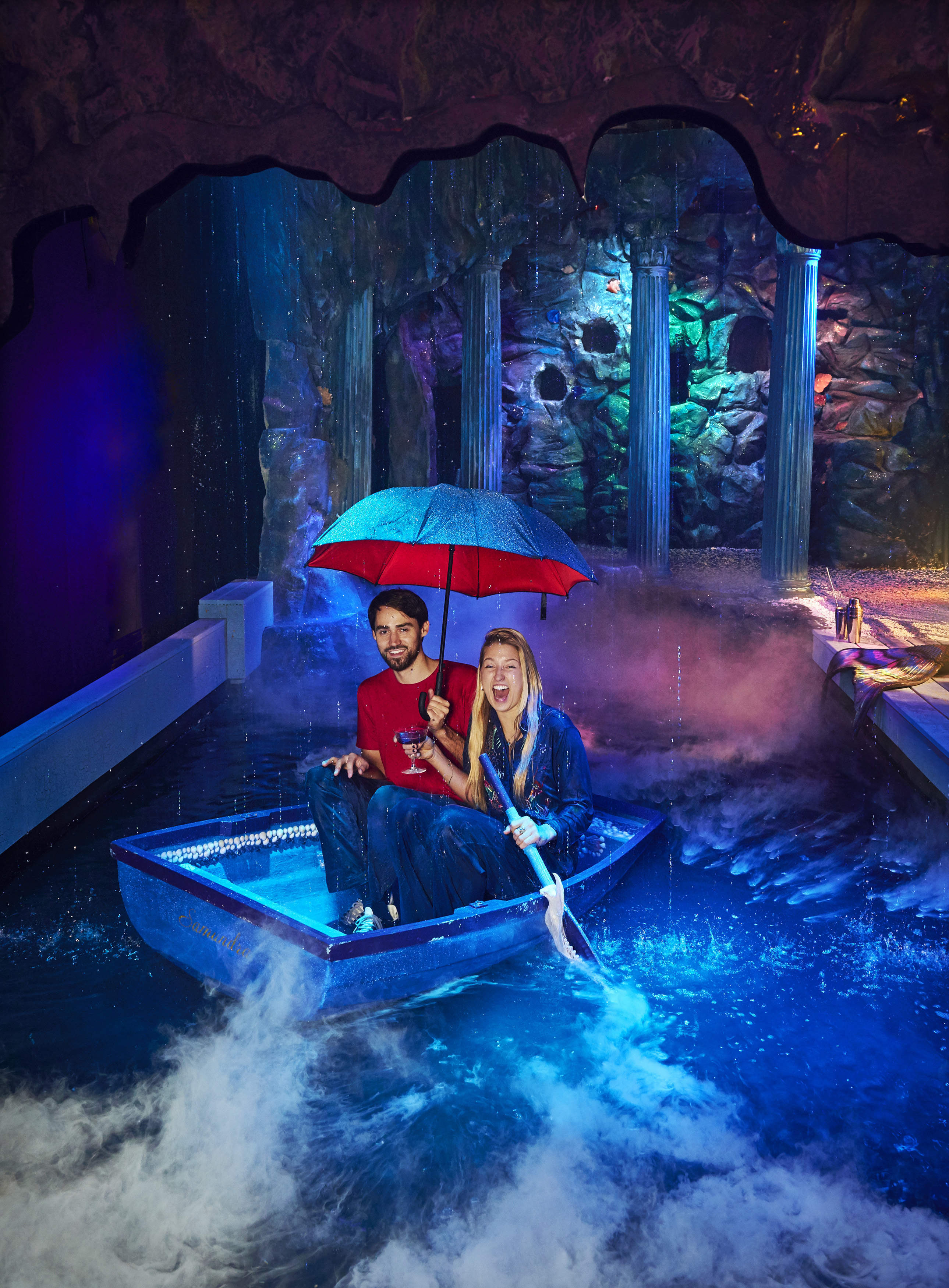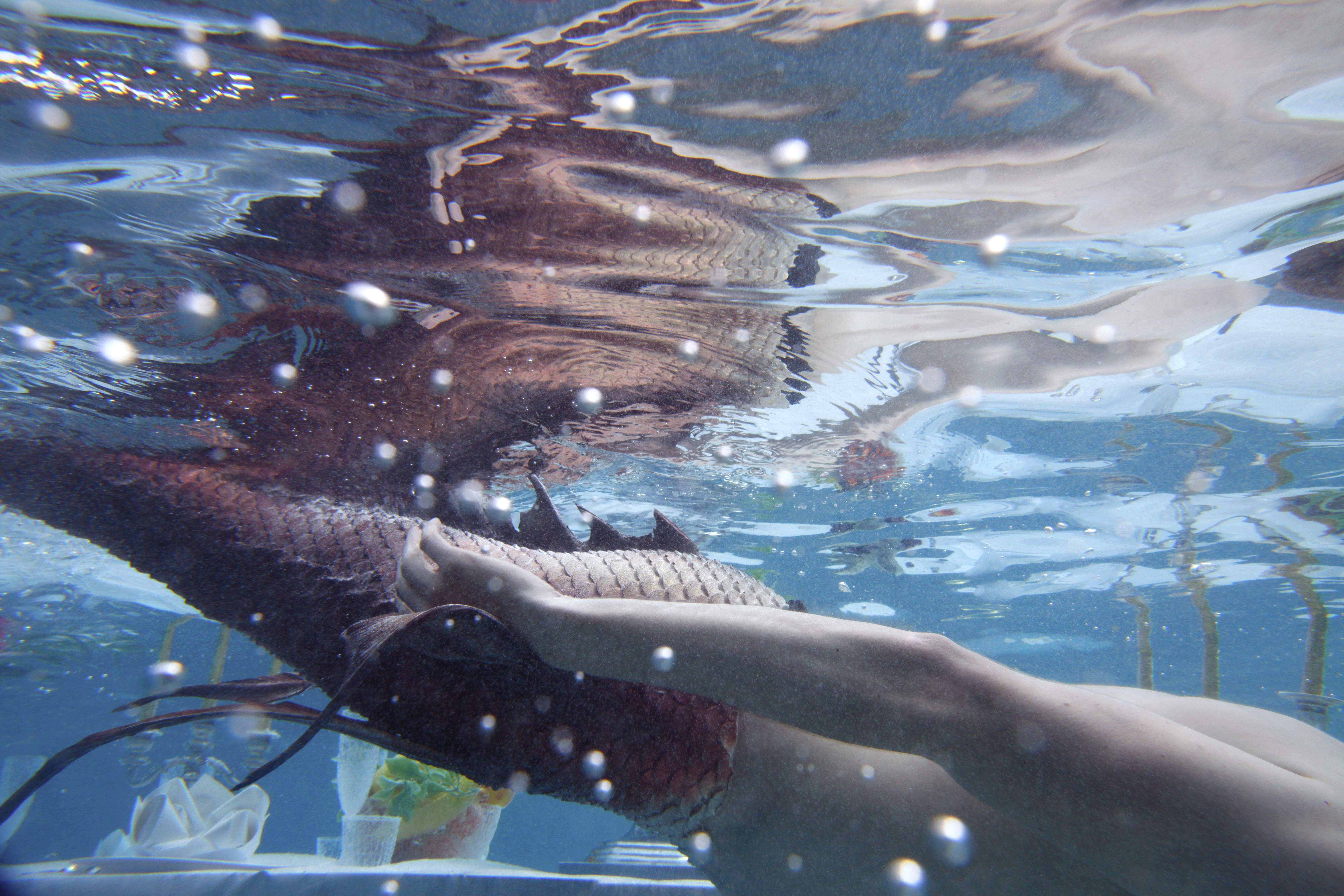 Safe to say, the folks at Bompas & Parr are real creative visionaries. They have to be if they hope to stay ahead of the game.
So how do they come up with new project ideas that leave competitors trailing in their dust?
The key to this, as in most industries, is innovation. For Bompas & Parr, innovation is a habit, rather than a challenge.
With billions of people in the world, pretty much everything has been done. Finding something that hasn't been done that's really innovative and new is the challenge.

A lot of that is taking industries and then looking at how to hybridize their standard technologies.

For example, we made the world's first flavoured fireworks. We looked at stuff that was very normal in the fireworks industry, very normal in the special effects industry, and very normal in the flavour industry; all of which are industries that never really speak to each other; and then we collapse them all together to make something people have never really experienced.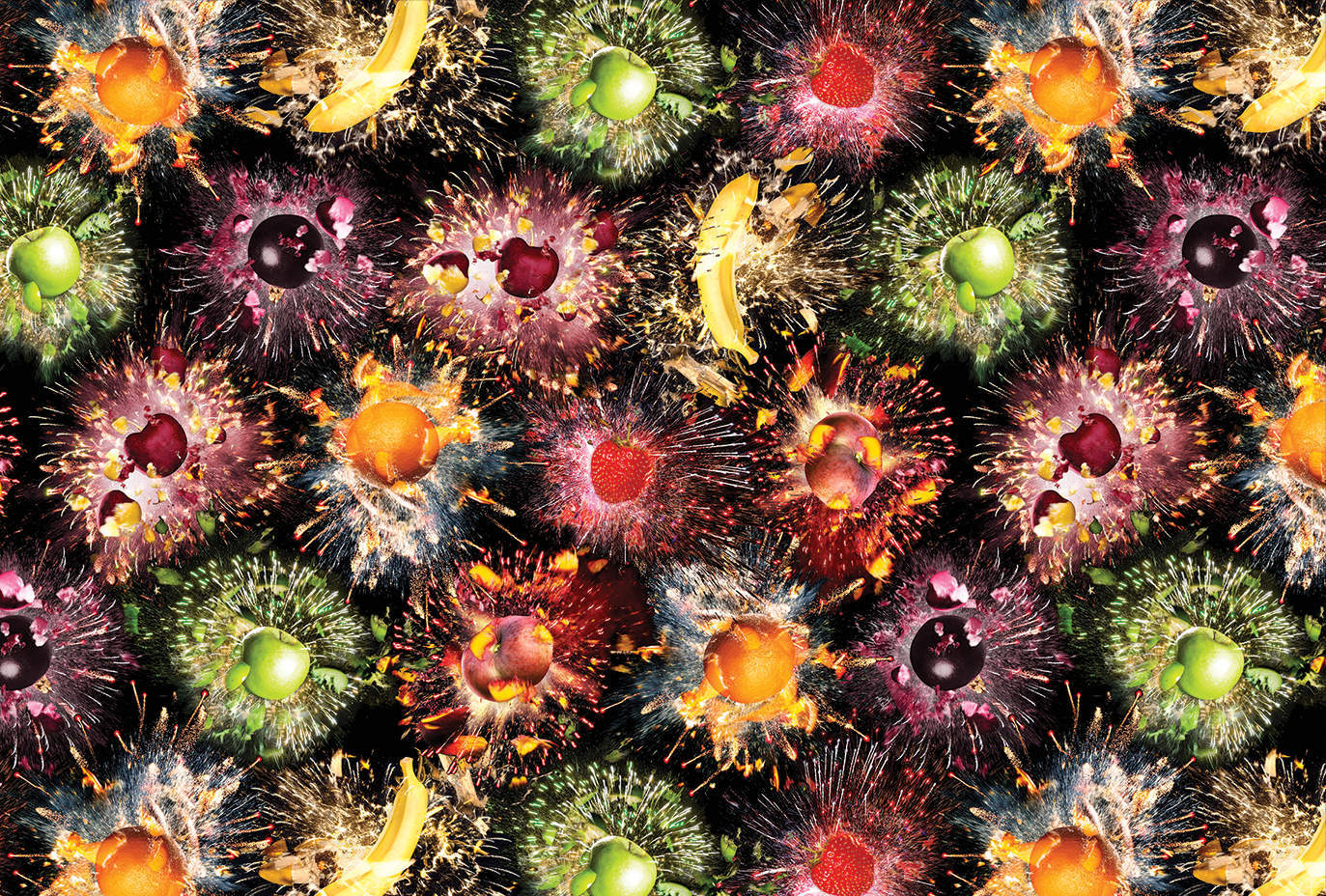 So is anything actually impossible?
But does creativity ever have its limits? Plato once spoke of the theory of forms. In short, the philosopher argued that there is a perfect form of everything that all other things are just based on. These divine forms represent the perfection of a certain ideal, that cannot be improved upon.
I wondered whether, in their experiments, Bompas & Parr had ever come across anything impossible to reinvent.
"I think there's nothing that's totally impossible, as long as its within the laws of physics. Sometimes it's a matter of you not putting enough time in or there's not enough budget available to realise it. Or sometimes you're just not speaking with the right experts.

"We've tried to do genuinely edible bubbles… And it took us about three years to do that. We spoke to a lot of different people for that. There were physicists who are very good on theory, not so good in practice. We spoke to chemists who gave us plenty of different options to make bubbles but they weren't quite edible because they had all sorts of crazy-toxic chemicals. It was only through a lot of hard graft and trial-and-error in our studio kitchen, that we were able to create real edible bubbles that can be flavoured. In fact, we started off by making them Perrier-Jouët champagne flavoured. I think you might have tried some at the meal that you had.

"So whereas three years ago that would have been impossible, after three years of hard work it is possible. So we're never really cowed by an idea."
Some highlights
In 2017, Bompas & Parr celebrated its ten year anniversary. In that year alone, they completed no less than 30 public projects. While the scale and number of these projects varies by year, that must mean they've done a heck of a lot of things since their inception.
So what are some of the best creations by Bompas & Parr over the years, according to Mr. Bompas himself?
The biggest project
"Well, it's all kind of getting bigger. We've had a massive project go live last Saturday. We had 150 wait staff, 85 chefs, we created a theatrical dinner performance with a company from Prague for 2,000 people. So that was nine hours of theatre, plus food and drink.

"That was looking at what happens when technology starts moving into and informing our daily lives. It was about the hope of technology as told through food and drink. But we had some really cool things in there. We had a cymatic punch bowl which visualised sounds and then you tasted it, we had a whole animal cookery; it was pretty wonderful."
The best reaction
"Favourite reaction for me was when we did something called 'Air Fresheners Of The Apocalypse'. And it was looking at the type of air fresheners you might want dangling from your rear-view mirror as you drove through various fictional apocalypses.

"We created the fragrances then we got various artists and illustrators to design the air fresheners. So these were artisanal air fresheners based on The Book Of Revelatories, to Drowned Worlds, to J.P Ballard's dystopias.

"And there was this seven-year-old kid who came with his mum. And we had a slime pit lucky dip among a few other things. At the end of the evening as his mum was tucking him into bed he said 'Mum, this has been the second best day of my life.' If we can give people the second best day of their lives that's definitely a good thing."
A personal favourite
"One that was a complete riot this year was very, very simple. We took an installation which we created for the Museum Of Sex in New York that was entitled 'Grope Mountain'. (It was designed five years ago when perhaps the word wasn't seen quite so negatively!) It was an orifice and appendage climbing wall which we hosted for Valentine's Day.

"People went absolutely wild for it. It was utterly delightful. We did it on zero budget. It was done just because Valentine's Day is always so awkward and nauseating that we always try to realise some sort of project just so we've got the excuse to work. And something that does for couples and people who are single alike and our appendage climbing wall seemed to do that."
The highlight of 2017
"We celebrated our tenth birthday, invited a lot of our friends and the people we've worked with. Then we did all the projects we always wanted to realise that clients, governments, museums have all said no to. The kind of things that have been too lewd, lascivious, ludicrous, dangerous or irresponsible. And we finally realised them all.

"That included a monument to the Unknown Drinker, celebrating the pleasures and perils of British relationship with alcohol through a statue that pukes drinking water and can be used as a water fountain, to a optic chandelier, a Jacuzzi shaped like a volcano. A lot of different things.

"It was a really cool party."
Looking to the future
And while Bompas was perfectly happy to talk about the past, one thing that stood out in our conversation was his focus on the future. At all turns, our conversation skewed towards big, new ideas that are just around the corner, or insights into where the company sees itself in the years to come.
Bompas explained short term goals such as the creation of The British Museum of Food (a new cultural institution that Bompas & Parr are creating) and their upcoming Film Food Festival at the South Bank's Mondrian hotel from 29th January to 1st February 2018.
That particular event will explore the depiction of food on film, and food's place in cinema. They're even inviting new filmmakers to submit their foody films to the festival as a chance to get some real industry experience.
Of course, despite having travelled all over the world with their projects, a lot of Bompas & Parr's work is focused around London. Unfortunately, this means that provincial folks might miss out on all the fun.
Still, they're working to rectifying that in 2018. Keeping tight-lipped on exactly what to expect, Bompas confirmed his company hopes to bring their products to shelves soon:
"Hopefully we'll have something starting to come out in February. I can't say too much more though.

"At long last. It's taken over a decade for us to get there. That was the original inspiration for everything to begin with."
Until then, those outside of London may have to make do with the recipe books available on their website or just praying for the day the Bompas & Parr circus rolls into town.
And beyond 2018?
And while some company bosses might keep struggle to think about anything other than getting through 2018, Bompas has his eye on a some bigger projects.
"So historically, in 1851 we had the Great Exhibition. In 1951 we had the Festival Of Britain; I would love to be able to create and direct the cultural celebration that will be happening in London in 2051; there's a bit of a ways to go but that's what I'm angling for at the moment. That's a long held ambition.

"We've got some ideas that are as-yet unrealised. For example, dragging an iceberg from New Finland, where the icebergs carve off, all the way to New York City. That's about a thousand times more energy efficient than making the same volume of ice with conventional electronic icemakers. It's really, really energy efficient.

"The only problem is that you've got to hire super tugs and they're really, really expensive, but they do use them to move ice all the time. Move icebergs all the time, that is, because they drift into shipping lanes and things like that. So we've just got to find the right person or company to collaborate with. But that's something I'd love to do. It'd make for an almighty party riding into New York harbour atop an iceberg."
To the Charlie Buckets of this world
While the Willy Wonka analogy stretches to a lot of what Bompas & Parr do, Mr Wonka's hiring practices were famously pretty sketchy.
Don't expect Bompas & Parr to start dolling out golden tickets and inviting kids to their workshop to become heirs to the company. (Or, y'know, do expect that. Honestly, with this company basically anything is possible.)
However, while an online application form is the standard way to apply, Bompas & Parr do look for something unique in each person they bring onto the team.
"The most important thing, for us, is trusting our gut. People who find interesting and delightful things. At Bompas & Parr we don't do this because we want to make lots of money. If you want to make lots of money, this is the wrong job.

"We do this because we're interested in creating new cultural moments. It genuinely is a lot of hard work. So one of the things is finding people who are driven by a similar urge to create interesting things. And to make stuff happen, rather than just talk about it.

"We like finding spirited people who have their own talents who are also very happy to get stuck in and do the work."
And to those inspired by Bompas & Parr's success, or working at their own events company?
"If you're doing events, you're making things, you're making food, a good acid test is whether it's a thing you want to go to. If it's not, you should probably come up with a new idea."
Coming full circle
Since Bompas & Parr started as a jelly company, I decided to end my conversation with Bompas by getting his insight into the world of the wibbly stuff.
According to this jelly expert, what is the best jelly out there?
"I'm still fascinated by jelly so if there's a jelly I will always eat it, just to see what it tastes like. I had a very good chartreuse and greengage jelly. Greengage jellies are always very special because greengage have such a short time when they're in season. I love it when it's greengage season. And they give you such a special texture as well; there's quite a lot of peptin in the fruit. That gives you a slightly grainy texture to the jelly which is unusual and it feels quite classy.

"M&S have been doing some good jellies of late.

"You would think after ten years I'd be totally sick of jelly but we've actually manage to come up with a totally new thing to do with them as of next year. I can't say any more. I've literally just been writing about it this morning. I'm very excited about it."
If I've learned anything from this interview, jelly-lovers, it's this: expect the unexpected.