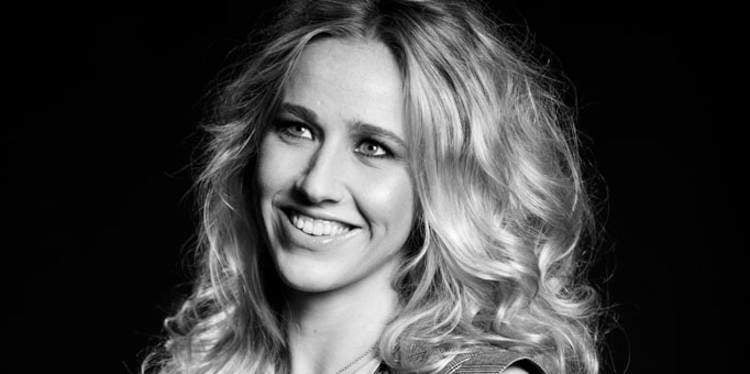 The modern dating scene leaves much to be desired.
For those with hectic work and travel schedules, it is even more difficult. Yet if you could buy love, would you?
With clients willing to pay upwards of £250,000 ($332,000) for Diamond membership to be struck by Cupid's bow, it seems Inga Verbeeck, the founder and chief executive of matchmaking agency Ivy International, is onto something.
After getting divorced, Inga Verbeeck enrolled in a matchmaking agency after some "gentle coaxing" from her friends. She quickly fell in love — but not with a man — with a business model.
Now Ivy International is spreading across Europe, and is set to break the American market next year. The firm's Standard Membership starts from £10,000 and that's just for the joining fee. The memberships rise to £50,000. This is high-end matchmaking for the elite.
I met Verbeeck in London's Mayfair Hotel to find out who her clients really are, what she thinks about feminism, and what really goes on behind the scenes in the profession of finding love.
Who are your clientele who come to you for matchmaking?
In general in dating, there are a lot fewer men enrolled in matchmaking companies than women. For us, we have almost 55 percent women and 45 percent men on our books. Men and women have a different view and mindset on dating — men are much more rational and pragmatic — so you don't talk to them about a relationship journey or things like that. They need finding love to be a tangible project. That then becomes a lot more appealing to men because it's action based.
Has feminism changed dating?
I am all for equality between men and women, but I think that the feminist movement has confused the fact that men and women are very different. You have to embrace that difference. Due to the way that the feminist movement has evolved, men have become very insecure about how to deal with women. Men are scared to come onto women in case it is seen as harassment or sexism.

I think that men are unsure and uncertain of how to deal with women now. There is nothing wrong to a man coming onto a girl. It's nice and flattering, what's wrong with it? Men are hunters, it's in their genes. All of my female clients tell me that they want to be seduced by a man. They want men to open the door for them and pay the bill – that doesn't have anything to do with equality.
What are your thoughts on the Harvey Weinstein scandal and the enormous reaction it has provoked?
We can't blow the Harvey Weinstein scandal out of proportion, which I think it has been. I know a woman who had breakfast with Harvey Weinstein and he invited her up to his room to "discuss further". She told him that she didn't want to and that was fine, she didn't have an issue with it.  He proposed something indecent but she wasn't offended by it. She simply dismissed him!

However most of the women we have seen in the media knowingly went up to his room because they knew it would improve their careers. Women have always slept their way up the career ladder. Why are people so shocked by that? It happens in every industry in the world. Women have to say no, but unfortunately there are a lot of women who say yes and want to say yes. Some women even make it their profession to sleep their way to the top. It won't stop until all women say we're not doing it anymore.
Can you tell up about a current client you are working with and their quest for love?
We are searching for 'Venus' at the moment for a very wealthy Middle Eastern business man. This is a campaign we are running which is where we essentially headhunt our matches. We have interviewed women in different cities, we have a dedicated project website and a social media team working on the project. If you have a database of 2,000 people and you filter by search criteria, you might end up with 10 suitable matches. However with campaigning we have had over 200 candidates who meet his requirements. We introduce women one by one; we don't want a catalogue that speed dating can produce.
What are the main reasons people approach you for help with their love lives?
There are shifting trends that we have seen within matchmaking and dating. We are seeing younger men in their 30s coming to us more and more. They can often come from divorced parents, or struggle to meet women as they are so busy in their jobs and just require some expert support. I also think there is a huge movement away from digital matchmaking. That market, such as the dating apps, is going to go down and the personal approach is coming back into favour.
Is there still a stigma around matchmaking and do you think this will ever go away?
With things like Tinder, dating has become a more open conversation, however with high-end matchmaking it is still a taboo. It's ridiculous because matchmaking is just a proactive way of dealing with your personal goals. There's no shame in asking for help. I matched a friend recently and he came over to me at the country club and quietly asked for my assistance. He feel in love with the first woman we introduced him to, and a year later they are really happy. Yet he didn't want anyone to know that he met her through our process. It's really sad that there is such a stigma.
Do you get clients who are looking for money as opposed to love?
Yes, because of our fees and our level we get very financially well off people. However we do find that some are only looking for money. Once I stopped working for a client because she was only looking for a man wealthier than she was. After a few introductions that became clear. We don't work with people like that.