The technology industry continues to be a hotbed of patent innovation. Activity is driven by the escalating need for continuous operational efficiency and minimized downtime in sectors like manufacturing, energy, and transportation, as well as the increasing adoption of Industry 4.0, which emphasizes automation and data-driven decision-making, alongside the proliferation of IoT devices. The growing importance of technologies such as machine learning, deep learning, neural networks, and natural language processing further boost the market. In the last three years alone, there have been over 4.1 million patents filed and granted in the technology industry, according to GlobalData's report on Artificial intelligence in technology: fault monitoring AI. Buy the report here.
However, not all innovations are equal and nor do they follow a constant upward trend. Instead, their evolution takes the form of an S-shaped curve that reflects their typical lifecycle from early emergence to accelerating adoption, before finally stabilizing and reaching maturity.
Identifying where a particular innovation is on this journey, especially those that are in the emerging and accelerating stages, is essential for understanding their current level of adoption and the likely future trajectory and impact they will have.
190+ innovations will shape the technology industry
According to GlobalData's Technology Foresights, which plots the S-curve for the technology industry using innovation intensity models built on over 1.5 million patents, there are 190+ innovation areas that will shape the future of the industry.
Within the emerging innovation stage, deep reinforcement learning, finite element simulation, and GenAI for design are disruptive technologies that are in the early stages of application and should be tracked closely. AI In EHR, intelligent predictive maintenance, and forward inferencing are some of the accelerating innovation areas, where adoption has been steadily increasing.
Innovation S-curve for artificial intelligence in the technology industry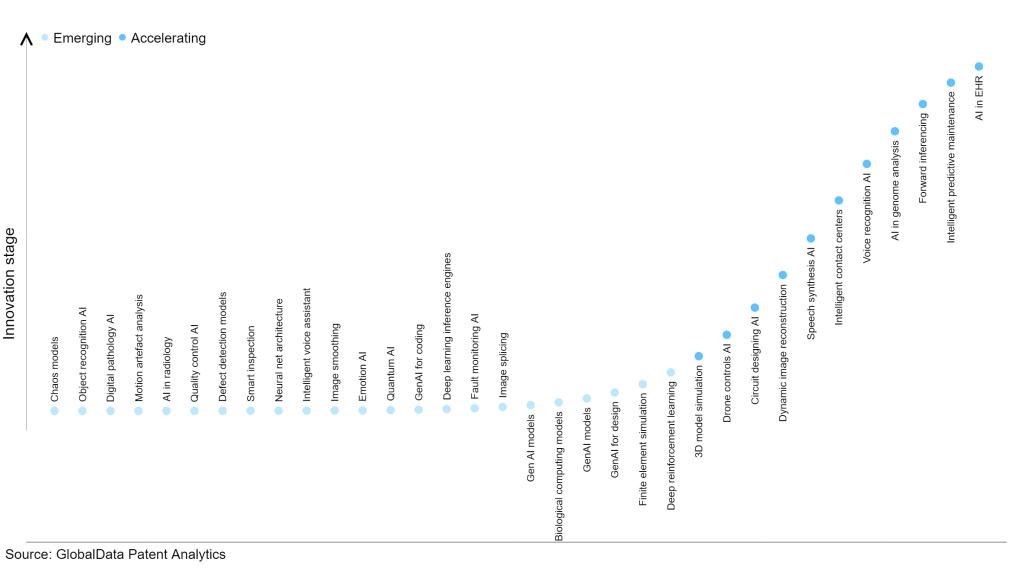 Fault monitoring AI is a key innovation area in artificial intelligence
Fault Monitoring AI employs artificial intelligence (AI) methodologies to oversee and identify irregularities or malfunctions within a range of systems, including communication networks, computing equipment, and datasets. The process entails scrutinizing data and applying machine learning methods to recognize deviations from standard operations, facilitating preemptive actions to avert system breakdowns or enhance system efficiency.
GlobalData's analysis also uncovers the companies at the forefront of each innovation area and assesses the potential reach and impact of their patenting activity across different applications and geographies. According to GlobalData, there are 580+ companies, spanning technology vendors, established technology companies, and up-and-coming start-ups engaged in the development and application of fault monitoring AI.
Key players in fault monitoring AI – a disruptive innovation in the technology industry
'Application diversity' measures the number of applications identified for each patent. It broadly splits companies into either 'niche' or 'diversified' innovators.
'Geographic reach' refers to the number of countries each patent is registered in. It reflects the breadth of geographic application intended, ranging from 'global' to 'local'.
Patent volumes related to fault monitoring AI
Source: GlobalData Patent Analytics
Among the companies innovating in fault monitoring AI, IBM is one of the leading patents filers. The company's patents are aimed at developing technique, system, and computer program for pinpointing potential errors in a software product post-construction but prior to its launch. It involves the identification of adverse log records from previously constructed software products, which contain coding errors during their construction process. These negative log reports are then transformed into vectors and stored for future reference. Subsequently, when a build log report is vectorized after the completion of a software product's construction, it is compared to the stored vectorized negative log reports. If the vectorized log report is found to be within a specified range of similarity to a stored vectorized negative log report, the release of the software product is halted, and the programmer is furnished with a copy of the negative log report linked to the closest matching vectorized negative log report. The other prominent patent filers in the space include Microsoft and People.ai.
In terms of application diversity, Juniper Networks leads the pack, while People.ai and VMware stood in the second and third positions, respectively. By means of geographical reach, People.ai held the top position, followed by Aurora Labs and MondayCom.

Fault monitoring AI can identify anomalies and potential issues in real-time, allowing for early intervention and preventing costly breakdowns or failures. AI-driven fault monitoring optimizes operations by ensuring that systems are operating within their specified parameters, leading to increased efficiency and productivity. Proactive fault detection and predictive maintenance can lead to substantial cost savings by avoiding unplanned repairs, expensive emergency interventions, and production losses.
To further understand the key themes and technologies disrupting the technology industry, access GlobalData's latest thematic research report on Artificial Intelligence (AI).
Premium Insights
From
The gold standard of business intelligence.
Blending expert knowledge with cutting-edge technology, GlobalData's unrivalled proprietary data will enable you to decode what's happening in your market. You can make better informed decisions and gain a future-proof advantage over your competitors.