The technology industry continues to be a hotbed of innovation, with activity driven by the increasing sophistication of spoofing attacks, regulatory requirements for robust authentication methods, and widespread adoption of biometric systems across various industries, as well as growing importance of technologies such as advanced computer vision algorithms, machine learning models, and multimodal biometrics to ensure accurate detection of live individuals and enhance security measures against spoofing attempts. In the last three years alone, there have been over 3.6 million patents filed and granted in the technology industry, according to GlobalData's report on Innovation in Cybersecurity: Liveness detection. Buy the report here.
However, not all innovations are equal and nor do they follow a constant upward trend. Instead, their evolution takes the form of an S-shaped curve that reflects their typical lifecycle from early emergence to accelerating adoption, before finally stabilising and reaching maturity.
Identifying where a particular innovation is on this journey, especially those that are in the emerging and accelerating stages, is essential for understanding their current level of adoption and the likely future trajectory and impact they will have.
300+ innovations will shape the technology industry
According to GlobalData's Technology Foresights, which plots the S-curve for the technology industry using innovation intensity models built on over 2.5 million patents, there are 300+ innovation areas that will shape the future of the industry.
Within the emerging innovation stage, byzantine fault tolerant blockchain, secure multi-party computing, and decentralised identity framework are disruptive technologies that are in the early stages of application and should be tracked closely. Secure hash algorithms (SHA), zero knowledge proof, and private blockchains are some of the accelerating innovation areas, where adoption has been steadily increasing. Among maturing innovation areas are firmware security and multimedia signal encryption, which are now well established in the industry.
Innovation S-curve for cybersecurity in the technology industry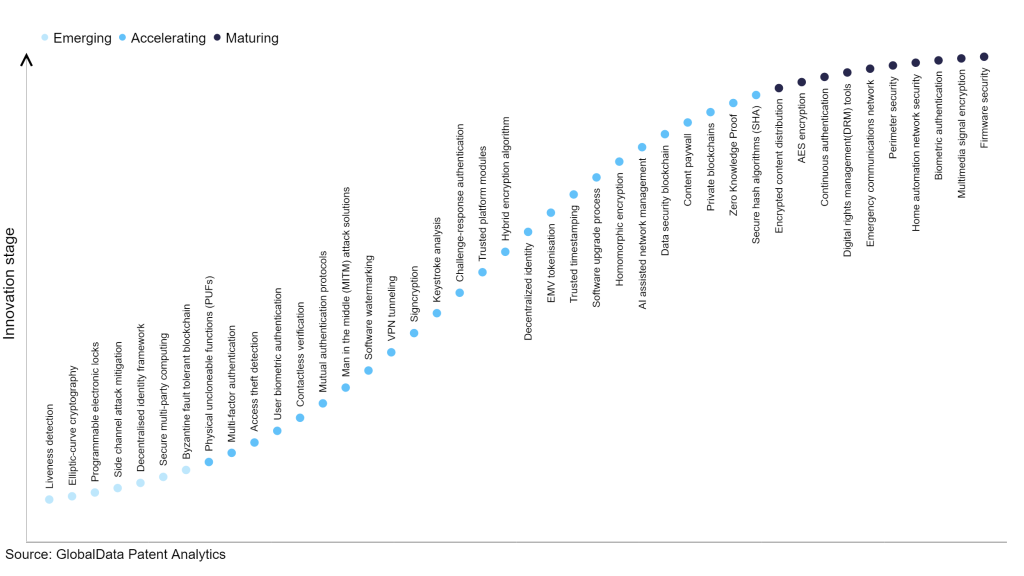 Liveness detection is a key innovation area in cybersecurity
Liveness detection is a biometric verification method that leverages artificial intelligence (AI) to distinguish between genuine human users and impostors. By incorporating facial recognition, voice recognition, and other biometric data, liveness detection ensures the presence of a real person rather than an automated bot or a manipulated representation, such as a photo or video.
GlobalData's analysis also uncovers the companies at the forefront of each innovation area and assesses the potential reach and impact of their patenting activity across different applications and geographies. According to GlobalData, there are 30+ companies, spanning technology vendors, established technology companies, and up-and-coming start-ups engaged in the development and application of liveness detection.
Key players in liveness detection – a disruptive innovation in the technology industry
'Application diversity' measures the number of different applications identified for each relevant patent and broadly splits companies into either 'niche' or 'diversified' innovators.
'Geographic reach' refers to the number of different countries each relevant patent is registered in and reflects the breadth of geographic application intended, ranging from 'global' to 'local'.
Patent volumes related to liveness detection
Source: GlobalData Patent Analytics
Ping An Insurance (Group) is a leading patent filer in liveness detection. The company's patents are aimed at invention that relates to an electronic device and an identity recognition method based on a certificate picture and a storage medium.
The method includes obtaining a portrait picture in the certificate picture, performing binarisation on the portrait picture to obtain a binarised picture, using an expansion algorithm to process the binarized image to obtain a pixel-enhanced image, using the preset straight line detection algorithm to analyse the straight lines in the pixel-enhanced image, filtering out the images without straight lines, and obtaining the ID image corresponding to the filtered image.
For the portrait picture, the portrait picture in the ID picture corresponding to the selected picture is compressed twice according to the predetermined compression quality parameters, and then saved as a copy picture in jpg format. The differences in three primary colours between the portrait picture in the ID picture and the copy picture are analysed to improve the accuracy rate of identification.
Other prominent patent filers in the space include Tencent and GuangDong OPPO Mobile Telecommunications.
By geographic reach, Koninklijke Philips leads the pack, followed by NEC and Thales. In terms of application diversity, Koninklijke Philips holds the top position, followed by JPMorgan Chase and Beijing Electronics.
Liveness detection has significantly advanced the field of biometric authentication. The technique utilises cutting-edge technologies, such as artificial intelligence and computer vision, to verify the authenticity of individuals during the biometric verification process. By distinguishing between real human presence and various spoofing attempts like photos, videos, or synthetic replicas, liveness detection enhances security measures and protects against unauthorised access.
To further understand how cybersecurity is disrupting the technology industry, access GlobalData's latest thematic research report on Cybersecurity – Thematic Research.
Premium Insights
From
The gold standard of business intelligence.
Blending expert knowledge with cutting-edge technology, GlobalData's unrivalled proprietary data will enable you to decode what's happening in your market. You can make better informed decisions and gain a future-proof advantage over your competitors.