The technology industry continues to be a hotbed of innovation, with activity driven by the increasing complexity of cyber-attacks, growing reliance on online communications and transactions, regulatory requirements for data privacy, and growing importance of technologies such as advanced encryption protocols, secure communication channels, intrusion detection and prevention systems, and behavioural analytics. These technologies work together to detect and mitigate man-in-the-middle (MITM) attacks, safeguarding sensitive information and maintaining the integrity of communication networks. In the last three years alone, there have been over 3.6 million patents filed and granted in the technology industry, according to GlobalData's report on Innovation in Cybersecurity: MITM attack solutions. Buy the report here.
However, not all innovations are equal and nor do they follow a constant upward trend. Instead, their evolution takes the form of an S-shaped curve that reflects their typical lifecycle from early emergence to accelerating adoption, before finally stabilising and reaching maturity.
Identifying where a particular innovation is on this journey, especially those that are in the emerging and accelerating stages, is essential for understanding their current level of adoption and the likely future trajectory and impact they will have.
300+ innovations will shape the technology industry
According to GlobalData's Technology Foresights, which plots the S-curve for the technology industry using innovation intensity models built on over 2.5 million patents, there are 300+ innovation areas that will shape the future of the industry.
Within the emerging innovation stage, byzantine fault tolerant blockchain, secure multi-party computing, and decentralised identity framework are disruptive technologies that are in the early stages of application and should be tracked closely. Secure hash algorithms (SHA), zero knowledge proof, and private blockchains are some of the accelerating innovation areas, where adoption has been steadily increasing. Among maturing innovation areas are firmware security and multimedia signal encryption, which are now well established in the industry.
Innovation S-curve for cybersecurity in the technology industry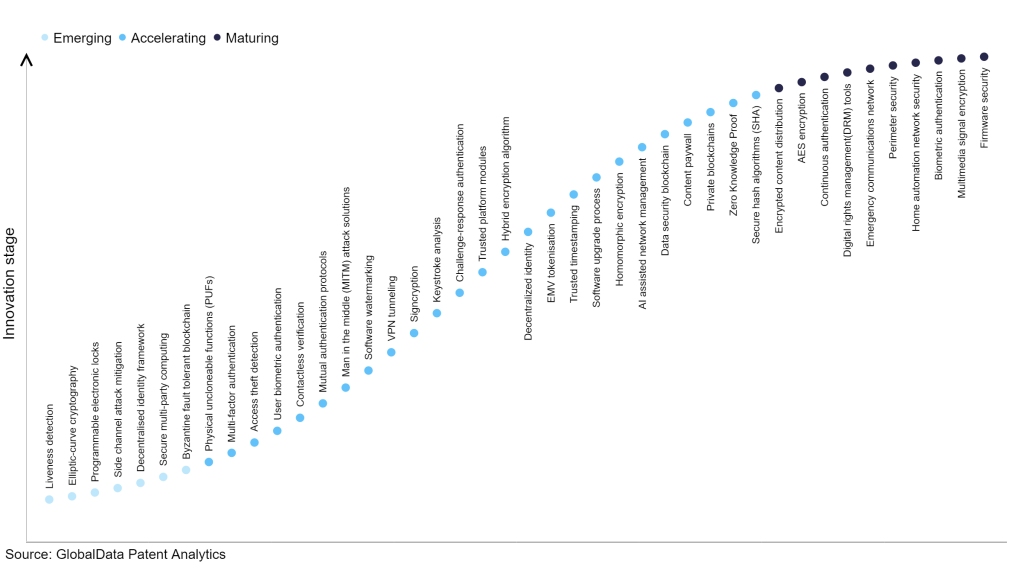 MITM attack solutions is a key innovation area in cybersecurity
Encrypting data-in-transit is a highly effective method for mitigating the risks posed by man-in-the-middle (MITM) attacks. By employing encryption, data transmitted through a network remains secure, with exclusive access granted solely to the intended recipient, thus ensuring its protection from unauthorised interception or tampering.
Two-factor authentication provides an additional level of security to user accounts, significantly raising the difficulty for potential attackers attempting unauthorised access. This authentication method mandates users to provide two distinct pieces of information, such as a password and a code sent to their email or phone, ensuring heightened account protection, and preventing unauthorised entry.
Public key infrastructure (PKI) is a security technology that employs digital certificates and public/private key pairs for user and device authentication. By enabling secure data exchange between devices, PKI adds an additional layer of security, making it more challenging for attackers to intercept and compromise messages.
Consistently monitoring network traffic aids in identifying potentially malicious activity that may signify an ongoing attack. Network monitoring tools are designed to detect deviations in traffic patterns, promptly alerting administrators when suspicious behaviour is detected, thereby enabling timely responses to potential security threats.
GlobalData's analysis also uncovers the companies at the forefront of each innovation area and assesses the potential reach and impact of their patenting activity across different applications and geographies. According to GlobalData, there are 1050+ companies, spanning technology vendors, established technology companies, and up-and-coming start-ups engaged in the development and application of MITM attack solutions.
Key players in MITM attack solutions – a disruptive innovation in the technology industry
'Application diversity' measures the number of different applications identified for each relevant patent and broadly splits companies into either 'niche' or 'diversified' innovators.
'Geographic reach' refers to the number of different countries each relevant patent is registered in and reflects the breadth of geographic application intended, ranging from 'global' to 'local'.
Patent volumes related to MITM attack solutions
Source: GlobalData Patent Analytics
IBM is a leading patent filer in MITM attack solutions. The company's patents are aimed at invention describing a method and system for improving a digital media content transfer blocking process. The method includes detecting a request for access to digital media content from a digital media provider system. Network traffic across the network is identified and verified that the digital media content is comprised by the network traffic. In response, an investigation platform software code is executed, and a database system associated with the digital media provider system is queried.
A system determines if a legitimate connection-based relationship exists between a user device and the digital media provider system. If the digital media content is determined to be unauthorised for use by a said user, it is disabled from executing functions with respect to the user device of a user.
Other prominent patent filers in the space include Microsoft and Huawei.
By geographic reach, DEKA Research and Development leads the pack, followed by Deloitte Touche Outsourcing Servicos Contabeis e Administrativos and Smart Hub. In terms of application diversity, NDSU Research Foundation holds the top position, followed by Envestnet and Tobii.
MITM attack solutions have greatly advanced the protection against such attacks that involve intercepting and altering communications between two parties, posing a significant risk to data integrity and privacy. Innovations in MITM attack solutions have resulted in the development of sophisticated techniques and technologies to detect and prevent such attacks.
To further understand how cybersecurity is disrupting the technology industry, access GlobalData's latest thematic research report on Cybersecurity – Thematic Research.
Premium Insights
From
The gold standard of business intelligence.
Blending expert knowledge with cutting-edge technology, GlobalData's unrivalled proprietary data will enable you to decode what's happening in your market. You can make better informed decisions and gain a future-proof advantage over your competitors.