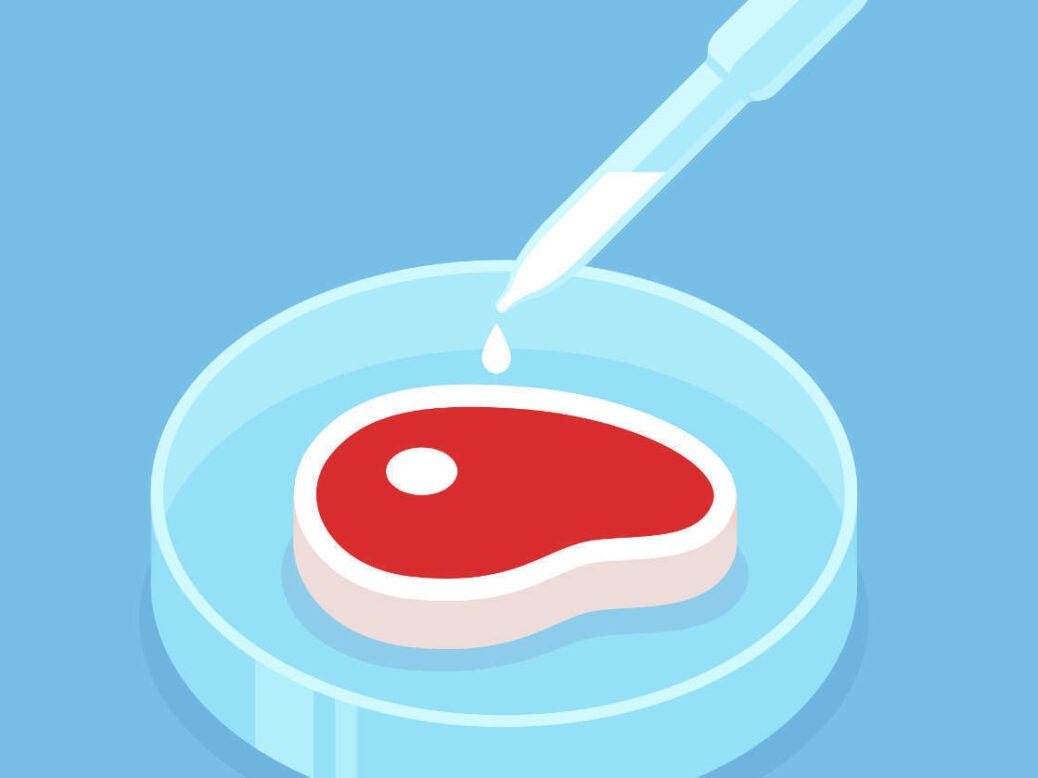 If meat is grown in a laboratory and not on a farm or ranch, can it really be called meat? The US beef industry doesn't think so, and is scrambling to derail the lab-grown meat industry before it gets going.
In February, the US Cattleman's Association (USCA) filed a petition before the United States Department of Agriculture's (USDA's) Food Safety and Inspection Service (FSIS) to exclude products not derived directly from animals raised and slaughtered from the definition of beef and meat.
Seeking legislation to set standards for meat
The USCA's 15-page petition concluded that synthetic products including those from plants, insects, or other non-animal sources, as well as products grown in laboratories using animal cells 'should not be permitted to be marketed as beef or meat'.
These terms 'should be limited to animals born, raised, and processed in the traditional manner'.
The trade organisation is particularly unhappy about use of the term 'meat' by what it calls 'fake meat' producers and brands like Impossible Burger, Beyond Meat, Memphis Meats, Mosa Meats, and Just, Inc (formerly known as Hampton Creek).
In April, the larger and more powerful US-based National Cattleman's Beef Association (NCBA) entered the dispute, surprising some by stating that it did not support the USCA's petition. This is because the NCBA did not think it went far enough to 'provide meaningful protection for beef nomenclature'.
In its place, the NCBA wants the USDA to request that the US Food and Drug Administration (FDA) take 'appropriate, immediate enforcement action against improperly labelled imitation (beef or meat) products'. The NCBA is trying to direct its appeal to the regulatory agency it sees as most likely to have the broadest latitude to regulate lab-grown 'meat'.
Defining 'meat' to mean actual livestock raised by farmers and ranchers
Spelling out the NCBA's position in a three-page letter dated 10 April to the USDA's FSIS, Kevin Kestler – president of the National Cattleman's Beef Association – 'firmly believes that the term beef should only be applicable to products derived from actual livestock raised by farmers and ranchers'.
Kestler says it is 'imperative that (the) USDA assert jurisdiction over cultured or lab-grown meat products to prevent misleading labels like "clean-meat"'.
At a minimum, Kestler wants cultured or lab-grown meat producers to 'adhere to the same stringent food safety inspection standards and comply with the same set of labelling mandates as all other traditional meat food products'.
And if this alphabet soup of government agencies and trade associations is not enough to thoroughly confuse, efforts are also underway at the state level in the US to impose labeling requirements on lab-grown meat that could constrict the sector.
On 5 April, House Bill 2607 outlawing the sale of lab-grown meats or meat substitutes labeled as meat was introduced in the state of Missouri. The bill prohibits 'misrepresenting a product as meat that is not derived from harvested production livestock or poultry'.
Consumers are wary of lab-grown meat
A lot is riding on how marketers of lab-grown meat and other meat alternatives can refer to their offerings.
The term meat is seen as consumer-friendly; lab-grown meat not so much. People are not sure quite what to think about laboratory-grown meat.
Some 44% of people in the US and 38% of people around the world say they would never eat so-called vegan meat that is 'produced in a lab without harming any animals', according to a recent GlobalData survey.
Of consumers that say they would consider eating 'vegan meat', the most compelling reason to do so was 'health reasons', cited by 34% of people around the world and 30% of people in the US.
The taste of meat alternatives like lab-grown meat will likely to play a huge part in consumer acceptance. Even so, just 18% of people around the world said that 'taste reasons' would make them consider eating 'vegan meat'.
More people are going vegan
Health is undoubtedly a major factor behind the rise in vegan diets.
As recently as 2014, just 1% of people in the US described their daily diet as vegan, according to GlobalData research. By 2017, that number had risen to 6%.
The same trend is taking place globally, though at a slower pace — 2% of people around the world described their diet as vegan in 2017, up from just 1% in 2014.
But can meat that is grown in a laboratory from stem cells from cows, pigs, or chickens really be considered vegan?
The meat industry will pull out all of the stops to label these types of meat as fake, artificial, imitation, or worse.
Words matter and the word games are far from over.