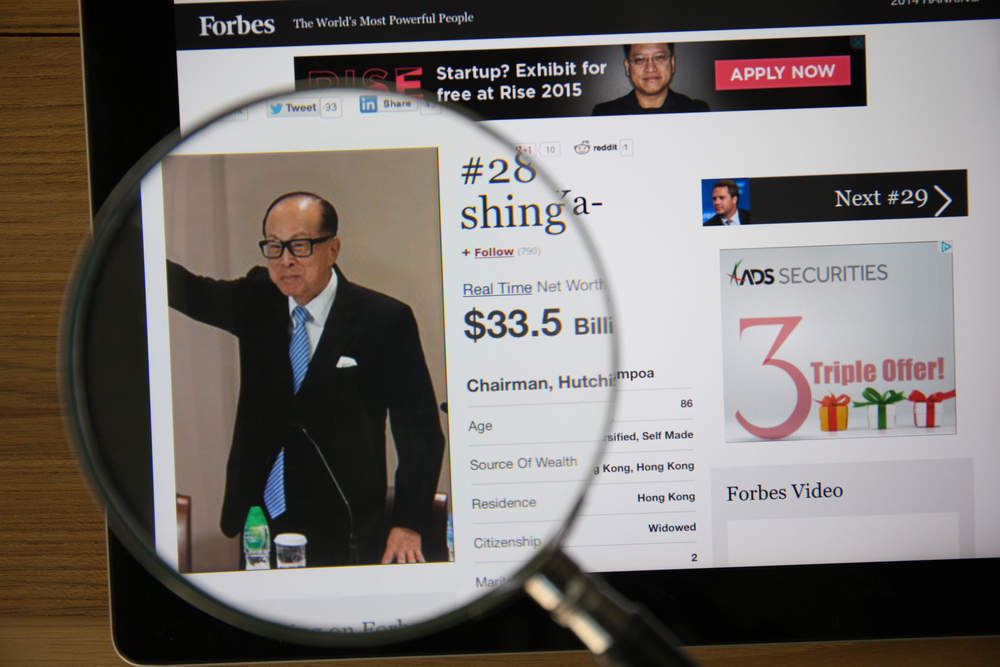 Hong Kong's richest man has announced his intention to retire later this year, having risen from factory cleaner to the chairman of one of Asia's leading conglomerates.
Li Ka-shing is the current chairman of CK Hutchison Holdings, a company well invested in the port, retail, infrastructure, energy, telecommunications and finance industries. However, he will step down in May to allow his son, Victor Li Tzar-kuoi, to take over after.
The 89-year-old has been at the helm of CK Hutchison Holdings since he founded the company as a plastic manufacturer in the 1950s.
However, Li made his fortune in property. The businessman capitalised on Hong Kong's 1967 leftist riots between pro-communists and the Hong Kong government as property prices fell. This provided a fortune that he was able to reinvest into other areas, buying up large parts of Hong Kong's industry over the years.
The company has rapidly expanded under Li and now includes a range of major companies such as European health and beauty chain Superdrug and leading Hong Kong mobile service provider Hutchison Telecommunications. According to Forbes, CK Hutchison Holdings employs more than 310,000 people across 50 countries.
Li is also invested in technology start-ups such as Facebook and Spotify.
During his time, Li has amassed a $35.4 billion fortune. That places him just below prominent figures such as Alibaba founder Jack Ma and former Microsoft CEO Steve Ballmer on Forbes' 2018 billionaires list.
What was said:
Speaking at a press conference to announce his retirement, Li said:
"Looking back all these years, it's my honour to have founded Cheung Kong and to have served society."

"I've been working for a long time, too long."
Joseph P.H. Fan, a professor at the Chinese University of Hong Kong, told Bloomberg:
"Li's retirement symbolizes the end of an era. No one can replace Li Ka-shing as the legendary founder of the largest conglomerate in Hong Kong."
Why it matters:
This is a big change for CK Hutchison Holdings. Given its investments in Hong Kong, this have disruptive effects in Hong Kong should anything go wrong following the handover.
Power Assets Holding, which CK Hutchison holds a stake in, provides Hong Kong with electricity and many locals rely on ParknShop for their groceries.
However, the company has been training up Li's eldest son for some time, preparing for the day when its chairman steps down. Li will also stay on as an advisor, so his retirement shouldn't cause too much disruption.
Speaking to reporters, Li said:
"I've always felt like I could go on a trip anytime, the company would still run the same way."