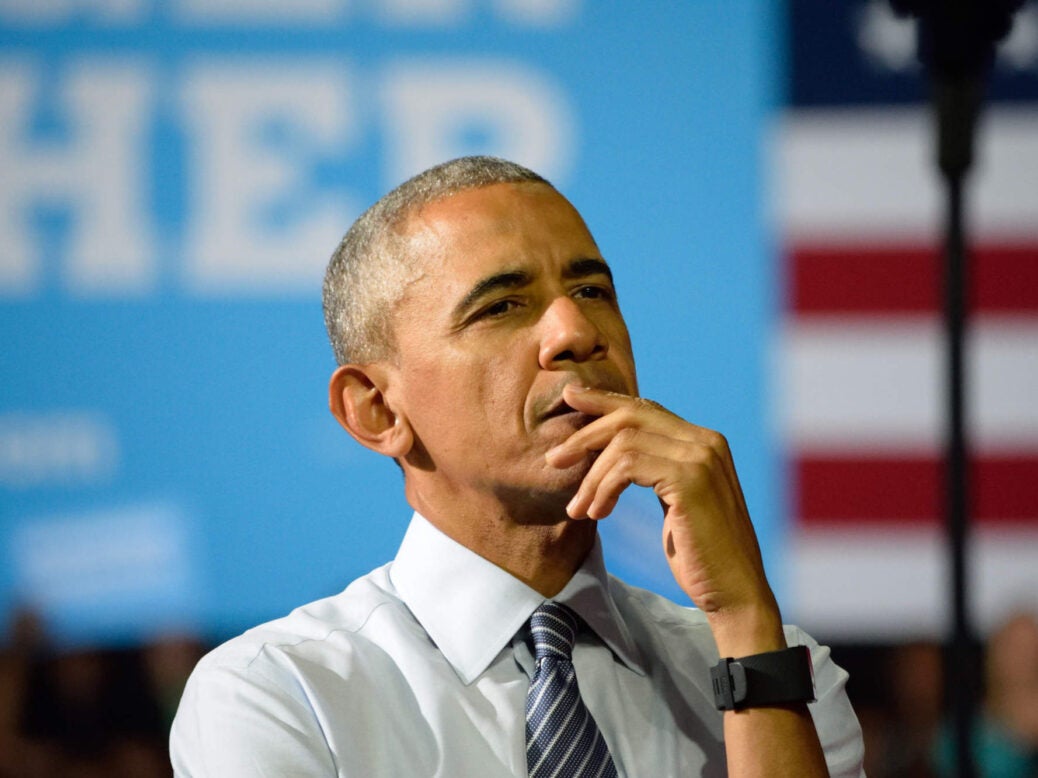 US president Donald Trump's popularity has taken a hit in the wake of his handling of the Charlottesville demonstrations last weekend.
A white supremacist drove his car into a crowd of anti-fascist protesters last week, killing one and injuring 19.
It took president Trump two days to denounce hate groups the KKK, neo-Nazis and white supremacists, who celebrated following the incident.
However, he has since added to his statement, insisting that both sides were to blame for the violence.
As Trump's popularity suffers, his predecessor has reached a peak level of adoration.
Following the attack, Barack Obama took to Twitter to call for peace and tolerance:
"No one is born hating another person because of the color of his skin or his background or his religion…" pic.twitter.com/InZ58zkoAm

— Barack Obama (@BarackObama) 13 August 2017
The post has since received more than 3.5m likes on the social media platform, making it the most popular tweet in history, but what does it replace?
The 3 (former) most liked tweets in Twitter history
Ariana Grande — May 2017
Obama's triumph marks the second time in 2017 that the record has been broken.
Ariana Grande previously held the record with 2.7m likes on her Tweet following the shocking Manchester bombing. An explosion at the pop star's concern caused multiple deaths, leading to a strong show of support on the social media platform.
broken.
from the bottom of my heart, i am so so sorry. i don't have words.

— Ariana Grande (@ArianaGrande) May 23, 2017
Ellen DeGeneres — March 2014
Until this year, Ellen DeGeneres spent more than three years as the holder of the most liked tweet.
Her star-studded Oscar selfie, which contained big names such as Angelina Jolie, Brad Pitt, Jennifer Lawrence and Bradley Cooper, received more than 2.4m likes.
If only Bradley's arm was longer. Best photo ever. #oscars pic.twitter.com/C9U5NOtGap

— Ellen DeGeneres (@TheEllenShow) March 3, 2014
Barack Obama — November 2012
The former president has held the title before, having attracted more than 600,000 likes on a tweet following the announcement that he had been elected for another term back in 2012.
Despite holding the crown for two years, the tweet is no longer in the top ten.
Four more years. pic.twitter.com/bAJE6Vom

— Barack Obama (@BarackObama) 7 November 2012
Barack Obama: World's most popular tweeter?
Incredibly, Barack Obama's latest tweet is just one of many popular posts made by the former US president. From the current top ten most liked tweets, six now belong to Obama.
Aside from the top spot, Obama also holds:
Fourth
John McCain is an American hero & one of the bravest fighters I've ever known. Cancer doesn't know what it's up against. Give it hell, John.

— Barack Obama (@BarackObama) 20 July 2017
Fifth
Hi everybody! Back to the original handle. Is this thing still on? Michelle and I are off on a quick vacation, then we'll get back to work.

— Barack Obama (@BarackObama) 20 January 2017
Sixth
Thank you for everything. My last ask is the same as my first. I'm asking you to believe—not in my ability to create change, but in yours.

— President Obama (@POTUS44) 11 January 2017
Seventh
It's been the honor of my life to serve you. You made me a better leader and a better man.

— President Obama (@POTUS44) 20 January 2017
Ninth
Of all that I've done in my life, I'm most proud to be Sasha and Malia's dad. To all those lucky enough to be a dad, Happy Father's Day! https://t.co/ya1YAJignC

— Barack Obama (@BarackObama) 18 June 2017