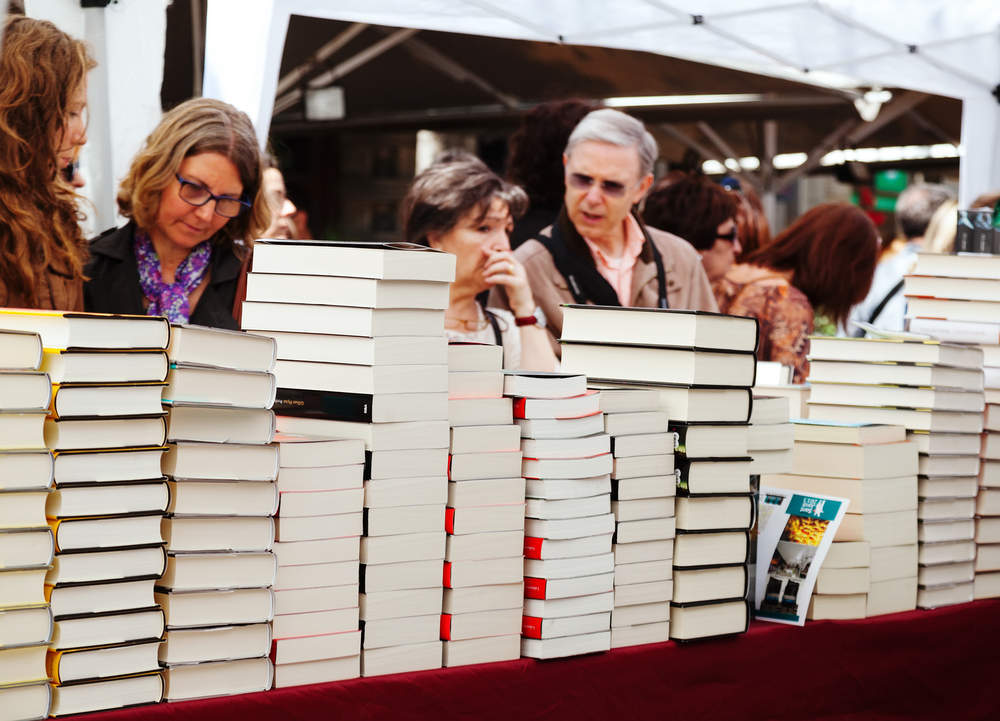 There's plenty of authors heading down to the National Book Festival on 2nd September. In fact, there's so many you might miss the ones you want to see if you're not careful!
We've got the whole schedule for every author attending right here.
That's where you can find when and where your favourite authors, poets, and illustrators are speaking. However, if you're a bit of a newbie to literature but you don't want to miss an opportunity to culture yourself, don't panic.
To help you out, we've compiled a list of the top ten National Book Festival authors.
Of course, literature isn't exactly quantifiable so these are just the most well-known figures at the event. You might find someone you find more interesting on our other list.
There's plenty going on so take a long hard look!
1. David McCullough
Speaking: Main Stage – 10:00 am – 11:00 am
Signing: 11:30 am – 12:30 pm
Most famous book: John Adams
David McCullough is well-known across America for his historical literature. He's a former Librarian Of Congress and he's written all sorts about the politics of America.
He is a two-time winner of the Pulitzer Prize and the National Book Award and a recipient of the Presidential Medal of Freedom, the highest civilian award in the US.
His newest book is The American Spirit: Who We Are and What We Stand For.
2. Diana Gabaldon
Speaking: Main Stage – 11:25 am – 12:25 pm
Signing: 1.00pm – 2.00pm
Most famous book: Outlander series
If you've been anywhere near a television over the past few years, you've probably heard of Outlander. The series has received worldwide acclaim after broadcasting on Starz and Amazon Prime Video.
What you may not know is that it's based on an eight-part book series written by Diana Gabaldon.
Her newest book is Seven Stones to Stand or Fall: A Collection of Outlander Fiction, a collection of seven novellas set in the world of the Outlander series. Two of these have never been published before!
3. JD Vance
Speaking: Main Stage – 12.50pm – 1.50pm
Signing: 2:30 pm – 3:30 pm
Most famous book: Hillbilly Elegy: A Memoir of a Family and Culture in Crisis
Vance might not be the most distinguished author appearing at the festival, but he's one of the most timely.
Vance shot to fame during the 2016 general election thanks to his book, Hillbilly Elegy.
His work was widely viewed as window into the lives of working class white people. He's often referred to as the voice of the rustbelt.
4. Thomas L. Friedman
Speaking: Main Stage – 2:15 pm – 3:15 pm
Signing: 3:30 pm – 4:30 pm
Most famous book: The World Is Flat: A Brief History of the Twenty-first Century
Like McCullough, Friedman is a Pullitzer winner.
However, unlike the former, Friedman is first and foremost a journalist. He has written about everything from the Middle East to the environment. His enthusiasm for 'radical centrism' has drawn some serious criticism from liberals.
His new book is Thank You for Being Late: An Optimist's Guide to Thriving in the Age of Accelerations. 
He describes this book as a "field guide to the 21st Century".
5. Michael Lewis
Speaking: Main stage – 3:40 pm-4:40 pm
Signing: 5:00 pm – 6:00 pm
Most famous book: The Blindside: Evolution of a Game
Michael Lewis is probably the author most famous for the adaptions of his work speaking at the National Book Festival.
No doubt you'll have heard of The Blindside starring Sandra Bullock and Kathy Bates.
He also wrote The Big Short which was adapted into a star-studded Hollywood film too. However, his books aren't necessarily all fiction. They represent a seamless blend of fiction and fact, making them popular for more readers than most.
His new book is The Undoing Project: A Friendship that Changed Our Minds", about one of the great (and most unlikely) partnerships in the history of science.
6. Condoleezza Rice
Speaking: Main stage – 5:05 pm-6:05 pm
Signing: 3:30 pm-4:30 pm
Most famous book: No Higher Honor: A Memoir of My Years in Washington
Despite appearing at the National Book Festival to promote her new book Democracy: Stories from the Long Road to Freedom.
Most will know Rice as a politician. A former secretary of state and national security adviser under George W. Bush, Rice is a controversial figure in some circles. That hasn't stopped two of her books from hitting the best-seller list though.
Nowadays, in addition to her career as a writer, Rice works as Denning professor of global business and the economy at Stanford University.
7. David Baldacci
Speaking: Main stage – 6:30 pm-7:30 pm, Teens – 3:20 pm – 4:00 pm,
Signing: 3:30 pm – 4:30 pm and 4:30 pm – 5:30 pm
Most famous book: Memory Man
Probably the most storied author to be gracing the festival. Baldacci has no less than 44 published works. Phew! He's famous for crime dramas but he's actually got plenty of genres under his belt.
His most recent books are for children and young adults.
Baldacci is a tireless supporter of literacy he is the co-founder, with his wife, of the Wish You Well Foundation, a nonprofit organization dedicated to supporting literacy efforts across the US.
8. Dav Pilkey
Speaking: Children's purple stage – 11:15 am – 11:40 am
Signing: 12.00pm – 1.00pm
Most famous book: Captain Underpants (series)
Even if you've never heard of Dav Pilkey, you'll definitely have seen his works.
The children's author is the mind behind Captain Underpants and Dogman. He's probably one of the best-selling authors at the festival overall.
The Captain Underpants book series has more than 80m copies in print to date, has been translated into more than 25 languages.
This summer it has seen a feature film release by DreamWorks Animation.
After receiving an ADHD and dyslexia diagnosis at a young age, his passions were drawing comics leading to him becoming a writer.
9. Karin Slaughter
Speaking: Thrillers & Fantasy – 12:45 pm – 1:30 pm
Signing: 2:00 pm – 3:00 pm
Most famous book: Grant County (series)
If you've walked into a bookshop over the past few years you'll have seen Karin Slaughter's books.
She's another international top selling, having sold her crime fiction stories in 30 languages. Her books have debuted at number 1 in the UK, Germany, and The Netherlands.
10. Roxane Gay
Speaking: Contemporary Life – 4:00 pm – 4:45 pm
Signing: 5:00 pm – 6:00 pm
Most famous book: Bad Feminist
Known for her collection of New York Times essays, Bad Feminist, Roxane Gay is an American writer, professor, editor, and commentator.
Gay's latest collection of stories is Difficult Women and her most recent book is "Hunger: A Memoir of (My) Body".
These days Gay is an associate professor of English at Purdue University, contributing opinion writer at The New York Times, founder of Tiny Hardcore Press, essays editor for The Rumpus, and co-editor of PANK, a nonprofit literary arts collective.
As you can see, there's plenty of big names in attendance so you should definitely make sure to look out for your favourites!