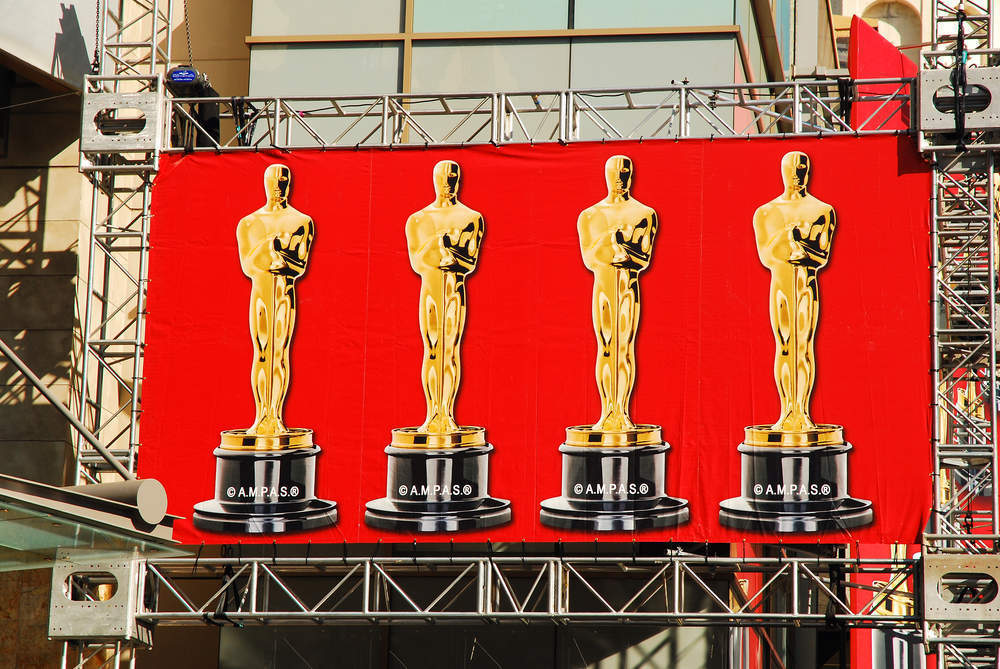 This weekend's Oscars ceremony will be the 90th edition of the most famous awards show in the film industry.
The show has been held every year since 1929, including all the way through the second world war. There were two award shows in 1930, which is why we've already reached the 90th show in 2018.
Over the years the awards show has seen various different iterations, updates, and changes. Whole categories have come and gone, the format has changed, even the design of the statuette itself has subtly shifted over the years.
So, as the Oscars hit 90 we look back over its history, to see what has changed over the years.
A history of the Academy Awards:
The Academy Awards began to give out awards in 1929 to celebrate the achievements of films from 1927 and 1928. The first ever awards show was quite different from today's variation.
It was hosted by the president of the Academy, Douglas Fairbanks and only 15 statuettes were given. It also took place on 16 May, rather than its modern late February/early March date.
How well do you
really

know your competitors?

Access the most comprehensive Company Profiles on the market, powered by GlobalData. Save hours of research. Gain competitive edge.
Company Profile – free sample
Thank you!
Your download email will arrive shortly
Not ready to buy yet? Download a free sample
We are confident about the unique quality of our Company Profiles. However, we want you to make the most beneficial decision for your business, so we offer a free sample that you can download by submitting the below form
By GlobalData
The first one wasn't exactly an award show either. It was more akin to a gala dinner. Tickets cost $5 (akin to around $71 in modern currency) and the event was invite-only.
It only took 15 minutes to hand out the every single one of the awards. It was also the only Academy Awards that was not broadcast by any means.
In 1930, there were two awards shows. The second Academy Awards took place on 3 April 1930, and the third was on 5 November 1930. Both were broadcast on radio. The second Academy Awards celebrated the films released between August 1 1928, and 31 July 1929.
Since the date of the ceremony was eight months after the close of the eligibility period, it was decided to host the 3rd Academy Awards on the same year in order to bring it closer to the end of the eligibility period, so the films awarded were fresher in the audiences' minds.
In general, there is usually only one winner of each award at the Oscars. However, the Oscars do prepare extra statuettes in the event of a tie. The most recent tie was in 2013 when Zero Dark Thirty and Skyfall were tied for Best Sound Editing.
Moving towards the modern awards:
The third Academy Awards were the first to have a list of official nominations.
It wasn't until the seventh Academy Awards that the Academy formalised the eligibility period, and limited it to a single year: 1 January to 31 December. From that year to now, every film nominated at the Oscars must have been released in that period of the previous year to the awards show.
From this point on, all Academy Awards have been held around February or March.
The 11th Academy Awards were the first 'Oscars'. That is to say, they were the first where the Academy officially recognised the nickname for their statuettes; the Oscars.
The 12th Academy Awards were the first in history to honour a colour film, Gone With The Wind. Also significant is the fact that the 12th Academy awards marked the first ever African-American winner of an Oscar.
The next biggest moment in Academy Awards history was 1953's 25th Academy Awards. This was the first ever awards show which was televised with NBC having that honour.
In the years in between, various categories have come and gone from the awards show, but it's format has remained largely consistent over the years.
Categories at the Academy Awards:
The original Academy Awards had just twelve awards (and three further special lifetime achievement awards.) These categories celebrated:
Outstanding Picture
Best Unique and Artistic Picture
Director, Dramatic Picture
Director, Comedy Picture
Best Actor
Best Actress
Original Story
Adaption
Art Direction
Cinematography
Engineering Effects
Title Writing
As of the current Academy Awards there are 24 different awards presented at each ceremony. These have been consistent since 2001 when an award for Best Animated Film was added. The current categories celebrate:
Best Picture (Since 1928)
Director (Since 1928, originally split into Comedy and Dramatic strands)
Actor in a Leading Role (Since 1928)
Actor in a Supporting Role (Since 1936)
Actress in a Leading Role (Since 1928)
Actress in a Supporting Role (Since 1936)
Animated Feature (Since 2001)
Animated Short Film (Since 1931)
Cinematography (Since 1928, split between colour and black & white strands until 1968)
Costume Design (Since 1948, split between colour and black & white strands until 1968)
Documentary Feature (Since 1943)
Documentary Short Subject (Since 1941)
Film Editing (Since 1934)
Foreign Language Film (Since 1947)
Live Action Short Film (Since 1931)
Makeup and Hairstyling (Since 1981, known as 'Makeup' up until 2012)
Original Score (Since 1934)
Original Song (Since 1934)
Production Design (Since 1928, originally known as Art Direction until 2012, also split between colour and black & white strands until 1968)
Sound Editing (Since 1963)
Sound Mixing (Since 1930)
Visual Effects (Since 1939)
Adapted Screenplay (Since 1928)
Original Screenplay (Since 1940)
Also, technically there's an award for Best Original Musical on the Academy's books. However, due to the lack of eligible films, it has not been awarded since 1984.
Retired categories:
Over the years there have been numerous Academy awards categories that have been retired. Usually that's because these categories have been absorbed into other categories, although occasionally there doesn't seem any real reason for retiring them.
These are the discontinued categories:
Assistant Director (Between 1933 and 1937)
Director, Comedy Picture (1928)
Dance Direction (Between 1935 and 1937)
Engineering Effects (1928)
Original Musical or Comedy Score (Between 1995 and 1998)
Original Story (Between 1928 and 1956)
Score – Adaptation or Treatment (Between 1962 and 1969, and once again in 1973)
Short Film – Color (1936 and 1937)
Short Film – Live Action – 2 Reels (Between 1936 and 1956)
Title Writing (1928)
Short Film – Novelty (Between 1932 and 1935)
Unique and Artistic Picture (1928)
Rejected categories:
Every year the Academy chiefs meet to discuss adding new categories to the Oscars line-up. So far, they have only ever rejected three categories. These categories were to award:
Best Casting (Rejected in 1999)
Stunt Coordination (Rejected every year from 1991 to 2012)
Best Title Design (Rejected in 1999)
However, there are movements to get Best Casting recognised once again. When Verdict spoke to the Casting Society Of America it expressed hopes of getting the Academy to reconsider the merits of awarding casting directors.
The Oscar statuette: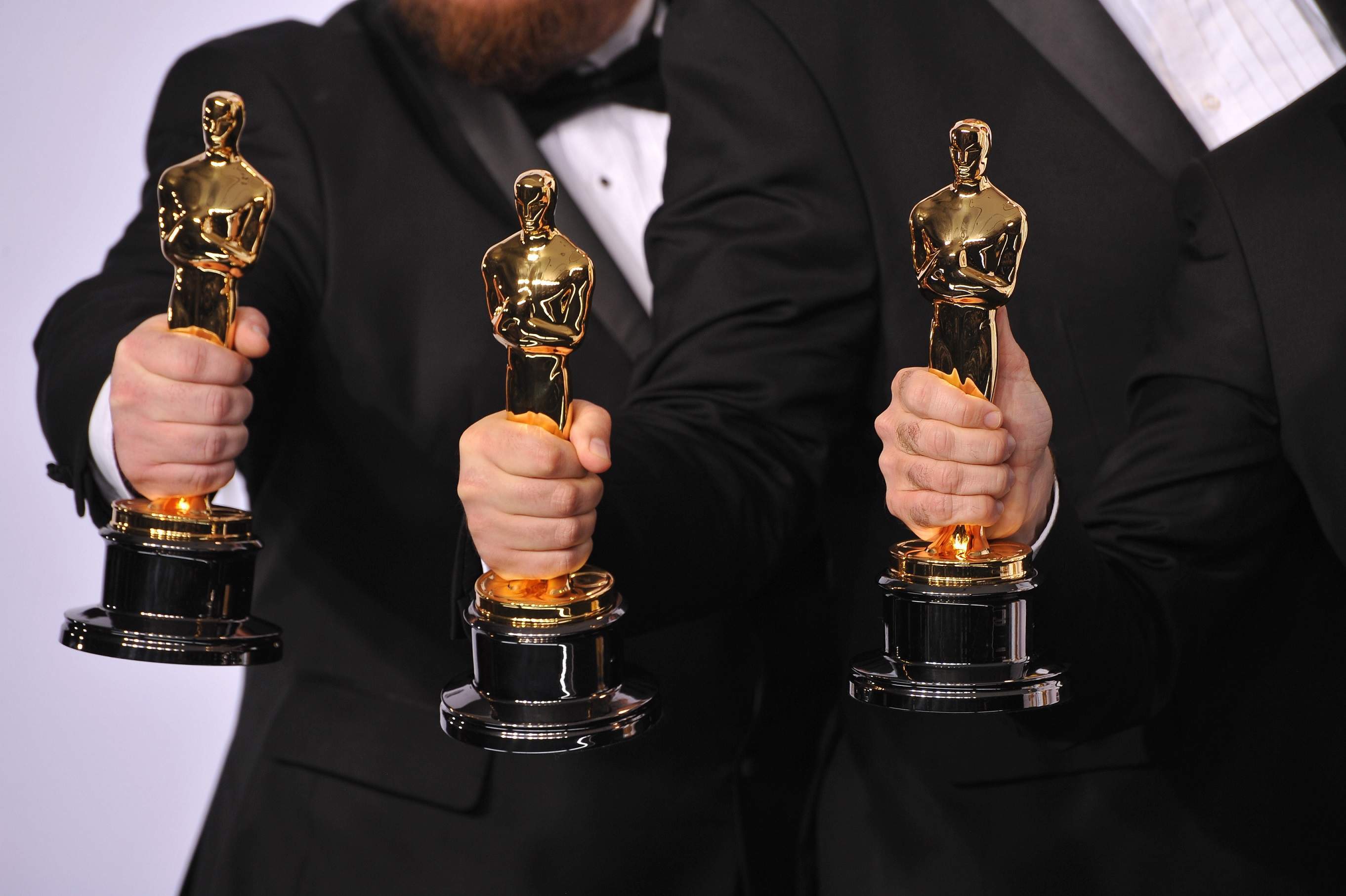 As of 2017, a grand total of 3,048 Oscar statuettes have been awarded.
The Oscars statuette has remained largely the same in its design since it was first given in 1929. It was MGM art director Cedric Gibbons who put forward the first design for the Oscars, while sculptor George Stanley realised the model in three dimensions.
The statuette depicts a knight holding a sword and standing on a film reel. The reel has five spokes to symbolise the five original branches of the Academy: actors, directors, producers, writers, and technicians.
Each statuette is are cast by Polich Tallix fine art foundry in New York's Hudson Valley in January. They are all made of solid bronze and plated in 24 karat gold. They have been made this way since the very first Academy awards.
However, during the second world war, there was a metal shortage so statuettes were made of plaster and spray-painted gold. The winners of these statuettes were invited to trade them in for metal ones after the war.
Each year there are more Oscars than categories. This is to prepare the Academy in the case of a tie and because in many cases multiple winners share an award. For example, Best Picture is shared between the film's producers, so many statuettes are necessary depending on how many producers there are. The Academy's vault stores surplus statues until the following year.
At the ceremony, each Oscar is blank to prevent anyone from leaking the winners early. Up until 2010, recipients had to hand their awards back to the Academy for engraving.
However, from 2010 inscription stations have been available at the Governor's Ball (the official Oscars after-party) so recipients can get their awards engraved there and then.
The name of the statuette:
The Academy Award of Merit is the official name of the statuette. It is unknown where the name 'Oscar' come from. However, there are two dominant theories.
The first is that Bette Davis, once a president of the Academy named the award after her first husband, Harmon Oscar Nelson. This theory was widely publicised in her biography on IMDB.
The other theory, and the one which is shared on the official Academy website is that Academy librarian (and later its executive director) Margaret Herrick said the statue resembled her cousin Oscar Pierce who she affectionately knew as Uncle Oscar.
In this version of the story, a newspaper columist, Sidney Skolsky was present during the meeting where Herrick said this, and wrote about it in his byline.
Either way, the term has been in use since at least 1932, when Walt Disney thanked the Academy for his Oscar in his acceptance speech. The first written reference to the award being nicknamed an 'Oscar' was in a 1934 Time Magazine article.
Oscars records:
Highest number of nominations in a single year:
All About Eve (1950), La La Land (2017), and Titantic (1997) all received a record 14 nominations.
Highest number of wins in a single awards show:
Ben Hur (1959), Titanic (1997), and Lord Of The Rings: Return Of The King (2003) each took home 11 Academy Awards at their respective award shows. Of those, Lord Of The Rings: Return Of The King holds the special honour of winning every category that it got a nomination for, the largest sweep in Oscars history. It won awards for Best Picture, Director, Adapted Screenplay, Original Score, Original Song, Sound Mixing, Art Direction, Makeup, Costume Design, Film Editing, and Visual Effects.
Most nominated person:
Walt Disney had the most Oscar-nominations ever with 59 nominations.
The most-nominated, least-awarded person is composer John Williams. He has 51 times nominations but only won five times.
Most award-winning person:
Walt Disney won 22 Oscars for various projects throughout his career.
Most nominated actor:
The most nominated actor of all time is Meryl Streep. Her total number of nominations is 19. Streep has won three times. Her winning roles were in Kramer Vs. Kramer (1979), Sophie's Choice (1982), and The Iron Lady (2012).
Highest-winning actor:
Katharine Hepburn has won more acting Oscars than anyone else. She won four Oscars for Morning Glory (1933), Guess Who's Coming To Dinner (1967), The Lion In Winter (1968), and On Golden Pond (1981).
Most award-winning country for Foreign Language categories:
Italy has a record 14 award for in Foreign Language film categories.
However, France has more nominations, having been nominated 40 times. Its films have only won 12 times.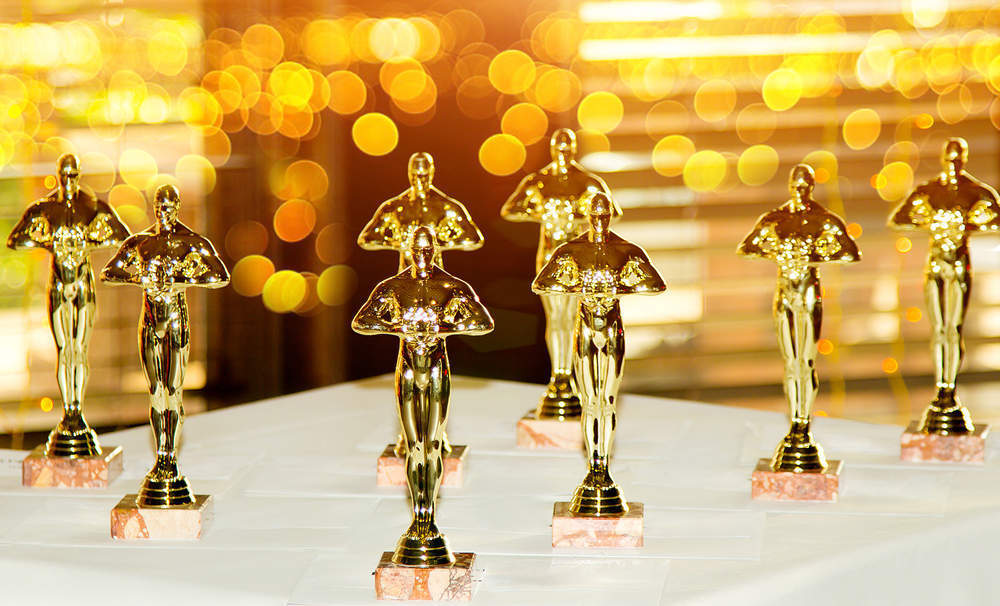 More Oscars trivia:
No male actor has ever won a lead actor award for their debut performance. By contrast, four best actresses have won for their debut role. Three best supporting actors and nine best supporting actresses have won for their debut roles.
There have been only three films with a clean sweep of all five of the top Academy awards; best actor, best actress, best director, best screenplay, and best picture. These films are It Happened One Night (1934), One Flew Over The Cuckoo's Nest (1976) and Silence Of The Lambs (1992).
There has only been one female Best Director (Kathryn Bigelow for The Hurt Locker in 2009) in the Oscars 90-year history.
Only one X-rated film has ever won Best Picture: Midnight Cowboy. It was also the first Best Picture winner with LGBT themes.
Shirley Temple holds the record for the youngest Oscar winner ever. She was 6 years old when she won the non-competitive Academy Juvenile Award in 1934. That also makes her the youngest nominee.
The oldest Oscar winner was Ennio Morricone who was 87 when he won Best Original Score for The Hateful Eight (2015). The oldest Oscar nominee ever is James Ivory who is nominated at the 2018 Academy awards for Best Adapted Screenplay for Call Me By Your Name. The bookies widely expect him to win which will make him the oldest Oscar winner of all time.
The second Academy Awards in 1930 was the only one where no movie won more than one award.
Oscars ties:
There have been a total of six ties in Oscars history. These are as follows:
Dr Jekyll & Mr Hyde's (1931) Frederic March and The Champ's (1931) Wallace Beery each won Best Actor. (Technically this was not a true tie. Beery won by one vote, but at the time a margin of three vote or less was considered a tie.)
A Chance to Live (1948) and So Much for So Little (1948) both won the Best Documentary Short award.
Katharine Hepburn and Barbra Streisand tied for Best Actress, for their respective roles in The Lion in Winter (1968) and Funny Girl (1968).
Artie Shaw: Time Is All You've Got (1985) and Down and Out in America (1985) tied for Best Documentary.
Franz Kafka's It's a Wonderful Life (1994) and Trevor (1994) tied for Best Short Film (Live Action).
Finally, the most recent tie was in 2013 when Skyfall and Zero Dark Thirty tied for Best Sound Editing.
2018 Academy Awards:
There's plenty to say about this year's Oscars and Verdict has written about the 90th Academy Awards at length.
The full list of nominees is here, along with information about how the Academy chooses its winners.
This is how the accountancy firm PwC tallies all the votes and how they're making sure that the 90th Academy Awards won't fall victim to any gaffes like 2017's La La Land/Moonlight mistake.
Here are the list of likely winners at this year's Oscars according to bookies.
And finally, we have also put together several explanations of how previous 2018 award shows give an indication of which films will win at the Oscars. Here's our guide to the SAG awards, and our guide to the Baftas.
The 90th Academy Awards take place on 3 March 2018. They are broadcast at 8pm ET on ABC. There is also pre-show coverage on ABC from 5pm ET.