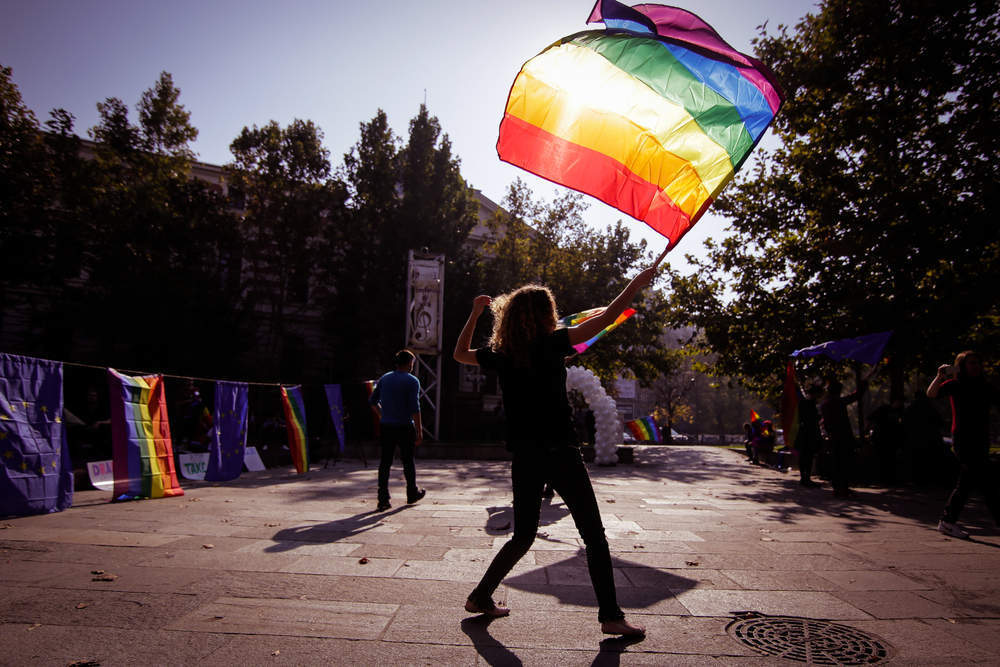 At a time when homophobic hate crimes are on the rise and unfair treatment of minority workers is in the news, it's never been more important to celebrate those who champion their diverse workforces.
The OUTstanding lists highlight those LGBT+ executives and allies who are doing great work in the world of business.
For the fifth year, OUTstanding have picked out dozens of role models who who are openly and visibly putting LGBT+ success at the top of the world's business agenda.
There are four separate lists of role models this year.
Firstly, Leading LGBT+ Executives, pays attention to the openly LGBT+ business leaders who've risen to the top of their organisations. 100 role models have been selected from across the world of business. These role models are all successful LGBT+ executives working one to three levels from the chief executive. These figures are the proof that LGBT+ workers can succeed in spite of the inherit prejudices they face. It is hoped these figures will inspire other LGBT+ professionals.
Next there's the Leading Ally Executives list. This list highlights the non-LGBT+ executives who are outspoken in developing and supporting their diverse workforces. The list will only feature those whose support has been unwavering – one Pride does not make a leading ally. Like the Leading LGBT+ Executives list, this will feature people at the top of their companies.
How well do you
really

know your competitors?

Access the most comprehensive Company Profiles on the market, powered by GlobalData. Save hours of research. Gain competitive edge.
Company Profile – free sample
Thank you!
Your download email will arrive shortly
Not ready to buy yet? Download a free sample
We are confident about the unique quality of our Company Profiles. However, we want you to make the most beneficial decision for your business, so we offer a free sample that you can download by submitting the below form
By GlobalData
The Top LGBT+ Future Leaders list celebrates those making an impact for LGBT+ rights at all levels in a company, not just those at the top.
Finally, there is a new category. Leading LGBT+ Public Sector Executives names role models who work at the top of the public and third sectors.
Who is on the list?
Leading LGBT+ Executives
This year, the Leading LGBT+ Executives list is topped by Alan Joyce, CEO of Australian airline Qantas. Joyce is openly gay and has lived with his partner in Sydney since 1999. In May 2017, he was publicly assaulted with a lemon meringue pie pressed into his face at a business breakfast. The incident was a direct attack on Joyce's outspoken support of same-sex marriage in Australia.
Speaking about being recognised, Joyce said:
"In the past year I've worked hard to drive changes in my own workplace, and indeed my own country. This includes establishing a formal LGBT+ network to provide support for Qantas staff and I've taken a very public stance in campaigning in favour of marriage equality here in Australia."

"No one should feel like they need to live a double life, or don't have access to the same opportunities as everyone else. I hope more LGBT+ business leaders and Allies join me in visibly celebrating diverse sexuality in the workplace."
The rest of the top 10 are as follows:
| | | | |
| --- | --- | --- | --- |
| Rank | Full Name | Company | Job Title |
| 1 | Alan Joyce | Qantas | CEO |
| 2 | Stacey Friedman | JP Morgan Chase | General Counsel |
| 3 | Jim Fitterling | DowDuPont | Chief Operating Officer for Material Sciences |
| 4 | Gigi Chao | Cheuk Nang (Holdings) Limited | Executive Vice Chairman |
| 5 | Dr. Vivienne Ming | Socos LLC | Managing Partner |
| 6 | Inga Beale | Lloyd's of London | CEO |
| 7 | Martine Rothblatt | United Therapeutics Corporation | CEO |
| 8 | Jan Siegmund | ADP | Corporate Vice President & Chief Financial Officer |
| 9 | Siobhan Martin | Mercer | Executive Director – HR UK & Ireland |
| 10 | David Hynam | Bupa UK | CEO |
Leading Ally Executives
Despite the appearance of a certain well-known social-media company owner on the ally list, the number one spot was taken by Denise Morisson, president and CEO of Campbell Soup Company. Morisson has held the position since 2011. In that same year she was named the 80th most powerful woman in the world by Forbes. Under her tenure, the Human Rights Campaign has named Campbell Soup Company 'Best Place to Work for LGBT Equality'.
On her success in the OUTstanding list Denise said:
"I am extremely proud to be recognised as an OUTstanding Ally Executive and passionately believe in the universal right for people to express their sexuality without fear of discrimination or prejudice"

"At Campbell we strongly support and promote OPEN, our LGBTQ Pride employee network. We are continually challenging ourselves to do all we can to support and promote equal rights within the workplace. We're extremely proud to have scored a perfect 100 percent on the Human Rights Campaign's Corporate Equality Index eight times, and to be named HRC's Best Place to Work for LGBT Equality and Buying Guide for Equality for 2017."
The rest of the top ten are:
| | | | |
| --- | --- | --- | --- |
| Rank | Full Name | Company | Job Title |
| 1 | Denise Morrison | Campbell Soup Company | President and CEO |
| 2 | Jose Berenguer | JP Morgan | CEO Brazil |
| 3 | Paul Polman | Unilever | CEO |
| 4 | Andrew Liveris | DowDuPont | Executive Chairman |
| 5 | Jean-Laurent Bonnafe | BNP Paribas | Group CEO |
| 6 | Cathy Bessant | Bank of America | Chief Operations & Technology Officer |
| 7 | Mark Zuckerberg | Facebook | Founder & CEO |
| 8 | Rekha Menon | Accenture | Chairman and Senior Managing Director, India |
| 9 | Sue Fox | M&S Bank | CEO |
| 10 | Mark Wilson | Aviva | Group CEO |
Top LGBT+ Future Leaders
Of course, it's all well and good celebrating the status quo, but the future is important to. And its in safe hands, judging by the first placing Future Leader, Stuart Barette, Global CMB IT Programme manager at HSBC. He helped launch a number of initiatives helping transgender people get a more personal service from their banks. In practical terms, this meant introducing ten new gender neutral titles, to be applied across a customer's account including bank cards and correspondence.
Speaking about his place on the list, Stuart said:
"I am thrilled and honoured to be the Top 2017 OUTstanding & FT LGBT+ Future Leader.  There are not enough visible trans* role models in business, and this is especially the case amongst trans men.  I have Asperger Syndrome, a form of high functioning autism, so for me, intersectionality is also important. Being included on the list sends a visible message that being trans* or having a disability is not a barrier to career progression or being able to affect positive change in the world and will hopefully inspire and empower others."
The rest of the top ten on the list are as follows.
| | | | |
| --- | --- | --- | --- |
| Rank | Full Name | Company | Job Title |
| 1 | Stuart Barette | HSBC | Global CMB IT Application & Infrastructure Streamlining Manager |
| 2 | Phoebe Bloomfield | Aviva Investors | People Talent Partner |
| 3 | Robert Ronneberger | BlackRock | Associate |
| 4 | Sayid Abdullaev | Google | Associate Product Marketing Manager |
| 5 | Anthony Shop | Social Driver | Chief Strategy Officer & Co-Founder |
| 6 | Jose Alberto Pino Andrade | DowDuPont | Consumerism Value Chain Manager |
| 7 | Krishna Omkar | Slaughter and May | Associate |
| 8 | Daniel Ricard | PwC | EMEA Human Capital Project Manager |
| 9 | Anjeli Patel | EY | Senior Consultant, People Advisory Services |
| 10 | Peter Foley | Mercer | Senior Associate |
Leading LGBT+ Public Sector Executives
For the first time this year, the OUTstanding lists featured public sector executives. The person at the top of the inaugural LGBT+ Public Sector Executives list is Dinesh Bhugra, President of World Psychiatric Association. Bhugra and his partner Mike have been together for over 30 years. During that time, Bhugra has become a world-renowned expert on topics including: cross-cultural psychiatry, migrant mental health, professionalism in psychiatry, depression, psychosexual medicine, service provision and decision-making. He's also the first ever UK psychiatrist to be elected President of the World Psychiatric Association.
On his selection for this list, Bhugra said:
"Research has shown that LGBT+ individuals have increased rates of psychological disorders, and that when the laws around being LGBT+ change, these rates go down. This is no coincidence. Working in the mental health field, I'm delighted to be recognised as an LGBT+ role model, and hope to be able to use this position to drive progress and change."
The other names on the top ten list of leading LGBT+ Public Sector Executives are as follows:
| | | | |
| --- | --- | --- | --- |
| Rank | Full Name | Company | Job Title |
| 1 | Dinesh Bhugra CBE | World Psychiatric Association | President |
| 2 | Maura Healey | Massachusetts Attorney General's Office | Attorney General |
| 3 | Lee Marshall | Church of England | Chief of Staff |
| 4 | Antonio Zappulla | Thomson Reuters Foundation | Chief Operating Officer |
| 5 | Professor Gill Valentine | University of Sheffield | Interim Provost and Deputy VC |
| 6 | Tammy Smith | US Military | Major General |
| 7 | Carole Anderson | Golden Jubilee National Hospital | Head of Strategy and Performance |
| 8 | Alan Gemmell | British Council | Director India |
| 9 | Martin Shanahan | IDA Ireland | CEO |
| 10 | Craig Beaumont | Federation of Small Businesses | Head of External Affairs |
Who organises the lists?
The Leading LGBT+ Executives and Allies lists are a collaboration between OUTstanding and the Financial Times. OUTstanding is a professional network for LGBT+ executives and their allies. Their mission is to inspire and mentor the next generation of LGBT+ executives, connect members, and inform the world of LGBT+ business news.
OUTstanding was founded in 2013 by Suki Sandhu, an executive searching specialist.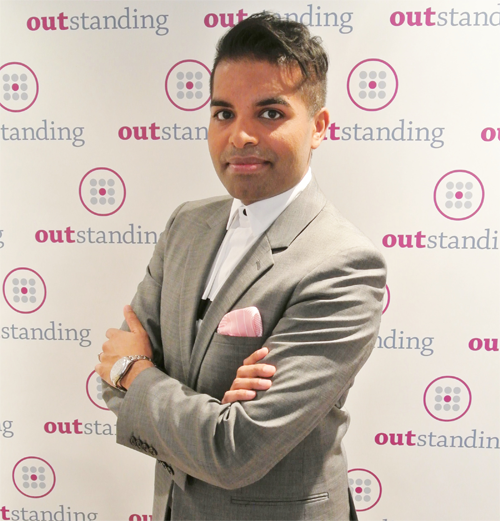 Verdict was lucky enough to speak with Sandhu about the OUTstanding lists and the state of LGBT+ rights in the workplace in 2017:
Verdict: Are things getting better or worse for LGBT+ people in the workplace?
SS: I think it really depends what industry and geography. In the UK we're pretty good in terms of legislation and protecting LGBT people. I know Theresa May recently did a speech where she talked about changing the policy and law around trans people because obviously, if you define as trans, you have to be defined as having an illness, it's looking to change that.
Whereas if you look in the USA, it's definitely going backwards. You've got someone like Trump who's banning trans people from serving in the military. Then there's legislation the Senate are trying to put through which will reduce the protections that LGBT+ have. There are still some states in the USA where you can be fired for being gay.
And then if you look in countries in the Middle East or Africa, its illegal to be gay. You can be murdered – given the death penalty for being gay.
There's a spectrum really depending on which area you're talking about. I would like to thing its getting better, but when you've got the political climate of Trump and Brexit it's uncovering a lot of hate against minority groups such as LGBT people. There's been a rise in homophobic hate crimes in the UK against LGBT communities.
We've got to be more vigilant. We need the role models on these lists to be those shining lights in the darkness that's happening around the world when it comes to inclusion.
V: My next question was going to be about Trump, but I think you already answered it there…
SS: Trump is bad news for LGBT people. You should judge people by their actions not their words. With him, you can judge him by his words and his actions. They're fairly similar for LGBT people.
V: So you just mentioned the worldwide climate for LGBT people. With more multi-national companies springing up, is it more challenging for executives to celebrate and champion their workforce consistently? Especially where they have branches in countries that are less open to LGBT people.
SS: I would say no. A lot of multi-national companies that are operating in regions unfriendly to LGBT people tend to have one set of policies that pervade the whole organisation. They call it the ambassadorial model where, within the four walls of the offices employees will be treated the same everywhere globally.
In the Middle East, LGBT staff will be treated the same in the Middle East as they would do in London or New York or wherever. As long as they stay true to their values and their policies, it's not a difficult thing.
But then the issue is: what you do outside those four walls? It's great protecting LGBT people within those walls in their office in the Middle East but once those employees step out, they're in the context of that country. They could be arrested for being LGBT. It's about asking what kind of quiet words can they have with those governments to try to exert their economic power to try to influence policy in those countries to benefit LGBT people.
So when they're investing in infrastructure or building new offices and creating jobs in somewhere like Delhi where they recriminalised homosexuality in the last few years. They should have a moral obligation to be having conversations with the government about the economic impact of not being more inclusive to LGBT people?
V: Are those conversations that do tend to happen?
SS: I think they happen in private. I'm not going to name any of the companies, because a lot of them don't want to be seen lobbying governments. But those quiet conversations are happening.
Think about in the USA, for instance, when there was the big trans bathroom saga. Multi-nationals clubbed together to write letters to that local government with a view to making them change their policies and outlook. When companies come together they can exert a lot of their power and influence to make positive changes in business.
V: To build on that, would you say that business could be the leading force for equality and acceptance worldwide?
SS: Yeah, I absolutely think it can be. Why wouldn't it be? You've got to remember the impact business has on society. Generally everybody has a job or has to go to work. If you think about these lists that we do in the Financial Times; collectively the companies in our list employ about 6 million people globally. Each company celebrates that company in that list. So we're already reaching 6 million people globally, and reaching them in a really positive way, to celebrate their place in the list.
When these people go home to their families and their partners, they'll hopefully talk about the LGBT leaders from their workplace who featured in the list. Those normal conversations will show that these leaders are just like everybody else. The reason we do these lists is also to challenge stereotypes about where people expect us to be.
Generally when people think about the LGBT community, they think of Alan Carr, Graham Norton, Ellen DeGeneres. They're all amazing, but as a community, we're more than entertainers. We're CEOs in the airline industry, we're partners in law firms, we're managing directors in financial services. And people want to be who they can see. Some people see some of the names in our lists and feel surprised because they didn't even know those people were LGBT! So the next generation of LGBT people see people that they want to be, inspiring them to be who they are from the start of their careers.
V: So it's just as much a source of inspiration as a celebration?
SS: Yeah, or an educational tool, to an extent.
V: If I was an executive who hoped to be on the list next year, what are the best practices I should think about incorporating into my business?
SS: So we have four criteria to be in the list.
What are you doing in the workplace to help LGBT people or the community?
What are you doing outside the workplace to help the LGBT community?
What's your seniority and influence if you're an executive?
What are your business achievements?
You have to score highly in those four areas to feature in the list. You can't just get into the list because you're the CEO in a tech business. That doesn't cut it for us.
You have to be able to show what you're doing for the LGBT community. The kind of things you should be doing include being visible in your support for the LGBT community, being out and being visible, mentoring the next generation, are you hosting events? Are you funding your employee resource group? You have to engage allies. Are you an executive sponsor? Are you supporting LGBT charities or NGOs?
So all of these things form part of your nomination which the judging panel will then score to assess whether or not you made the top 100.
We want people in the list to actually be doing things for our community.
V: This year you announced EMpower and HERoes featuring ethnic minority and female champions in the workplace. Do you think it's time more businesses focus on expanding their workforce beyond the straight white men who dominate?
SS: Absolutely. That's one of the main reasons why we set up OUTstanding, EMpower, and HERoes. These shine a light on the issues faced by these groups in business.
At the moment, the straight white male is the majority in the boardrooms of today. There are only 6 or 7 female CEOs in the FTSE 100. There are also only 6 or 7 ethnic minority CEOs, and even then, all of those are Asian. There's no black CEO in the FTSE 100. And there's no LGBT or disabled CEOs whatsoever.
So altogether there's maybe 14 CEOs in the FTSE 100 who aren't straight white men. That's grossly unrepresentative of society.
OUTstanding, EMpower, and HERoes also exist to encourage companies to get in those communities to do more together. That's one of the frustrating things about these communities. They often work in parallel not together. Even when they're trying to do the same thing which is to increase diversity and create a more inclusive environment.
V: Do you think you'll ever do a merging of those lists or would that be counterproductive?
SS: At the moment we want to celebrate people across the individual strands but in the future that could happen!
V: What inspired you personally to set up the list?
SS: It was the fact that there were the other lists that I'd see in other publications across the UK where I'd see LGBT people. But only a tiny handful of those would be business people. I thought, why on earth are we not celebrating business people. Because I know they're doing great things around the world! That's when I had the light bulb moment.
If I was going to have a list of LGBT business people, I knew the Financial Times would be the one to host it. So we're really lucky to have the FT as our media partner across all three lists!