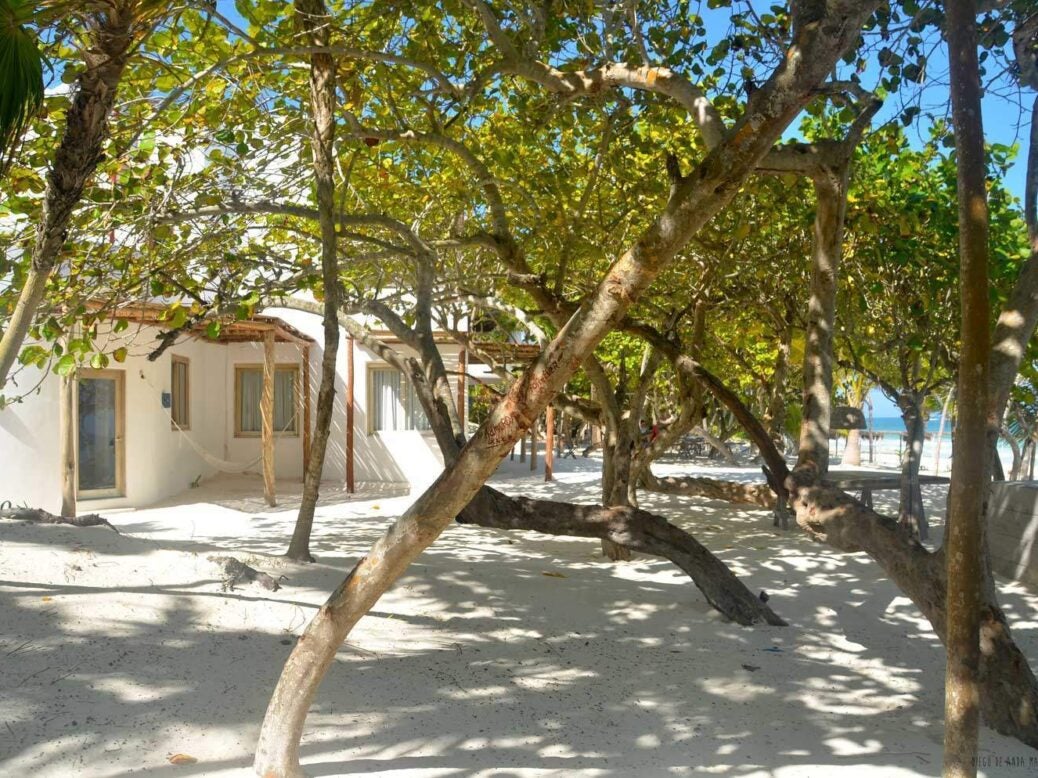 Back in the 1970s, Colombian drug lord Pablo Escobar, who was making over $20 billion a year from his cocaine smuggling to the US at the height of his career, spent some of his drug money on a holiday home.
The property Escobar bought was a luxurious all-white mansion in a very secluded corner of Tulum, on the Caribbean coast of Mexico.
Tucked away, the hidden retreat is located near the border of the Sian Ka'an Bisophere Reserve — 780,000 acres of untouched land. A real hideaway.
In 1993, when Escobar was captured and subsequently killed, the estate was left abandoned. A decade later, it was discovered by New York art dealer Lio Malca. He adopted it and then spent four years turning it into a luxury boutique hotel, which officially opened last year.
Casa Malca consists of 42 rooms and suites and is decorated with contemporary artwork from Malca's own collection. This includes pieces from world-renowned artists Marion Peck and Keith Haring. The aesthetic is modern but traditional, with wooden features, original stone flooring and white-washed walls.
Now the hotel will open to the public, as well as paying guests, as Tulum hosts their Food and Wine Festival, which will attract visitors from around the world. Casa Malca has been chosen as a key location for the festival because of it's rich history, thanks to Escobar, and the fact that it has stayed true to it's Caribbean roots. The hotel is furnished by local artisans and its restaurant, Philosophy, serves Mexican food using produce from the local area — such as tropical fruits, herbs from the estate's garden and locally caught fish.
Tulum is quickly becoming a global fine dining hub
Tulum is known as a destination for quiet relaxation — unlike nearby Cancun — yet its food scene is now receiving world recognition. Earlier this year Michelin-starred Danish chef René Redzepi relocated his famous restaurant Noma from Copenhagen to Tulum.
The Tulum Food and Wine festival, which will be taking place between the 9-12th of November, is a rare opportunity to skip the usual waiting lists to get to try these chef's cuisine. The waiting list for Noma is currently sitting at 60,000 — you could wait months to get a table there. However heading to Tulum to escape the huge crowds of Europe could be a solution.
We asked Redzepi of Noma why he chose Tulum as a destination to move his restaurant to, and what the festival has to offer.
"We launched Noma in Tulum because we wanted to get in touch with nature. We've already done pop-ups in Tokyo and Sydney, but we wanted somewhere a little more off the beaten track. The Tulum Food and Wine Festival is going to be a great way for more people — both tourists and locals — to try what we have to offer."
What can we expect from the Tulum Food and Wine Festival?
During the festival, Casa Malca will host The Catbird Seat's chef Ryan Poll. He will be welcoming visitors in to try his six-course tasting menu.
We spoke to the festival's organiser — Tulum-based chef Diane DiMeo — about what to expect.
"We are hoping to really put Tulum on the fine dining map. Hosting events at Casa Malca is a huge draw because of it's infamous story of Escobar. We will also be donating proceeds to the rebuilding efforts for those areas affected by the recent earthquake in Mexico, which is very exciting."
From street food tours to tasting experiences, the festival will be spread over 4 very packed days. DiMeo says:
"Three Michelin star chef Mike Bagel, the executive chef of Alinea will be hosting tasting sessions at the festival, as well as Charley Joy, the winner of the best bartender in the world award at the Diageo World Class cocktail competition."
Final details on the schedule of the festival will be confirmed over the next fortnight.
Where to stay in Tulum
As well as Casa Malca, there are numerous other luxury hotels you can stay in for the Tulum Food and Wine festival. From an off-the-beaten track hideaway to a luxe all-singing-all-dancing resort, these are the best Tulum hotels.
This exclusive guesthouse only has room for five guests, and it's in the middle of the jungle, making it one of the most private places to stay in Tulum.
The design is rustic and jungle-inspired, featuring local Tzalam wooden decking and a bamboo roof over the outdoor patio.
Kore Tulum Retreat and Spa Resort  
For a more glamorous stay, the Kore Tulum Retreat and Spa Resort has the marble bathrooms and 1000 thread count sheets you might be after.
The resort is also home to one of the most luxurious spas in Mexico.
Away from the bigger resorts, this quiet hotel is perfect for families. Located on the beach, at the far end of beach road, this mini resort only had 12 rooms. A large pool and easy access to the ocean are the hotel's best features.